Pros and Cons
Pros

High-quality graphics and sound effects
Potential for large payouts due to high volatility
Innovative features and bonuses including DoubleMax
Wide betting range, suitable for all budgets
Cons

Less suitable for those who prefer regular smaller wins
Theme may not appeal to all players
Raptor DoubleMax Review
Raptor DoubleMax is an invigorating online pokie by Yggdrasil, a software provider renowned for its high-quality games such as Bananaz and Achilles. This pokie takes you on an electrifying journey back to the time of the dinosaurs, offering a stunning visual feast set against a primordial jungle backdrop.
The theme of Raptor DoubleMax is wonderfully depicted with the inclusion of ferocious dinosaurs and lush primitive landscapes. The symbols on the reels are represented by various dinosaurs. Vibrant hues of deep green and ominous orange saturate the screen, offering a visually striking and dynamic playing field in general.
The graphics are impressive, as is to be expected from a Yggdrasil game. The symbols and background are intricately designed and highly detailed, presenting a coherent theme that fully immerses players in the primeval world. The transition animations between spins are smooth and the overall visual experience is engaging, making it a pleasure to play.
Other Features
The game's soundscape further enhances this intriguing experience, featuring an adventurous soundtrack that perfectly mirrors the pokie's theme. Ambient jungle noises punctuated by dinosaur roars create a sense of anticipation with every spin, making your gaming session delightfully intense and engaging.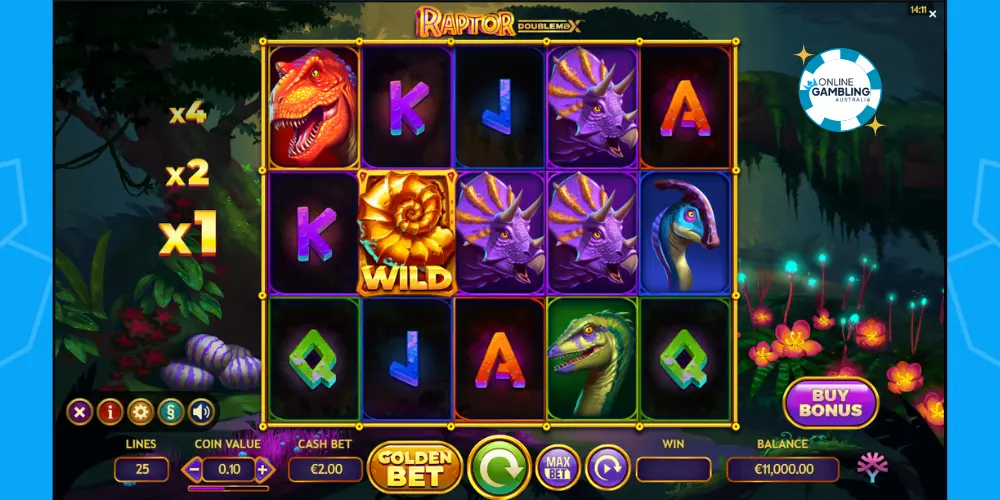 How to Play Raptor DoubleMax
Playing Raptor DoubleMax is a breeze, designed to provide an easy-to-navigate interface while offering enough complexity for experienced pokie players. Bets range from a minimum of $0.20, making the game accessible for casual players, to a maximum of $50, appealing to those with larger bankrolls.
To start, adjust your bet and press the spin button to get the reels moving. The game features a standard 5-reel, 3-row layout, with winnings achieved by matching symbols on adjacent reels from left to right. Unlike many traditional pokies, Raptor DoubleMax operates on a 'win all ways' mechanism. This means you have 243 possible ways to win – any combination of identical symbols from left to right will get you a payout, regardless of their position on the reels.
Raptor DoubleMax boasts a dynamic dropdown feature. Following a win, the winning symbols vanish, and new symbols drop down to replace the empty spaces, providing additional opportunities to score a win within the same spin.
With a generous maximum win of 20,000 times your stake, a 96.0% RTP, and high volatility, Raptor DoubleMax promises a thrilling gaming experience with substantial payouts.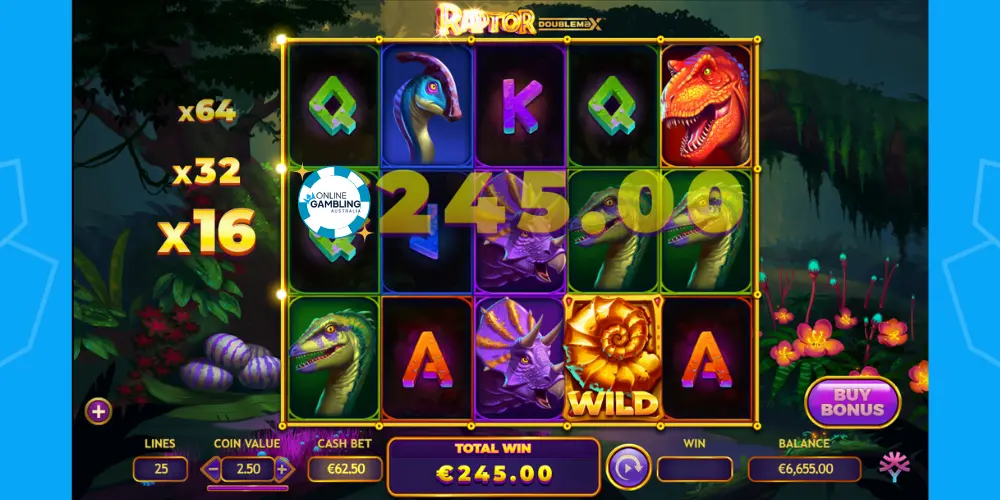 Extra Features of Raptor DoubleMax
Raptor DoubleMax is not just a standard online pokie, it's a game that's teeming with a slew of exciting features designed to elevate your gaming experience to new heights. Each of these contributes to a more dynamic and rewarding experience. In this section, we'll shed light on these unique features to equip you with the knowledge you need to fully grasp the game's mechanics and seize your opportunities for greater wins.
DoubleMax Feature: This continuous feature has a dual effect on your gameplay. Firstly, it doubles your bet per spin, increasing the risk factor. Simultaneously, it magnifies your potential rewards, doubling the payout you receive from each winning spin. This feature offers a high-risk, high-reward dynamic that's particularly suited for players willing to stake more for substantial returns. Remember, while winnings can be sizable, potential losses are equally amplified.
Gamble Feature: This feature introduces an extra level of risk and excitement. After a win, you can choose to stake your winnings on a spin of a wheel. If the wheel lands on the winning section, your stake is multiplied, potentially doubling or even quadrupling your win. However, if it lands on a losing section, your staked winnings are lost. This feature is perfect for thrill-seekers willing to gamble their wins for the chance of even bigger rewards.
Basic Information
Pokie

Raptor DoubleMax

Software

Yggdrasil

Release Date

August 2021

RTP

96.01

Volatility

High

Max Win

20,000x

Min Bet

$0.20

Max Bet

$50

Paylines

25

Reels

5

Jackpot

No

Free Spins

Yes
Raptor DoubleMax Symbols
In Raptor DoubleMax, each symbol adds to the appealing gameplay by adding an extra layer of fieriness to the overall experience. From the lesser but frequently appearing low payout symbols to the more significant high payout ones, and the special symbols that can trigger game-changing features – each carries its unique flavour and payout style.
Low Payout Symbols
The low payout symbols in Raptor DoubleMax consist of the standard playing card symbols 9, 10, J, Q, K, and A. Appearing frequently on the reels, they provide small but consistent wins. To score a win with these symbols, you need at least three of a kind on a payline.
High Payout Symbols
The high payout symbols come to life as various dinosaur icons, each more impressive than the last. A winning combination is formed when you land at least three of these symbols on a payline, but for the larger wins, you'll want to aim for five in a row. The T-Rex symbol is the highest paying, landing five of these fearsome creatures on a payline can lead to hefty rewards.
Special Symbols
The Wild symbol in Raptor DoubleMax is a golden ammonite, which can substitute for all other symbols except the Scatter. This increases the potential to create or enhance winning combinations, thereby increasing your chances of scoring a win.
The Scatter symbol, depicted as a golden egg with red cracks, doesn't offer direct payouts, but it plays a significant role in triggering the game's Free Spins feature.
| | | |
| --- | --- | --- |
| Symbol  | Payline | Maximum Payout |
| T-Rex | x5 | 125x |
| Triceratops                                                              | x5 | 87.5x |
| Velociraptor | x5 | 62.5x |
| Parasaurolophus | x5 | 50x |
| A | x5 | 30x |
| K | x5 | 30x |
| Q | x5 | 25x |
| J | x5 | 25x |
Raptor DoubleMax Bonuses
In the dynamic landscape of Raptor DoubleMax, bonuses are essential elements that amplify the buzz of the gameplay. These bonuses not only bring opportunities for extra winnings but also inject unexpected turns and twists that heighten the excitement. Let's take a closer look at each bonus and what they bring to your gameplay.
Multiplier & Wild Feature
Each time you score a win, the Multiplier kicks in. Starting at x1, it doubles with every subsequent winning cascade in the same spin, potentially leading to substantial payouts. Alongside this, the Wild feature is also triggered after the first winning cascade. This Wild symbol becomes a stalwart presence on your screen, continuing to boost your chances of winning throughout the cascade feature's duration.
The interplay between the Multiplier and Wild features can lead to a potent combination, ratcheting up the thrill factor of the game. However, it's worth noting that both the Multiplier and Wild reset at the start of a new spin. The Multiplier goes back to x1, and the Wild symbol disappears until the next cascade of wins is set off. This mechanic adds an interesting ebb and flow to the gameplay, constantly altering the dynamic of the game and keeping players on their toes.
Free Spins Bonus
The Free Spins Bonus in Raptor DoubleMax is triggered by landing three or more Scatter symbols, depicted as golden eggs with red cracks, anywhere on the reels. Depending on the number of Scatters landed, players are awarded either 7, 10, or 13 free spins.
A unique element of this feature is the opportunity to gamble these free spins. Initially, players may gamble from 7 to 10 free spins, choosing from two eggs with 50/50 odds – one egg hides 10 free spins, and the other hides 0, creating a risk/reward dynamic. The bravest players can also attempt to gamble for 13 free spins, again with a 50/50 chance. Players can choose to collect their feature at any point during this process instead of gambling further.
What sets the Free Spins Bonus apart is that the cascading multiplier does not reset between spins, unlike in the base game. This means the multiplier can continue doubling, potentially reaching up to x16,384, leading to substantial wins, even from small bet wins.
Golden Bet: The Golden Bet feature lets you increase your stake by 25% for greater potential rewards. This improves your chances of landing more Scatter symbols and triggering additional free spins.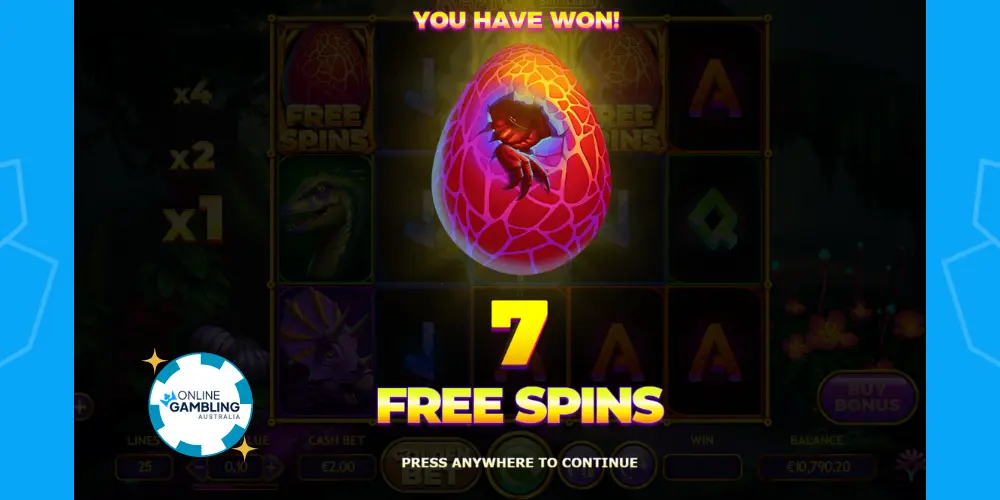 Buy Bonus Feature
The 'Buy Bonus' feature is an option for players eager to skip straight to the Free Spins Bonus round. This feature requires an additional cost but allows players to bypass the base game and dive right into the exciting bonus action.
Both the Free Spins Bonus and the Buy Bonus Feature add a thrilling dimension to Raptor DoubleMax, significantly enhancing the winning potential and the overall gaming experience. They bring depth to the gameplay, making every spin a high-stakes adventure in this prehistoric-themed pokie.
The Jurassic Era Continues on
In the vibrant realm of online pokies, Yggdrasil's Raptor DoubleMax stands out as a dynamic blend of excitement and potential winnings. The pokie's alluring array of special features, from the DoubleMax feature to the Gamble Feature, suits a variety of play styles. This, together with the gripping theme, creates a gaming experience that is engaging from start to finish.
With its unique concoction of bold colours, lifelike animations, and heart-pounding sounds that create an exquisite and exhilarating gaming atmosphere. This pokie transports players to a bygone era rife with the anticipation of gargantuan wins. Among other dinosaur-themed pokies, Playtech's Jurassic Island 2 for example, also offers a journey back to the era of giants, making it another exciting choice for dino-loving players.
Raptor DoubleMax is definitely a favourite and can be found at most top online casinos, such as Wild Tornado Casino and Casistsu which both offer a fantastic casino welcome bonus to newly enlisted players. Whether you're new to the online pokie world or a pro, Raptor DoubleMax offers a compelling gaming experience packed with big win potential.
Frequently asked questions
What is the central theme of Raptor DoubleMax?
The central theme of Raptor DoubleMax is set in the thrilling Jurassic era, a time when gigantic raptors ruled the world. It captures the essence of this theme through impressively detailed visuals, realistic sound effects, and immersive gameplay.
How does the Free Spins feature work in Raptor DoubleMax?
In Raptor DoubleMax, the Free Spins feature is triggered by landing three or more Scatter symbols. During this bonus round, the DoubleMax and Multiplier features can combine to offer boosted wins.
How do the bet levels work in Raptor DoubleMax?
The game offers a wide betting range to cater to players of all levels. You can adjust your bet from a minimum of $0.20 to a maximum of $50 per spin.
What is the role of the Raptor symbol in the game?
The Raptor symbol is a high-value symbol in the game. Landing multiple Raptors can yield significant winnings, especially when the DoubleMax feature is enabled.
Can I buy a Bonus in Raptor DoublMax?
Yes, the Buy Bonus is a feature for those who are eager to jump straight into the exciting bonus action. By paying a certain amount, players can instantly trigger the Free Spins Bonus without having to wait for the Scatters to land. This can be particularly attractive if you're looking for immediate high-stakes excitement.