Pros and Cons
Pros

Outstanding graphics and animations
Engaging dinosaur theme
Variety of bonus features
High RTP
Cons

Lack of progressive jackpot
Restricted betting range
Raging Rex 3 Pokie Review
Raging Rex 3 by Play'n Go is a continuation of the successful Raging Rex series, bringing players into a lush and dangerous prehistoric world. The pokie dazzles with its vibrant colours, dynamic sounds, and sensational graphics, creating an environment that is both menacing and alluring, mirroring the age of dinosaurs.
This visually spectacular game showcases a verdant jungle with an ominous volcano in the background, providing an intense and exciting atmosphere for players. Each spin of the reels is accompanied by the distant roars of dinosaurs and subtle jungle noises, enhancing the game's overall ambience.
Online pokies enthusiasts will appreciate the detailed design of this online casino game, from the meticulously crafted symbols to the responsive game interface. Play'n Go has once again demonstrated its commitment to delivering high-quality gaming experiences with this latest addition to the Raging Rex series.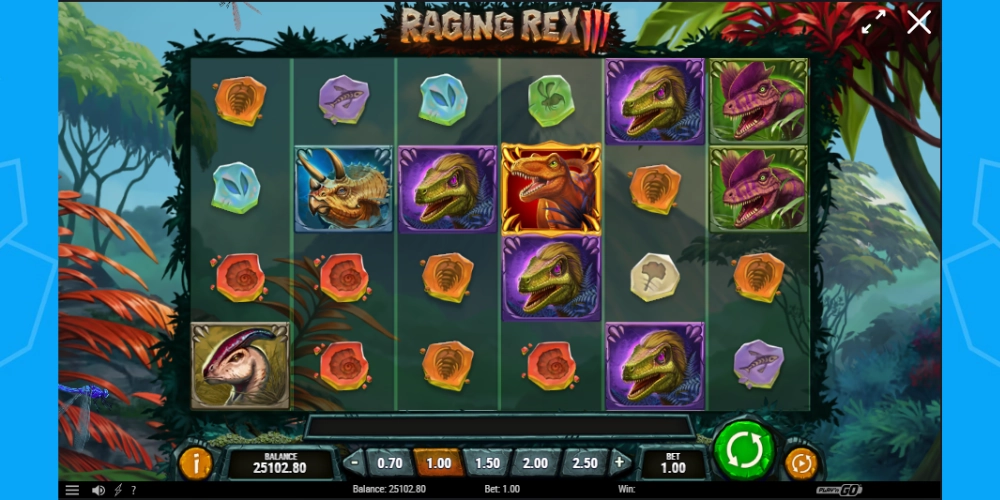 How to Play Raging Rex 3
Embarking on the adventure with Raging Rex 3 is straightforward and accessible for players of all levels. With an RTP of 96.34%, this pokie offers a balanced mix of frequent smaller wins and the potential for substantial payouts. Raging Rex 3 is a high-volatility game, ensuring that while wins might not occur on every spin, the payouts are significant when they do happen.
Players can start their prehistoric adventure with a minimum bet of $0.20, and those looking for larger thrills can increase their wager up to a maximum of $100 per spin. The game boasts a maximum win of 5,000x your stake in a single spin, providing an enticing lure for players seeking substantial rewards.
The game is designed with a standard layout featuring 5 reels. As you navigate through the dangerous jungles, keep an eye out for various features that enhance the gameplay. For instance, the Walking Wilds feature sees the Raging Rex himself move across the reels, creating more opportunities for winning combinations.
Basic Information
Pokie

Raging Rex 3

Software

Play'n Go

Release Date

October 12th 2023

RTP

96.34%

Volatility

High

Maximum Win

5,000x

Min Bet

$0.20

Max Bet

$100

Payline

4,096

Reels

5

Jackpot

No

Free Spin

Yes
Raging Rex 3 Pokie Symbols
In the vivid world of Raging Rex 3, each symbol is carefully designed to reflect the perilous and mesmerising prehistoric environment. From ferocious dinosaurs to ancient, fossilised insects, the symbols transport players back in time, offering not only visual delight but also lucrative opportunities to win big.
Low-Payout Symbols
The low-payout symbols in Raging Rex 3 are beautifully crafted fossils in various colours: white, blue, green, purple, orange, and red. Each fossil symbol offers a distinct visual appeal, adding depth to the game's design. When players land six of the same fossil symbols, they can expect wins ranging from 1X to 1.4X their bet, providing frequent, steady rewards as they navigate through the prehistoric landscape.
High-Payout Symbols
The high-payout symbols are represented by majestic dinosaurs framed in colours like white, blue, green, and purple. These symbols not only enhance the game's visual allure but also offer more substantial rewards. Landing six of the same dinosaur symbols will yield wins between 4X to 6X the bet, making these prehistoric creatures highly sought after on the reels.
Special Symbols
Special symbols in Raging Rex 3 include the 1X3 Rex and 1X1 Hatchling wild symbols. These wilds substitute for other symbols to create winning combinations, with six wilds on the reels awarding players 6X their bet. The game's scatter symbol is represented by a big, ominous Dinosaur eye. Landing three or more scatter symbols triggers the bonus game, opening up opportunities for players to secure substantial wins while experiencing the game's unique features.
Symbols Paytable
| | | |
| --- | --- | --- |
| Symbol | Payline | Maximum Payout |
| T-Rex | x6 | 6x |
| Velociraptor | x6 | 6x |
| Dilophosaurus | x6 | 6x |
| Styracosaurus | x6 | 4x |
| Parasaurolophus | x6 | 4x |
| Red Ammonite | x6 | 1.4x |
| Orange Trilobite Bug | x6 | 1.4x |
| Purple Flying Fish | x6 | 1.4x |
| Green Bee | x6 | 1x |
| Blue Leaves | x6 | 1x |
| White Ginkgo Leaf | x6 | 1x |
Raging Rex 3 Pokie Bonuses
In Raging Rex 3, players are treated to a dynamic suite of bonus features that significantly elevate the gaming experience, providing thrilling moments and substantial winning opportunities at every turn.
These bonuses, meticulously crafted and integrated into the game, are not just mere additions; they are essential components that drive the action and excitement in the game, drawing players into the captivating world of dinosaurs and untold treasures. Let's delve deeper into the individual features that make Raging Rex 3 a standout pokie.
Re-Spins Feature
The action begins with the Re-Spins feature activated when the towering Rex symbol lands in full view on reels 2 through 6. This feature grants players respins, with the colossal Rex symbol moving one reel to the left with each spin.
The respins continue until the Rex symbol reaches the first reel, providing players with up to five opportunities to accumulate wins. During these respins, the Hatchling symbols are sticky, following the Rex symbol's movement, creating a trail of potential wins.
Free Spins Feature
Upon landing three or more scatter symbols, players unlock the Free Spins feature, opening a gateway to a selection of three distinct bonus games, each with its unique mechanics and rewards. Players have the liberty to choose from Feeding Frenzy, Hatchling Mania, and Survival, each offering a different strategic advantage and level of excitement.
Feeding Frenzy
This option welcomes players with 7 to 13 free spins based on the activating scatter symbols. The Rex symbol remains sticky throughout, moving across the reels to collect hunting targets from selected dinosaur symbols. Starting with a 1X multiplier, Rex increases its multiplier for every sixth target collected, creating a potential for infinite multiplier growth and substantial wins.
Hatchling Mania
In Hatchling Mania, Hatchlings take centre stage, becoming sticky symbols on the reels. These symbols can land with 2X or 3X multipliers, and when they are part of winning combinations, the multipliers multiply together, significantly boosting the payout.
Survival
Survival mode offers players a unique gaming setup with three respins and a central 2X2 Rex symbol. Dinosaur symbols landing on the reels are replaced by sticky bone symbols, each contributing to a metre. When the metre is filled, all bone symbols are removed, and the dinosaur symbols are upgraded, enhancing their value and potential payout.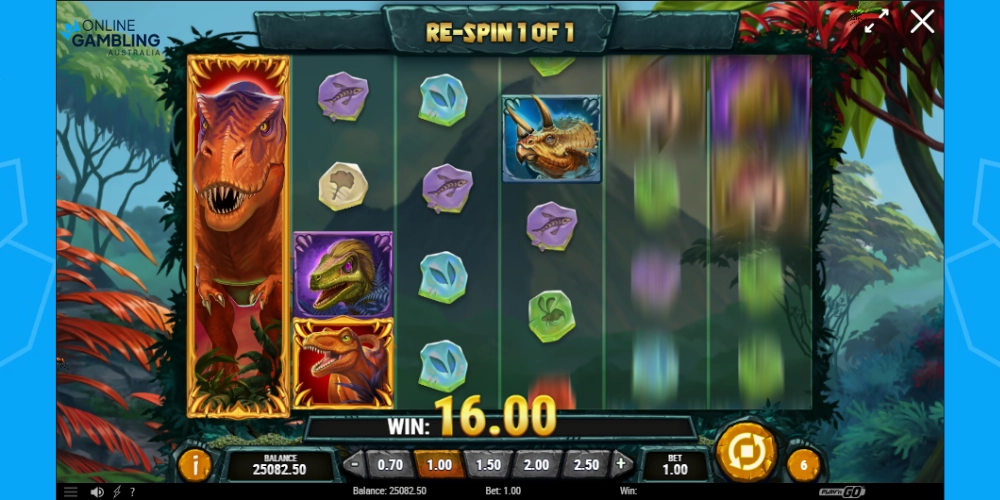 Unveiling a Dino-Mighty Adventure with Raging Rex 3
Raging Rex 3 is a splendid creation by Play'n Go, offering a delightful mix of stunning visuals and action-packed features. In the crowded field of dinosaur-themed pokies, including games like Raptor Doublemax by Yggdrasil, Raging Rex 3 carves its niche with vibrant colours, engaging sounds, and a captivating prehistoric theme.
While it might lack a progressive jackpot, the game compensates with a high RTP and an abundance of bonus features, each thoughtfully designed to provide different paths to wins while keeping the gameplay fresh and exciting. Whether it's the Feeding Frenzy, Hatchling Mania, or the Survival bonus, players are in for a treat with diverse and rewarding gambling experiences.
The game's symbols, ranging from the low-paying fossils to high-paying dinosaurs and special wilds, all contribute to an engaging and rewarding adventure on the reels. For those seeking a pokie that is not only entertaining but also offers a fair chance at significant rewards, Raging Rex 3 stands as a compelling choice worth considering.
Frequently asked questions
Can I adjust the volatility of Raging Rex 3?
No, the volatility of Raging Rex 3 is set to high. This means that while wins may not happen on every spin, the potential payouts are generally more significant when they do occur.
Does Raging Rex 3 have a unique theme?
Absolutely! The game offers a distinctive prehistoric theme, transporting players back to the time of dinosaurs with its meticulously designed symbols and atmospheric sounds, setting it apart from many other pokies in the market.
What makes the Raging Rex symbol special in the game?
The Raging Rex symbol is not only a wild but also plays a crucial role in activating the Re-Spins feature when it lands fully on the reels, providing additional opportunities for players to secure wins.
Can I retrigger free spins during the bonus rounds?
Yes, during the Feeding Frenzy and Hatchling Mania bonus rounds, landing additional scatter symbols will award extra free spins, extending your gameplay in the bonus rounds.
How are the hunting targets in the Feeding Frenzy bonus game selected?
At the start of the Feeding Frenzy bonus game, one of the four high-paying dinosaur symbols is randomly selected as the hunting target, which Rex will collect as it moves across the reels.
Are there multipliers in the Hatchling Mania bonus game?
Indeed! In the Hatchling Mania bonus round, hatchlings can land with multipliers of 2X or 3X, and these multipliers will multiply together if they're part of the same winning combination, boosting your potential wins.