How to Play Online Roulette?
The wagering round is the first step in each game of the online Roulette game, as it is with any other casino game. This opens up a wide range of potential bets for you.
Afterwards, the dealer will spin the ball. You would have a few moments to place your bets before the ball is thrown.
Right before they throw the ball spinning around the circumference of the wheel, the dealer would announce "no more bets', which means that the betting window for that specific round has closed.
When the dealer proceeds with the round, the ball would eventually end up in a slot that has a number and a colour, ranging from 1 to 36 in red or black, and zero or zeros in green.
When the ball lands in a slot within the wheel, this means that the round has come to an end and if you happened to bet on the number or colour where it landed, you win.
Putting your bets on the table
While playing Roulette online, you have a plethora of wagering possibilities at your disposal. If you wish to have a higher success rate, then placing small bets with a higher chance of success is advised. But if you wish to try and win big, then you should opt for Roulette strategies that have a small chance of success. However, when you do win, you get paid big time!
There is a wide range of wagers available. As a rule, these are broken down into three main sections. Inside wagers, outside wagers, and racetrack wagers are all included here.
Inside Bets
They are known as "inside bets" because they are wagers that take place on the number chart, which is situated right in the middle of the table. The figures from 1 to 36 are situated in this section of the wagering field. Inside wagers come in five varieties. The following are included:
Straight up
A straight up wager involves placing a wager on a specific number. However, you may also put multiple straight-up wagers on numerous numbers at a time. A 35:1 return is what you get on a straight wager. This is the base game's largest possible win.
Split bet
Alternatively, you can spread your bets by placing a wager on two adjacent numbers. This is done by placing your marker on the line that separates the two numbers on the chart. If you hit one of the two marked numbers, you will be rewarded at odds of 17:1.
Street bet
When it comes to street bets, 3 numbers are involved. You are able to choose whichever number you want, but if you choose 1 for instance, then you would bet on 1,2, and 3. This would make a 'street'. But if you wager or 7 then you would bet on a street of 7, 8, and 9. There is a ratio of 11:1 return when playing a street bet.
Corner bet
The corner wager is likewise based on its name. A corner or intersection between four figures is where the marker is placed in order to bet on those four adjacent numbers. It pays 8:1 if the ball lands on any of these four figures.
Line bet
This type of wager is the reverse of a straight bet. You are not putting a wager on a single number; rather, you are betting on the line that runs between two numbers. You are the winner if either number is drawn.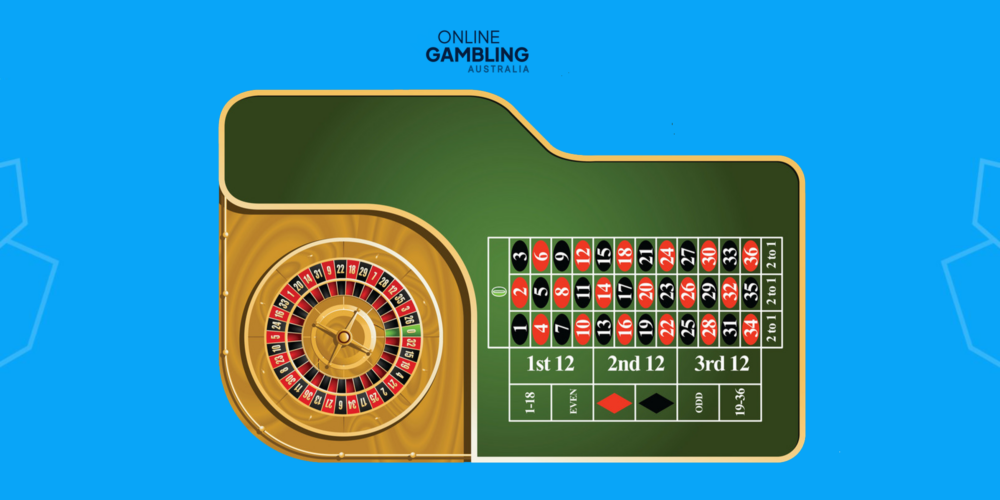 Outside Bets
Beneath the chart of numbers situated on the table, you can find a set of extra boxes where one could place their bets. Each of these boxes represents a specific group of numbers, and these kinds of bets are considered one of the safest ways to go when playing roulette, as they can give you odds ranging from 2:1 to 1:1.
Dozen
You'll typically see things such as 1st 12, 2nd 12, 3rd 12 or 1 – 12, 13 – 24, and 25 – 36 right underneath the chart. Each cell covers a third of the table, meaning in that case, a winning bet from this selection is going to give you a 2:1 reward if the number where the ball lands is within the 12 which you have marked.
High or Low
When you place a 'Low' bet, this means that you would be betting that the ball will land between the number range of 1-18. But if you bet 'High' then that would mean that you are betting that the ball will land between the number range of 19-36. Given that the complete number range on a roulette wheel is 36, this would give you a 50% chance of a win.
Red or Black
This one speaks for itself, as well. Each number on the Roulette online wheel has a distinct colour, and the table is split between two colours, 18 black and 18 red digits, aside from the green zero. Do you believe you can predict what colour the following round will bring? Then wager on a payout of 1:1.
Even or Odd
This sort of bet only has something to do with numbers.
If you bet that the ball will land on an even number then you are betting on the ball landing on either 2, 4, 6, 8, 10, 12, 14, 16, 18, 20, 22, 24, 26, 28, 30, 32, 34, or 36. If the ball lands on any of these numbers when betting even, then you would win the round.
If you bet that the ball lands on an odd number, then you would be betting that it lands on either 1, 3, 5, 7, 9,11, 13, 15, 17, 19, 21, 23, 25, 27, 29, 31, 33, or 35. If the ball lands on any of these numbers when betting odds, then you would win the round.
There is a 50% chance of winning with this sort of bet.
Race Track
Roulette online players with more experience tend to flock to the racetrack. In a sense, you're placing a wager on specific spokes of the wheel. Helpful if you feel the ball will halt on a specific region of the wheel. These are the portions that we understand and can wager on:
Neighbours
This sort of bet is when you pick a number from the range and it would automatically select the 4 numbers surrounding the number that you have chosen. This would all be according to the sequence of numbers that are on the wheel and not the numbers that are on the table.
Voisins
The voisins section is a popular one to bet on. It's the section around the 0, and the Zero game section (also called Voisins de zero) is fully part of it. Betting options include: 0/2/3, 4, 7, 12, 15, 18, 21, 19, 22, 25, 26, 28, 29, 32, and 35 (in that order).
Tiers of the cylinder
In this sort of bet, there are a total of 12 numbers in this area, which are 33, 16, 24, 5, 10, 23, 8, 30, 11, 36, 13, and 27. It is also possible to place a six-split bet (6 chips, 1 on each of the splits) on this area which are 5-8, 10-11, 13-16, 23-24, 27-30, and 33-36.
Orphans / Orphelins
Orphelins is the category with the most unusual name (French for orphans). The term is derived from the fact that the section's numerals are spread out across two separate sections of the wheel. The first five digits of the wheel (1 to 9), which are 17, 6, 1, 14, and 9 and the last six digits (17 to 6), which are 34, 20, and 31. There are seven tracks in the orphanage altogether. 1, 6-9, 14-17, 17-20 and 31-34 are the wagers in this area. One stake is placed straight up, while the other four are divided.
Zero game / Jeu 0
The jeu zero area is a rather particular area. This may be found in its entirety at the voisins du zero section, however, it covers a rather smaller area. The numbers covered for this bet are 12, 35, 3, 26, 0, 32, and 15. There is a possibility of placing a 4-split bet (4 chips, 1 on each) on 0-3, 12-15, 28 and 32-35. So there is one straight up wager and three split wagers in total.
Real Money Roulette
There are several online casinos that allow players to have a life-like experience whilst playing Roulette Online for real money in Australia. You are able to attain such an experience by playing with a real live dealer casino. But if you are in the mood to play a faster paced version of the game against the CPU, you are able to do so as well. This is by playing against an algorithm machine at a table, where the wheel is spun with the use of an animations powered by a random number generator.
If you wish to play such games, you are able to view a list of what we consider to be the best online casinos that offer players the opportunity to play Roulette online for real money.
Free Online Roulette
The free online Roulette game is available to anyone that wishes to play it. We've compiled a list of the greatest online casinos where you may play a free online Roulette game. You will be able to gain a feel for the game this way. It is possible to begin playing a free online Roulette game under this section without having to waste any time. Of course you can also play other games for free at this site, try free blackjack online for example.
Three Types of Roulette
While playing online Roulette in Australia, you might come across three different variants of roulette which vary in the numbers scattered across the table. The upcoming variations of roulette may be found at many different online casinos, such as Betgames.tv. Those variations are:
European Roulette
American Roulette
French Roulette
There are several similarities between the French and European versions of Roulette online, such as that they use the same wheel for just the single 0. The American Roulette wheel is unfavourable to the player since it is designed for a slightly larger house edge, which is caused by an extra zero that is added to the wheel.
European Roulette
The vast majority of the online casino's Roulette tables are of the European variety. Roulette online in this version is the most common. You spin a wheel with 37 figures in order to make a profit (0 to 36). As previously mentioned, the bets and payouts are normal.
All wagers in European Roulette online have a 97.3 percent chance of winning. Of course you have the ability to boost this percentage a bit, by using the right casino bonus offers.
American Roulette
Online Gambling online does not recommend playing on an American Roulette online table.
The American casinos determined that Roulette online was still not profitable enough for them. They came up with a novel design that included a 00 in addition to the standard 0. As a result, the Roulette online wheel at an American casino contains a total of 38 numbers. Which further increases the house's edge. This decreases the chance of you winning.
A total of 94.74 percent of all wagers are paid out in American Roulette online.
When it comes to Return to Player (RTP) in the American Roulette online version it has a 94.74% rate. When compared to European Roulette, which has an RTP rate of 97.30%, American Roulette has 2.56% of less RTP.
French Roulette
"La Partage" was a principle in the original French Roulette. To put it another way: Individuals would get half of their money back if they made an outside wager and the ball lands on the zero.
A regulation known as "en jail" might be seen in French Roulette online. Outside wagers with a turned 0 are likewise subject to this restriction. If you lose this round, you'll receive your wager back, but if you win, you keep it (without winning). It doesn't matter if you win or lose:
For the most part, French Roulette is identical to European Roulette in terms of gameplay. There aren't many French restaurants around anymore, which is a shame. Outside wagers have the best odds of winning.
In French Roulette, the RTP is 97.3 percent for inside wagers and 98.65 percent for outside wagers.
Special Roulette tables in Online Casinos
In the last several years, the live casino has seen a major transformation. Players that play online Roulette in Australia now have a slew of additional options to choose from. Making the game more engaging by increasing the possible prizes is the stated purpose of this project.
You can also receive an entire show and sit at a table with some more than 1,000 individuals in certain variations.
Lightning Roulette
Lightning Roulette is by far the most famous live casino table. The live casino as a whole has been transformed by this game.
In Lightning Roulette, the wagering options are the same as any other European Roulette table. The main difference is that lightning will strike some numbers during each round right after the bets are placed. The lightning triggers a multiplier which can be activated if you bet on the specific number which is struck and if the ball lands on it you may win up to 500X your initial bet.
As an outcome, straight up wager payouts have been recalculated. In standard Roulette, the odds are 35:1, while in rapid Roulette, the odds are 29:1. Straight up wagers have a 97.1 percent Return to Player (RTP).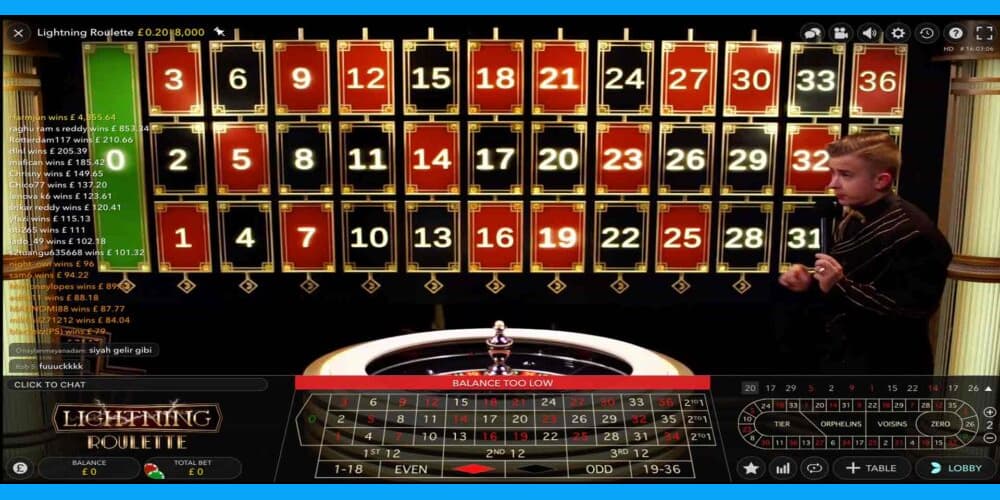 Double Ball Roulette
There is no reason to play with just 1 ball when you are also able to play with 2! If you're still unsure, try your luck at the Double Ball Roulette wheel.
While the odds remain the same in both games, the rewards are varied. If both balls land on the same number, you'll walk away with 1,300 times your stake!
The payouts in Double Ball Roulette are based on the probability. Since they all have a 97.3 percent chance of winning, they all have the same odds as European Roulette.
Speed Roulette
Is the Roulette table taking forever for you? After that, it's time for some Speed Roulette. In order to reduce the amount of time spent waiting to play, you can opt for speed roulette.
Because of this variation of roulette, you'll be able to play a lot more games in a shorter period of time. Other online Roulette games in Australia have a 97.3 percent payoff ratio.
Frequently asked questions
Can I play online Roulette for free with a live game presenter?
Online Roulette can be played digitally on completely computerized software against an RNG-based CPU, or also can be found in some versions as a stream with live dealers. Game providers like Pragmatic Live & Evolution are very popular for their live roulette versions.
Is online Roulette for real money rigged?
No, if you play at a trustworthy casino with industry-known software providers, games will not be rigged. In fact, most online roulette games are hosted by third parties for whom it doesn't matter if players win or lose money. This really balances out the equation.
Is there skill involved in Roulette?
While there are people who have beat Roulette with fancy tricks such as listening into which section a ball would land, or even using specialized tools to calculate the distance the ball could travel along the wheel with its momentum, however, it is still considered a game of pure luck, and none of these strategies really work.
Do free Roulette versions work identical to real money Roulette tables?
Yes, as the online casino's main aim is to give players as close to a real feel for the game as humanly possible, through a screen. In order to do this they go to unforeseen heights in order to make the digitized games as realistic as possible and the live games as immersive as possible.
Which type of Roulette form should I play?
There are three types of regular Roulette you are able to play, which are European, French, and American Roulette. We recommend that you never play at an American Roulette table as American tables have an extra square when compared to the European and French tables. The reason being is that this extra square doubles the house's edge. We recommend you play the French version of Roulette, however this game is not always available.