Play Real Money Online Blackjack
Playing online blackjack real money offers an authentic and thrilling casino experience right from the comfort of your own home. You have two main options when it comes to playing real money blackjack online, these are live dealer games and RNG (Random Number Generator) games.
Live Dealer Blackjack
Live dealer games provide a realistic and immersive experience since you are playing with a professional dealer in real-time. Live blackjack online games are streamed from dedicated studios or land-based casinos in order to provide the excitement and atmosphere of a real-life casino directly to your screen. It also allows you to interact with the dealer and other players, just as you would in a traditional casino setting.
RNG Blackjack Games
RNG games, on the other hand, are played against a computer algorithm that deals the cards using a random number generator. This option provides a more solitary gaming experience, allowing you to play at your own pace without the pressure of a live dealer or other players. RNG games are perfect for those who want to practise their strategies or simply prefer a more focused environment.
You may refer to the toplist we provided earlier in this article to find the best sites for playing real money blackjack. These sites offer both live dealer and RNG game options, ensuring that you will have a top-notch gaming experience regardless of your preference. Remember to always gamble responsibly and be aware of the risks associated with playing at offshore gambling sites.
Free Online Blackjack
If you are new to blackjack or simply want to enjoy the game without risking any of your money. Playing free blackjack online will allow you to practise your skills, learn new strategies, and get familiar with the game's rules without any financial commitment. Should you wish to start playing, simply use the free blackjack game below. The interactive interface provides a user-friendly experience, ensuring hours of fun and entertainment while you hone your skills.
How to Play Online Blackjack Australia?
Online blackjack is a popular and easy-to-learn card game that pits players against the dealer. In this section, we will guide you through the steps to play and understand the game, including placing bets, receiving cards, making moves, determining the winner, and understanding the dealer's rules.
1. Placing Your Bets
Before each hand, players must place a bet within the table's minimum and maximum limits. You can often take more spots on one table, up to a limit of either one or three spots in live casinos Australia. This allows you to play multiple hands simultaneously while increasing your chances of winning and adding excitement to the game.
2. Getting The Cards
Once bets are placed, every player including the dealer will receive two cards. The players' cards are dealt face-up, while the dealer has one card face-up and one card face-down.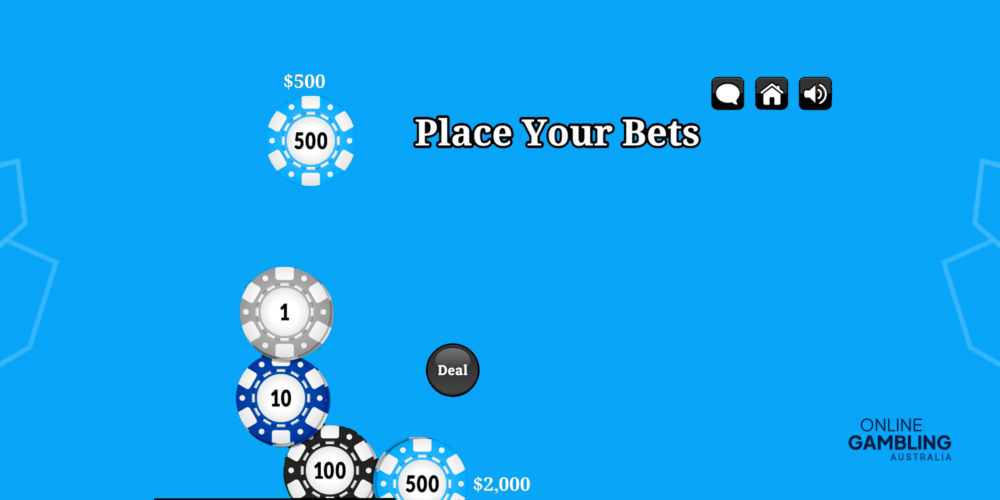 3. Make Your Move
As a player, you have several options to choose from based on your hand and the dealer's up-card:
Hit
Request an additional card to improve your hand's value. You can continue hitting until you either stand or exceed 21 points (a bust).
Stand
Decide to keep your current hand and not draw any more cards.
Double Down
Double your initial bet and receive exactly one additional card. This option is usually taken when you have a strong hand that could potentially beat the dealer.
Split
If you have two cards of the same value, you can split them into two separate hands, each with a new bet equal to the original one. You will then receive additional cards for each hand and play them independently.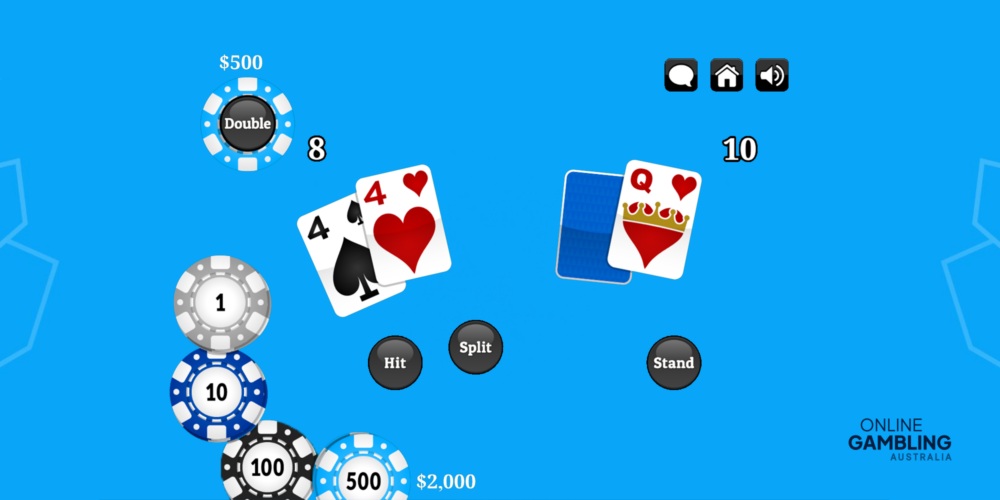 4. Winner Winner Chicken Dinner
To win in blackjack, you must beat the dealer by having a higher hand value without exceeding 21 points. An actual blackjack is a hand consisting of an ace and a 10-point card (a 10, Jack, Queen, or King) on your first two cards. This combination pays out more than a regular win, typically at a 3:2 ratio, meaning that if you bet $10, you would receive $15 for a blackjack win.
A regular win, on the other hand, usually pays out at a 1:1 ratio, so a $10 bet would yield a $10 payout. A blackjack always beats a regular 21-point hand, even if the dealer also has a total of 21 points.
Card values are determined as follows: numbered cards count as their face value, face cards (Jacks, Queens, and Kings) count as 10 points, and aces can be either 1 or 11 points, depending on which value benefits the hand more.
What Will the Dealer Do?
Dealers must follow standard rules and not make decisions based on the players' cards. They typically hit on hands with a value of 16 or lower and stand on hands with a value of 17 or higher. Some casinos require dealers to hit on a "soft 17" (a hand with an ace valued as 11 and a 6), while others require them to stand. These rules ensure fairness and transparency throughout the game.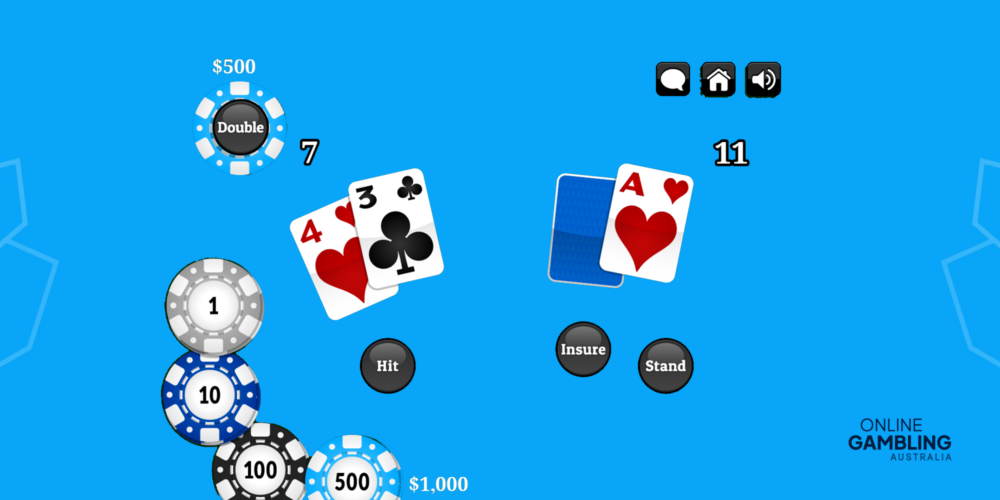 Side Bets
When playing online blackjack, you have the option to place side bets, which are separate wagers not directly related to the main game. These bets can result in additional winnings or losses based on the cards dealt to the players and, depending on the side bet, the dealer.
Perfect Pairs: This bet focuses on whether the player's first two cards form a pair, with payouts for mixed, coloured, or perfect pairs.
21+3: Combining the player's first two cards and the dealer's upcard, this bet pays out based on the resulting three-card poker hand ranking.
Royal Match: Players wager on the likelihood that their initial two cards share the same suit or are a suited King and Queen.
Insurance: Offered when the dealer shows an Ace, this bet allows players to wager on the dealer having a Blackjack, paying 2:1 if successful.
Super Sevens: With this bet, players aim to have sevens in their hand, with increasing payouts for consecutive sevens and the highest payout for three-suited sevens.
Lucky Ladies: Targeting a total of 20 with the player's first two cards, this bet offers varying payouts based on the specific combination and the highest payout for a pair of suited Queens of Hearts.
Hi-Lo: This side bet revolves around the total value of the player's first two cards, with wins for either low (2-9) or high (12-20) totals and losses for totals of 10 or 11.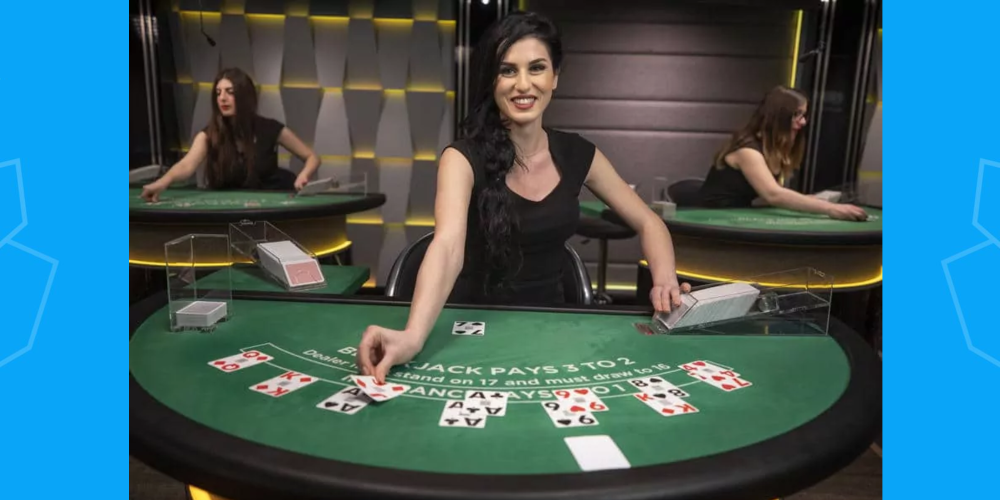 Blackjack RTP & Strategy
The return to player (RTP) percentage in blackjack is 99.58%, making it one of the most popular casino games for players. However, to achieve the maximum RTP, you must make the right decisions throughout the game, which will involve following a sound strategy.
For the PP side bet, the RTP is typically lower at around 93.89%, while the 21+3 side bet has an RTP of approximately 96.30%. These side bets offer an exciting twist to the game but come with a higher house edge compared to the main game of blackjack.
By learning and applying a basic blackjack strategy based on mathematical probabilities, you can minimise the house edge and increase your chances of winning. This strategy involves knowing when to hit, stand, double down, or split based on your hand and the dealer's up-card.
Blackjack Strategy
Blackjack strategy is an essential aspect of the game that significantly influences your chances of winning. Although we will delve into this topic more comprehensively in a separate article, it is worth mentioning that for every situation you may encounter at the table, there is an optimal play based on mathematical probabilities.
Learning and mastering the basic blackjack strategy is not too difficult, and it can help you achieve better results at the table almost instantly. By understanding and implementing these strategies, you can minimise the house edge and enhance your overall gaming experience.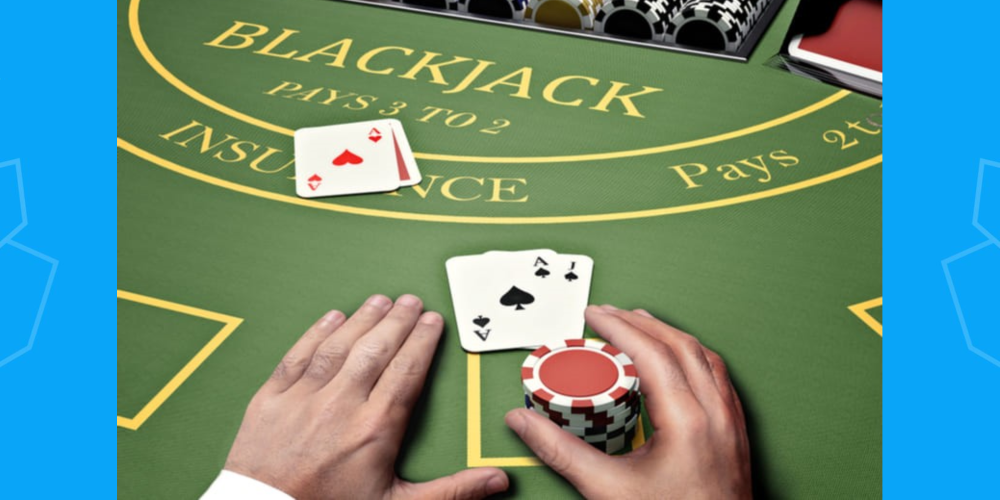 Blackjack Tips
Here are some valuable online casino tips, regarding blackjack, to help you improve your gameplay and enhance your overall experience:
1. Set your limit
Establish a budget when playing online blackjack in real money online casinos to ensure responsible gaming and to ensure that you do not gamble money that you cannot afford to lose.
2. Set a time limit
Set a time limit for your gaming sessions to maintain a healthy balance between gambling and other activities.
3. Don't split two 10s
Avoid splitting a pair of 10s, as it is already a strong hand with a total value of 20.
4. Don't split two 5s
With two 5s, your hand's value is 10. Instead of splitting, it is recommended to double down and request another card.
5. Know when to stand
Stand on any hand with a value greater than 17. Additionally, if the dealer's hand is valued between 2 and 6, while your hand is valued between 12 and 16, it is advisable to stand.
6. Know when to hit
If the value of your hand is between 12 and 16 and the dealer's hand is greater than 7, it is recommended to hit.
7. Know where to play
Sign up at Australian online blackjack casinos, since Aussie players often receive a generous online casino bonus, making the gameplay experience more valuable and enjoyable.
Different Types of Blackjack
While traditional blackjack is widely popular, there are also several exciting variations of the game available, each with its own unique twist on the classic rules. These variations offer players new challenges and strategies to try out while keeping the game fresh and engaging.
Speed Blackjack
Speed blackjack is all about fast-paced action. While the initial card dealing remains the same, the order of decision-making changes. Instead of playing in a specific sequence, players make their decisions as soon as they are ready. The first player to make a decision receives the next card, making for an intense, rapid game that keeps everyone on their toes.
Lightning Blackjack
Lightning blackjack, by game provider Evolution, is a thrilling variant that adds an electrifying twist to the classic game. In this version, certain cards are designated as "lightning cards," and when they appear, they can trigger multipliers that boost your winnings. This adds an extra layer of excitement to each hand, as players hope for those valuable lightning cards to strike.
Infinite Blackjack
Infinite blackjack is designed to accommodate an unlimited number of players at a single table. All players share the same hand against the dealer, but they can make independent decisions that can lead to different outcomes for each player. This variant is ideal for players who prefer lower betting limits since the minimum bet is typically lower than that of traditional live tables.
Frequently asked questions
Can I win real money at online blackjack?
Yes, you can win real money when playing online blackjack at reputable online casinos. Make sure to choose a trustworthy casino that offers secure, fair gameplay.
Should I play side bets in blackjack?
Side bets can be exciting and offer the chance to win substantial sums in a single hand. However, they generally have a lower return to player (RTP) than the main game, making them less profitable in the long run. Play side bets for fun, but be aware of their lower long-term payoff.
What are the best casinos to play online blackjack in Australia?
The best online casinos for playing blackjack in Australia offer a variety of games, excellent security, and generous bonuses. Always choose a casino with a strong reputation and a valid gaming licence to ensure a safe and enjoyable experience.
Can I play blackjack for free in Australia?
Yes, you can play blackjack for free right on this page! This is a great way to practise your strategy and learn the game without risking any real money.
How can I improve my chances of winning in blackjack?
To increase your odds of winning, learn basic blackjack strategy, which guides you on the optimal decisions for each hand. Additionally, manage your bankroll wisely and set limits on your playtime and spending.
Is card counting possible in online blackjack?
Card counting is generally not effective in online blackjack, as most online games use a random number generator (RNG) and shuffle the deck after each hand. This makes it nearly impossible to predict the remaining cards in the deck.
What is the house edge in online blackjack?
The house edge in online blackjack varies depending on the specific rules and game variation. However, with optimal strategy, the house edge can be as low as 0.5% in some games, making it one of the most player-friendly casino games available.