Pros and Cons
Pros

Engaging gameplay with 10,000 ways to win
Exotic, immersive jungle theme with excellent graphics
Multiple game features for high replayability
Generous winning potential
Cons

Maximum bet size might not be sufficient for high rollers
BananaZ 10K Ways Review
Released in March 2022 by renowned developers Yggdrasil in collaboration with ReelPlay, BananaZ 10K Ways has firmly established itself as a favourite among pokie enthusiasts worldwide. The game masterfully combines visually stunning graphics, immersive sounds, and truly engaging jungle-themed gameplay.
Set against the lush backdrop of a tropical rainforest, the pokie features a wide array of colourful fruit and animal symbols, all beautifully animated. The game's protagonist, Monkey Mike, adds an engaging and playful element to the gameplay. Its rich audio design, featuring a chorus of exotic bird calls and rhythmic jungle beats, provides the perfect backdrop to the colourful reel action.
What sets BananaZ 10K Ways apart from other pokies online is its unique gameplay mechanics, including Wilds and Scatters, that enhance your winning chances and contribute to a thrilling gaming experience. We will explore these mechanics in more detail in the upcoming sections.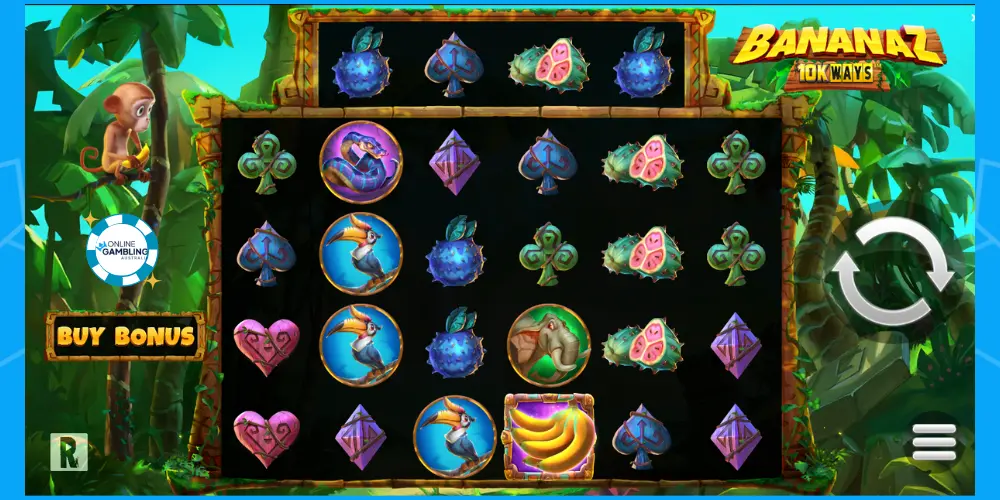 How to Play BananaZ 10K Ways
Cracking into BananaZ 10K Ways promises an unforgettable gaming experience. You hit a win when you land 3 to 6 matching symbols on adjacent reels. The game boasts an RTP of 96.1%, just like Relax Gaming's pokie Top Dawg$. But BananaZ 10K Ways RTP can be elevated to 96.99% with the Buy feature. With a betting range starting from a humble $0.20, scaling up to $12, you can win up to 20,000x times your bet with a single spin.
The game further impresses with its cascading reels feature. Winning symbols vanish, making room within the same spin for new ones to tumble down, providing additional chances to land winning combinations within a singular spin.
BananaZ 10K Ways is one of many exciting pokies available at the Best Online Casinos found on our list. It's part of Yggdrasil's illustrious portfolio, which includes other popular titles like "Let it Slide," "Rise of Valkyrie," and "Achilles."
Basic Information
Pokie

BananaZ 10k Ways

Software

Yggdrasil in association with ReelPlay

Release date

March 2022

RTP

96.1%

Volatility

High

Maximum Win

20,000x

Minimum Bet

$0.20

Maximum Bet

$12

Paylines

10,000

Reels

6

Jackpot

No

Free Spins

No
BananaZ 10K Ways Symbols
In the exuberant world of BananaZ 10K Ways, the symbols stand as the bread and butter of your jungle escapade. They portray an engaging mix of the jungle's vibrant flora and fauna. Each symbol carries different values and unlocks different winning possibilities when they line up on the reels in the right combination. From regal elephants to unusual fruits and traditional card suits, these symbols spice up your gameplay and contribute to the adventure that awaits you.
Low-Paying Symbols
The low-paying symbols, although they yield less substantial wins, bring a unique touch to the pokie with their distinctive jungle flair. These include the exotic fruits – the flower-like Pitaya and the Horned Fruit, alongside the Exotic Spiney Blue Fruit. To trigger a win, you will need to land at least three of these symbols on a payline. Like the high-paying symbols, six in a line will provide a bigger win.
The classic card suits – Heart, Diamond, Spade, and Club – also find a place among the low-paying symbols, adorned in a style that mirrors the jungle's colour and vibrancy.
High-Paying Symbols
Among the higher echelons of the paytable, we find the animated characters of the jungle. Leading the parade is the majestic Elephant, the highest paying symbol, followed by the colourful Toucan and the slithery Serpent. Three or more of these on a payline will trigger a win. A winning combination of six Elephants pays the most, offering a hefty return on your bet.
Symbols Paytable
| | | |
| --- | --- | --- |
| Symbol | Payline  | Maximum Payout |
| Elephant | x6 | 50x |
| Tucan | x6 | 5x |
| Serpent | x6 | 2.5x |
| Pitaya Blossom | x6 | 2x |
| Horned Fruit | x6 | 1.2x |
| Exotic Spiky Blue Fruit | x6 | 1x |
| Heart | x6 | 0.9x |
| Diamond  | x6 | 0.7x |
| Spade  | x6 | 0.5x |
| Club | x6 | 0.5x |
BananaZ 10K Ways Bonuses
For those who crave the tantalising rush of bonus features, BananaZ 10K Ways doesn't disappoint. This vibrant pokie brims with exciting bonus features that not only intensify the fun but also boost your chances of scooping significant wins.
Each bonus has been intricately designed to match the overall tropical theme of the game, delivering a unique blend of excitement and reward. Let's venture deeper into the jungle of bonus features that BananaZ 10K Ways has to offer.
Bonus Respins
Central to BananaZ 10K Ways is the Bonus Respins feature. This is triggered by landing three or more Banana Bunch Scatter symbols anywhere on the reels. Rather than simply adding more respins for each additional scatter symbol beyond the initial three, the mechanic operates on a resetting principle.
Every time a Banana Bunch Scatter symbol lands on the reels during this feature, the count of remaining respins resets to three. This approach ensures that the momentum and excitement of the feature are continually renewed.
A fascinating twist is that during the respins, the banana symbols do not act as traditional scatters. Instead, they transform into numbers, which are direct multipliers of your bet, ranging from 1x to a whopping 1,000x. This adds another layer of potential winnings to the respins feature.
Another symbol to keep an eye out for during these respins is the Monkey Mike symbol. When spun, Mike accumulates the values of all the banana symbols landed so far, adding to your total win.
Bonus Buy
In addition to the Bonus Respins, BananaZ 10K Ways offers players an expedited route to the bonus excitement with the Bonus Buy feature. At a cost of 100 times your bet, this option allows you to instantly activate the Bonus Respins, bypassing the base game. This can be a thrilling option for players eager to engage with the game's dynamic bonus features.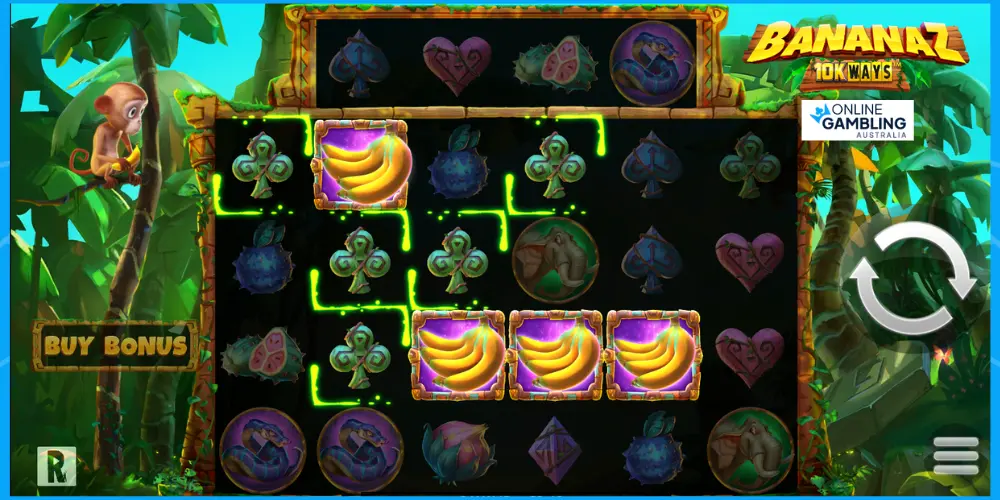 Gamble Feature
Push your luck with the Gamble feature. After your Bonus Respins end, you have the option to wager your winnings to multiply your outright win by up to 5x. The win multiplier starts at 1x, and you may choose to collect your winnings at any time or gamble to progress to the next multiplier. You can continue to gamble as long as you haven't reached the 0x multiplier or the maximum multiplier.
The maximum win from the Gamble feature is an astounding 400,000x base bet. If any multipliers would result in a win more sizable than this, they are automatically disabled. Any wins from the spin/reactions that gave rise to the Bonus Respins are incorporated within the gamble, adding another layer of excitement to your gameplay. But beware, unsuccessful gambles can lead to losing all of the winnings. Will you take the risk?
Multipliers
Finally, BananaZ 10K Ways brings in a fun twist with its multiplier feature. During gameplay, you'll notice multiplier values present on certain symbols. When these symbols form part of a winning combination, they multiply your win by the displayed value, skyrocketing your prizes to greater heights. This can result in substantial payouts, making the multiplier feature a key player in your jungle adventure.
Mike Goes Bananas Feature
An exclusive in-game bonus that further enriches the experience in BananaZ 10K Ways is the unique "Mike Goes Bananas" feature. This exciting bonus is triggered randomly during any spin, adding a layer of unpredictability that elevates the gaming experience.
When the "Mike Goes Bananas" feature kicks in, you'll see our affable monkey, Mike, go into a frenzy on the game screen. Mike, the wild symbol, starts switching symbols at random on the reels into wilds. This transformation of symbols into wilds can pave the way for more winning combinations, potentially leading to a big payout. The frequency of triggering the feature is random, which means every spin holds the anticipation of the bonus.
"Mike Goes Bananas" combines the thrill of chance with the promise of significant wins, blending seamlessly with the overall theme and character of BananaZ 10K Ways. This dynamic bonus feature undoubtedly stands as a testament to the game's capability to provide exhilarating moments and significant rewards in every spin.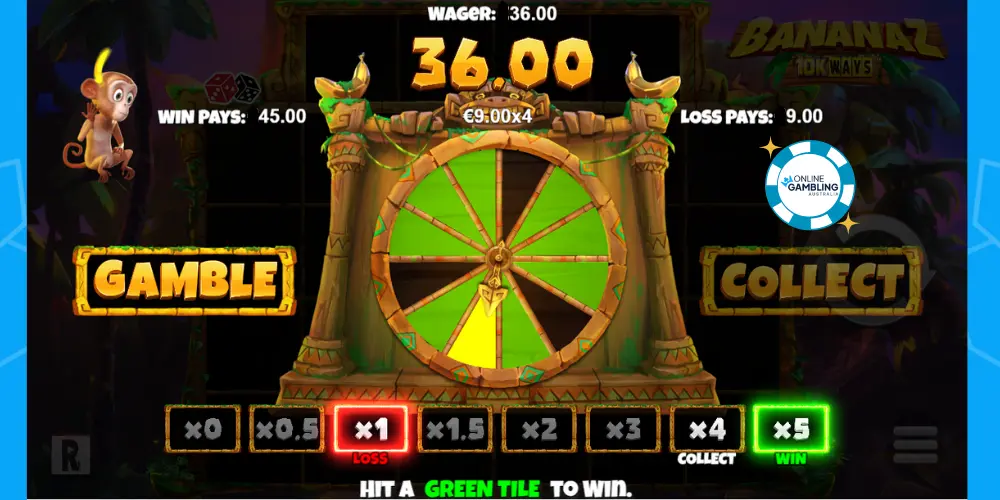 Peeling Back the Layers of BananaZ 10K Ways Pokie
As we bring our exploration of BananaZ 10K Ways to a close, we can confidently say this pokie offers a rich and thrilling experience that stands out in the world of online gaming. It masterfully blends a captivating theme, vibrant visuals, delightful sounds, and exciting features to bring to life the lush, tropical setting of Mike's jungle. The game's winning potential, boosted by the gamble feature, offers the thrill of high stakes to the players who dare to take the risk. After reading this review it's not surprising to see that so many online casinos, like Casistsu have this game within their catalogue.
In BananaZ 10K Ways, each turn could be a step closer to a substantial reward, thereby keeping players engrossed and on the edge of their seats. BananaZ 10K Ways presents a fantastic blend of engaging gameplay, appealing design, and the potential for significant wins. It demonstrates why Yggdrasil continues to be a trusted name in the online gaming industry.
Why not experience this thrilling jungle journey firsthand? Head over to one of our listed Australian Online Gambling Sites and give BananaZ 10K Ways a spin for real money. Embark on this tropical adventure today, and you might just find a fortune hiding amidst the exotic flora and fauna!
Frequently asked questions
What's the unique appeal of BananaZ 10K Ways?
The unique appeal of BananaZ 10K Ways comes from its exciting cascading reels feature, playful animations, and the lively character of Mike the Monkey, who adds an element of charm to the gameplay.
How does the cascading reels feature work in BananaZ 10K Ways?
In BananaZ 10K Ways, the cascading reels feature activates after every winning combination. The winning symbols disappear, making room for new symbols to drop down in the same spin, giving you extra chances to score a win.
What's the maximum win I can achieve in BananaZ 10K Ways?
In BananaZ 10K Ways, players can win up to 50,000 times their stake on a single spin. This is possible through the combination of multipliers and the game's special features.
How frequent are wins in BananaZ 10K Ways?
BananaZ 10K Ways is a high volatility pokie, meaning wins may not be frequent, but they tend to be significant when they occur. Remember, each gaming session can be different, so it's all about enjoying the game and playing responsibly.
What makes the bonus features in BananaZ 10K Ways exciting?
The bonus features in BananaZ 10K Ways are exciting because they offer multi-layered gameplay. From the chance to multiply your total winnings by up to 5x in the Gamble feature to the Bonus Respins, each feature enhances the game's thrill factor and winning potential.