Pros and Cons
Pros

Beautifully designed symbols
Wide betting range suitable for different budgets
Innovative sliding wild feature
Potential for significant wins with a max of 20,000x your bet
Cons

Bonus Buy option reduces the RTP to 95.1%
Let it Slide Review
Let it Slide Pokie, presented by Jade Rabbit Studios and powered by Yggdrasil's YG Masters platform, sets itself apart with its blend of chill vibes and high-risk reward potential. Let it Slide stands out not just because of the high volatility and potential of rewarding players with up to 20,000x their bet, but also due to its beautiful, enchanting, frozen forest theme, that truly transports players into a magical, icy realm.
With a similar environment to the icy realm of the Rise of the Valkyrie, you'll find yourself spinning reels filled with majestic animal totems under the mesmerising Aurora Lights. The dynamic gameplay is perfectly complemented by the soothing sound design, capturing the essence of the mystical woods, and immersive, high-quality graphics that make each spin a visual delight.
The innovative features in this online pokie, specifically the different types of wild symbols and the Let it Slide feature, give it a distinctive character. Its availability across top online gambling sites in Australia is another reason for Aussie punters to dive into the action.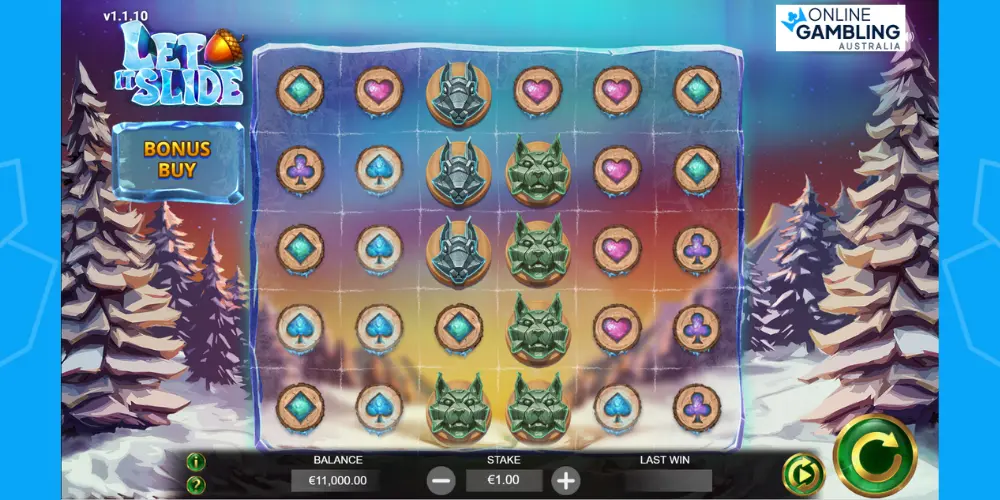 How to Play Let it Slide
Let it Slide has high volatility, with an RTP of 96.4%, offering high-risk, high-reward gameplay. With 20 paylines across 6 reels, players have plenty of opportunities to create winning combinations. Bet sizes range from a minimum of $0.10 to a maximum of $100, accommodating both low-stake players and high-rollers.
The standout features in the game are the different types of Wild symbols – the Sliding Wild, Sliding Multiplier Wild, Sticky Wild, Sticky Multiplier Wild, and Stacked Wild. These wilds add an extra layer of excitement to the gameplay and are integral to triggering the Let it Slide feature, one of the game's most compelling elements. However, these are not the only bonus features in this online pokie we will take a look into those further on in this review.
Basic Information
Pokie

Let it Slide

Software

Jade Rabbit Studios & Yggdrasil

Release date

April 2022

RTP

96.4%

Volatility

Very High

Maximum Win

20,000x

Minimum Bet

$0.10

Maximum Bet

$100

Paylines

20

Reels

6

Jackpot

No

Free spins

Yes
Symbols
Immerse yourself in the mystical aura of the Let it Slide pokie with its assortment of meticulously crafted symbols. Each one echoes the frozen forest theme, bearing the image of various creatures and elements found within this enigmatic icy realm.
Low-Paying Symbols
The low-paying symbols comprise familiar card suits – hearts, spades, clubs, and diamonds. Though these symbols offer smaller payouts, they are beautifully styled to match the icy wilderness theme, adding to the overall aesthetics of the game.
High-Paying Symbols
The high-paying symbols of Let it Slide pokie are intricately designed animal totems, including a Moose, Bear, Wolf, Sabre-Toothed Tiger, and Rabbit. Each of these symbols is teeming with vibrant colours and meticulous details, promising not just visual appeal but substantial rewards too.
Special Symbols
Let it Slide Pokie really comes to life with its variety of special symbols. These include a myriad of Wild symbols: Sliding Wild, Sliding Multiplier Wild, Sticky Wild, Sticky Multiplier Wild, and the Stacked Wild. Each wild bears a unique design, playing a crucial role in gameplay by offering plentiful opportunities to boost your wins. Look forward to exploring more about these symbols in the upcoming bonus features section!
Symbols Paytable
| | | |
| --- | --- | --- |
| Symbol  | Payline | Maximum Payout |
| Mousse | x6 | 10x |
| Bear | x6 | 5x |
| Wolf | x6 | 2x |
| Saber Tooth | x6 | 1.5x |
| Rabbit | x6 | 1.3x |
| Heart | x6 | 1x |
| Spade | x6 | 0.9x |
| Club | x6 | 0.8x |
| Diamond | x6 | 0.7x |
Let it Slide Bonuses
Venturing into the icy wilderness of the Let it Slide pokie is made even more enticing thanks to a host of enticing casino bonus features, designed to enhance the gameplay and boost your winning potential when playing at real money online casinos such as Wolf Winner. These carefully crafted bonuses, each with its unique triggers and rewards, ensure that every spin offers a new layer of excitement. Let's delve into each bonus in more detail.
Sliding Wild
The Sliding Wild bonus is triggered when a fully visible Stacked Wild lands on either the 1st or 6th reel. The Stacked Wild then releases a Sliding Wild onto the adjacent reel. This Sliding Wild travels diagonally towards the opposite side of the screen, bouncing off the top and bottom edges, moving one reel per respin. It turns any visible Ice Frames into Sticky Wilds as it slides through them, providing additional opportunities for winning combinations.
Sliding Multiplier Wild
The Sliding Wild turns into a Sliding Multiplier Wild after it bounces off a Stacked Wild on reel 5 or 2. This enhanced wild carries a multiplier that is increased by 1 every time it bounces off a Stacked Wild. The multiplier value applies to any win the Sliding Multiplier Wild contributes to and can add a significant boost to your winnings.
Sticky Wild & Sticky Multiplier Wild
When the Sliding Wild passes through an Ice Frame, it turns into a Sticky Wild. If a Sliding Multiplier Wild passes through an Ice Frame, the resulting Sticky Wild carries the same multiplier value, enhancing your potential wins. These sticky wilds remain on the reels for the duration of the feature, offering additional chances to form winning combinations.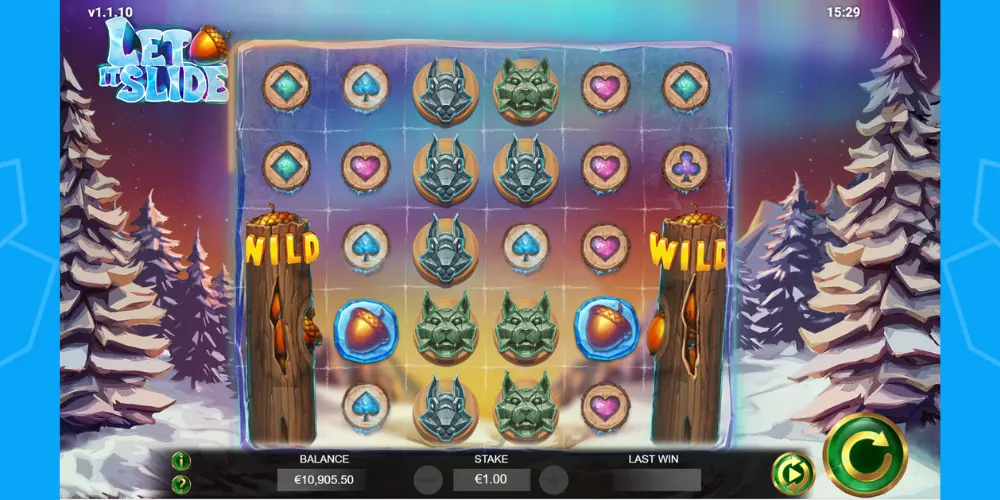 Ice Frame Feature
Integral to Let it Slide, the Ice Frame aids in activating the Sliding Wild and Sticky Wild transformations. When 1-2 Ice Frames (2-4 in Free Spins) appear on reels 2 to 5, it indicates the Let it Slide feature is imminent.
Upon a Sliding Wild or Sliding Multiplier Wild passing through an Ice Frame, it transforms into a Sticky Wild or Sticky Multiplier Wild respectively, offering greater win potential. Any Sticky Wild that results from a Sliding Multiplier Wild will maintain its multiplier throughout the feature.
Let it Slide Feature
This feature is triggered by a fully visible Stacked Wild on either the 1st or 6th reel. The Stacked Wild takes part in any possible wins and then releases a Sliding Wild onto the adjacent reel. The following respins are free, and the feature continues until no more Sliding Wilds are present on the reels.
Free Spins
Two fully visible Stacked Wilds on the first and last trigger the Free Spins bonus. This feature starts with two Sliding Wilds on opposite sides of the screen, and the number of initial Ice Frames increases from 1-2 to 2-4. The Free Spins are unlimited and continue, provided there is at least one Sliding Wild or Sliding Multiplier Wild present on the screen.
Bonus Buy Feature
For those who prefer instant action, Let it Slide offers a Bonus Buy option, the same as the Achilles Pokie by the same provider. For 57x your active bet, you can instantly trigger the Free Spins bonus, bypassing the base game entirely and jumping straight into the icy-hot rewards!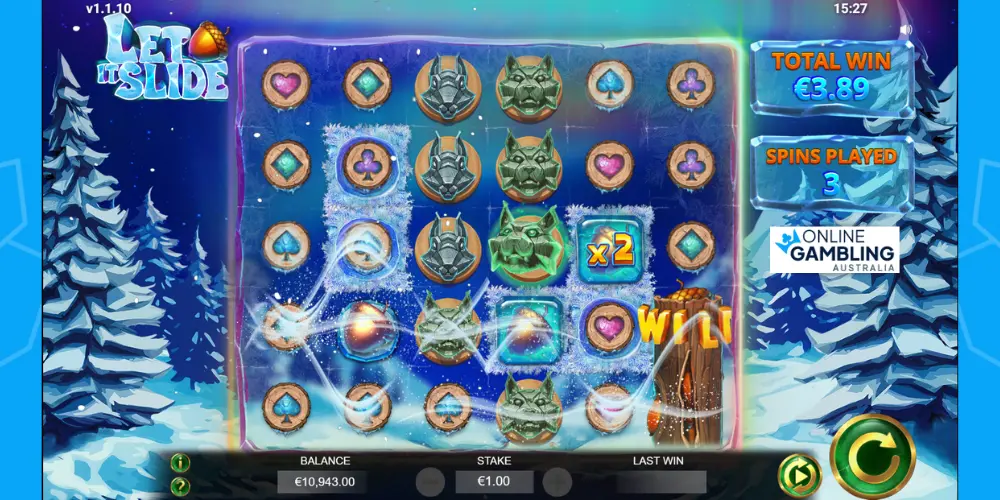 Our Final Slide Across the Ice
In conclusion, the enchanting Let it Slide pokie from Jade Rabbit and Yggdrasil takes players on an unforgettable journey through a frosty forest illuminated by the enchanting Northern Lights. A dazzling array of bonuses and features, coupled with high-volatility gameplay and a hefty potential maximum win, mark this game out as a gem in the online pokie scene.
What truly sets Let it Slide apart from its peers, however, is its status as a product of the YGS Masters program. For the uninitiated, the YGS Masters program is an initiative by Yggdrasil aimed at fostering innovation in the gaming sector. By partnering with independent game studios like Jade Rabbit, Yggdrasil supports the creation of diverse, boundary-pushing titles that bring fresh experiences to the gaming community.
As such, Let it Slide pokie, with its wintery charms and multi-faceted bonus features, is a testament to the success of the YGS Masters program and its commitment to delivering innovative, high-quality gaming experiences. In the broader context of Yggdrasil's portfolio, which also includes pokies such as Raptor DoubleMax, Let it Slide holds its own with its unique theme and engaging gameplay.
Frequently asked questions
Who are Jade Rabbit Studios?
Jade Rabbit Studios is a rising game developer based in Malta, focused on delivering high-quality online pokies. They are recognised for their innovative designs and unique gaming features.
What are the YGS Masters and how are they involved in Let it Slide?
YGS Masters is a semi-open platform initiated by Yggdrasil. It collaborates with various world-class and emerging studios to deliver innovative gaming content. Let it Slide is a product of this partnership, developed by Jade Rabbit Studios and released on the YGS Masters platform.
How can I increase my winning chances on Let it Slide?
As with any pokie game, outcomes on Let it Slide are based on Random Number Generators, thus wins cannot be guaranteed. However, understanding the game's unique features and play dynamics can enhance your gaming experience.
What is the significance of the Ice Frame in Let it Slide?
The Ice Frame is a key element in the Let it Slide feature. When a Sliding Wild passes through an Ice Frame, it turns into a Sticky Wild until the feature ends, increasing the opportunities for larger wins.
How frequently can I expect to trigger bonus features in Let it Slide?
As a high-volatility game, bonus features in Let it Slide may not be triggered very frequently. However, when they are, they can lead to substantial wins, making the wait worthwhile.
Is there a quick way to trigger the Free Spins round in Let it Slide?
Let it Slide includes a Bonus Buy feature that allows players to instantly activate the Free Spins round for a fixed price of 57x the active bet. This provides a faster route to the potentially lucrative bonus game.