Pros and Cons
Pros

Exceptional graphics and sound effects
High volatility for potential big wins
Unique Tiki theme for distinctive gameplay
Accessible to all players with a wide betting range
Cons

RTP reduces with Bonus buy
Tiki Tumble Pokie Review
Venture into Tiki Tumble, an extraordinary pokie that transports you to a tropical paradise, where wins are as exciting as the adventure itself. The game stands out at Aussie Online Casinos with its high-quality graphics, vibrant colours and realistic sounds, truly setting it apart from other pokies. Tiki Tumble boasts an engaging Tiki theme, which is brought to life with beautifully designed symbols, a lush tropical background and tantalising Hawaiian tunes.
The game's vivid colour palette, reminiscent of a stunning sunset on a tropical island, further adds to the appeal. The attention to detail in the graphics and sounds creates a magnetic gaming experience that makes Tiki Tumble a favourite among pokie enthusiasts.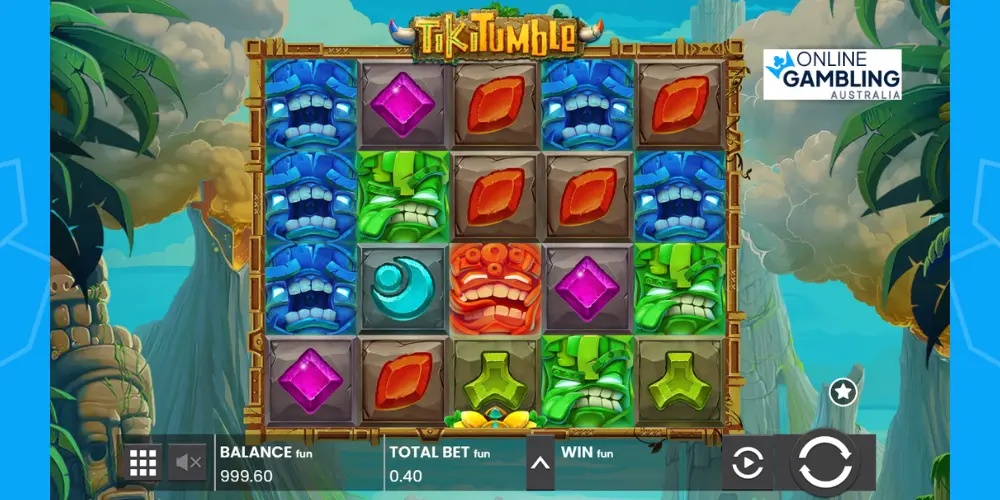 How to Play Tiki Tumble
Diving into the vibrant world of Tiki Tumble is as simple as it is exciting. This high volatility pokie with an RTP of 96.49% promises substantial rewards, offering the thrill of the chase and the joy of the win in one enticing package, just like Honey Rush by Play'n Go. Before spinning the five reels, you first need to set your wager. Tiki Tumble caters to all types of players with a broad betting range from a minimum of $0.20 to a maximum of $100 per spin. Once you've decided on your bet, press the spin button and get the game underway.
The pokie provides 20 paylines, presenting various opportunities to land winning combinations. You'll encounter a diverse array of symbols from the enchanting Aztec world, each with its distinct values. The Wild symbol is particularly significant, as it can substitute for all other symbols, increasing your chances of hitting a winning line.
Tiki Tumble truly shines when you trigger its special features. Look out for the Scatter symbols that will activate the Bonus Game, which provides a fantastic opportunity for some big wins. What's more, during this round, free spins come into play, allowing you to further increase your winnings without having to place additional bets. To sum it all up, Tiki Tumble is a delightful online pokie enjoyed by many.
Basic Information
Pokie

Tiki Tumble Pokie

Software

Push Gaming

Release date

February 2018

RTP

96.49%

Volatility

High

Maximum Win

18,278x

Minimum Bet

0.20

Maximum Bet

$100

Paylines

20

Reels

5

Jackpot

No

Free spins

Yes
Tiki Tumble Symbols
The allure of Tiki Tumble is accentuated by its rich array of symbols, each reflecting the game's vibrant Aztec theme. Crafted by the skilled software developers at Push Gaming, these symbols add a whole new layer of excitement and intrigue to the game.
Low-Paying Symbols
On the other end of the spectrum, the low-paying symbols in Tiki Tumble are represented by gemstones. Even though these symbols pay less, they appear more frequently on the reels, offering regular, smaller wins. Each gemstone is intricately designed and coloured differently, adding a visually appealing element to the game.
High-Paying Symbols
The high-paying symbols in Tiki Tumble are represented by various colourful Tiki masks. These ornate masks, each with a unique design and distinctive colours, bring the ancient Aztec culture to life on the reels. Landing these symbols in the correct combination can lead to substantial wins, making them a sought-after sight for every player.
Special Symbols
The special symbols in Tiki Tumble play a crucial role in enhancing the gameplay. The Wild symbol is an important feature symbol, capable of substituting for other symbols to create winning combinations. It is represented by a golden Tiki mask, which is hard to miss due to its vibrant design.
Another special symbol is the Scatter, which, when landed in sufficient numbers, can trigger exciting game features. While we will not delve into the specifics of these features at this point, it is worth noting that these special symbols are instrumental in unlocking the full potential of Tiki Tumble. Watch out for these as they can significantly elevate your gaming experience!
Symbols Paytable
| | | |
| --- | --- | --- |
| Symbol | Payline  | Maximum Payout |
| Gold Mask (Wild) | 5x | 25x |
| Pink Mask | 5x | 20x |
| Orange Mask | 5x | 15x |
| Green Mask | 5x | 10x |
| Blue Mask | 5x | 5x |
| Pink Gem | 5x | 2.5x |
| Orange Gem | 5x | 2.5x |
| Green Gem | 5x | 2x |
| Turquoise Gem  | 5x | 2x |
Tiki Tumble Pokie Bonuses
With regards to enhancing your online gaming experience, bonuses play a significant role, and Tiki Tumble is no exception. This popular pokie offers an array of in-game bonus features that add a thrilling dimension to your gameplay and can potentially multiply your winnings. What's more, when playing Tiki Tumble for real money at an online casino, you stand a chance to benefit from online casino bonuses.
Combined with the game's inherent bonus features, these bonuses can significantly amplify your potential for big wins. Let's delve into the different bonuses you can expect from Tiki Tumble.
Wild Symbols
In Tiki Tumble, the Wild Symbol is represented by a golden Tiki mask. This symbol is an eye-catching feature on the reels and serves a special function. The Wild symbol can substitute for any other symbol, except the Scatter, to create winning combinations. It can appear on any reel, increasing the potential for a big win. The versatility of the Wild symbol can significantly boost your winnings and add an element of suspense to each spin.
Scatter Symbols & Bonus Game
The Scatter symbol, depicted as a burning torch, is a unique feature in Tiki Tumble. The Scatter symbols are the key to triggering the Bonus Game. When three or more of these flaming torch symbols land anywhere on the reels, the Bonus Game is activated.
Upon entering the Bonus Game, a player is awarded a set of Free Spins. During these free spins, the multiplier effect is introduced via the Wild symbols. This interplay of Free Spins and the increasing multiplier with each spin leads to substantial win potentials.
This combination of Scatter symbols, Bonus Game, and Free Spins is what sets Tiki Tumble apart from many other online pokies, offering a thrilling gaming experience with the potential for significant rewards. Pair these with the additional online casino bonuses, and the allure of this pokie becomes even more compelling.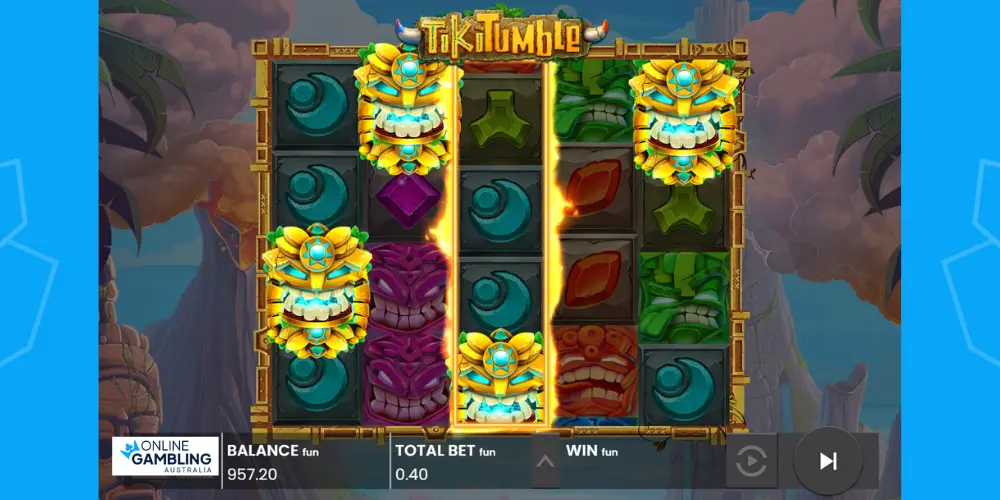 Free Games Feature
In Tiki Tumble, the Free Games Feature is a significant bonus element. This feature is activated when three or more Scatter symbols appear on the reels. Once this happens, players are awarded a certain number of free spins.
During these free games, the magic truly unfolds. The Wild symbols come into play, adding a multiplier effect to the subsequent spins. As each free spin is played, the multiplier increases, leading to potentially substantial wins. The Free Games Feature in Tiki Tumble, therefore, adds an extra layer of excitement to the game and contributes greatly to the game's appeal.
Nudging Wilds Mechanism in Free Games
In Tiki Tumble, the Free Games feature introduces a fascinating element known as Nudging Wilds. Whenever a Wild symbol appears at the top of any reel during the free spins, it will nudge down one position with each subsequent spin.
As the Wild symbol shifts down, it retains its power to substitute for any other symbol, thereby creating more potential for winning combinations. This innovative feature significantly heightens the thrill of the Free Games and brings an extra layer of strategic depth to Tiki Tumble's gameplay.
Multipliers
The Multiplier is another exciting bonus element in Tiki Tumble. The multiplier comes into effect during the Free Games feature. When Wild symbols appear on the reels during the free spins, they cause a multiplier to be added to the subsequent spins. This multiplier increases with each spin, creating a potential for significant winnings. The thrill of this growing multiplier brings an additional element of suspense and potential reward to each free spin.
Bonus Buy Option
Some versions of Tiki Tumble also offer a Bonus Buy option. This feature allows players to directly buy into the Free Games feature, without having to wait for Scatter symbols to trigger it. This option comes at a cost but provides instant access to the free spins and associated multipliers, offering players the opportunity to speed up their gameplay and potentially secure substantial wins.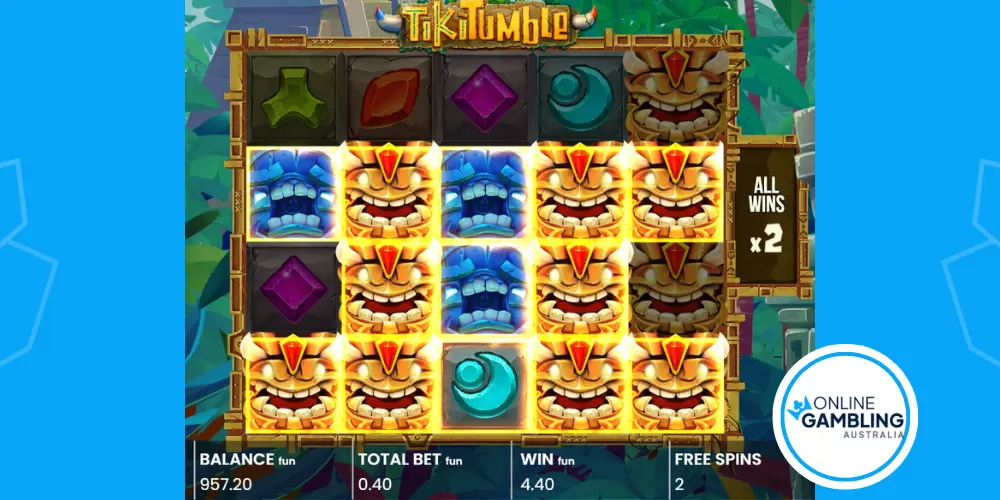 Our Reflections As the Sun Sets on Tiki Tumble
After a thrilling journey through the exotic landscape of Tiki Tumble, it's easy to see why this pokie has captured the hearts of Aussie gamers. Its combination of vibrant graphics, immersive sound, and captivating gameplay, together with a generous RTP and intriguing bonus features, make this a standout title from Push Gaming.
A nod must be given to a similar game, Tiki Paradise, brought to us by Playtech a year before the release of Tiki Tumble. While Tiki Paradise also delivers its share of tropical fun, Tiki Tumble seems to have a distinct edge with its unique bonus features and striking visuals. It's this delightful balance of fun and rewards that makes Tiki Tumble a cherished pokie in the realm of online gaming.
There's no doubt that Tiki Tumble offers an unforgettable gaming experience, providing more than just a simple spin of the reels. It brings an element of adventure, mystique, and excitement that sets it apart from many of its contemporaries. For those who haven't yet delved into the tropical world of Tiki Tumble, the time to dive in is now. You're bound to enjoy the tumble!
Frequently asked questions
What makes Tiki Tumble distinctive among other pokies?
Tiki Tumble's distinctive feature is the engaging blend of unique symbols, an immersive Aztec theme and the powerful combo of Bonus Game, Wilds and Free Spins. It adds an extra dimension of excitement that sets it apart from many other pokies.
Is Tiki Tumble a good choice for both beginners and experienced players?
Yes, Tiki Tumble's flexible betting range, along with its easy-to-understand gameplay, makes it suitable for players of all experience levels. Its medium-high volatility provides an exciting challenge for seasoned players as well.
What makes the Tiki mask symbol special in Tiki Tumble?
The Tiki mask symbol in Tiki Tumble is the Wild symbol. Its ability to substitute for other symbols and create winning combinations makes it a vital element in the game.
How does Tiki Tumble reward players during the Bonus Game?
In Tiki Tumble, during the Bonus Game, Wild symbols play a crucial role. They not only substitute other symbols but also have a multiplier effect, which increases with each spin, offering a chance for significant payouts.
How does Tiki Tumble compare to other similar pokies?
Tiki Tumble stands out with its dynamic gameplay, stunning graphics, and engaging bonus features. While there are other pokies with similar themes, like Tiki Paradise by Playtech, Tiki Tumble's unique blend of features offers a distinct and captivating gaming experience.
Can I expect frequent winnings with Tiki Tumble?
Tiki Tumble might not provide frequent wins as a high-volatility game. But when they occur, the payouts are typically more substantial due to the higher volatility and the game's unique bonus features.
How does Tiki Tumble's theme add to the gaming experience?
Tiki Tumble's vibrant Aztec theme, combined with high-quality graphics and sound effects, creates an immersive gaming atmosphere. It adds to the overall enjoyment of the game, making each spin a mini-adventure.