Pros and Cons
Pros

Massive potential win of up to 50,000x the bet
Various interesting features to keep gameplay engaging
High-quality, appealing graphics
Broad betting range
Cute, Fun and relaxing theme
Cons

Highly volatile, making it potentially risky for some players
Several features can be complex to understand initially
Big Bamboo: Review
Big Bamboo is a ruthlessly engaging pokie with a deceptively cute exterior. The stunning visuals of towering bamboo and playful pandas hide a challenging casino game full of intrigue and substantial rewards. With a multitude of features and options for betting, this pokie offers an adventure for both newcomers and seasoned Aussie gamblers alike.
The game's five reels and 50 fixed paylines provide straightforward gameplay while the unique features like Mystery Bamboo Symbols and Golden Bamboo feature maintain excitement. High volatility and an RTP of 96.13% indicate a thrilling, high-stakes experience, and the potential win of up to 50,000x the original bet adds to the anticipation.
Despite its complexities, Big Bamboo remains accessible thanks to its wide range of betting options and the convenience of playing on any device. Whether you're new to pokies or a seasoned gambler, Big Bamboo offers an engaging, rewarding experience worth exploring.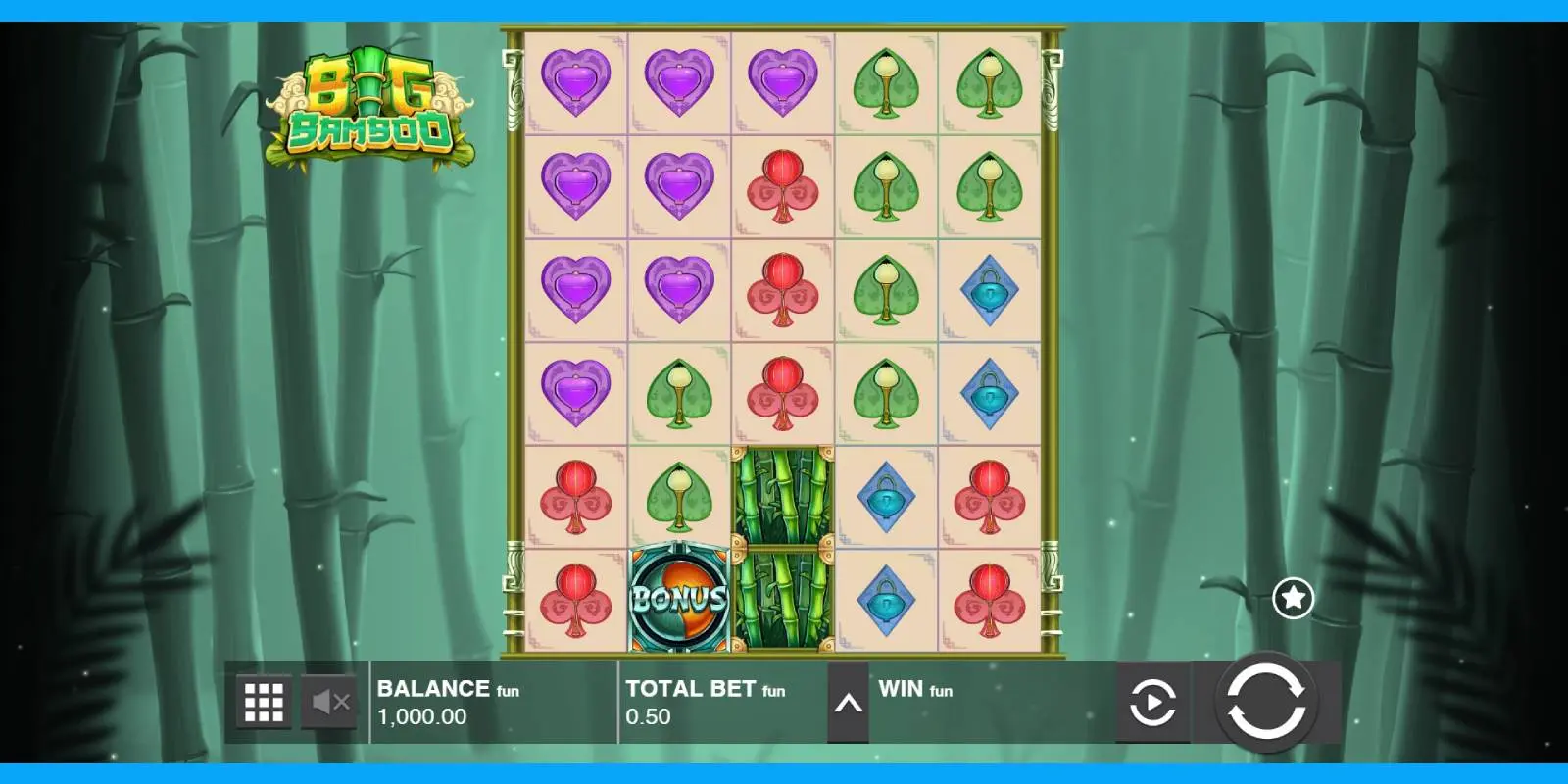 How to Play Big Bamboo
Playing Big Bamboo is a straightforward experience due to its conventional 5-reel, 6-row layout and 50 fixed paylines. After loading the game, players are met with a vibrant interface where they can choose their desired bet. Following this, they can spin the reels to initiate the game.
The objective is to land at least three matching symbols on a payline, initiating a win. However, the top-paying panda symbol differs, requiring only two matches for a win. As the game progresses, players will encounter various special features that add an extra layer of excitement to the game.
Basic Information
Pokie

Big Bamboo

Software

Push Gaming

Release Date

March 2022

RTP

96.13%

Volatility

High

Maximum Win

50,000x

Minimum Bet

$0.10

Maximum Bet

$100

Paylines

50

Reels

5

Jackpot

No

Free Spins

Yes
Symbols
Big Bamboo's vibrant reel is adorned with a collection of symbols divided into high-paying and low-paying categories, each bringing its own charm and winnings potential. The high-paying symbols, headlined by the panda, immerse the player in the jungle adventure with other animal characters such as monkeys, birds, and boars. While these symbols need a minimum of three matches on a payline to win, the panda is an exception, offering rewards with just two.
Meanwhile, the low-paying symbols, represented by classic card suits, bring a familiar touch to the exotic setting of the game. Their lesser returns are balanced out by their frequent appearances, providing regular small wins that keep the game's momentum alive.
Overall, these symbols ensure each spin is an unpredictable and thrilling event, contributing to an engaging and rewarding pokie experience.
Symbols & Paytabe
| | | |
| --- | --- | --- |
| Symbol | Paylines | Payout |
| Panda | x5 | 150x |
| Boar | x5 | 20x |
| Monkey | x5 | 16x |
| Bird | x5 | 12x |
| Club | x5 | 0.4x |
| Heart | x5 | 0.4x |
| Spade | x5 | 0.4x |
| Diamond | x5 | 0.4x |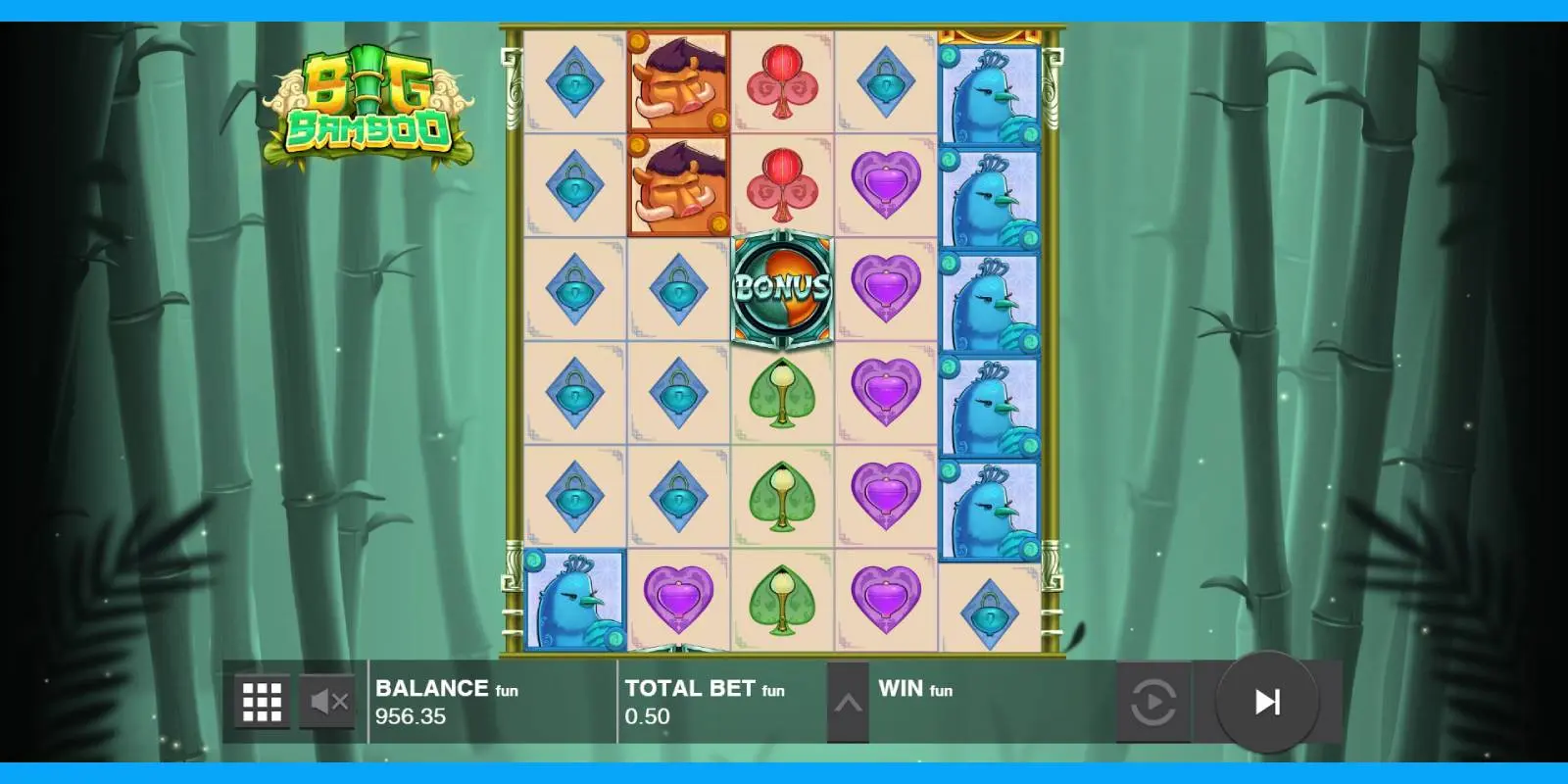 Bonuses of Big Bamboo Pokie
In the verdant depths of Big Bamboo, myriad secrets lie hidden among the towering stalks. It's time we ventured into this grove, navigating through its whispering leaves and rustling branches, to decode the array of cryptic features and symbols which can amplify your gaming fortunes.
Mystery Bamboo & Golden Bamboo
Two unique symbols, the Mystery Bamboo and Golden Bamboo, offer the potential for big wins and add a layer of suspense to the gameplay.
Mystery Bamboo
The Mystery Bamboo symbol is like a wildcard of the forest. When it appears on the reels, it can morph into any other pay symbol, which includes both low-paying and high-paying symbols as well as the special wilds. This means it has the potential to complete winning combinations where you least expect them, adding an unpredictable element to your game.
Golden Bamboo
The Golden Bamboo symbol, on the other hand, holds the power to reveal a wealth of rewards. This symbol can unveil instant prizes, boosting your winnings on the spot. But the Golden Bamboo doesn't stop there; it can also reveal a collector or multiplier symbol. The collector symbol increases the value of all visible money symbols on the reels, while the multiplier symbol multiplies the total value of all visible money symbols.
With this, the Golden Bamboo symbol can turn a good spin into an exceptional one, offering a thrilling twist to your Big Bamboo experience.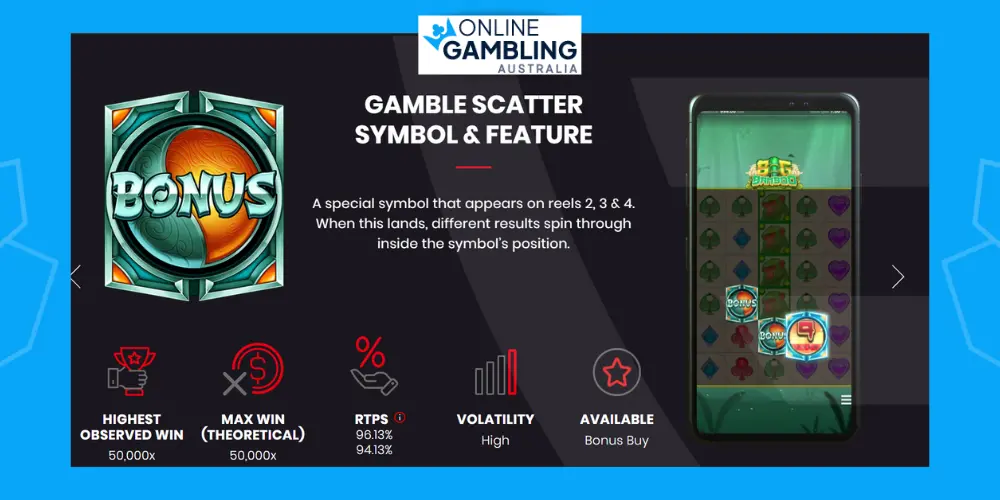 Free Spins
In Big Bamboo, Scatter Symbols hold the key to the bonus rounds. These symbols can either appear naturally during the spins or be revealed by the Golden Bamboo feature. The moment you land three or more Scatter Symbols on the reels, you've activated the Free Spins round.
This bonus round significantly enhances the dynamics of Big Bamboo gameplay. During this feature, the Golden Bamboo symbol appears more frequently, causing the bamboo shoots to grow more rapidly than in the base game.
This increased frequency provides an exciting opportunity for more substantial rewards, as the greater number of Golden Bamboo symbols means an increased chance of triggering the All Pays feature or converting high-paying symbols. This added element of excitement is what makes the Free Spins round a standout feature in Big Bamboo.
Buy Feature
For the high-rollers and thrill-seekers, Big Bamboo introduces the Buy Feature, an option to jump straight into the heat of the action. Rather than waiting for the right symbols to align, this feature allows you to bypass the base game and purchase direct entry into one of the four distinctive bonus rounds.
This feature offers you a choice among four bonuses, each with a different cost and potential reward. These bonuses can range from a set number of free spins to the activation of the Golden Bamboo feature, providing a mix of risk and reward.
In Big Bamboo, the choice is yours. You have the power to tailor your gaming experience to your preference, whether you're after the thrill of high-stakes betting or the enjoyment of unexpected bonuses. The Buy Feature adds another layer of strategy to this engaging pokie, making it an adventure for both experienced players and newcomers alike.
Gamble Scatter Symbols
Within the base game, when Scatter Symbols make their appearance on the second and third reels, a Gamble Scatter might land on the fourth reel. These symbols are like a spin of a roulette wheel, revealing a range of potential outcomes that could either multiply your winnings or leave you with empty pockets.
Gamble Feature
If fortune favours you and the Gamble Scatter awards one of the two lower free spins bonus games, you can choose to take a chance with the Gamble Feature. This allows daring players the opportunity to climb to a higher reward tier, increasing the stakes for potential windfalls.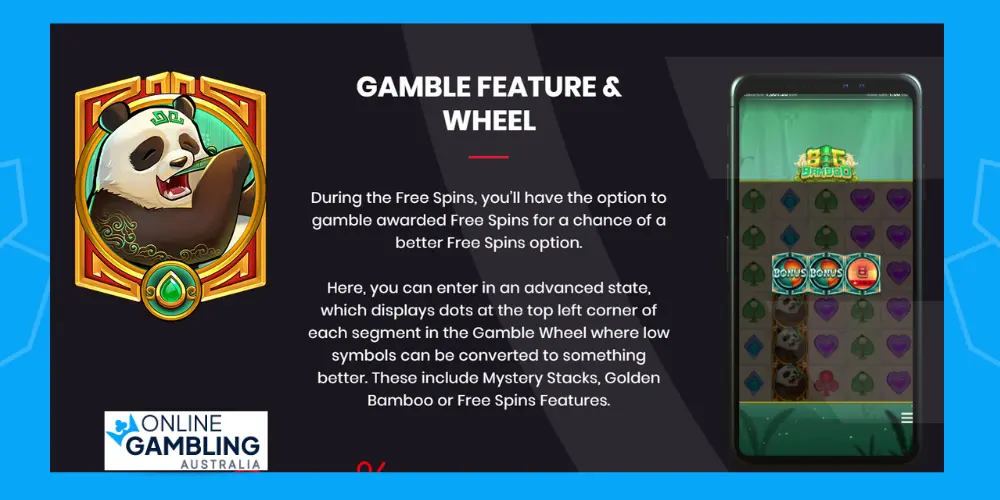 The Bambooziness Unfurls: Big Bamboo
Big Bamboo by Push Gaming serves as a distinctive exemplar of excellence within the realm of online pokies. It masterfully weaves together an immersive theme, captivating graphics, and a plethora of unique features to create an unrivalled gaming experience. The serene tranquillity of the bamboo-filled jungle juxtaposed with the exhilarating potential of winning up to 50,000x the bet sets it apart as a compelling choice for Aussie pokie enthusiasts.
Whether you're a seasoned gambler seeking a fresh challenge or a newcomer ready to dip your toes into the exciting realm of online pokies, Big Bamboo is a journey worth embarking on. So, are you ready to take the plunge and explore the bamboo forest's hidden riches? This delightful panda-themed adventure awaits you!
On the other hand, should you prefer something a little sweeter, you might enjoy Sweet Bonanza by Pragmatic Play, try it out at one of the top online casinos on our list and get a chance to bag a sweet online casino bonus in the process.
Frequently asked questions
Does Big Bamboo have a progressive jackpot?
No, Big Bamboo does not have a progressive jackpot. However, it does offer a massive maximum win of 50,000x your bet, which can potentially result in a significant payout.
Can I play Big Bamboo for free?
Yes, most online casinos offering Push Gaming pokies provide a demo version of the game. This allows players to get a feel for the game mechanics and features before deciding to play with real money.
What is the volatility of Big Bamboo?
Big Bamboo is a high-volatility game. This means that wins may not occur frequently, but when they do, they have the potential to be significant.
Is Big Bamboo suitable for beginner players?
Absolutely, Big Bamboo's engaging theme and straightforward mechanics make it a good choice for beginners. However, its high volatility might require some patience and a well-thought-out betting strategy.
Are there any special symbols in Big Bamboo that I should look out for?
Yes, in Big Bamboo, you'll want to pay close attention to the Mystery Bamboo Symbols and Golden Bamboo Symbols. They both play a pivotal role in enhancing your gaming experience, with potential rewards, multipliers, and instant prizes.
Does the Big Bamboo Pokie offer a Buy Feature option?
Yes, the game includes a Buy Feature option, which allows players to directly purchase one of the four bonuses. This can speed up the gameplay and directly increase the thrill of the game.