Pros and Cons
Pros

Unique tumble reels feature
Four exciting levels with increasing rewards
Potential to win up to 9,000x your stake
Stunning graphics with a delightful theme
Special features can be triggered randomly
Cons

No free spins feature
Honey Rush Pokie Review
Buzz into a world drenched in golden hues with the Honey Rush pokie by Play'n Go. The theme is undeniably sweet, transporting players to a vibrant world filled with shimmering nectar. The colours are predominantly warm tones of gold and amber, reminiscent of sunlit honey jars on a summer day.
As for the sounds, they're ambient and serene, punctuated by delightful buzzes every time you hit a win. The graphics are second to none, making every spin a visual treat. The details, from the glistening honey to the fluttering bees, are impeccably designed, making it clear why online pokies enthusiasts are raging about Honey Rush.
When it comes to quality and innovation, this incredible developer has certainly delivered a pokie that stands out in a vast online gambling terrain.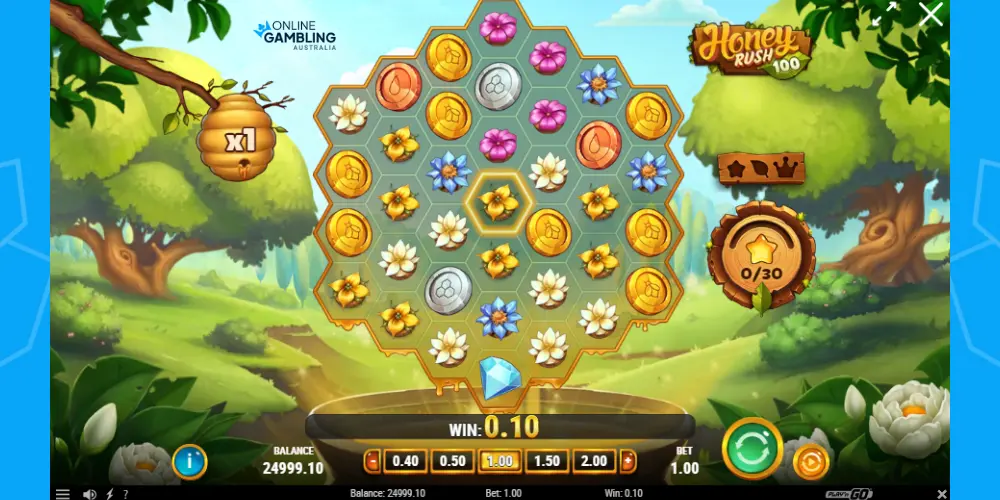 How to Play Honey Rush
This casino game stands out with its distinctive cluster pays mechanic. Instead of traditional reels, Honey Rush operates on a hexahedron-cluster layout where symbols tumble and winning combinations are formed through clusters rather than paylines. Upon forming a win, the symbols disappear, making room for new ones to tumble into place within the same spin.
A core feature is the Rush meter, which progressively fills as you collect winning symbols. The objective is to progress through the four levels of the meter, with each ascent unlocking enticing bonuses and rewards. With an RTP of 96.5% and high volatility, Honey Rush keeps players eagerly anticipating the next big win.
Basic Information
Pokie

Honey Rush

Software

Play'n Go

Release Date

October 2019

RTP

96.5%

Volatility

High

Maximum Win

9,000x

Minimum Bet

$0.20

Maximum Bet

$100

Paylines

Cluster Pays

Reels

Hexagon, 37 squares

Free Spins

No

Jackpot

No
Honey Rush Pokie Symbols
Symbols in the Honey Rush pokie aren't just any ordinary icons; they're a vivid representation of the game's sweet, nature-inspired theme. The vibrant graphics and intricate details of each symbol showcase the impeccable design work by Play'n Go. These symbols range from the low-payout ones, which are more frequent but offer smaller rewards, to the high-payout symbols that are rarer but promise heftier wins.
The game employs a cluster pays mechanic, offering a gameplay style reminiscent of popular titles like Rise of Olympus by the same provider or Fire Hopper by Push Gaming. Additionally, there are special symbols that bring unique features and exciting gameplay twists. Let us take a look at each category to understand their significance and payout potential.
Low-payout Symbols
Within the Hexahedron-clusters of Honey Rush, players frequently encounter symbols like the sunflower, rose, cherry blossom, and purple pansy. Each of these floral symbols, though offering more modest payouts than some of their counterparts, is a regular feature on the grid. They bring vibrant colours and a touch of nature to the gameplay.
High-payout Symbols
The diamond symbol is undeniably the most valuable asset in Honey Rush. Its radiant shimmer promises the most significant rewards, and its rarity on the grid makes it all the more sought-after. Following the diamond in terms of value is the golden bee coin, with its gleaming gold finish reflecting its high worth.
The silver honeycomb coin is another symbol players eagerly anticipate, as it holds the promise of substantial rewards. Similarly, the copper honey drop coin, with its rich coppery hue appears and offers ample wins.
Special Symbols
The Honey Rush pokie boasts the unique honey pot wild symbol, which graces the grid only when invoked by the Rush meter. This wild symbol takes its position on the second ring of reel pokies, initiating from the outermost ring and moving inwards.
As a wandering multiplier wild, it shifts its position with each subsequent tumbling win, and in doing so, can potentially magnify the multiplier up to threefold. The diligent worker bees play a pivotal role in the game's theme, possibly acting as connectors or enhancers.
| | | |
| --- | --- | --- |
| Symbol | Payline | Maximum Payout |
| Diamond | 35+ | 200x |
| Golden Bee Coin | 35+ | 100x |
| Silver Honeycomb Coin | 35+ | 75x |
| Copper Honey Drop Coin | 35+ | 50x |
| Sunflower | 35+ | 20x |
| Rose | 35+ | 20x |
| Cherry Blossom | 35+ | 20x |
| Purple Pansy | 35+ | 20x |
Honey Rush Pokie Bonuses
The Honey Rush pokie isn't just about its theme and delightful symbols; it also houses a bonanza of bonuses that can amplify wins and enhance the gameplay experience. These bonuses, intricately woven into the game's mechanics, are triggered under specific conditions and promise a variety of rewards.
From the Rush meter's intricate levels to the colony features, every bonus in Honey Rush has been designed to offer players something unique and thrilling. Let's delve deeper into each of these bonuses to understand their mechanisms and how they can lead to sweet victories.
Rush Meter Levels
In Honey Rush, the Rush meter is a pivotal bonus feature that holds the key to levelling up in the game. As players accumulate winning symbols, the Rush meter starts to fill. With four distinct levels to achieve, each level requires a specific number of winning symbols. For instance, the first three levels necessitate the collection of 20, 40, or 80 winning symbols, respectively.
Each time players level up, they trigger the Drone Colony feature, which bestows a cluster of a minimum of seven matching symbols, augmented by a sticky wild. The pinnacle, Level 4, is termed the Queen Colony. To reach this esteemed level, players must amass 160 winning symbols. Achieving this triggers clusters with up to 37 matching symbols, essentially filling the entire grid with winning symbols.
Colony Features
In the Honey Rush pokie, the Colony features stand out as a cluster of distinctive bonus mechanisms, each adding a layer of depth and excitement to the gameplay. Crafted with precision by Play'n Go, these features have the potential to transform an ordinary spin into a whirlwind of rewards. Whether it's through a random stroke of luck during a non-winning spin or by meticulously filling up the Rush meter.
These bonuses not only amplify the potential for hefty wins but also intertwine seamlessly with the game's overall theme, making each activation a visual and rewarding spectacle. Each feature within this cluster has its own set of triggers, effects, and rewards, offering players a dynamic and ever-evolving gaming experience.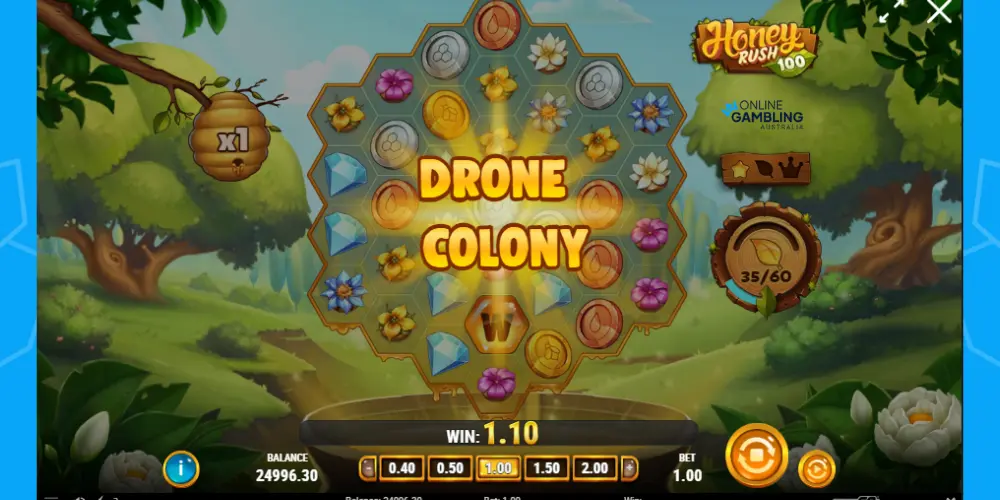 Drone Colony Feature
Activated each time players level up in the Rush meter, the Drone Colony feature grants a cluster of at least seven matching symbols, complemented by a sticky wild. This feature enhances the chances of securing a win by creating favourable symbol combinations on the grid.
Worker Colony Feature
This feature can be a game-changer during those moments when luck seems elusive. Specifically, on spins that don't result in a win, the Worker Colony feature might spring into action randomly. When activated, it generates cluster wins by adding between 7 to 15 symbols to the reels. This not only boosts the potential for a win but also propels players closer to levelling up on the Rush meter.
Queen Colony Feature
The crème de la crème of the Colony features, the Queen Colony is activated upon reaching the fourth level of the Rush meter by collecting 160 winning symbols. This illustrious feature can award clusters comprising 20 to 37 symbols, maximising the win potential and filling the grid with victorious symbols.
Honey Rush: Oozing With Delightful Rewards!
Sinking into the Honey Rush pokie has been nothing short of a delightful journey. From its buzzworthy visuals to its unique gameplay mechanics, Play'n Go has crafted a game that stands out in the vast arena of online pokies. With features like the Rush meter and Colony bonuses, players are always on their toes, eagerly anticipating the next big win.
While the absence of a traditional free spins feature might be a slight letdown for some, the game's innovative bonuses more than compensate, offering dynamic and rewarding gameplay. For those keen on exploring more pokies and getting the best insights, OnlineGamblingAus is your go-to destination. Ruminate our extensive library of online gambling reviews to discover the next big game that could become your favourite!
Frequently asked questions
What is the main theme of the Honey Rush pokie?
Honey Rush is themed around the delightful world of honeybees and nature. The game showcases vibrant graphics, with symbols ranging from different flowers to shimmering coins, all set against a honeycomb backdrop.
Who is the provider of Honey Rush?
Honey Rush is developed by Play'n Go, a renowned software provider known for its innovative and high-quality online pokies.
How does the Rush meter work in Honey Rush?
The Rush meter is a unique feature in Honey Rush. As players accumulate winning symbols, the meter fills up. The game has four levels, and with each level-up, different bonuses like the Drone Colony feature are triggered. The final level called the Queen Colony, is achieved by collecting 160 winning symbols.
Are there any free spins in Honey Rush?
No, Honey Rush does not offer a traditional free spins feature. However, it compensates with other exciting features like the Colony bonuses and the Rush meter levels.
What's the maximum win in Honey Rush?
Players can win up to 9,000 times their stake in Honey Rush. This means, with the highest possible stake, you could pocket a substantial amount on a single spin.
How is the gameplay in Honey Rush different from traditional pokies?
Honey Rush uses a cluster pays mechanic instead of traditional paylines. Players aim to form clusters of matching symbols to secure wins. This style of gameplay offers a refreshing change from standard reel-based pokies.