Pros and Cons
Pros

Massive max win potential
Unique and refreshing theme
Variety of bonus features for exciting gameplay
Compatible with various platforms
Cons

The gameplay might be a little confusing
Fire Hopper Pokie Review
Fire Hopper by Push Gaming is a remarkable pokie game that is played across multiple online casinos in Australia. It offers players a unique and beautiful countryside theme. The game's aesthetic features and lush green backdrop represent the verdant wetlands, the symbols – Blue, Green, Purple, Pink, Orange, and Red Lilies, and of course, the Golden and Normal Frogs.
The game's ambient sounds, including chirping birds and swashing water, provide a relaxing atmosphere, which contrasts with the high-stakes action on the reels. While other games such as Seth vs Horus or the Legend of Shangri La employ a similar cluster mechanic, Fire Hopper differentiates itself with its overall design and atmosphere. It's a distinct experience that could turn even the most ardent fans of other pokies into avid Fire Hopper enthusiasts.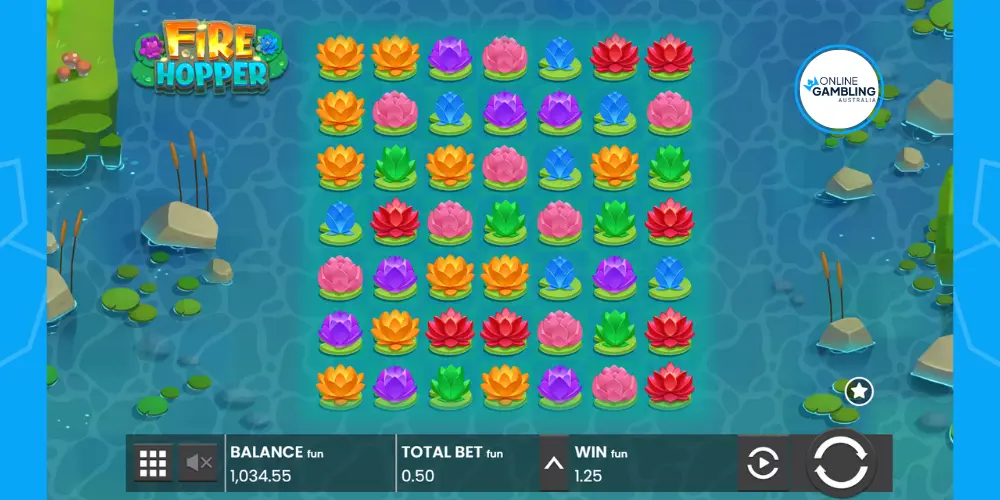 How to Play Fire Hopper Pokie
Embracing Fire Hopper's countryside charm is as simple as it gets due to its intuitive interface. With seven transparent reels containing seven rows each, the aim is to match clusters of five or more symbols, either horizontally or vertically, for a win.
Before the spinning action begins, you'll need to set your stake. This can be anything between $0.10 and $100, making the game accessible to players of various budget sizes. Once you've decided on your stake, just hit the Spin button to start the game. If you'd like to sit back and watch the action unfold, opt for the Autoplay function.
Bear in mind, Fire Hopper is a high-volatility game with an RTP of 96.3%, just like RagingPop. This means that while wins might not be frequent, they can be considerable when they do occur. The game also features a generous max win of 50,000x your stake in one spin. It's not just about spinning the reels, though.
Cascading Symbols
Fire Hopper pokie utilises an alluring Cascading Symbols Feature. Here, every winning cluster you form during the base game and free spins pops and disappears, making way for new symbols to cascade from above and fill the empty spaces.
This can result in multiple consecutive wins from a single spin, as new clusters form from the replacement symbols, the process repeats. The cascading continues until no new winning clusters form, enhancing the game's action and your potential for rewards.
Basic Information
Pokie

Fire Hopper

Software

Push Gaming

Release date

December 2021

RTP

96.3%

Volatility

High

Maximum win

50,000x

Minimum bet

$0.10

Maximum bet

$100

Paylines

Cluster pays

Reels

7

Jackpot

No

Free Spins

Yes
Fire Hopper Symbols
In the heart of the country's marshland, the Fire Hopper pokie teems with a vibrant collection of symbols each of which is perfectly tailored to blend in with the serene nature-theme of the game. The symbols vary in value, ranging from low-paying to high-paying and special symbols. Here's a closer look at each category:
Low-Paying Symbols
Dotted across the watery landscape's reels, you'll find the delicately rendered Blue, Green, and Purple Lilies. Though at the modest end of the pay spectrum, these symbols hold their own charm. They spring to life and bring rewards when you land clusters of five or more of the same kind. Collect an impressive cluster of 20 or more, and these floral symbols blossom, gifting you a lovely bounty of up to 25 times your bet.
High-Paying Symbols
For those seeking larger rewards, look out for the Pink, Orange, and Red Lilies. The Pink Lily offers a reward of up to 50x your bet, while the Orange Lily could grant you a lovely 100x your stake for a cluster of 20 or more. The most prized of the lot is the Red Lily, which can yield up to 200x your stake if you manage to land 20 or more on your reels.
Special Symbols
For an added layer of excitement, Fire Hopper includes several special symbols that enliven the gameplay. The Gold and Normal Frogs are wild symbols that can substitute for all standard symbols, boosting your chances of forming winning clusters.
The game also features Firefly and Bonus Firefly symbols, both of which trigger extra features. These symbols are not rewarding on their own, but their interaction with the Frogs can lead to some fantastic bonuses. More details on these bonuses will be provided in the bonus section of this article.
Symbols Paytable
| | | |
| --- | --- | --- |
| Symbol | Cluster | Max Payout |
| Red Water Lily | 20+ | 200x |
| Orange Water Lily | 20+ | 100x |
| Pink Water Lily | 20+ | 50x |
| Purple Water Lily | 20+ | 25x |
| Green Water Lily | 20+ | 25x |
| Blue Water Lily | 20+ | 25x |
Fire Hopper Bonuses
In the tranquil setting of Fire Hopper pokie, a range of bonus features await to invigorate the gameplay and boost your potential winnings. Each bonus feature contributes its unique flair, be it in the form of multiplying wilds, instant cash prizes or the promise of free games.
These bonuses are integral to the gameplay, providing opportunities for handsome rewards while enhancing the gaming experience with a dynamic twist. Let's delve into each bonus to understand how they work and their potential payout mechanics.
Multiplier Wilds
Frogs are a significant symbol in the Fire Hopper pokie. The frogs act as wild cards, substituting for all standard symbols to increase your chances of forming winning clusters. Each visible Frog Wild comes with an attached multiplier starting at 1x. This multiplier increases the value of any win the wild is part of, significantly boosting your payouts.
Leaping Frog Feature
One of the most exciting bonuses in Fire Hopper pokie is the Leaping Frog Feature. It activates whenever a Frog Wild is visible alongside a Firefly, Instant Prize, or Bonus Firefly. When the frog leaps to a Firefly symbol, the wild multiplier increases by one. If the frog leaps to an Instant Prize symbol, you'll be awarded an instant cash prize ranging from 1-100x your stake.
When the frog leaps to a Bonus Firefly symbol, it collects into the Bonus UI, bringing you closer to triggering the free spins round.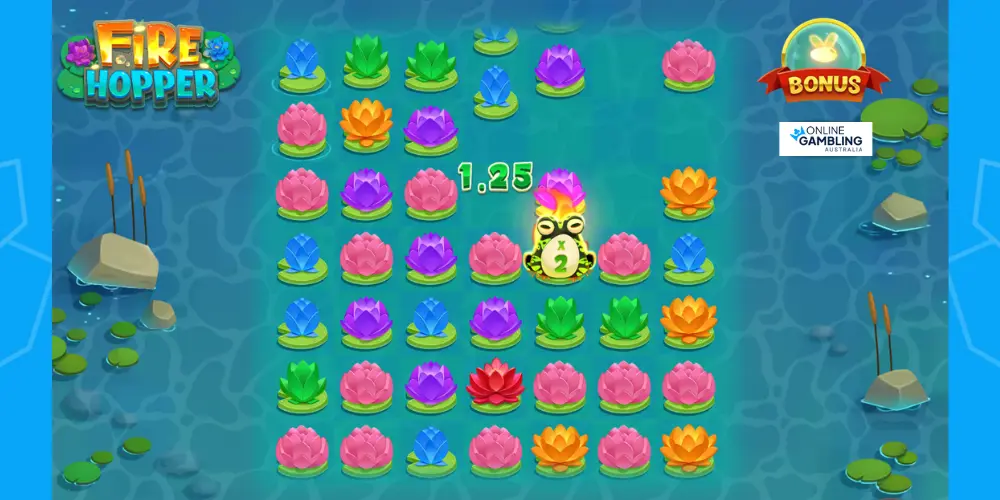 Golden Frog & Firefly Feature
The Golden Frog and Firefly symbols play a pivotal role in the Fire Hopper pokie. The Golden Frog serves as a special Wild symbol that stands in for all standard icons, similar to the regular Frog Wild, contributing to potential winning combinations. However, its standout trait is its interaction with the Firefly symbol in the Leaping Frog Feature.
When a Golden Frog is visible alongside a Firefly symbol, the wild multiplier attached to the Golden Frog increases by one. The leap of the frog onto the Firefly symbol sparks an animation, vividly highlighting the increase in multiplier value. This creates dynamic gameplay and provides an opportunity for bigger wins.
Instant Prize Symbol
The Instant Prize symbol is another engaging feature that the Fire Hopper pokie boasts. When a Frog Wild leaps onto an Instant Prize symbol during the Leaping Frog feature, an immediate reward is bestowed upon the player. This prize can range from 1x to 1,000x your total bet, delivering instant gratification and potentially significant boosts to your balance.
Free Spins Round
The Free Spins round, a sought-after feature among pokie enthusiasts, becomes active once you collect seven Bonus Firefly symbols via the Leaping Frog Feature. Upon activation, you are awarded seven free spins. During these spins, all Frog symbols become sticky, enhancing your chances of forming high-value clusters. Moreover, any Gold Wild Frog left behind will also include the multiplier from its counterpart Wild, maximising your winning potential.
Bonus Buy Option
The Bonus Buy option offers players the opportunity to bypass the base game and jump straight into the exciting free spins round. By pressing the Bonus Buy button, you can purchase free spins for 124x your current stake. This feature can come in handy if you're keen to experience the thrill of the bonus round without waiting for it to trigger organically. Please note, this feature requires careful consideration due to its higher cost compared to regular spins.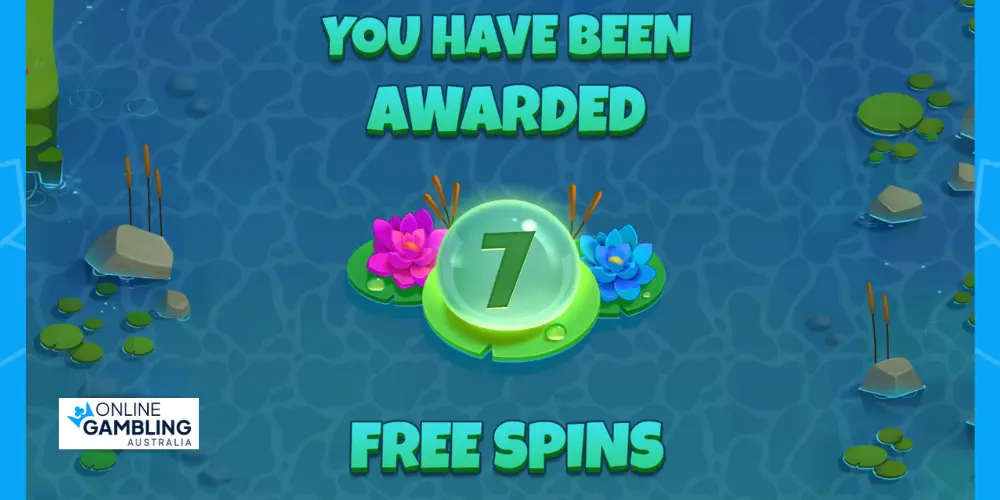 One Final Leap into the Magic of Fire Hopper Pokie
As we round up our comprehensive review of the Fire Hopper pokie, it becomes evident that the charm of this game isn't limited to its enchanting countryside theme or the croak of our amphibious protagonist. There's an appealing depth to this pokie that keeps players engaged, spinning, and on the lookout for the next cluster of colourful lilies or that coveted Golden Frog.
The unique blend of game features, from cascading symbols to the Leaping Frog feature, ensures that the gameplay never loses its edge. It keeps you on your toes with the anticipation of potential multiple wins or instant prizes. Push Gaming has created a pokie that masterfully combines engaging gameplay with high volatility and a generous RTP, demonstrating yet again why they are one of the top game developers in the online casino industry.
However, if you're in the mood for something a little less zen and let's say, a bit eerier, do not fret, Seance: Mysterious Attic might be a tad more up your alley. This pokie by Mancala Gaming offers a complete change of scene with its macabre and paranormal storyline.
In the ever-evolving world of online casinos, a vast sea of themes and gameplay mechanics are waiting to be explored. Yet, the Fire Hopper pokie stands as a testament to the allure of beautifully executed simplicity and the promise of fiery wins hiding behind the next lily cluster.
Frequently asked questions
How often does the Fire Hopper pokie payout?
The payout frequency is related to the game's volatility. Fire Hopper is a high volatility pokie, meaning that wins can be less frequent but potentially larger when they occur.
What are the special symbols in the Fire Hopper pokie?
Fire Hopper features special symbols like the Gold Frog, the Normal Frog, and Fireflies. These symbols play a crucial role in triggering the game's special features and bonuses.
Can I increase my bet in the middle of the game in Fire Hopper pokie?
Yes, the game interface allows you to adjust your bet at any point between spins, making it flexible for all betting strategies.
How does the Leaping Frog feature work in Fire Hopper pokie?
The Leaping Frog feature gets activated when a Frog symbol appears alongside a Firefly, Instant Prize, or Bonus Firefly. The outcome of the leap depends on the symbol it leaps towards.
Are there any games similar to Fire Hopper in gameplay mechanics?
Yes, Aloha! Cluster Pays and Candy Clash operate a similar cluster mechanic, though the themes and developers are different.
What's the aesthetic appeal of the Fire Hopper pokie?
The Fire Hopper pokie combines the charm of the countryside with a touch of whimsy. Set amidst a lush and verdant wetland, it offers a peaceful setting that's teeming with vibrant colours and harmonious sounds.