Pro's and cons
Pro's

Cluster Pays is a new and innovative system.
Allow for modest stakes and a minimum bet of 10 cents to be placed.
Each game has a maximum stake of $200.
Plenty of Bonuses and extras
Unique Theme
Con's

Maximum win is slightly limited (1.000 times your bet)
The game could be slightly simpler
The Legend of Shangri-La Review
The Legend of Shangri-La is one of the most popular pokies in the world, and it may be found at many different online casinos. The 17th of September saw the debut of The Legend of Shangri-La, a game with a solid foundation in gameplay and stunning visuals. On various websites, you may play this online slot for free as a visitor without registering.
At 96% return, the Legend of Shangri-La has an average risk level and maximum win potential of 1000x. The game is constantly intriguing because of its well-balanced logic and the possibility of huge swings. It's a great system for gaming in general.
Fun for everyone
People who enjoy both traditional and novel gameplay will enjoy The Legend of Shangri-La casino pokies. Once special symbols like wilds and scatters appear on the reels, the game takes on a whole new level of excitement and suspense.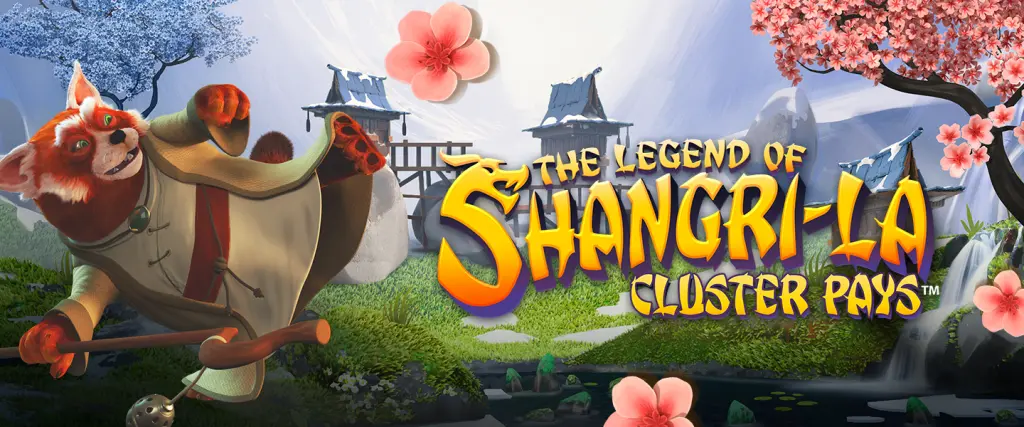 Theme and Design
The setting that was chosen for this game by the game developers is the fabled Shangri-La casino kingdom. In the backdrop image, you'll see a serene landscape complete with cherry blossoms, waterfalls, and temples in the Chinese style. Things like insects and butterflies are depicted on the reels of the game, along with Koi fish. It's a unique theme that isn't used in any other pokie. NetEnt sets a great atmosphere and you'll be able to find peace in this wonderland.
Ancient Inspiration
For inspiration, many game designers go to mythology, history, and even popular culture. The Shangri-La: Cluster Pays slot from NetEnt, on the other hand, may have been inspired by the tale and history of the ancient city of Shangri La.
The new slot machine is based on an ancient folktale about the deserted city of Shangri-La, the setting for the game's narrative events. A fantasy metropolis called Shangri-La serves as the setting for this game. The slot machine has a total of five gaming reels.
Gameplay
NetEnt debuted Cluster Pays with the game "Aloha Cluster Pays". With the Legend of Shangri-La they have another pokie in which the cluster pay system is at the heart of the gameplay. For the lowest win, similar to a three-of-a-kind on a standard slot machine, a minimum of 9 matching symbols must be land-linked, with a max of 30 for the pay increases for each symbol.
For more Cluster Pays action, make sure to check out our review on the Seth VS Horus Pokie.
With the help of the wise monk sitting next to your reels, users will be able to reach the Shangri-La far more quickly than anyone ever thought possible.
An Action Packed Game
There are random substitutions when 2 groups of the same symbol with at least 4 characters each land unconnected in the original game, which is triggered by this feature. At least 1 substitute symbol with a question is introduced to each of the 4 middle reels, close to the clusters that are already present. Until a winner is found, more will be introduced at random.
Clusters of five to eight identical symbols that land anyplace on the reels can trigger a respin at any time. Symbols with lower values are picked if there are 2 clusters of matching characters. While the rest of the symbols are blanked off, any more lucky symbols that land next to the original combo will become sticky, triggering a further respin if more symbols fall on each successive respin after that. Once the feature has concluded, the winnings are analyzed and paid out.
As long as there are 2 scattered on the reels, and the 3rd one is just outside the viewable reel area, the bonus spins function can be triggered by nudging.
Details about the The Legend of Shangri-La Pokie
Pokie

The Legend of Shangri-La

Software

NetEnt

Release date

2017

RTP

96.59%

Volatility

Low - Medium

Maximum win

$200.000

Minimum bet

$0,10

Maximum bet

$200

Paylines

Cluster pays

Reels

6

Jackpot

No

Free spins

Yes
Slot Symbols
Thematic symbols like flower petals, dragonflies, fish and butterflies can lead to smaller wins. If you want to win large, you'll want to seek for the 3 praying creatures, the monkey, the elephant, and a Himalayan lynx, which can be found in expanded, 2 space forms. With a cluster of 9 cats, you'll get 30 credits; the payments rise with each extra cat in the victorious group, up to a total of 10,000 credits for covering all Thirty slots with one symbol.
Starburst Symbols and Paytable
| | |
| --- | --- |
| Symbol | Maximum Pay out |
| Tiger | 28, 29, 30 = 800, 900, 1000 times your bet |
| Elephant | 28, 29, 30 = 350, 400, 500 times your bet |
| Monkey | 28, 29, 30 = 350, 400, 500 times your bet |
| Flower | 28, 29, 30 = 140, 160, 200 times your bet |
| Butterfly | 28, 29, 30 = 140, 160, 200 times your bet |
| Dragonfly | 28, 29, 30 = 140, 160, 200 times your bet |
| Fish | 28, 29, 30 = 140, 160, 200 times your bet |
The Legend of Shangri-La Bonuses
Just like in many other games the free spins are the highlight of the game. However that is not the only special feature that The Legend of Shangri-La has to offer.
Cluster Wins
When at least 2 clusters appear in the main game, the Random Substitution function is activated. To have any relevance, they must, however, be composed of four identical symbols. When this feature is activated, one substitute symbol is added to the reels, resulting in a 9 symbol cluster win, similar to what we can see in the pokie game called Fire Hopper.
Sticky-Re-Spins
The Sticky Re-Spins feature is activated when two unpaying clusters of the same symbol appear on the reels. Sticky symbols give re-spins, but if there aren't any more on the field, the function ends.
Free Spins
If three, four, five, or six free spins symbols appear anywhere on the reels, the Free Spins bonus is triggered. If you get more free spins, you'll see more free spins symbols on the reels.
The more free spins symbols you have, the more free spins you get. The 'Nudge Reel' feature, which is activated when two free spins symbols appear, is another extra mode that happens during the free spins on Legend of Shangri-La. By doing so, it brings back the 3rd free spins sign to the reels, re-activating the Free Spins mode.
During the bonus round, symbols that function as substitutions are randomly added and deleted from the reels, giving you more opportunities to land winning combinations. You'll get an additional free spin if you win less than 10 times your bet while the feature is active.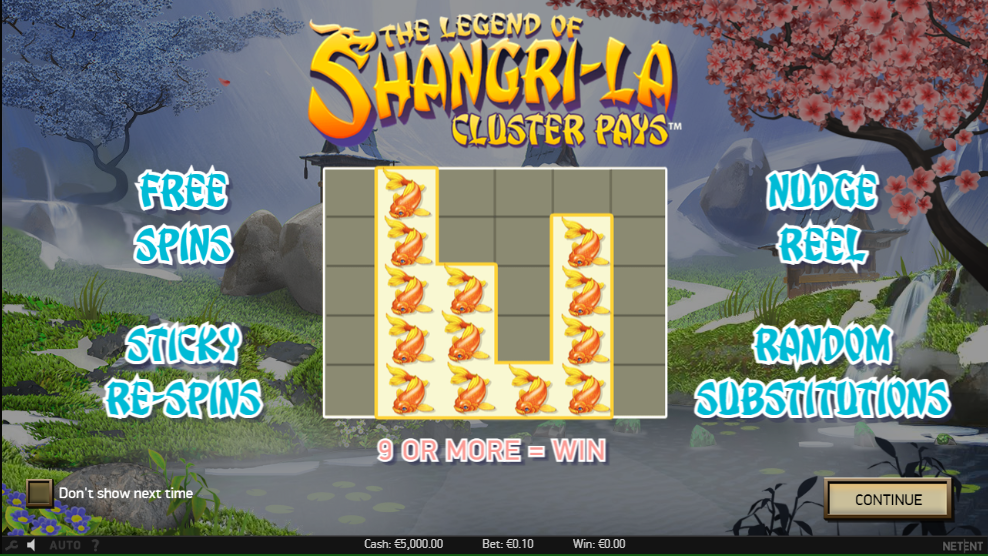 Another Great Slot by NetEnt
Are you looking for a new pokie to play? The Legend of Shangri-La ticks many boxes.
NetEnt again sets up a graphical masterpiece. At the center this time the fictional Shangri-La, a unique theme in which the software provider creates an atmosphere that you expect from this theme.
Despite getting their players in a "zen" mood, there is plenty to look out for in this Pokie. With the fun free spins and re-spins there are great prizes to be won. The cluster Pays system that isn't widely used in pokies suits the game.
The low variance of the game makes this an ideal game for beginners as well. Your bankroll will have less ups and downs then in most pokies you'll find in casinos nowadays. This also comes with a prize, the maximum win is "only" 1.000 times your stake, we are not complaining if we win this, but it's lower then you could expect in an online pokie.
Frequently asked questions
What is the RTP for The Legend of Shangri-La: Cluster Pays?
When you play Legend of Shangri-La, you would be playing a pokie game that has an RTP rate of 96%. This rate is considered to be good as the average RTP rate is 96% amongst pokies.
What are some of the slot's most distinguishing characteristics?
This is a NetEnt game with six reels and 243 chances to win, known as Cluster Pays. A single spin might cost anywhere from €/$ 0.10 to €/$ 200. Up to a 10,000-to-1 return on your bet.
Do you know where I can play The Legend of Shangri-La: Cluster Pays for free without having to register?
It is our job to compile a list of the best NetEnt-powered casinos online. The Legend of Shangri-La: Cluster Pays is a NetEnt-powered video slot.  Any casino that requires you to create an account will also allow you to play The Legend of Shangri-La: Cluster Pays for free.
Can I play The Legend of Shangri-La: Cluster Pays on my phone or tablet?
Definitely! It's built with HTML5 tech and is completely responsive to mobile devices. This is obviously a positive thing as it gives you the opportunity to play on the go!
Who Created the Legend of Shangri-La Pokie Game?
Legend of Shangri-La was created by a reliable gaming provider called Net Entertainment. It has years of experience creating and developing games.
How many symbols does Legend of Shangri-La have?
Legend of Shangri-La has a total of 7 symbols. These symbols have their very own features that can give players different outcomes. These are Tiger, Elephant, Monkey, Flower, Butterfly, Dragonfly, and Fish.
Why should i Trust Legend of Shangri-La?
You should trust Legend of Shangri-La as it is a pokie game that was produced by one of the leading gaming providers in the gambling industry, which are Net Entertainment.