Pros and Cons
Pros

Expansive 235,298 ways to win
High RTP of 96.34%
Unique features such as Raging Rhino multipliers
High-quality graphics depicting the African savannah
Free spins round with extended reels
Cons

No option for low volatility preference
Can be considered complex for beginners
RagingPop Review
Step into the wild with RagingPop, an online pokie designed by AvatarUX that brings the African savannah to your screen. The vibrant colours paint a picture of a sun-soaked afternoon, while the ambient sounds of the desert transport you straight to the heart of the wilderness. The graphics are detailed and vivid, from the majestically poised reels above the serene river to the intricately designed symbols.
The RagingPop pokie, in the bustling world of online pokies, distinctly stands out at some of the top online gambling sites Australia. The AvatarUX creation is not just about the looks – it's packed with features that guarantee an engaging gameplay experience, setting it apart from other offerings, even from renowned developers like Play'n Go, Mancala and Yggdrasil.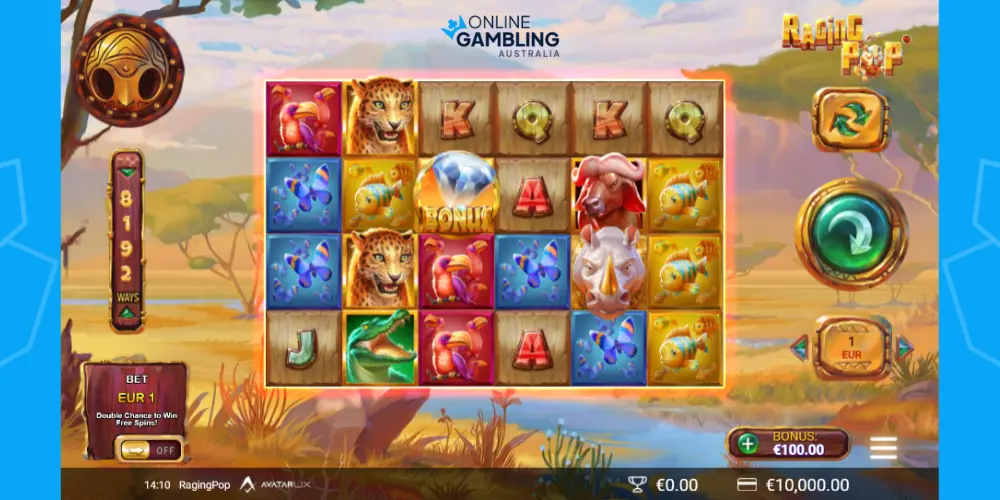 How to Play RagingPop
Getting started with RagingPop is straightforward. Choose a stake ranging from $0.20 to $40.00, which sets the game grid and decides the ways to win, spanning from 8,192 to a staggering 235,298. The game follows a high volatility pattern, with an RTP of 96.34%. The potential maximum win is 20,000x a player's bet in just one spin.
While playing, players can encounter the Raging Rhino feature which brings multipliers of up to 500x, enhancing the winning combinations. There's also the PopWins mechanic during free spins, where winning symbols 'Pop', and are replaced by two new symbols, adding to the gameplay dynamics.
Extra Feature of RagingPop!
For those looking to ramp up the stakes, the Ante Bet is a nifty addition. This feature, located to the left of the screen, doubles the chances of reaching the free spins round. Activating it hikes your stake by 25%, but remember, even though the bet is higher, the prizes will still be calculated on your original stake.
Basic Information
Pokie

RagingPop

Software

AvatarUX

Release Date

May 2022

RTP

96.34%

Volatility

High

Maximum Win

20,000x

Min Bet

$0.20

Max Bet

$40.00

Paylines

235,298 Ways

Reels

6

Jackpot

No

Free Spins

Yes
RagingPop Pokie Symbols
In the sun-drenched expanses of the RagingPop pokie, symbols come alive, each embodying the raw essence and vibrancy of the African savannah similar in ways to Great Rhino Megaways by Pragmatic Play. From majestic animals to the often-used playing card symbols, each icon has been crafted with attention to detail, complementing the game's theme.
As you spin the reels, it's essential to understand the significance and payouts of each symbol, so let's explore the myriad icons that await you on this wild journey.
Low-payout Symbols
Birds, Fish, & Butterflies: These symbols add charm to the reels, representing the smaller yet significant inhabitants of the savannah. They start to offer rewards when you get at least three on a payline, with six in a row granting a 3x multiplier.
A, K, Q, & J: The classic playing card symbols are the most frequent visitors on the reels. Though they might not offer the grand payouts of their animal counterparts, they nonetheless add consistent value to your game. Landing three to six of these on a payline can offer multipliers ranging from 1x to 1.5x.
High-payout Symbols
Rhino: Standing tall as the king of the savannah in RagingPop, the Rhino symbol pays generously. Landing just two on a payline begins your winning streak, and if fortune favours and you spin six in a row, you're looking at a hefty 15x multiplier on your stake.
Jaguar & Buffalo: These two majestic creatures roam the reels with grace, and their presence on your screen can mean good news for your balance. Both of these symbols start rewarding from three on a payline, offering up to a 6.25x multiplier for six in a row.
Alligator: Though it might be feared in the wild, in RagingPop, the Alligator symbol is one to anticipate. Starting its payout from three on a payline, it can boost your winnings with a multiplier of up to 5x for six of a kind.
Special Symbols
Wild: This symbol serves as a chameleon on the reels, substituting for any other symbol to help complete or enhance winning combinations. It's the player's key to unlocking potential bigger wins.
Bonus Scatter: A symbol of opportunities, collecting 3 to 6 of these will treat you to a rewarding free spins round. It's not just about spins; it also opens doors to other thrilling features within the game, multiplying your chances of a hefty reward.
Symbols Paytable
| | | |
| --- | --- | --- |
| Symbol | Paytable | Maximum Payout |
| Rhino | x6 | 15x |
| Jaguar | x6 | 6.25x |
| Buffalo  | x6 | 6.25x |
| Alligator | x6 | 5x |
| Birds | x6 | 3x |
| Fish | x6 | 3x |
| Butterflies | x6 | 3x |
| A | x6 | 1.5x |
| K | x6 | 1.5x |
| Q | x6 | 1x |
| J | x6 | 1x |
RagingPop Pokie Bonuses
When spinning the reels of RagingPop, players aren't only greeted with the savannah's roaring wildlife but also a trove of enticing bonuses. While these in-game bonuses differ from typical online casino bonuses and casino free spins, they share a common goal: to prolong the player's gaming experience and add more allure to their play.
Just as online casino bonuses offer perks for extended play, the bonuses nestled within RagingPop ensure that every spin can bring unexpected rewards. Dive into these bonuses and see how they can amplify your gaming moments, especially when playing for real money at online casinos.
Raging Rhino Feature
The Raging Rhino isn't just the star of the savannah, but also a significant part of this pokie's bonus features. When this majestic beast makes an appearance during any random spin, it charges through the reels, stretching them to 5, 6, or 7 symbols tall. This not only increases the ways you can win but also comes with a multiplier of up to 500x. This multiplier is then applied to any win you clinch during the feature.
Free Spins Round
One of the most anticipated features of the RagingPop pokie is the Free Spins round. This isn't just your typical free spins bonus. It's packed with multiple dynamics that add layers of excitement to the gameplay. Let's break it down in detail.
Reel Expansion & Random Multiplier
Free Spin reels initially start at 4 symbols tall. As you spin, the game machine can spontaneously expand, growing to 5, 6, or even 7 symbols tall. This expansion isn't just for show; once the reels grow, a random multiplier is applied to every win combination that's formed following the reel expansion sequence. These multipliers aren't small, with potential values being x2, x3, x5, x10, x15, x20, x25, x30, x50, x100, x200, and the staggering x500.
Progression of Free Spins
Your Free Spin experience evolves as you play. After you've spun 10 times, all the following spins start on a 6×5 machine. Once you've clocked 20 spins, subsequent spins launch on a 6×6 machine, providing more opportunities to win. Remember, despite all these enhancements, between spins, the reels revert to their starting point of a 4-symbol height.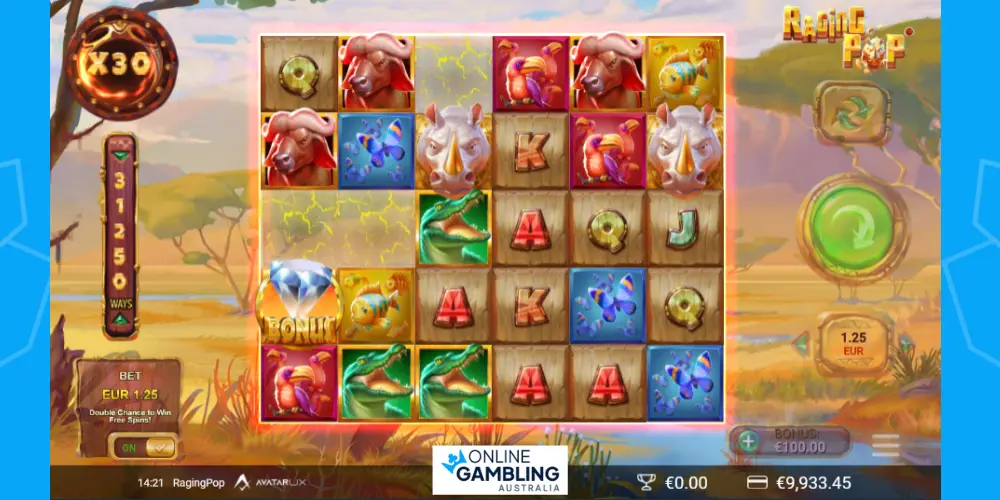 Triggering the Free Spins
It's essential to know how to initiate this lucrative round. While playing the base game, keep an eye out for the Bonus Symbols. Amassing 3 or more of these triggers the Free Spins. Specifically:
3 Bonus Symbols grant 10 Free Spins
4 Bonus Symbols award 15 Free Spins
5 Bonus Symbols yield 20 Free Spins
6 Bonus Symbols provide a generous 25 Free Spins
The fun doesn't stop there. For every 10 consecutive Free Spins, the reels expand, adding an additional symbol in height. This expansion continues throughout the Free Spins, offering increased winning ways.
The Gamble Wheel
Before diving into the Free Spins, RagingPop presents players with an enticing choice: to gamble for more spins using the Gamble Wheel. This wheel contains several stages, giving players the chance to secure 15, 20, 25, or even 30 Free Spins.
It's a high-risk, high-reward scenario. Losing the gamble on the initial stage will transport you back to the base game. However, if you progress and then stumble, the game softens the blow by initiating the Free Spins round with a reduced number of spins as displayed on the Gamble Wheel. Play wisely!
Buy Bonus Feature
Unveil an express route to excitement with the Buy Bonus feature. By pressing the 'Buy Bonus' button, players have the luxury to immediately access the free spin mode. This can be done at a cost of 100 times their bet, bypassing the regular means of triggering the free spins. This shortcut is a fantastic opportunity for players who are keen to experience the exhilarating free spins action without the wait.
Buy Bonus Max Feature
For those who believe in going big or going home, the Buy Bonus Max offers an advanced level of action. By pressing the 'Buy MAX Bonus' button, players can jump straight into an extended free spin mode designed to deliver the highest possible rewards. This high-stakes pathway demands 500 times the player's bet, but it promises unmatched exhilaration. However, there's a caveat: the maximum win is capped at a whopping 20,000 times the bet.
If a player is fortunate enough to hit this grand jackpot during the round, the game round will come to an immediate close. The win is granted up to this limit, and any subsequent features for the round are suspended. It's a daring move for those who seek the pinnacle of payouts in RagingPop!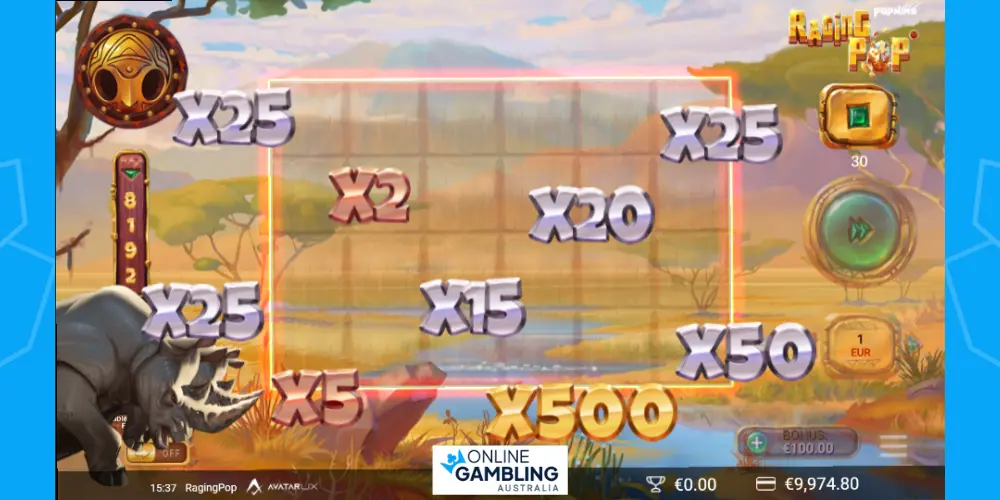 RagingPop: A Wild Adventure Awaits!
The RagingPop pokie is undoubtedly a shining gem in the realm of online pokies. With its dynamic symbols, thrilling features, and the captivating essence of the African savannah, it offers players an experience that stands out in a bustling market. While it boasts its own unique flair, other titles like Top Dawg$, Mustang Gold, and Book of Dead also hold their ground in the world of online gaming, each offering its own set of adventures.
However, if you're looking for a blend of stunning visuals and high-voltage gameplay, RagingPop is certainly a choice you won't regret making. Give it a spin and see where the wild journey takes you!
Frequently asked questions
How does RagingPop compare to other popular pokies?
RagingPop offers a unique combination of features and gameplay that differentiate it from other pokies. Its expansive free spins structure and the inclusion of buy bonus options stand out in the pokie world.
Is there an auto-spin feature in RagingPop?
Yes, RagingPop has an auto-spin option, allowing players to set a specific number of spins to play automatically. This feature can be handy for players who enjoy longer sessions.
What is the Gamble wheel feature in RagingPop?
The Gamble wheel in RagingPop allows players a chance to increase their free spins. Before playing free spins, players can use the wheel to gamble for more spins. However, losing the gamble could result in reduced spins or a return to the base game, depending on the stage.
What's the biggest win I can achieve on RagingPop?
The most substantial potential win in RagingPop is 20,000x your bet. Notably, if a player achieves this during the Buy Bonus Max feature, the round immediately ends, and any subsequent features are discontinued, awarding the player up to this cap.
How would you describe the volatility of RagingPop?
RagingPop is considered a high volatility pokie. This means that while wins might be less frequent compared to low volatility games, the potential payout can be much larger when they do occur.
What is the RTP of RagingPop?
The Return to Player (RTP) is a measure of how much a pokie pays back to players over a long period. For RagingPop, the exact RTP would be detailed in the game's information or paytable section. However, at most online casinos the RTP stands at 96.34%.
Can I increase my chances of winning with the Gamble wheel?
The Gamble wheel offers players an opportunity to win more free spins, but like all elements of pokies, it's based on chance. It's essential to approach it as a fun feature rather than a guaranteed way to increase winnings.