Pros and Cons
Pros

High volatility for potentially massive wins
Up to 200,704 ways to win with Megaways feature
Free spins and multipliers
Bonus buy option
High RTP
Cons

High volatility can also mean longer periods without wins
Game complexity may be daunting for newbies
In the Heart of the Savannah: Great Rhino Megaways Review
Developed by Pragmatic Play, Great Rhino Megaways is a pokie that offers a distinct blend of stunning graphics, immersive gameplay, and numerous opportunities to bag some serious cash. Set against the backdrop of the African Savannah, every spin brings with it the thrill of the chase, mimicking the wild pulse of nature's untamed beauty.
The innovative Megaways engine powers the game, creating a dynamic reel structure that keeps every spin unpredictable and exciting. This, combined with the game's intense volatility, can result in sizable wins, thereby keeping players on the edge of their seats.
Moreover, Great Rhino Megaways is a part of Pragmatic Play's eclectic game catalogue that is famous for its variety and ingenuity. Each game in its collection has a unique flavour that caters to a wide array of pokie enthusiasts. For instance, Zombie Carnival immerses players into a thrilling world of the undead, and Sweet Bonanza delivers a sugary sweet adventure with exciting potential payouts.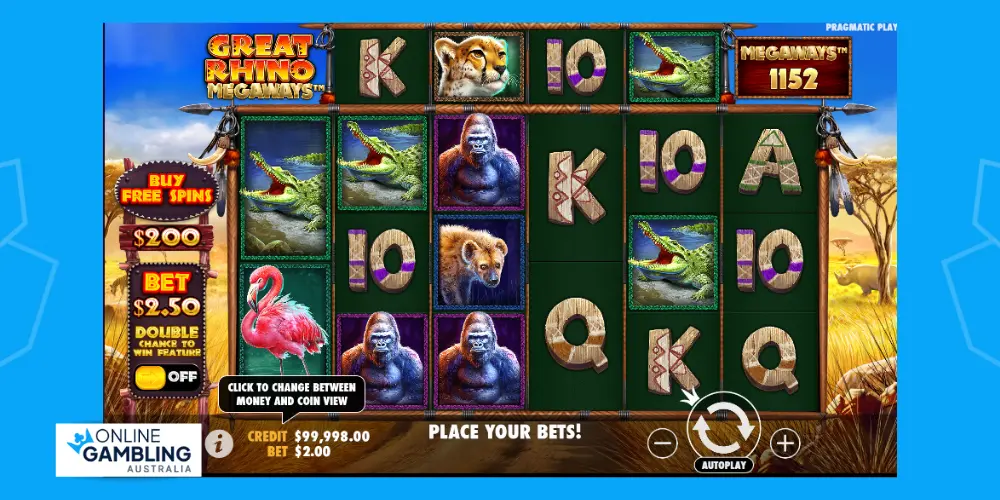 Venture into the Wild: How to Play Great Rhino Megaways
Playing Great Rhino Megaways isn't just about spinning the reels. It's about embarking on a wild adventure filled with thrills at every turn. To kick off your journey, you start by setting your bet. You can adjust the coin denominations by clicking on the +/- values, effectively increasing or decreasing your bet to form your total stake. Once you're comfortable with your wager, hit the spin button to set the reels in motion.
If you're up for a more relaxed experience, you can choose to use the game's autoplay feature. This option allows the reels to spin automatically for a set number of times, offering you a hands-free gaming experience.
Extra Features of Great Rhino Megaways
To further heighten the excitement, Great Rhino Megaways comes with a selection of additional features that are sure to pique your interest. Among these extras are free spin options with varying multipliers, offering a chance to customise the volatility of your game. If you're feeling bold, the Ante Bet option allows you to up the stakes in pursuit of bigger wins. With so many ways to play, you'll find something new with every spin.
Cascading Reels
Pragmatic Play has incorporated the popular Cascading Reels feature in this game. This feature is triggered every time you land a winning combination. The winning symbols then tumble off the reel, making way for new ones and potentially triggering even more wins. This cascade continues until there are no more winning combinations left, making for an action-packed gambling experience.
Megaways Mechanic: This Mechanic allows for dynamic reel structures, offering up to 200,704 ways to win. With each spin, the number of symbols landing on each reel changes randomly, thereby altering the number of ways you can win.
Basic Information
Pokie

Great Rhino Megaways

Software

Pragmatic Play

Release date

April 2020

RTP

96.58%

Volatility

High

Maximum win

20,000x your total stake

Minimum bet

$0.20

Maximum bet

$100

Paylines

Up to 200,704 (Megaways)

Reels

6

Jackpot

No

Free spins

Yes
Great Rhino Megaways Symbols
Great Rhino Megaways is a treasure trove of unique symbols. Designed to enhance your gaming experience, these elements work together to keep you engaged and boost your potential wins. From the powerful Rhino Wild to the coveted Golden Rhino Scatter, the game's symbols breathe life into the African savannah theme.
High & Low Payout Symbols
Symbols that yield higher payouts are brought to life through a gallery of Africa's most awe-inspiring wildlife. The game's namesake, the formidable Rhino, claims the crown as the top-earning symbol. Along with it, the reels also host a vivid array of creatures such as swift cheetahs, menacing crocodiles, imposing gorillas, and colourful flamingos. These symbols are not only visually appealing but also bring substantial rewards when they align.
Contrastingly, the lower-paying symbols derive their design from the universally recognised playing cards, spanning from Ace down to 10. Despite their smaller payouts, their frequent appearances help keep the gameplay engaging and profitable.
Special Symbols
Furthermore, Great Rhino Megaways incorporates special symbols for an added twist. The golden Rhino coin symbolises the wild, standing in for all others except the diamond scatter. These distinctive symbols not only diversify the visual appeal but also open the gateways to exciting bonus features, thereby enriching your gaming journey.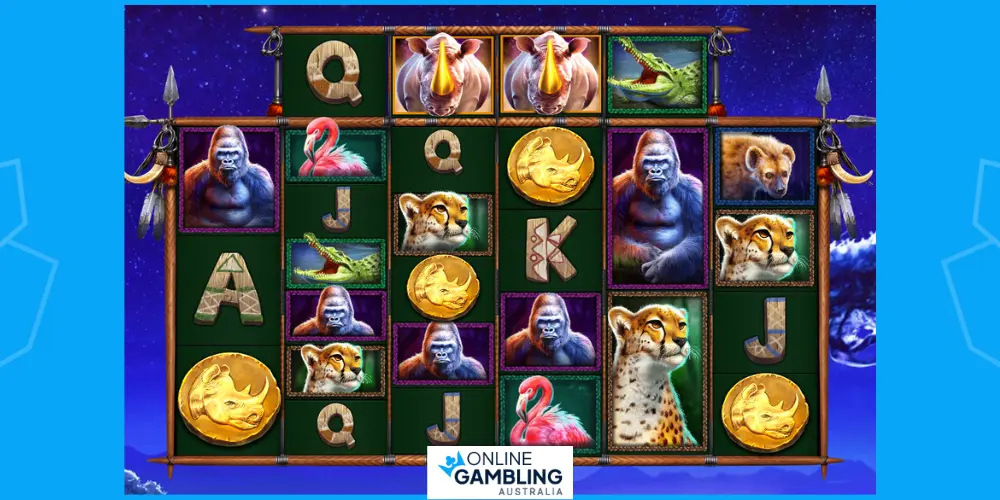 Symbols & Paytable
| | | |
| --- | --- | --- |
| Symbol | Payline | Payout  |
| Cheetah | x6 | 50x |
| Gorilla | x6 | 5x |
| Crocodile | x6 | 2.5x |
| Hyena | x6 | 2x |
| Flamingo | x6 | 1.5x |
| A, K,  | x6 | 1.5x |
| Q, J, 10 | x6 | 1x |
Bonuses of Great Rhino Megaways
To optimise your gameplay in Great Rhino Megaways, it's essential to understand the game configuration. From the basics like setting your bet size to understanding how the reels work, each aspect of the game's design plays a crucial role in your gaming experience.
Whether it's the thrill of the Megaways mechanic with up to 200,704 ways to win or the excitement of the cascading reels, understanding the game configuration is key to making the most out of each spin. Let's delve into the specifics:
Multiplier Feature
The Multiplier Feature in Great Rhino Megaways is one of the key gameplay mechanics that amplifies the winning potential of the game. This feature is predominantly tied to the Free Spins Bonus Round, here's how it operates:
Once you've triggered the Free Spins Bonus Round by landing four or more scatter symbols on the reels, you're presented with different free spins and starting multiplier combinations to choose from. Regardless of the combination you select, each win you score during the free spins round increases your multiplier by one, without any upper limit. This mechanic, also known as 'unlimited win multipliers', allows for the potential to rack up substantial winnings as your free spins play out.
But it doesn't stop there. If you manage to land three or four scatter symbols on the upper reel during the free spins, you'll be rewarded with additional free spins. This gives you more chances to increase your multiplier and adds to the overall excitement of the feature.
Free Spins
The Golden Rhino acts as the Scatter symbol. Landing four or more Golden Rhinos on the reels triggers the Free Spins feature. Each tumble increases the win multiplier by a singular time, and after each tumble the win of that particular tumble is multiplied by the current win multiplier.
When the Free Spins round is triggered you are able to select 1 of the 4 options listed below or choose the Mystery option for a random number of Free Spins with a random Multiplier. If 3 scatter symbols are hit during the free spins rounds 5 or more free spins are triggered, with no limits.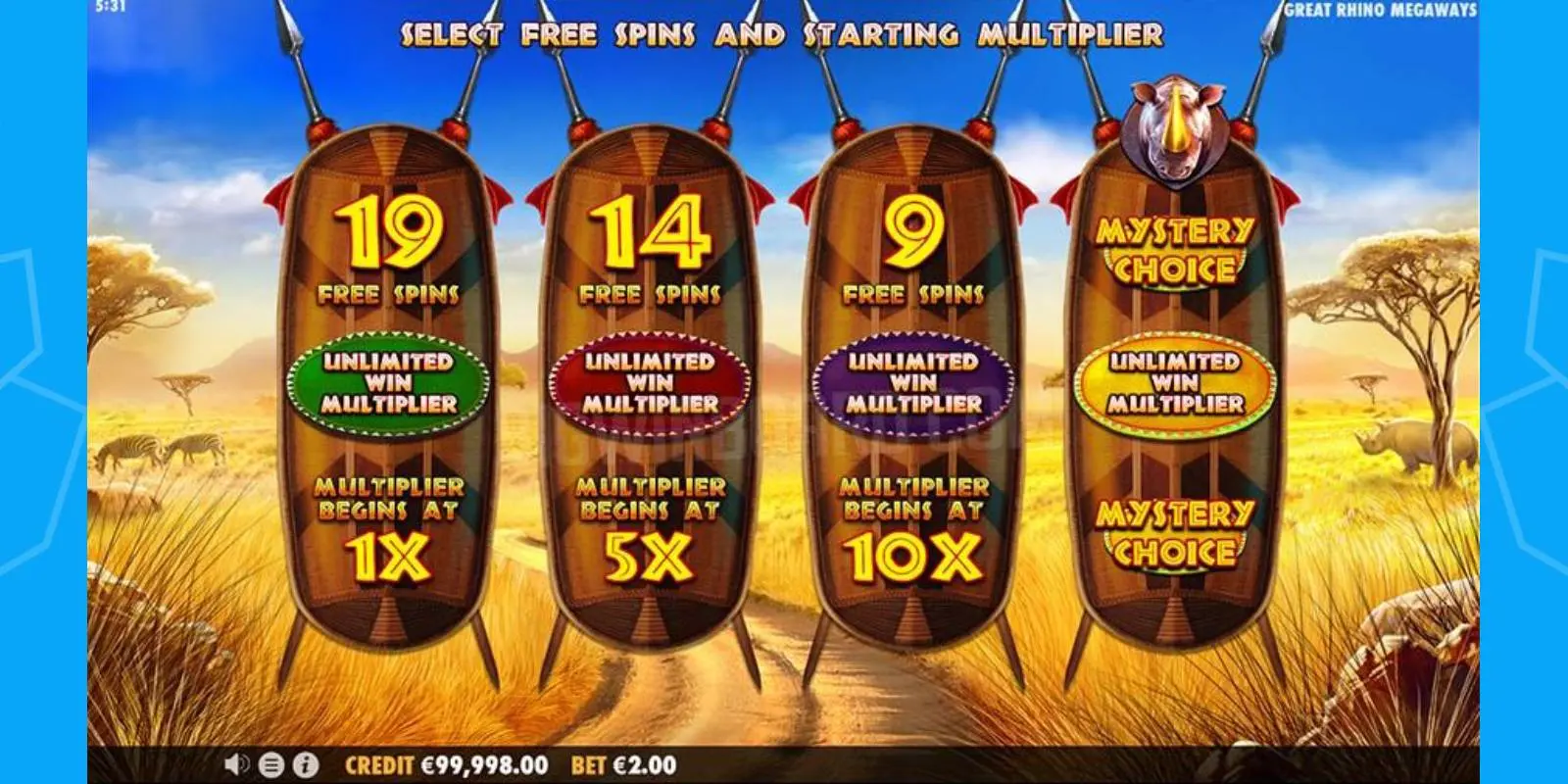 4 Scatters

1x multiplier = 15 FS

5x Multiplier = 10 FS

10x Multiplier = 5 FS

5 Scatters

1x multiplier = 19 FS

5x Multiplier = 14 FS

10x Multiplier = 9 FS

6 Scatters 

1x multiplier = 23 FS

5x Multiplier = 18FS

10x Multiplier = 13 FS
Buy Free Spins
If you're eager to jump straight into the action, the game offers an option to Buy Free Spins. For 100x your current total bet, you can instantly trigger the Free Spins round. However, note that this option is disabled when the 25x Ante Bet feature is enabled.
Ante Bet
The Ante Bet feature thus adds a strategic layer to the game, allowing players to dial up the risk, and with it, the potential rewards. The players have two distinct choices:
With a bet multiplier of 20x, the game follows its normal play pattern, providing standard opportunities to secure wins. This setting keeps the scatter symbols at their default frequency on the reels.
However, things become more interesting when the bet multiplier is increased to 25x. At this level, the game injects a greater quantity of scatter symbols into the reel mix. This adjustment doubles the chance of triggering the Free Spins feature, making the gameplay more exhilarating and potentially more rewarding.
Regardless of the selected multiplier, the maximum win limit is capped at a hefty 20,000x the bet. This means if a player hits a jackpot during the Free Spins round and their total win reaches this limit, the round is terminated instantly. The win is then awarded to the player, and any remaining free spins are forfeited.
The Final Prowl on Great Rhino Megaways
The exciting journey across the African plains with Great Rhino Megaways comes to a close, but the echoes of the rhino's roar still resonate. It's clear that this pokie isn't just about the thrills of the safari, but also about the thrill of the win. With its Megaways mechanic, high volatility, and a host of features designed to boost your winning potential, this game brings the wilderness of the Savannah right to your fingertips.
If you feel that Great Rhino Megaways is not the type of game you are looking for right now, then you might want to take a look at Mystery Joker and Bull in a China Shop.
But, if you are ready to join the stampede then try your luck with Great Rhino Megaways! The wild awaits!
Frequently asked questions
What is the maximum win in Great Rhino Megaways?
You can win up to 20,000 times your total stake in Great Rhino Megaways.
What special features does Great Rhino Megaways offer?
Great Rhino Megaways includes several features such as Free Spins with variable multipliers, Ante Bet, Cascading Reels, and a Rhino Wild symbol that substitutes for other symbols to create winning combinations.
How many ways to win are there in Great Rhino Megaways?
Great Rhino Megaways offers an impressive 200,704 ways to win, creating a plethora of opportunities to land a winning combination.
How does the Ante Bet feature work?
The Ante Bet feature, when activated, increases your bet settings but also ups the chances of triggering Free Spins by adding more Scatter Symbols on the reels.
How does the Free Spins feature work in Great Rhino Megaways?
The Free Spins feature is triggered when you land four or more Scatter Symbols. You then get to choose from four options, each with a different number of free spins and starting multiplier.
What is the role of the Rhino symbol in Great Rhino Megaways?
The Rhino symbol acts as the Wild in the game. It can only land on the bonus 4-symbol reel at the top and substitutes for all other paying symbols, thereby increasing your chances of winning.
Can I play Great Rhino Megaways for free?
Yes, you can play a demo version of Great Rhino Megaways for free at online casinos offering Pragmatic Play games. This allows you to familiarise yourself with the game before wagering real money.