Pros and Cons
Pros

High-quality graphics and sound effects
Unique and fun theme
Multiple bonus features for enhanced gameplay
Developed by renowned software provider Play'n Go
Cons

Limited betting range
Bull in a China Shop Review
In the competitive space of online pokies, Play'n Go consistently raises the bar with its offerings, and Bull in a China Shop is a testament to their prowess. The setting is a traditional Chinese store, where the game displays a riot of vibrant colours, bringing the porcelain artefacts to life. Accompanied by harmonious ambient sounds, players find themselves amidst a lively Chinese marketplace. The top-notch graphics ensure a smooth and memorable gaming journey for all.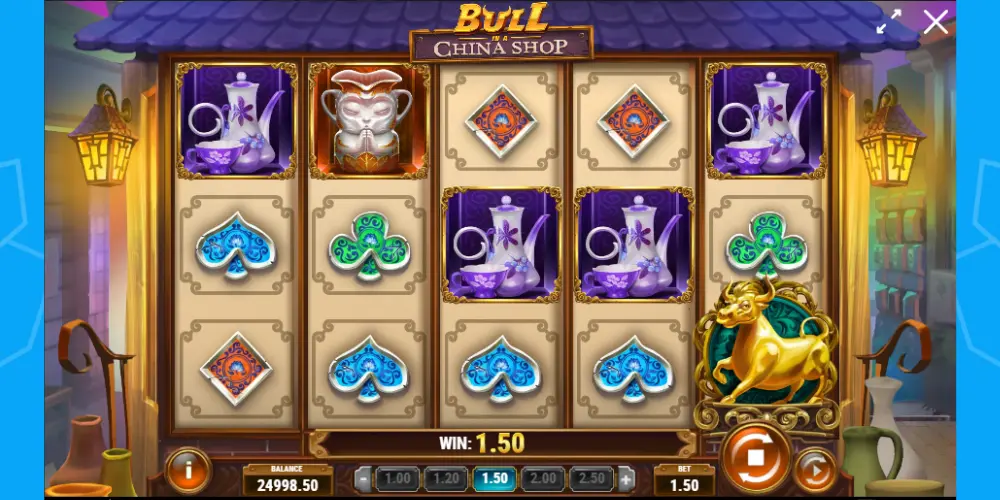 How to Play Bull in a China Shop
Bull in a China Shop offers an intuitive gaming experience. Players start by selecting their preferred bet amount, which can range from a modest minimum of $0.10 to a more ambitious maximum of $100. As the reels spin, the symbols come to life, presenting opportunities for significant wins. The game boasts an impressive Return to Player (RTP) percentage of 96.2%. With high volatility, players can anticipate substantial wins, although they might come less frequently.
In a single spin, players have the potential to win up to 5,800 times their bet. Beyond these basics, the game introduces a range of features, excluding the fantastic bonuses, that add depth to the gameplay and enhance the winning possibilities.
Basic Information
Pokie

Bull in a China Shop

Software

Play'n Go

Release Date

January 2021

RTP

96.2%

Volatility

High

Maximum Win

5,800x

Minimum Bet

$0.10

Maximum Bet

$100

Paylines

20

Reels

5

Jackpot

No

Free Spins

Yes
Bull in a China Shop Pokie Symbols
Bull in a China Shop, like many of Play'n Go's creations, boasts an array of beautifully crafted symbols that not only enhance the game's aesthetic appeal but also play pivotal roles in determining wins. These symbols, each uniquely designed, are categorised into low-payout, high-payout, and special symbols. Each category has its own set of icons, contributing differently to the potential winnings, based on their frequency and combination on the reels.
Low-payout Symbols
As players navigate through the reels of Bull in a China Shop, they will often come across the familiar card symbols: Spade, Heart, Diamond, and Club. Though these symbols offer more modest rewards compared to others, they serve as the backbone of the game's payout structure. Their simple yet elegant design adds a touch of classic gaming charm amidst the more elaborate thematic symbols.
High-payout Symbols
Diving deeper into the game's narrative, players encounter symbols that truly encapsulate the essence of a traditional Chinese shop. Symbols like the Shopkeeper Lady, Eared Monkey Vase, Koi Fish Vase, Purple Tea Set, and Green Jewellery Box not only promise higher rewards but also bring the game's story to life with their intricate designs and vibrant colours.
Special Symbols
The game wouldn't be complete without its special symbols, which introduce unique gameplay twists. The Wild symbol, representing a mischievous bull, stands out with its ability to influence the game's dynamics. Its presence on the reels can turn an ordinary spin into a potential big win, making it a symbol players eagerly anticipate.
Symbols Paytable
| | | |
| --- | --- | --- |
| Symbol | Payline | Maximum Payout |
| Wild | x5 | 25x |
| Shopkeeper Lady | x5 | 25x |
| Eared Monkey Vase | x5 | 20x |
| Koi Fish Vase | x5 | 15x |
| Purple Tea Set | x5 | 10x |
| Green Jewellery Box | x5 | 5x |
| Spade  | x5 | 1.5x |
| Heart | x5 | 1.5x |
| Diamond | x5 | 1x |
| Club | x5 | 1x |
Bull in a China Shop Pokie Bonuses
Just like in Moon Princess by the same provider, in Bull in a China Shop, players are treated to a captivating ensemble of bonus features that promise not only entertainment but also an elevated chance at striking gold. Each bonus has been meticulously woven into the narrative, seamlessly blending the game's central theme with enticing win opportunities. From Wilds that dynamically influence the gameplay to unique bonus rounds, there's always something happening to keep players on their toes.
Wilds
The game's Wild symbol is represented by the bull, an apt choice given the title. When this symbol makes its appearance, it can replace other symbols to create potential winning combinations. Moreover, the Wild can morph into three different variations: Happy Bull, Proud Bull, and Angry Bull. Each variant comes with its own set of benefits:
Happy Bull – When this joyous version appears, it generously adds up to 2 Wilds on each reel, significantly increasing the chances of a win.
Proud Bull – The Proud Bull stands tall and can fill an entire reel with Wilds, offering players more avenues to form winning combinations.
Angry Bull – True to its name, the Angry Bull brings a fiery edge to the gameplay. When it lands, it can potentially turn every other symbol on its reel into Wilds, creating a cascade of potential wins.
Free Spins
Another enticing feature of Bull in a China Shop is the Free Spins bonus. Triggered when three golden bull scatters appear on the reels, this bonus offers players a choice between three different modes: Happy Free Spins, Proud Free Spins, and Angry Free Spins. Each mode corresponds to the three different Wild bull variants, and players can choose based on their preference for volatility and win potential.
Happy Free Spins
Choosing this mode brings the cheerful Happy Bull to the forefront. With every spin, the number of Wild symbols on the reels increases, enhancing the potential for bigger wins as the free spins progress. By the end of the spins, players could be looking at a screen brimming with Wilds, making for a truly joyous payout.
Proud Free Spins
Opting for the Proud Free Spins introduces players to the dignified Proud Bull. During these spins, the bull can strut onto the reels, turning one or more of them fully Wild. With the potential for multiple reels to become entirely Wild, this mode promises significant winning opportunities with each spin.
Angry Free Spins
For those who prefer a more intense gaming experience, the Angry Free Spins mode is the way to go. Here, the fiery Angry Bull takes charge. With every spin, between two to six Wild symbols are randomly added to the reels. This not only elevates the chance of forming winning combinations but also ensures that the gameplay remains unpredictable and thrilling.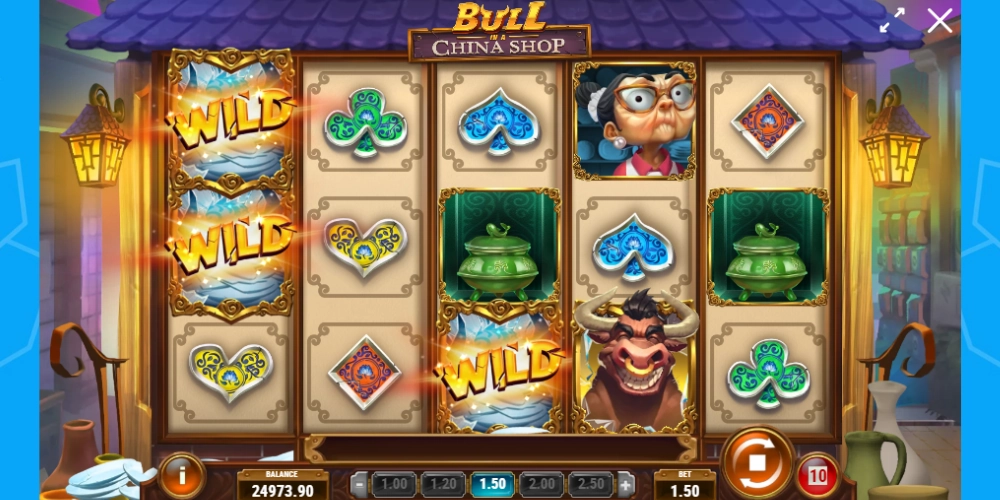 A Porcelline Adventure Jam Packed with Bullish Antics!
Bull in a China Shop stands out in the world of online gambling as a testament to Play'n Go's commitment to delivering top-notch gambling experiences. This pokie, with its harmonious blend of whimsical themes and rewarding features, offers both casual and seasoned players a chance to embark on a unique gaming journey.
From the meticulously crafted symbols to the enthralling bonus features, every aspect of the game has been designed to captivate and entertain. Whether you're in it for the fun of seeing a bull amidst delicate porcelain or for the thrill of landing a big win with the various wilds and free spins, this pokie is sure to leave a lasting impression. So, gear up for an adventure in a Chinese shop like no other, where the bull is both the hero and the harbinger of chaos, and where every spin brings a new surprise.
Frequently asked questions
Who is the developer behind Bull in a China Shop?
Bull in a China Shop is the brainchild of Play'n Go, a renowned gaming software provider known for its innovative and high-quality pokies.
How does the theme of Bull in a China Shop stand out from other pokies?
The game uniquely marries the concept of a delicate porcelain shop with the unpredictable nature of a bull, creating a balance of elegance and playful chaos that's rare in the pokie world.
Are there multiple versions of the Wild symbol in the game?
Yes, Bull in a China Shop features three variations of the Wild symbol: the Happy Bull, the Proud Bull, and the Angry Bull. Each brings its own set of benefits and influences the gameplay differently.
Can I choose the type of Free Spins mode I want?
Absolutely! When you trigger the Free Spins bonus, you're presented with three distinct modes corresponding to the three Wild Bull variants. You can select based on your preference for volatility and win potential.
What's the significance of the Shopkeeper Lady symbol?
The Shopkeeper Lady is one of the high-payout symbols in the game. Its detailed design resonates with the game's central theme, and it offers substantial rewards when landed in winning combinations.
How do I win in Bull in a China Shop Pokie?
Winning at this pokie is simple, all you need to do is adjust your bet to your liking, spin the wheels and form a combination of 3 identical symbols.