Pros and Cons
Pros

Potential for impressive multipliers up to 20x
Offers both horizontal and vertical winning combinations
Variety of free spins
Numerous bonus features
Cons

Lack of traditional paylines
Requires understanding of multiple bonus features
Moon Princess Review
Moon Princess is a radiant testament to Play'n Go's ability to weave themes and aesthetics seamlessly into pokies such as Rise of Olympus with its Greek Gods theme for example. Drawing deep inspiration from popular Anime shows, especially reminiscent of series like Sailor Moon, the pokie manages to create an enchanting universe of its own. The theme is vividly brought to life with vibrant colours – a mix of pastel shades and bright highlights that embody the essence of the Anime perfectly.
The graphics are sharp and detailed, they encapsulate the beauty of the three Moon Princesses that grace the game. Coupled with the melodious and upbeat sounds, it ensures players are treated to an audio-visual delight. Online pokies have seen a surge in quality, and Moon Princess is a shining example of what online gambling industry software giants such as Play'n Go have to offer.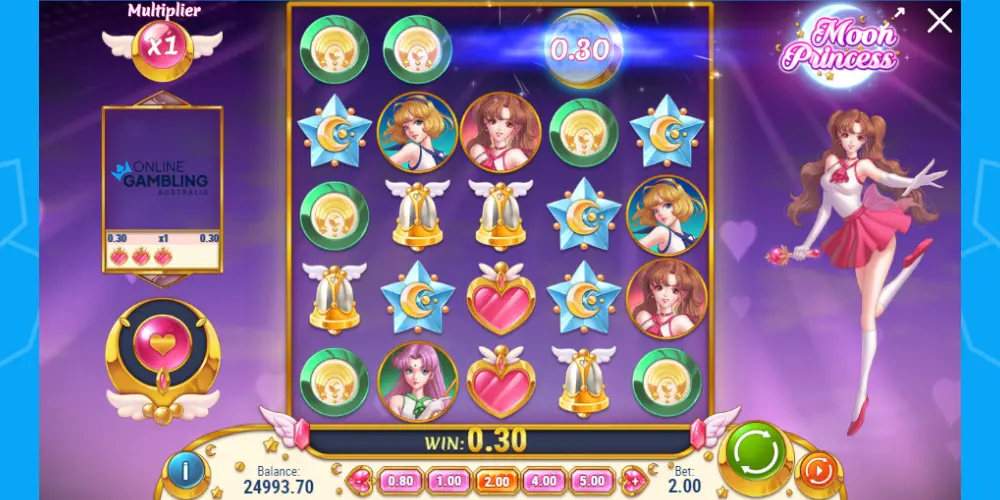 How to Play Moon Princess
Moon Princess showcases a distinctive 5×5 reel layout, a departure from traditional pokie structures. This unique setup allows players to form winning combinations both horizontally and vertically. A standout feature is that symbols are not bound to start from a particular side; they can manifest anywhere on a row or column, offering more ways to win.
The game operates with an RTP of 96%, indicating that, on average, players can expect a return of 96% of their wager over an extended playtime. Coupled with high volatility, it suggests that while wins might be less frequent when they do occur, they can be substantial.
The betting range in Moon Princess is versatile, accommodating a variety of players. You can set your wager as low as $0.20 or go as high as $100 per spin. The potential maximum win is a staggering 5,000 times your bet, which can translate to massive payouts, especially for those who place higher stakes.
While bonuses are a pivotal aspect of Moon Princess, the base game is equally engaging. The game mechanics, such as the ability to form combinations without being bound to the reels' edges and the presence of multipliers, keep the gameplay dynamic and rewarding.
Princess Trinity Feature
The trinity feature is a unique element in Moon Princess. Players are tasked with charging a meter to trigger the Princess Trinity Free Round. The meter is divided into three sections and is charged exclusively by securing wins with princess symbols.
As players fill the meter, the princesses take turns showcasing their distinct powers, enhancing the gameplay and potential rewards. The meter's charge levels are as follows:
5x win fills up all 3 sections
4x win fills up 2 sections
3x win fills up 1 section
The feature concludes when the meter is fully charged, and it cannot be re-triggered within the same round. After the feature, the active princess changes for the subsequent game round, introducing a dynamic element to gameplay.
Pokie

Moon Princess

Software

Play'n Go

Release Date

July 2017

RTP

96%

Volatility

High

Maximum Win

5,000x

Minimum Bet

$0.20

Maximum Bet

$100

Paylines

25 Ways

Reels

5

Jackpot

No

Free Spins

Yes
Moon Princess Pokie Symbols
In the Moon Princess pokie, the symbols are a vivid representation of the game's Anime theme. Each symbol is meticulously crafted, echoing the game's narrative and adding depth to the player's experience. The icons on the reels are categorised based on their payout potential and functionality – from low-payout symbols to high-payout symbols, and the special symbols that drive the game's features.
Low-payout Symbols
The Winged Bell and Heart symbols, while offering smaller rewards, play a pivotal role in Moon Princess's montage. Both these symbols, when aligned in a set of five on a payline, offer a 3x payout, ensuring players are consistently engaged and rewarded.
Further enriching the game's visual and reward landscape are the Blue star with the moon and the Green and gold Coin symbols. Though subtler in their design, these icons hold their own by offering a 2x payout for a combination of five on a payline.
High-payout Symbols
At the heart of the game's narrative lie the symbols of Love, Star, and Storm. Each deeply rooted in the game's story, these icons promise players substantial payouts. Achieving a combination of five of any of these symbols on a payline rewards players with a 10x return on their wager. Additionally, there's the intriguing 'Any' symbol, an element of flexibility in the game. When players manage to secure five of these on a payline, they are greeted with a 5x payout.
Special Symbols
The Gold Crusted full Moon stands out not just as a high-payout symbol but also as the game's Wild. In the world of pokies, Wild symbols are revered for their versatility. They can uniquely substitute for other symbols, greatly enhancing the chances of forming winning combinations. In Moon Princess, this Wild not only aids in creating potential wins but also carries its own substantial payout, making it a truly special symbol in the game.
Symbols Paytable
| | | |
| --- | --- | --- |
| Symbol | Payline | Maximum Payout |
| Wild (Gold Crusted Full Moon) | x5 | 50x |
| Love | x5 | 10x |
| Star | x5 | 10x |
| Storm | x5 | 10x |
| Any | x5 | 5x |
| Winged Bell | x5 | 3x |
| Heart | x5 | 3x |
| Blue Star with Moon | x5 | 2x |
| Green & Gold Coin | x5 | 2x |
Moon Princess Pokie Bonuses
In Moon Princess, bonuses are not just additional features; they're the heartbeat of the game. These bonuses intricately tie into the game's theme, offering players not only a chance for enhanced wins but also a deeper immersion into the storyline. Each bonus is linked to one of the Moon Princesses, further showcasing Play'n Go's commitment to integrating narrative with gameplay mechanics.
From free spins to unique Princess Powers, these bonuses are triggered under specific conditions and hold the potential to transform a regular play session into a remarkably rewarding experience.
Free Spins
Free spins in Moon Princess are intricately tied to the game's trio of princesses: Love, Star, and Storm. These spins are triggered when no symbols are left on the reels, offering players a unique twist on the traditional free spin activation method. Upon triggering, players are given a choice to select one of the three princesses, each bestowing a different set of free spins coupled with their own special power:
Love Princess: Grants 4 free spins, and during these spins, the Love Girl Power Feature remains active.
Star Princess: Offers 5 free spins, with the Star Girl Power Feature being the highlight during these spins.
Storm Princess: Provides the most, 8 free spins, with the Storm Girl Power Feature enhancing the gameplay.
A salient feature during these free spins is the non-resetting drop multipliers. This means players can amass a multiplier of up to 20 times, significantly amplifying their wins. Moreover, matching more princesses can extend the free spin count, leading to prolonged gameplay and increased win opportunities. If players manage to clear the grid during these free spins, an impressive 100x of the original total bet awaits them.
Girl Power Features
Each princess in Moon Princess boasts a unique power that can activate randomly on non-winning game rounds:
Love: Transforms one set of symbols into another
Star: Introduces up to two Wilds on the grid
Storm: Eliminates two sets of any symbol from the grid
These powers not only align with the game's theme but also provide players with varied gameplay dynamics, increasing the chances of landing winning combinations.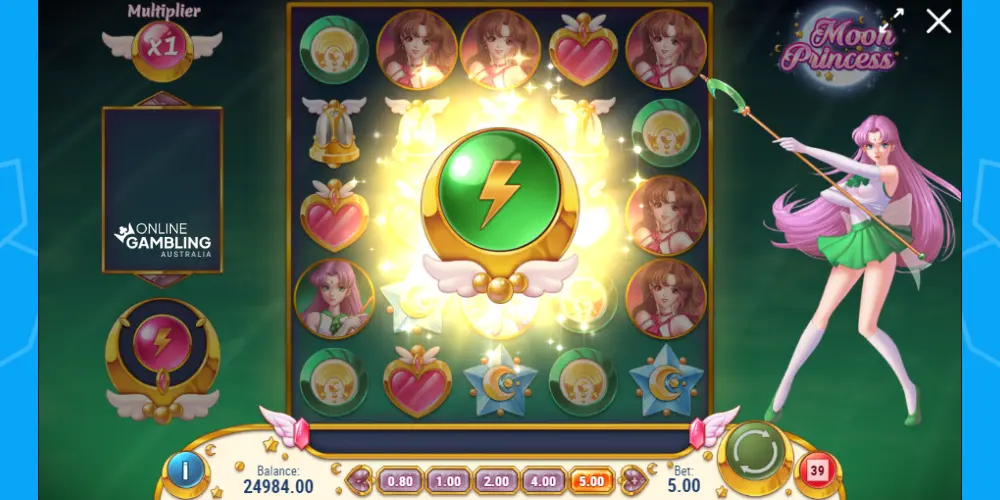 Moon Princess: Stardust Sentiments & Moonlit Musings
Embarking on the Moon Princess journey has revealed an ether of unique features and engaging gameplay. Play'n Go has crafted a pokie that shines with Anime-inspired visuals, intricate mechanics, and the promise of magical wins with each spin. Features like the Princess Trinity add layers of depth, ensuring players are always on their toes, eagerly anticipating the next celestial surprise.
While the game offers a plethora of positives, it's worth noting some potential areas of contention. The game's high volatility means that while wins can be substantial, they might not be as frequent, which might deter players who prefer more consistent payouts. Additionally, the unique 5×5 grid and absence of traditional paylines could be a tad confusing for newcomers to online pokies.
Frequently asked questions
What makes Moon Princess stand out from other Anime-themed pokies?
While there are several Anime-themed pokies out there, Moon Princess offers a unique blend of character-driven features, such as the individual powers of Love, Star, and Storm, and a dynamic gameplay system like the Princess Trinity feature. This combination ensures a fresh gaming experience even for seasoned pokie enthusiasts.
Can I play Moon Princess with a strategy in mind?
While pokies are largely games of chance, understanding the mechanics, especially features like Princess Trinity and the specific powers of each princess, can help players make more informed decisions about their spins and bet amounts.
Are there any multipliers in Moon Princess?
Yes, during the free spins feature, players can benefit from non-resetting drop multipliers, potentially amassing a multiplier of up to 20 times, significantly enhancing their wins.
How does the 'Any' symbol work in the game?
The 'Any' symbol in Moon Princess provides flexibility in winning combinations. It allows players to form wins without being limited to matching identical symbols, offering a unique twist to the gameplay.
Is there a storyline or narrative behind the game?
Moon Princess draws inspiration from popular Anime series, focusing on three princesses, each with their unique powers and personalities. While there isn't a linear storyline, the game's features and symbols weave a thematic narrative that players can immerse themselves in.
How does the Princess Trinity feature impact the overall gameplay?
The Princess Trinity feature adds a layer of strategy to the game. By charging the meter through wins with princess symbols, players can unlock a special round where each princess showcases her unique power, potentially leading to enhanced wins and a dynamic shift in the game's momentum.
What kind of players would most enjoy Moon Princess?
Moon Princess is ideal for players who appreciate detailed themes, dynamic gameplay mechanics, and the potential for significant wins. Its high volatility and unique features cater to both seasoned pokie enthusiasts and those looking for a fresh gaming experience.