Pros and Cons
Pros

Feature-rich with multiple bonus rounds
Dynamic 5x5 grid layout offers a refreshing gaming experience
Exemplary graphics and sound effects
Engaging theme centred around iconic Greek gods
Suitable for both newbies and seasoned players
Cons

No traditional paylines might confuse some players
Relatively high learning curve due to multiple features
Rise of Olympus Review
Rise of Olympus, crafted by the masters at Play'n GO, is a standout in the online pokies arena. Set against the grandeur of Mount Olympus, it immediately draws you to its vibrant colours representing the realms of Zeus, Poseidon, and Hades. Each god brings a visual spectacle, from Zeus's airy brilliance, and Poseidon's deep aquatic blues, to Hades's mysterious dark shades.
The auditory experience complements the visuals perfectly. Gentle tunes of antiquity harmonise with the powerful effects that resonate with each godly feature activation.
This pokie distinguishes itself with a 5×5 grid, challenging players to think beyond traditional paylines and embrace cluster wins. The 'Hand of God' and 'The Wrath of God' features, alongside diverse free spins options, ensure gameplay remains intriguing and rewarding.
In essence, Rise of Olympus offers a compelling blend of mythology, quality graphics, and engaging features, solidifying Play'n GO's reputation in the world of online pokies.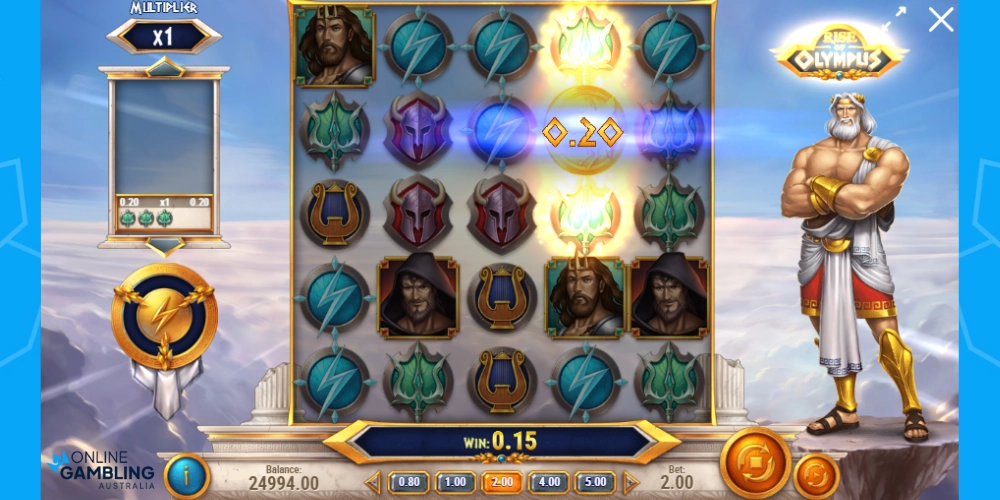 How to Play Rise of Olympus Pokie
The Rise of Olympus interface is simply designed for both novices and experienced players. To initiate your journey, first adjust your betting preference using the Quick Betting Panel. Once you've chosen your bet, activate the grid by pressing the green Spin button. If you wish to sit back and enjoy the spectacle, the Autoplay feature allows the grid to spin autonomously for a selected number of times.
Rise of Olympus has an RTP of 96.5%, showcasing its payout propensity. In terms of volatility, Rise of Olympus sits at medium, providing a balance of regular payouts with the potential for bigger wins. The maximum win on a single spin can go up to 5,000 times your bet. Betting ranges from a minimum of $0.20 to a maximum of $100. This game lacks traditional paylines due to its 5×5 grid format; wins are formed through clusters.
Pokie

Rise of Olympus

Software

Play'n Go

Release date

August 2018

RTP

96.5%

Volatility

Medium

Maximum Win

5,000x

Minimum Bet

$0.20

Maximum Bet

$100

Paylines

Cluster Pays

Reels

5x5

Jackpot

Yes

Free spins

Yes
Rise of Olympus Pokie Symbols
In Rise of Olympus, each symbol on the grid encapsulates the divine essence of Greek mythology. Designed intricately, they enhance the game's aesthetics and play a pivotal role in players' winnings.
Low-payout Symbols
The lower tier of payouts consists of stylised Greek icons, namely the Harp, Hades' mask, Poseidon's Triton and Zeus' Lightning rod, each representing different facets of the ancient world. Acquiring three or more in a cluster will result in a win. These symbols pay modestly, serving to keep the gameplay ticking over and providing smaller, frequent wins.
High-payout Symbols
These are representations of the mighty deities Zeus, Poseidon, and Hades. These symbols, given the stature of the gods they represent, come with more substantial payouts. Landing five of these in a cluster can yield sizeable rewards, reflecting the gods' immense power.
Special Symbols
The Golden Pegasus Coin stands out as the Wild symbol. Acting as a substitute, this special symbol can form winning combos on its own and also aids in creating wins by replacing other symbols. Its dual nature of being a standalone winning symbol and a substitute makes it a cherished emblem on the grid.
Symbols Paytable
| | | |
| --- | --- | --- |
| Symbol | Payline | Max Payout |
| Wild (Pegasus Coin) | x5 | 50x |
| Zeus | x5 | 10x |
| Poseidon | x5 | 10x |
| Hades | x5 | 10x |
| Any 3 Gods | x5 | 5x |
| Harp | x5 | 3x |
| Hades' Mask | x5 | 3x |
| Poseidon's Triton | x5 | 2x |
| Zeus' Lightning Rod | x5 | 2x |
Rise of Olympus Pokie Bonuses
Delving into the vast world of online pokies, players often find a tantalising array of in-game bonuses that amplify their gaming experience.
Hand of God
The "Hand of God" feature is a divine intervention that manifests randomly after any non-winning spin. When activated, one of the three main deities – Zeus, Poseidon, or Hades – showcases their celestial power, ensuring unique winning combinations on the grid. Each god's touch is distinct:
Hades: This underworld ruler can morph one set of symbols into another, crafting new potential winning clusters.
Poseidon: The sea deity uses his influence to place up to two Wild symbols, enhancing the chance of landing a win.
Zeus: The king of gods selects two sets of any symbol and obliterates them from the grid, making space for new symbols and possible wins.
Wrath of Olympus
Positioned left to the reels is a potent power meter. This meter, divided into three sections, is the key to invoking the "Wrath of Olympus" feature. To activate this feature, players need to charge the meter by forming wins with God symbols. Different combinations fill varying sections of the meter:
Red Token (Hades): A trio of Hades symbols fills one section, four fill two, while a cluster of five charges all three sections.
Green Token (Poseidon): Similarly, clusters of three, four, or five dictate the number of sections filled.
Blue Token (Zeus): The pattern repeats for Zeus tokens.
Once the meter is fully charged, players are treated to a Free Round. During this round, the deities take turns applying their unique "Hand of God" features, maximising win potential.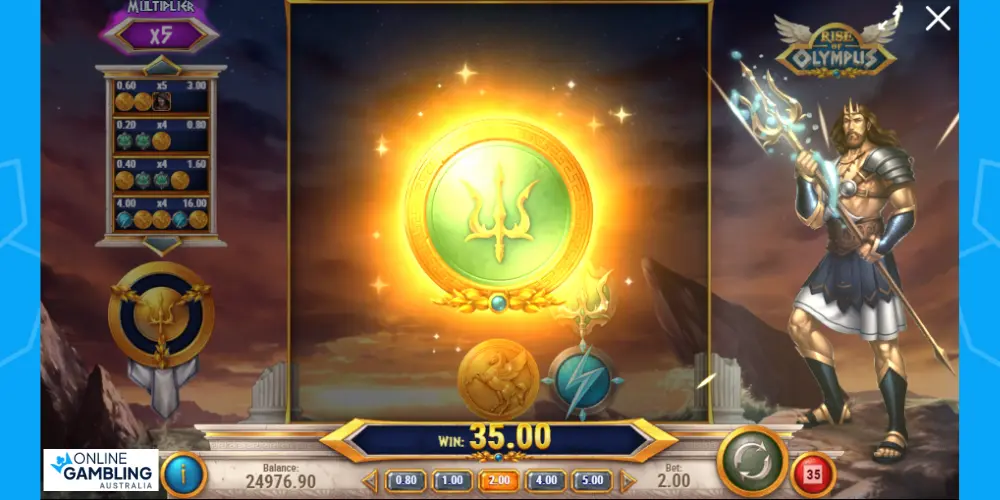 Free Spins
Clearing the grid activates the Free Spins feature, a celestial arena where players are granted the power to select one of the three gods. Each god offers a different number of spins, but it's essential to note that fewer spins equate to higher risk and, subsequently, higher potential rewards.
During these spins, the chosen god's "Hand of God" feature is always at play, activating after every non-winning spin. This ensures a higher chance of wins, with multipliers potentially ramping up to 20 times. Though the "Wrath of Olympus" isn't available, a fully charged meter grants extra spins:
Hades: Gifts 4 spins initially, with a recharge of 4 spins.
Poseidon: Offers 5 spins, with an additional 3 spins upon recharge.
Zeus: Provides 8 spins, recharging with an extra 2 spins.
These bonuses, meticulously designed, ensure that the journey up Mount Olympus remains both rewarding and filled with celestial wonders.
Grid Clearing Bonus
In "Rise of Olympus", players have a unique opportunity to amp up their winnings through the Grid Clearing Bonus. This feature activates when all symbols are successfully removed from the playing grid. As you navigate the gameplay, you'll find that achieving a clear grid, especially during the Free Spins feature, awards an impressive x100 of your initial bet.
This bonus not only boosts your winnings but also adds an additional layer of excitement, challenging players to clear the board and claim the substantial reward that follows.
Round Multiplier
Rise of Olympus presents a round multiplier that plays a pivotal role in amplifying potential wins. This feature is designed to incrementally increase the multiplier value with each consecutive win during a single spin. It means that if you chain together a sequence of wins in one spin, each win can be multiplied further, offering the potential for significantly larger payouts. The Round Multiplier doesn't reset until a new game round begins, allowing players to capitalise on winning streaks effectively.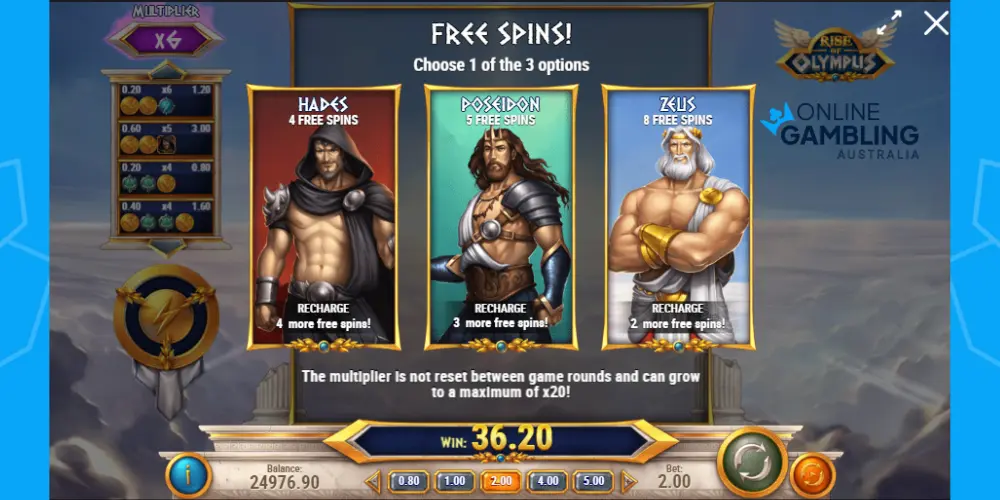 From Gods to Grids: Our Pokie Perspective!
When you ascend Mount Olympus in this pokie, you're not just spinning reels; you're entering an arena of legends, challenging the might of Zeus, Poseidon, and Hades. As every win electrifies the screen, remember that this isn't just about coin gains; it's an experience, a narrative brought to life with every spin.
If the legends and mechanics of Rise of Olympus resonate with you, then Seth vs.Horus by Mancala Gaming is another journey awaiting your exploratory spirit. Dive into a world where Greek myths are more than just stories; they're chances for legendary wins!
Frequently asked questions
What is the maximum potential win in the Rise of Olympus pokie?
Players can win up to 5,000 times their bet in certain features of the game, making for a potentially lucrative experience.
How can I trigger the 'Hand of God' feature?
The 'Hand of God' feature is randomly triggered on any non-winning spin. Each of the three gods, Zeus, Poseidon, and Hades, have unique abilities to create winning combinations.
How is the 'Wrath of Olympus' feature activated?
To activate the 'Wrath of Olympus' feature, you need to charge the power meter situated to the left of the reels. It's charged when you achieve wins using the God symbols.
Can I re-trigger Free Spins during the Free Spins round?
Yes, the fully charged meter during the Free Spins round will award you with additional spins. The number of additional spins depends on the chosen god: Hades, Poseidon, or Zeus.
What's the significance of the grid-clearing bonus?
Clearing the grid is a major achievement in Rise of Olympus. If players manage to clear the entire grid, it triggers the Free Spins feature, and if achieved during the Free Spins, awards a bonus of x100 the bet, making it a highly sought-after event in the game.
How does the 'Round Multiplier' help boost my wins?
The 'Round Multiplier' is an important aspect of the game. It amplifies the wins during a single spin and can significantly enhance the payouts, especially during features and bonus rounds.