Pros and Cons
Pros

Vibrant Hawaiian jungle theme
Symbol merging forms larger icons
Growing global win multiplier
Random wilds from Elmo the Sloth
Wins up to 25,000x the stake
Mobile-friendly on all devices
Cons

Lower RTP at 94%
Uncertain bonus round frequency
Hula Balua Review
Hula Balua is not just another online pokie; it's a vibrant journey to the heart of Hawaii, enveloping players in a world filled with tropical wonders. The theme is evident at first glance – a Hawaiian jungle similar to those of Aloha! Cluster Pays and Tiki Tumble, complete with the animated presence of Elmo the Sloth, adds character and charm to every spin.
The visuals are a delightful blend of lush greens, tropical hues, and the warm colours of exotic fruits. Every spin is accentuated with the calming sounds of nature, from bird calls to the gentle flow of water, creating a soothing soundscape that complements the game's visual aesthetics.
As for the graphics, they are nothing short of what one would expect from a first-rate developer like ELK Studios. Crisp, clear, and detailed, each symbol is designed to transport players deeper into this tropical paradise. Online pokies have always been about immersion, and Hula Balua truly exemplifies this ethos.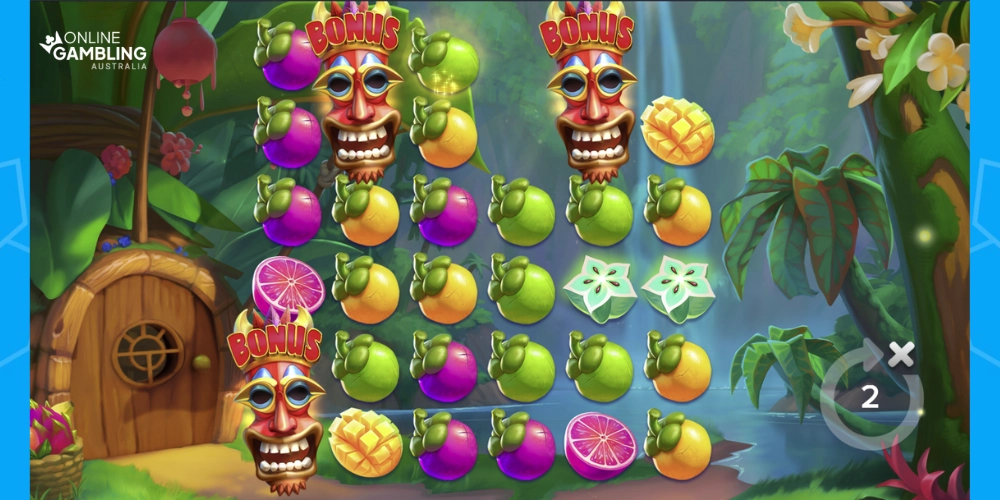 How to Play Hula Balua
Playing Hula Balua at PlayAmo is an experience designed to be both thrilling and intuitive. With an RTP of 94%, exactly like with Valhall Gold, players should be aware that while the game offers significant rewards, it does come with its own set of challenges. The game's volatility is rated as medium to high, which means that wins might be moderately frequent, but when they do occur, they can be quite substantial. The maximum win one can achieve in a single spin is a staggering 25,000 times the stake.
Bets can range from a minimum of $0.20 to a maximum of $100.00, catering to casual players and high rollers alike. As players navigate through the game, they will encounter features such as symbol merging, which allows symbols to combine and form larger icons, enhancing the chances of winning.
However, the game's main allure lies in its bonus features, which we'll explore later. Before we go into the symbols and bonuses, let's take a closer look at the basic information about Hula Balua.
Basic Information
Pokie

Hula Balua

Software

ELK Studios

Release Date

September 2023

RTP

94%

Volatility

Medium - High

Maximum Win

25,000x

Minimum Bet

$0.20

Maximum Bet

$100

Payline

Scatter Pay

Reels

6

Jackpot

No

Free Spins

Yes
Hula Balua Pokie Symbols
Hula Balua is not merely a pokie; it's an ode to Elmo the Sloth's fruitful life in the jungle. Long before the island became a bustling habitat for birds, Elmo was engrossed in crafting tiki masks and nurturing massive tropical fruits. The game's symbols vividly portray this narrative, making each spin a step into Elmo's vibrant world.
From juicy fruits to innovative features, the symbols in Hula Balua promise more than just payouts; they offer a glimpse into a tropical wonderland. Let's get the scoop on the array of symbols that grace the reels of this pokie.
Low-payout Symbols
The low-payout symbols in Hula Balua are represented by the colourful mangostines. These tropical delights come in three vibrant shades: Pink, Yellow, and Green. While their payouts may not match those of their high-value counterparts, their frequent appearances on the reels ensure that players receive consistent rewards as they spin.
High-payout Symbols
Upon inspecting the higher end of the paytable, we find fruits that are not just delicious looking but also lucrative in their nature. The Starfruit or Carambola stands out as the highest-paying symbol, followed closely by the Pink Grapefruit, Mango, and Kiwi. Each of these fruits is a testament to the bountiful nature of Elmo's jungle, and landing them on the reels can lead to substantial rewards.
Special Symbols
Hula Balua offers a plethora of special features that elevate the gameplay. Big symbols introduce multipliers, with their value corresponding to the number of smaller symbols they cover. Symbols can merge to form larger ones, increasing the global multiplier in the process.
Elmo himself makes an appearance with the 'Elmo Redrops' feature, gifting redrops and producing wilds as he saunters across the reels. The 'Sticky Redrops' feature ensures redrops continue as long as matching symbols land, culminating in a payout when no more matching symbols appear. The X-iter feature is another noteworthy addition, allowing players to immerse themselves in various game modes, and enhancing the overall gambling experience.
Symbols Paytable
| | | |
| --- | --- | --- |
| Symbol | Payline | Maximum Payout |
| Star Fruit/ Carambola | x20+ | 200x |
| Pink Grapefruit | x20+ | 25x |
| Mango | x20+ | 15x |
| Kiwi | x20+ | 10x |
| Pink Mangostine | x20+ | 5x |
| Yellow Mangostine  | x20+ | 5x |
| Green Mangostine | x20+ | 5x |
Hula Balua Pokie Bonuses
In the lush landscapes of Hula Balua, players are not just treated to a visual and auditory feast but also to a plethora of bonus features designed to enhance the gambling journey. These bonuses, intricately woven into the gameplay, provide players with opportunities to maximise their winnings and immerse themselves further into the tropical world of Elmo the Sloth.
Whether it's through the dynamic Big Symbols introducing multipliers or Elmo's generous Redrops, each bonus has its unique charm and mechanics. Let's explore each of these bonuses in detail, understanding their triggers and potential rewards.
Big Symbols & Multipliers
Big symbols are a central feature in Hula Balua, and they play a significant role in determining the game's multipliers. These enlarged symbols, when they appear on the reels, correspond to a set number of smaller symbols.
The multiplier's value is directly linked to the number of smaller symbols the big symbol represents. The presence of these big symbols not only enhances the chances of landing a winning combination but also amplifies the potential payout through the multipliers they introduce.
Merging Symbols
Another intriguing aspect of Hula Balua is the ability of identical symbols to merge. When these symbols, whether they be exotic fruits or other icons, align in a square or rectangle formation, they combine to form a larger symbol. This merged symbol not only elevates the visual appeal of the game but also contributes to the global multiplier, increasing the potential winnings for the player.
Elmo Redrops
Elmo, the endearing sloth, isn't just a visual treat; he plays an integral role in one of the game's bonus features. Aptly named 'Elmo Redrops', this feature is triggered when Elmo makes an appearance on the reels.
As he gracefully moves across the screen, he grants redrops and simultaneously creates wild symbols. These wilds can substitute for other symbols, enhancing the chances of landing a winning combination. The feature continues as Elmo saunters, concluding when he eventually exits the screen.
Sticky Redrops
'Sticky Redrops' is another captivating bonus that promises extended gameplay and increased winning potential. Once activated, this feature awards redrops as long as additional matching symbols continue to land on the reels. The excitement persists with each successive redrop, culminating in a payout when no more identical symbols appear, signifying the end of the feature.
X-iter Modes
The X-iter feature in Hula Balua is not just a single bonus but a suite of game modes, each offering a distinct experience. Players can jump directly into the action with five different modes. These range from a modest 2x bet, offering an enhanced chance to activate the bonus, to an exhilarating 500x bet super bonus. In the super bonus, players are guaranteed big symbols with each free drop, exponentially increasing the potential for hefty rewards.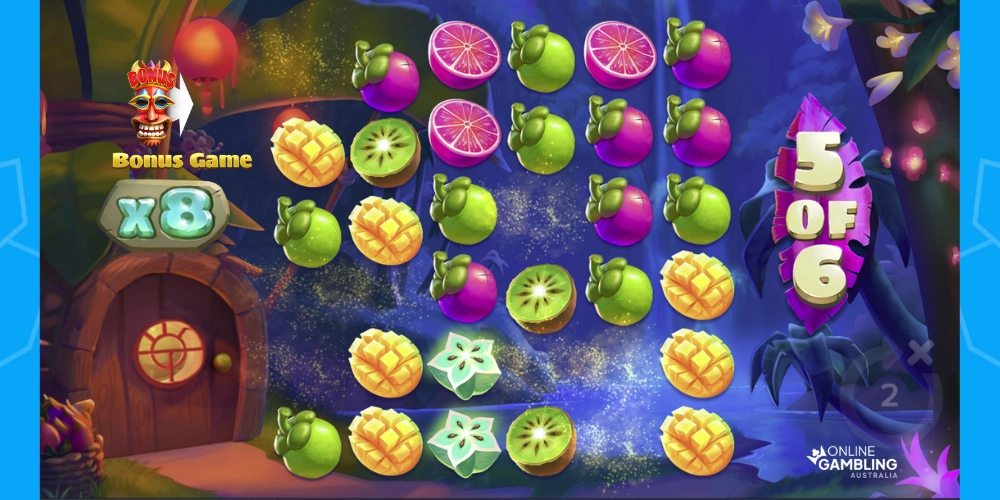 A Big Aloha from Hula Balua!
Hula Balua is more than just a pokie; it's a delightful escapade into the tropical heart of Hawaii. With its rich visuals, captivating sounds, and a plethora of features, it stands as a testament to ELK Studios' commitment to delivering quality gaming experiences. The game's unique blend of engaging mechanics and immersive storytelling sets it apart.
Players are not only spinning the reels but are also taken on a journey with Elmo the Sloth, exploring the bounties of his Hawaiian paradise. From the merging symbols to the thrilling bonuses, every aspect of the game is crafted with precision and creativity.
Whether you're a casual player or an aficionado, Hula Balua promises an adventure filled with fun, excitement, and, of course, opportunities for big wins. So, don your Hawaiian shirt, grab a tropical drink, and let the reels of Hula Balua transport you to a world of island magic. But, if you don't wish to transport yourself to this destination, why not try and go on a journey with some colourful parrots? We are talking about Pirots, which is a game that was developed by the same creators of this pokie game. The decision is all up to you!
Frequently asked questions
Who is the main character in the Hula Balua pokie?
The main character is Elmo the Sloth, a charming creature who has made a home in the Hawaiian jungles, crafting masks and growing enormous tropical fruits.
What sets Hula Balua apart from other online pokies?
Hula Balua offers a unique blend of storytelling with Elmo's adventures, combined with innovative features like big symbols, merging symbols, and various X-iter modes.
How does the global multiplier in Hula Balua work?
The global multiplier is enhanced when identical symbols merge to form larger icons. The value of the multiplier corresponds to the number of small symbols the big symbol covers.
What's the significance of Elmo's Redrops feature?
The Elmo Redrops feature introduces a dynamic element where Elmo grants redrops and creates wild symbols as he moves, enhancing chances for winning combinations.
Are there any unique modes in Hula Balua to enhance the gameplay?
Yes, the X-iter feature offers five distinct game modes, ranging from a 2x bet to a 500x bet super bonus, allowing players to tailor their gaming experience.
Can players set their betting limits in Hula Balua?
Yes, players can choose their bet size, ranging from a minimum of $0.20 to a maximum of $100.00, allowing for flexibility based on individual preferences and bankrolls.
How does the scatter pay work in Hula Balua?
In Hula Balua, scatter symbols can generate wins regardless of paylines. When a specific number of scatter symbols appear on the reels, they can trigger bonus features or free spins, and in some cases, they also offer payouts based on the total bet rather than the bet per line.