Pros and Cons
Pros

Part of the popular Gold series from ELK Studios
Expansive gameplay with up to 531,441 ways to win
Mega symbols, Avalanches, and free spins
Payouts up to 25,000x the stake
Cons

High volatility might not suit all players
RTP of 94% is below average for modern online pokies
Valhall Gold Pokie Review
Valhall Gold takes players on a journey to the Nordic lands, resonating with tales of Viking exploits and their deities. The game design reflects the richness of Viking lore with its vivid colours, evocative sounds, and stunning graphics.
The backdrop showcases the breathtaking landscapes of the North, setting the stage for an epic pokie adventure. With the rise in popularity of online pokies, Valhall Gold stands out, making it a must-try for aficionados and casual players alike.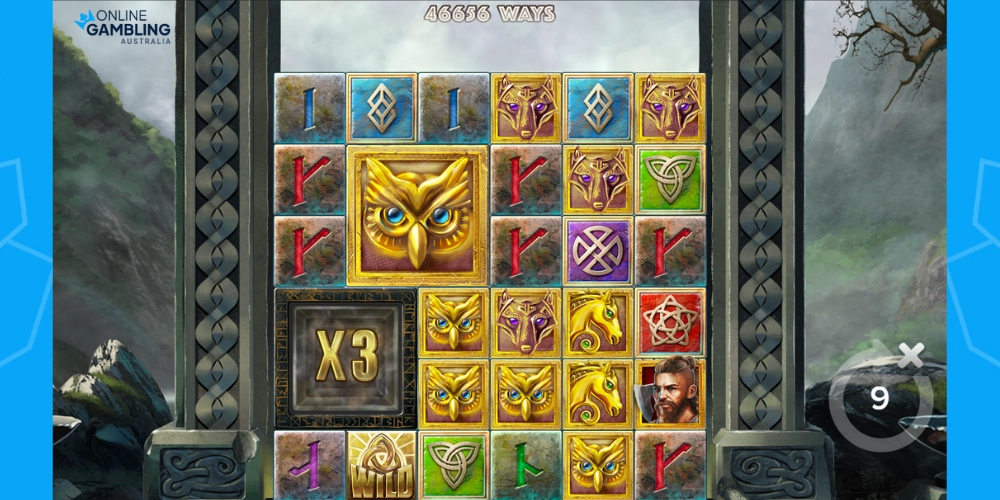 How to Play Valhall Gold
Valhall Gold boasts a unique gameplay structure. Starting with a 6×4 reel layout and 4,096 ways to win, the game area can expand, culminating in a 6×9 grid offering a staggering 531,441 ways to win. With the potential of fetching rewards up to 25,000 times the stake in just one spin, the stakes are high.
However, players should be mindful of the game's high volatility and an RTP set at 94%. The betting range is accommodating, allowing wagers between $0.20 and $100. ELK Studios has incorporated a myriad of features into the game.
Among them, players will encounter mega symbols, Avalanches, replicating Spikes, and more, ensuring every spin offers a fresh experience. To get an in-depth understanding, let's explore the basic information about Valhall Gold in the upcoming section.
Basic Information
Pokie

Valhall Gold

Software

ELK Studios

Release Date

September 2023

RTP

94%

Volatility

High

Maximum Win

25,000x

Minimum Bet

$0.20

Maximum Bet

$100

Payline

531,441 Ways

Reels

6x4 to 6x9

Jackpot

No

Free Spins

Yes
Valhall Gold Pokie Symbols
Symbols play a pivotal role in any pokie game, and in Valhall Gold, they're intricately tied to the Norse mythology theme, enhancing the overall online gambling experience. From ancient Nordic runes to majestic creatures like wolves and owls, each symbol is meticulously designed to resonate with the Viking era.
Warriors also make their presence felt on the reels, reminding players of the fierce battles and legendary tales from the North. To truly appreciate the depth of the game, let's take a deeper look into the different categories of symbols and their significance.
Low-payout Symbols
The low-payout symbols in Valhall Gold are predominantly the Nordic runes. These mystical symbols, engraved on stones, represent the alphabet used by the ancient Norse people. While they might offer smaller rewards compared to other symbols, they appear frequently, ensuring that players have steady wins as they spin the reels.
High-payout Symbols
High-payout symbols include various representations of creatures and warriors. The majestic wolves and wise owls, deeply rooted in Nordic folklore, grace the reels with their presence, offering players substantial rewards. The fierce warriors, with their stern expressions and battle gear, are a testament to the valiant Viking culture, promising lucrative payouts for those lucky enough to align them on the reels.
Special Symbols
Valhall Gold is replete with special symbols that not only augment the chances of winning but also elevate the gambling experience. Among these, Odin's Ravens stand out. Initially appearing as 1×2 blocking symbols, they transform into wilds when two or more land in view, enhancing winning combinations.
The Almighty Thor acts as a sticky wild, staying on the reels for the duration of a drop sequence. There's also the Trickster Loki, a 2×2 symbol with the potential to activate one of four special features, adding layers of excitement to every spin.
The Spike Frames, another unique feature, can appear on any symbol, replicating in the direction of the spike and promising generous payouts.
Adding to this rich roster of special symbols is the Axe Fury feature. When activated, Axe Fury upgrades a random number of symbols on the reels to the same symbol type, amplifying the potential for creating winning combinations and adding another dimension of engagement to the game.
Symbols Paytable
| | | |
| --- | --- | --- |
| Symbol | Payline | Maximum Payout |
| Kane the Explorer | x6 | 10x |
| Wolf | x6 | 3x |
| Wild Horse | x6 | 2.5x |
| Owl | x6 | 2x |
| Red Star Rune | x6 | 1x |
| Purple Circular Rune | x6 | 1x |
| Green Triangular Rune | x6 | 0.8x |
| Blue Diamond Rune | x6 | 0.8x |
| Red Letter Rune | x6 | 0.3x |
| Purple Letter Rune | x6 | 0.3x |
| Green Letter Rune | x6 | 0.3x |
| Blue Letter Rune | x6 | 0.3x |
Valhall Gold Pokie Bonuses
One of the standout attributes of the Valhall Gold pokie is its rich offering of bonuses and special features, designed to elevate the player's gambling experience. These bonuses not only enhance the chances of securing wins but also add layers of intrigue and excitement to each spin.
From cascading wins and reel modifiers to special symbols that can dramatically transform gameplay, there's never a dull moment. In the heart of these bonuses lies the much-anticipated Bonus Game, Free Drops feature, triggered by scatter symbols, promising a cascade of rewards with the potential to significantly expand the game area. Let's explore the unique bonuses that Valhall Gold presents.
Bonus Game
One of the standout features in Valhall Gold is the Bonus Game, which is triggered when three or more bonus symbols land on the reels. The beauty of this feature is that the number of free drops awarded correlates directly with the number of bonus symbols that appear:
3 Bonus Symbols award 10 Free Drops
4 Bonus Symbols also grant 10 Free Drops
5 Bonus Symbols provide 20 Free Drops
6 Bonus Symbols offer a generous 25 Free Drops
Safety Level:
Within the Bonus Game, players will encounter the Safety Level feature. As free drops are initiated and result in wins, the safety level advances one row. Each new free drop then starts at the current active safety level, providing players with an enhanced gameplay experience and increased winning potential.
Loki's Inventory:
A unique aspect of the Bonus Game is Loki's Inventory. Whenever a win involving a Loki feature occurs, that feature gets activated in Loki's Inventory. Achieving another win with the same Loki feature saves it in the inventory, making the feature sticky for the remaining free drops. Additionally, any saved Loki multipliers are additive, further boosting the potential rewards during the Bonus Game.
Free Drops Feature
The main draw in Valhall Gold is the Free Drops feature, triggered by landing 4 to 6 scatter symbols. Players commence this feature on a 6×5 reel grid, but as the spins unfold, the game area can expand, enhancing the ways to win. What makes this bonus even more compelling is the inclusion of several modifiers and features, such as Spike Storms, bi-directional payouts, and multipliers, ensuring each free drop holds the promise of substantial rewards.
X-iter Bonus Buy
Another noteworthy feature in Valhall Gold is the X-iter, ELK Studios' answer to the Bonus Buy mechanism. This feature presents players with five distinct options, each with its own cost and reward potential. Players can opt to increase their chances of triggering the Free Drop feature, engage with the Trickster Loki for a guaranteed feature on the next spin, or even activate Loki's Inventory right from the outset of the Free Drops, among other choices.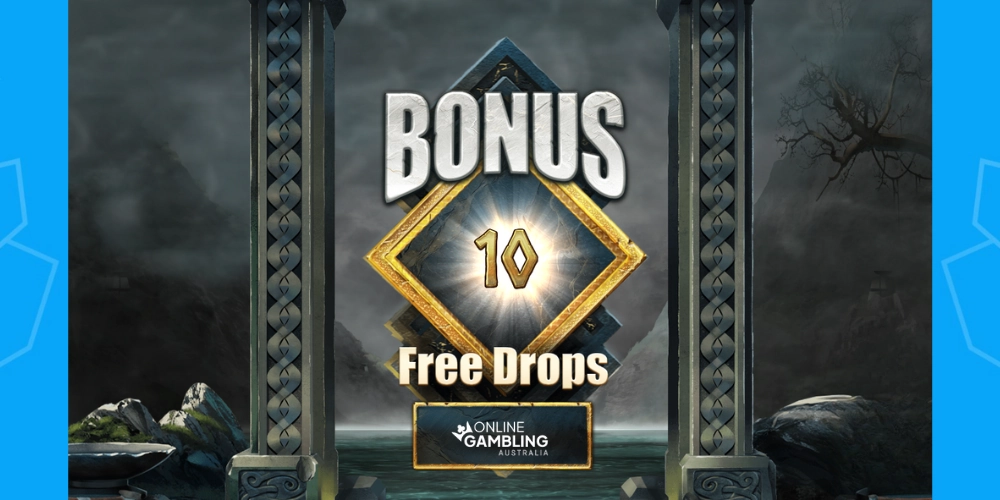 Valhall Gold: Mystery, Mythology, & Mega Wins
The Valhall Gold pokie by ELK Studios is an impeccable blend of rich graphics, enthralling sounds, and a theme deeply embedded in Norse mythology. From its dynamic reel structure offering up to 531,441 ways to win, to its plethora of bonuses like Free Drops and the intriguing Loki's Inventory, it promises a gaming experience unlike any other.
The meticulously designed symbols, be it the low-payout Nordic runes or the high-payout majestic creatures and warriors, ensure that every spin tells a story. Add to this the array of special features such as Odin's Ravens, Almighty Thor, Trickster Loki, and the unique Axe Fury, and you have a game that keeps players on the edge of their seats.
Whether you're an avid pokie enthusiast or a casual player, Valhall Gold promises an adventure that resonates with both fun and potential rewards. It's not just a game; it's a journey into the heart of Norse legends, beckoning players to discover its treasures. This same gaming provider is known for producing other great pokies as well, such as Pirots and Hula Balua. So if this particular pokie did not interest you, we highly suggest you take a look at these suggested pokies!
Frequently asked questions
Who is the developer behind Valhall Gold?
Valhall Gold is a masterful creation of ELK Studios, a renowned game developer known for producing high-quality and innovative pokies.
Are there different modes of gameplay in Valhall Gold?
Yes, Valhall Gold offers the X-iter mode, which allows players to select from five different gameplay strategies, each offering a unique blend of risk and reward.
How does the expanding reel structure work in this pokie?
Valhall Gold starts with a 6×4 reel layout, but as you trigger certain features and bonuses, the grid can expand up to a 6×9 format, increasing the ways to win up to a staggering 531,441!
What's the significance of the Nordic runes in the game?
The Nordic runes in Valhall Gold aren't just decorative. They represent the ancient alphabets used by the Norse people and serve as the low-payout symbols in the game, appearing frequently on the reels.
How does the Loki symbol influence the gameplay?
The Trickster Loki is a 2×2 symbol with a unique twist. It can activate one of four special features when part of a winning combination. These features can include Spike Storms, bi-directional payouts, and more, adding depth to each spin.
Can I alter my betting strategy during the game?
Yes, ELK Studios' pokies, including Valhall Gold, often come with a built-in betting strategy feature. Players can choose between various strategies that adjust the bet level automatically based on a set of rules.
Are there any symbols that transform during gameplay?
Indeed! One notable symbol is Odin's Raven. Initially appearing as a 1×2 blocking symbol, it can transform into a wild when two or more appear, enhancing potential winning combinations.