Pro's and cons
Pro's

Incredible interface
The Sticky Win Respins feature boosts the chances of cluster wins
Max win is 200,000x your stake
Very user-friendly
Con's

There are no multipliers involved
Aloha Cluster Pays Pokie Review
Aloha Cluster Pays is a pokie game that was created in 2016 by one of the leading gaming providers in the industry. The provider responsible for this pokie game is NetEnt. As you may by now have realised, Aloha Cluster Pays is a Hawaiian-styled pokie.
When you load the pokie game up, you will be greeted by a Tiki Head at will stay with you through your playing journey on the right-hand side of the screen. In the backdrop, you will also be able to find a huge volcano, just like you would if you actually went to the Hawaiian islands.
The birds chirping and classic Hawaiian-styled music in the background is exactly what you need to get that holiday mood. When actually playing the game, you will see that the reels turning also match the theme that NetEnt is going for.
Furthermore, when you win in a round of Aloha Cluster Pays, you would get a sound that reminds people a lot about the TV show Tom & Jerry. Additionally, the borders of the symbols that gave you the win would light up on fire. This is probably done to show you the symbols, but it is a creative feature nonetheless. But the best of all is that our Tiki Head friend would react to our win!
For more colorful Cluster Pays action, make sure to check out our review on Candy Clash.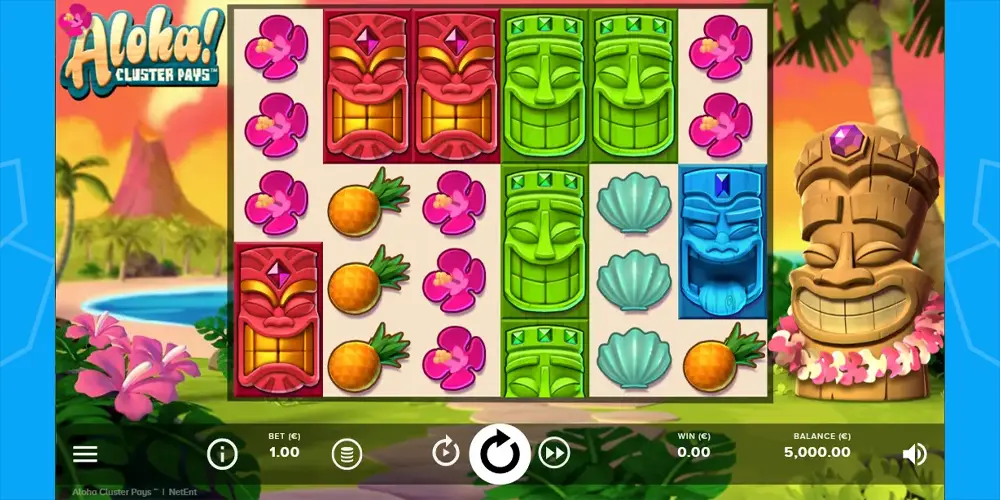 How to play the Aloha Cluster Pays Slot
When it comes to how you can play Aloha Cluster Pays online, it is a fairly simple task. When loading the pokie game up, you will instantly be able to see the possible options bar below the 6 reels, 5-row table. There you will find all the things you would need to play this pokie game.
There is a section where you can get yourself familiar with the symbols, rules, and what each feature means. To be fair, after you read this review, you wouldn't need to refer to the in-game rules tab as you will find everything here!
When it's time to bet, you would be surprised by the number of options you would have! The range starts from $0.10 and ends at $200. So if you are someone that is looking for a pokie that allows you to bet either big or small, and enjoy the relaxing music, then Aloha Cluster Pays casino is the pokie game to play.
There is also the option of letting the gameplay for you. This is done by utilizing the autoplay feature. You can play up to 1000 automatic spins! So if you want to take a break and play at the same time, this feature is perfect for you. Furthermore, if you are in a rush, you can also use the turn quick spin by turning it on.
Some other important information would be the volatility and RTP rate. The game is considered to have Low to Medium volatility, whilst the RTP rate is 96.42%. This figure is more than the average percentage of pokie RTPs, so that is a positive thing for sure!
With all things taken into consideration, there is only one thing left that is vital to this game. It is the Starting Game Button! It is located in the middle lower part of the screen and it is the simplest task you will ever have to do. All you would need to do is click and let the magic happen! It is really that easy.
Pokie

Aloha Cluster Pays

Software

NetEnt

Release date

March 2016

RTP

96.42%

Volatility

Low - Medium

Max Win

$40,000,000

Min Bet

$0.10

Max Bet

$200

Paylines

All Ways

Reels

6

Jackpot

No

Free Spins

Yes
Symbols
The fact that there aren't any alphabetic or numerical symbols used in the Aloha Cluster Pays pokie game is one indication of how original this game really is. Essentially a few classic symbols that are representative of the overall concept of the pokie game; these icons all play the role of both high-paying and low-paying symbols.
Let's start off with the low-paying symbols. These symbols are the coconut symbol, pineapple symbol, shell symbol, and pink hibiscus flower symbol. But when it comes to the high-paying symbols, there are Green Tiki, Red Tiki, and Blue Tiki.
Furthermore, there is also the Free Spins Symbol, but you will be able to find more information about this symbol in the bonuses section!
Aloha Cluster Pays Symbols and Paytable
| | |
| --- | --- |
| Symbol | Maximum Pay out |
| Flower symbol | 2,000 coins for 30 in a cluster |
| Shell symbol | 2,000 coins for 30 in a cluster |
| Coconut symbol | 2,000 coins for 30 in a cluster |
| Pineapple symbol | 2,000 coins for 30 in a cluster |
| Blue Tiki Head | 5,000 coins for 30 in a cluster |
| Green Tiki Head | 5,000 coins for 30 in a cluster |
| Red tiki Head | 10,000 coins for 30 in a cluster |
Aloha Cluster Pays Pokie Bonuses
Here is the part we have all been waiting for. The bonuses of Aloha Cluster Pays pokies game. This is the part that practically makes or breaks for many players. Below, you will be able to see aa the different types of bonuses available when playing Aloha Cluster Pays slot and what this means for you.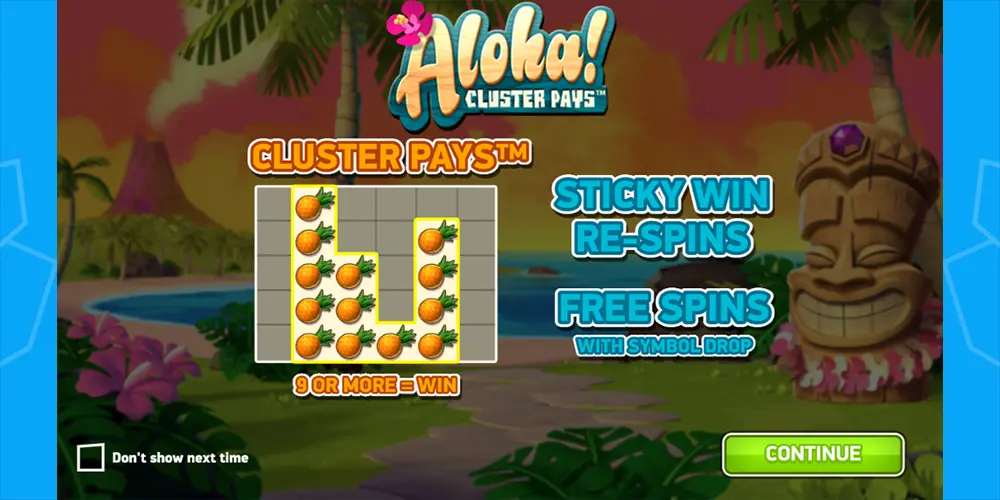 The So-Called Wild Symbol
You and I can both understand why this is actually referred to by the software providers as a "substitution sign" rather than a wild card in their games. It is shown as a wooden box with a question mark on it, and its function is to seek the neighbouring symbol which offers the greatest potential payout and transform it into that one.
Additionally, the "Substitution Sign" can only change to one symbol. So for instance, if there is the pineapple symbol, and that symbol offers the best possible payout potential, it would change to that symbol and only that symbol. Furthermore, the symbol is unable to produce numerous wins by substituting itself for other symbols.
Sticky Win Re-spins
When getting a win from a cluster, there is the chance, although not a very big one, that you would then be awarded free re-spins. Re-spins will continue to occur, similar to how they do in the Jack Hammer pokie game, for as long as you continue to acquire symbols that can be added to the cluster. As soon as there is no longer any chance of winning, you are given the final outcome.
The unfortunate thing about Aloha Cluster Pays is that, unlike the Jack Hammer pokie game, it is considered to be quite unlikely for you to get a huge win out of this bonus.
Scatters and Free Spins
The scatter symbol is a two-symbol high tropical print, which can only be half visible on your display for it to activate the free spins bonus round. The following are the number of spins you would get if you get a specific amount of symbols respectively.
3 symbols = 9 free spins (90% of the game)
4 symbols = 10 free spins (7% chance)
5 symbols = 11 free spins (2% chance)
6 symbols = 12 free spins (1% chance)
Even while you'll probably have to settle for 9 free spins, catching those stamps again may re-trigger anywhere from 1 to 4 more free spins, and they're simpler to come by in the bonus games anyway.
This is because as you play, the fruit symbols disappear, leaving just the tiki gods. However, it hardly ever occurs until the last three spins, so you'll have to cross your fingers and hope for the best.
In the event that you do not succeed on the final free spins, then the Tiki god would award you with an additional free spin.
How Great Can Aloha Cluster Pays Really Be?
When taking everything into account, overall it is not a bad game, but it is not the best either. Although the visuals are top-notch, the game lacks bonus features that players would want to see on almost every pokie available, such as multipliers. This really increases the chances for players to get a big payout, and it also makes it more entertaining.
Although it has its bad points, it also has its good points. The visuals are incredible, and the fact that the pay lines are All Way is a great thing. It is also great to see that the RTP rate of the pokie is 96.42% with is more than the average amount.
NetEnt has created better games than Aloha Cluster Pays real money casino games but they have also created worse ones. It all really depends on whether you as a player are ok with playing without multipliers or not.
Frequently asked questions
When Was Aloha Cluster Pays Released and What Them Does It Have?
Aloha Cluster Pays was released back in 2016. The theme of this pokie game is a Hawaiian one, where players will really feel the Hawaiian vibe through their incredible visuals and sounds.
Can I play Aloha Cluster Pays for free?
Yes, you can! NetEnt made it possible for players to try out the game before having to put funds into their gambling account and pay to play.
Can I play the Aloha Cluster Pays pokie on my tablet?
Yes, of course, you can! NetEnt develops its games in a way that makes it easier for players to access them from everywhere. So if you are on the bus going back home, you don't have to wait until you actually arrive home to play it.
What is the Aloha Cluster Pays RTP rate?
The RTP rate of Aloha Cluster Pays is 96.42%. This figure is great news for anyone that is interested in playing this pokie game as it is higher than the average RTP rate amount. The average amount is 96%
What are the minimum and maximum amounts I can bet when playing Aloha Cluster Pays?
The minimum and maximum amount a player can bet when playing Aloha Cluster Pays are $0.10 and $200 respectively. This is great for anyone that wishes to go from betting a high amount to betting a low amount.
What is the Aloha Cluster Pays maximum possible win?
The maximum possible win in Aloha Cluster Pays is $40,000,000 which is an incredibly large amount. This is calculated by multiplying the maximum betting option ($200) with the maximum multiplier option (200,000x).