Pros and Cons
Pros

Unique Cluster Pays mechanic
Wide betting range
Great Free Spin and Sticky Win Re-Spins features
High-quality graphics and sound
Cons

May not appeal to those who prefer traditional paylines
Aloha! Cluster Pays Review
NetEnt's Aloha! Cluster Pays is a vibrant and colourful game that beautifully captures the relaxed Hawaiian spirit. The rich graphics and bright colours perfectly complement the theme, with symbols including tropical fruits, shells, and tiki masks that add a touch of authenticity to the experience. Coupled with the peaceful, island-inspired soundscape, players are transported directly to the sunny beaches of Hawaii.
Not only is the game aesthetically pleasing, but it also boasts an innovative Cluster Pays mechanic, differentiating it from other online slots that use traditional paylines. Players form winning combinations by landing clusters of symbols rather than lining them up in a specific order, bringing an exciting twist to the gameplay.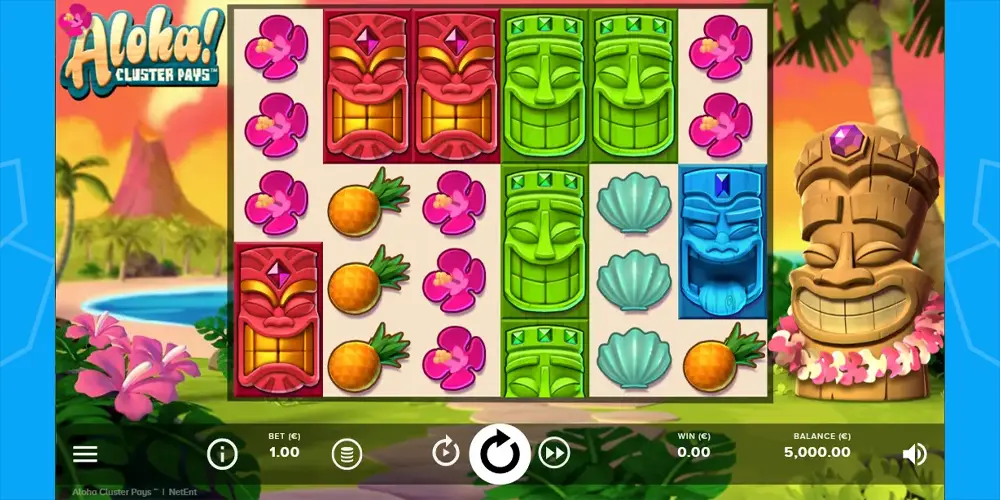 How to Play Aloha! Cluster Pays
Aloha! Cluster Pays has a unique betting system where you can adjust the coin value and bet level to suit your preference. Players can wager anywhere from a minimum bet of $0.10 up to a maximum bet of $200 per spin, making it accessible for a wide range of budgets. The game's volatility is medium, and the maximum win is 2,000x your stake on a single spin.
Instead of traditional paylines, winning combinations are created by landing clusters of nine or more matching symbols either horizontally or vertically. The game also offers exciting features such as the Sticky Win Re-Spins and Substitution Symbols, further enhancing winning opportunities.
If you like the Cluster Pays mechanic in this pokie, you may also enjoy Candy Clash by Mancala Gaming for a fun, sugary sweet pokie experience.
Basic Information
Pokie

Aloha! Cluster Pays

Software

NetEnt

Release date

March 2016

RTP

96.42%

Volatility

Medium

Maximum Win

2,000x stake

Minimum Bet

$0.10

Maximum Bet

$200

Paylines

Cluster pays

Reels

6

Jackpot

No

Free Spins

Yes
Symbols – The Alluring Visuals of Aloha! Cluster Pays
As you immerse yourself in the world of Aloha! Cluster Pays, you'll quickly notice the vibrancy and attention to detail that the game's symbols offer. All these icons stay true to the game's Hawaiian theme, creating an immersive environment that transports players to an island paradise. From colourful tropical fruits to ancient Tiki masks, every symbol adds a unique twist to the gameplay.
High-Value Symbols
Leading the pack of high-value symbols are the three different coloured Tiki Masks – Red, Green, and Blue. The Red Tiki Mask is the most valuable of the three, and landing it in a cluster can lead to some substantial wins. The Green and Blue Tiki Masks, while not as lucrative as their red counterpart, can still offer sizable payouts.
Low-Value Symbols
Complementing the Tiki Masks are the low-value symbols, which are represented by a variety of tropical fruits and flora. These include Coconuts, Pineapples, Sea Shells, and Wild Flowers. Although these symbols may not offer the same level of payouts as their high-value counterparts, they play a crucial role in creating winning combinations and keeping the game flowing.
Special Symbols
Adding a further twist to the game, Aloha! Cluster Pays also features two special symbols. The Free Spin symbol, depicted by a postage stamp, can trigger the game's Free Spin mode, adding an extra layer of excitement. On the other hand, the Substitution Symbol, a small wooden crate with a question mark, can morph into adjacent symbols to create a winning cluster, enhancing your winning potential.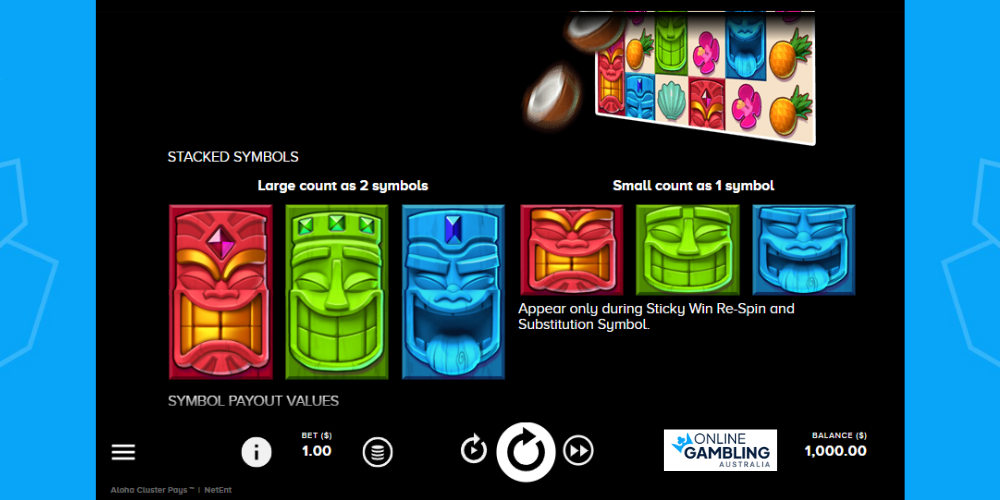 Symbols Paytable
| | | |
| --- | --- | --- |
| Symbol  | Payline | Maximum Payout |
| Red Mask | x30 | $1,000 |
| Green Mask | x30 | $500 |
| Blue Mask  | x30 | $500 |
| Pineapple | x30 | $200 |
| Coconut | x30 | $200 |
| Seashell | x30 | $200 |
| Orchid  | x30 | $200 |
Aloha! Cluster Pays Pokie Bonuses
Aloha! Cluster Pays is more than just an exotically-themed pokie. It also introduces a set of bonus features that elevate the excitement to new heights. These bonuses provide unique ways to win, making every spin a potential gateway to rewarding outcomes. Let's explore these bonuses in detail.
Sticky Win Re-Spins
One of the game's most enticing features, the Sticky Win Re-Spins, can activate randomly after a winning cluster formation. When activated, this bonus locks all winning symbols in place, while the rest of the symbols go through a re-spin. This process continues until no new symbols add to the winning cluster, or until the entire screen fills with the winning symbol, offering a substantial payout.
Free Spins
The Free Spin symbols in Aloha! Cluster Pays offer players a chance to earn up to 12 free spins. Landing three or more Free Spin symbols anywhere on the reels activates this bonus feature. The more Free Spin symbols you land, the greater the number of free spins you're awarded. Plus, this feature can retrigger during Free Spins mode, extending the excitement and enhancing the potential for wins.
Symbol Drop Mechanic
Exclusive to the Free Spins mode is the Symbol Drop Mechanic. As your free spins progress, this bonus progressively removes the low-value symbols from the reels, starting with the Flower symbol after the second spin, and eventually eliminating all low-value symbols by the end of the eighth spin. This mechanic increases your chances of landing high-value clusters in the remaining spins, thus potentially leading to bigger wins.
Stacked Symbols in Free Spins
A unique aspect of Aloha! Cluster Pays that significantly enhances the Free Spins mode is the use of stacked symbols. In both the main game and Free Spins mode, the Mask and Free Spin symbols can appear as stacked symbols on the reels, covering two positions.
Essentially, one stacked symbol counts as two, thereby increasing the chances of forming larger clusters and subsequently, more winning combinations. It's important to note, however, that during Sticky Win Re-Spins and when Substitution Symbols are active, the Mask symbols will only cover one position.
Each of these bonuses contributes to the overall gaming experience, providing varied ways to win and maintaining an engaging gaming atmosphere.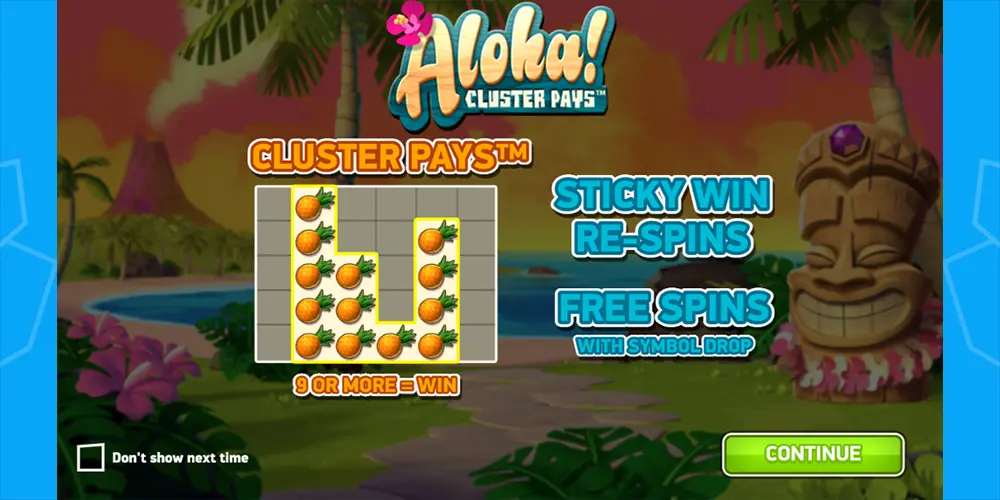 The Final Kahuna on Aloha! Cluster Pays
As we pull our boards back to the shore after our exhilarating ride on the Aloha! Cluster Pays wave, it's hard not to feel a sense of satisfaction. This unique pokie from NetEnt a well-established software provider has proven itself to be more than just a mere game. It's an immersive and rewarding journey into the heart of a tropical paradise.
The game's vibrant theme, top-notch graphics, and soothing sound effects truly transport players to the tranquil beaches of Hawaii. It's a virtual getaway where each spin of the reels offers a chance to nab impressive rewards. The diverse set of symbols, combined with the Cluster Pays mechanic, make for an innovative and dynamic gameplay experience that breaks the traditional payline mould.
The true charm, however, lies in its bonus features. The Sticky Win Re-Spins, Free Spins, and Symbol Drop Mechanic are more than just add-ons; they're integral parts of the game that provide significant winning opportunities and amplify the excitement on every spin.
Aloha! Cluster Pays is a testament to NetEnt's creativity and commitment to providing players with unique and engaging casino games. This pokie can be played at many different online casinos and PariMatch is one of them! It's a pokie that's well worth your time and bets. Whether you're a pro pokie player or a newbie, don your Hawaiian shirt, grab a cocktail, and let the Aloha spirit guide your spins!
Frequently asked questions
Who is the developer of Aloha! Cluster Pays?
Aloha! Cluster Pays is developed by NetEnt, a leading provider of premium gaming solutions to some of the world's most successful online casino operators.
What is the Cluster Pays mechanic in Aloha! Cluster Pays?
The Cluster Pays mechanic is a unique payout system where winning combinations are formed by clusters of matching symbols that are adjacent to each other horizontally or vertically. A cluster win occurs when 9 or more of the same symbols appear together in a cluster.
Can the Substitution Symbol replace any symbol on the reels?
The Substitution Symbol can replace any symbol on the reels except for the Free Spin symbols. This symbol transforms into the adjacent symbol that results in the highest possible win according to the game's paytable.
What does the Symbol Drop Mechanic do during Free Spins?
The Symbol Drop Mechanic is an additional feature during Free Spins. It removes low-win symbols after certain spins, increasing the chances of larger wins on the remaining spins.
How does the game determine the win in coins or cash?
A cluster win in coins equals the value shown in the Paytable multiplied by the bet level, while a cluster win in currency equals the win in coins multiplied by the coin value. A cluster win in cash is equal to the value shown in the Paytable.
What happens if there's no win on the last Free Spin?
If there is no win on the last Free Spin, an additional Free Spin is awarded until a win occurs. This ensures that players end their Free Spins round on a positive note.
Can I adjust the game speed in Aloha! Cluster Pays?
Yes, NetEnt provides an option to adjust the game speed in Aloha! Cluster Pays. You can choose from several settings to match your personal preference. This allows for a more personalised gaming experience, enabling players to enjoy the game at their own pace.