Pros and Cons
Pros

High RTP of 97.6%
Unique and lively theme
Advanced 3D symbols and animations
Cascading symbols offer multiple winning opportunities
Up to x32 multipliers for consecutive wins
Cons

No free spins feature
Esqueleto Explosivo Review
The Esqueleto Explosivo pokie is an outstanding creation by Thunderkick that was released back in 2014. Set against a backdrop of the Mexican Day of the Dead, players are treated to a visual spectacle of brightly coloured skulls and animated skeletons. The game stands out not just for its theme but also for its engaging sound effects that perfectly complement the vibrant graphics.
The absence of traditional spinning reels, replaced by falling skulls, sets it apart from many other online pokies. The skulls drop onto a band of five music-playing skeletons, and if they don't form a winning combination, they tumble away, making space for a new set of 15 skulls. This unique approach, alongside its position among high RTP pokies, has solidified Esqueleto Explosivo's reputation as a favourite amongst many online gambling enthusiasts.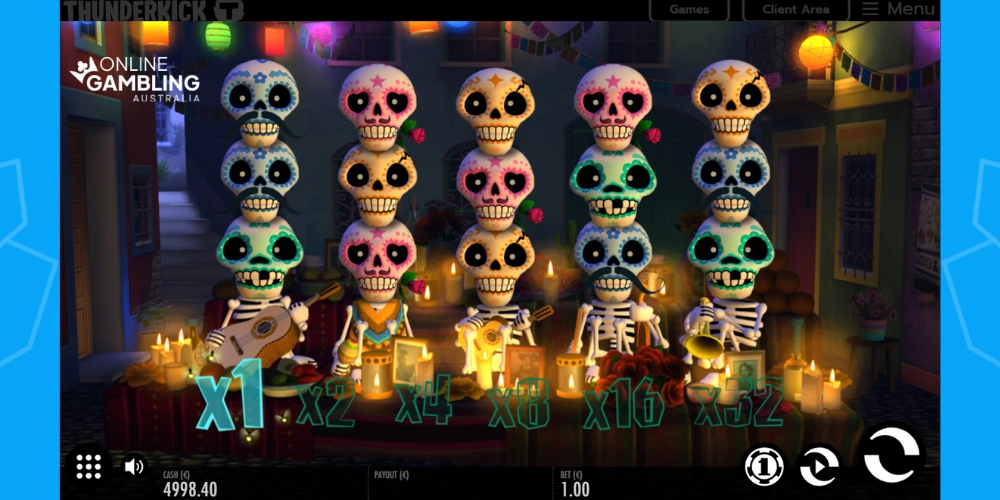 How to Play Esqueleto Explosivo
Playing Esqueleto Explosivo offers a distinct experience compared to most traditional pokies. As symbols cascade from above, players must aim for three or more matching symbols on one of the 17 paylines to secure a win. With an RTP of 97.6% and low to medium volatility, this game offers consistent yet smaller payouts. The potential maximum win from a single spin is a whopping 700 times your bet. Players can choose a bet size ranging from $0.10 to $100 per spin. One of the game's standout features is the Mucho Multiplier, which can amplify your winnings up to 32 times!
Basic Information
Pokie

Esqueleto Explosivo

Software

Thunderkick

Release Date

June 2014

RTP

97.6%

Volatility

Low - Medium

Maximum Win

700x

Min Bet

$0.10

Max Bet

$100

Payline

17

Reels

5

Jackpot

No

Free Spins

No
Esqueleto Explosivo Pokie Symbols
In Esqueleto Explosivo, the symbols are distinctively different from those in other pokies. Here, the lively and colourful skulls take centre stage. Each skull, whether offering high payouts or acting as a wild symbol, has its own unique value and role in the game. What adds a touch of amusement is when these goofy skulls burst into song upon hitting a payline and subsequently explode into a shower of confetti. Let's further explore these symbols to grasp their significance.
Low-payout Symbols
The Esqueleto Explosivo pokie is adorned with a colourful assortment of skulls. Among the low-payout symbols, the Turquoise Skull stands out with its simple yet engaging design. The Orange Skull, with its distinguishing cracked eye socket, adds a unique touch to the game's aesthetic. These symbols, though modest in their payouts, play a crucial role in keeping the gameplay engaging and rewarding.
High-payout Symbols
The high-payout symbols in the game are represented by skulls with distinct features. The Pink Skull with its delicate rose in its teeth is a symbol of beauty amidst the skeletal ensemble. The Green Skull, in its radiant hue, catches the player's eye instantly. The Blue Moustached Skull adds a dash of character and charm to the mix. Each of these symbols, with their rich design, plays a significant role in landing those sought-after big wins.
Special Symbols
Stealing the spotlight is the golden Elvis-inspired skull. With its iconic hairstyle and a pair of trendy aviator glasses, this skull serves as the game's Explosivo Wild symbol. Beyond its striking appearance, it possesses the power to replace other symbols, enhancing winning combinations. And in true rock 'n' roll fashion, it explodes up to eight adjacent skulls, paving the way for potential successive wins.
Symbols Paytable
| | | |
| --- | --- | --- |
| Symbol | Payline | Maximum Payout |
| Pink Skull with Rose | x5 | 2.5x |
| Green Skull  | x5 | 1.4x |
| Blue Moustached Skull | x5 | 1.2x |
| Orange Skull | x5 | 0.9x |
| Turquoise Skull  | x5 | 0.7x |
Esqueleto Explosivo Pokie Bonuses
While Esqueleto Explosivo might not boast a wide array of traditional bonus features, it compensates with a powerful combination of wilds and multipliers that can significantly enhance the player's winning potential. The Explosivo Wild, a distinctive golden skull, has the capability to replace other symbols, assisting in forming potential winning combinations. However, the true essence of this pokie's allure lies in its Mucho Multiplier.
Every win, whether initiated by the wild or the game's inherent dropping symbols mechanism, offers the opportunity to increase the multiplier. Beginning at a base level of 1x, the multiplier can progressively soar, reaching peaks of up to a staggering 32x. This unique multiplier system ensures that even the smallest of wins can transform into substantial rewards, offering players continuous anticipation with each spin.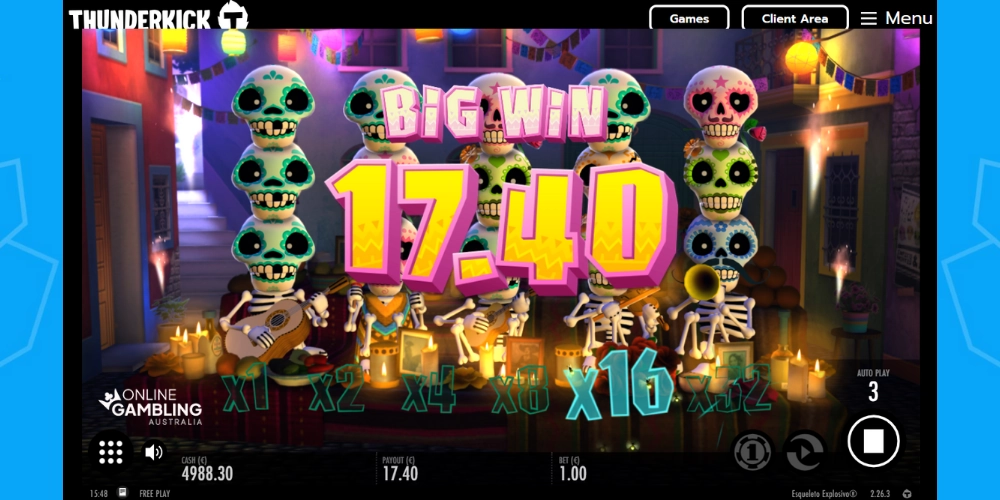 From Mariachi Beats to Winning Treats: Esqueleto Explosivo Revealed!
Esqueleto Explosivo offers a refreshing take on the conventional pokie layout, bringing a blend of humour and innovation to the online gambling scene. Set against the backdrop of a vibrant Day of the Dead celebration, players are greeted with a mariachi band, where skulls amusingly roll off their skeletal necks, making the setup both whimsical and unique.
The quirky and upbeat tunes that chime in with each win add a delightful touch, making every successful spin a mini fiesta. While the game is undeniably packed with charm and creativity, it might not cater to every player's taste, particularly those seeking a variety of traditional bonus features. The absence of free spins and a limited range of bonuses might feel restrictive to some.
However, the game compensates with its dynamic multipliers and engaging cascading symbols mechanism. In essence, Esqueleto Explosivo is a blend of fun, humour, and a different kind of thrill, perfect for those looking for an unconventional pokie experience, especially when played at Zoome Casino.
Frequently asked questions
What inspired the theme of the Esqueleto Explosivo pokie?
Esqueleto Explosivo is inspired by the Mexican festival called "Day of the Dead" (Día de los Muertos). It celebrates the memories of deceased loved ones with colourful and lively festivities, which is reflected in the game's vibrant design and animated characters.
How does the Mucho Multiplier work?
The Mucho Multiplier is activated with every winning combination or when the Explosivo Wild appears. It starts at a base level of 1x and can increase progressively, potentially reaching up to 32x, significantly boosting your winnings.
I've seen many pokies with free spins. Why doesn't Esqueleto Explosivo have them?
While Esqueleto Explosivo doesn't offer traditional free spins, it compensates with the cascading symbols mechanism. Each win leads to symbols being replaced, giving players continuous chances for more wins, somewhat simulating the idea of 'free spins'.
Does the game's volatility influence the frequency of wins?
Yes, Esqueleto Explosivo has low to medium volatility, which means players can expect relatively frequent smaller wins. While massive payouts might be rarer, the game provides a steadier and more balanced gambling experience.
Can the Explosivo Wild replace any symbol in the game?
Yes, the Explosivo Wild, represented by the golden skull, acts as a substitute for all other symbols in the game, aiding players in forming potential winning combinations.
What sets Esqueleto Explosivo apart from other Day of the Dead-themed pokies?
Esqueleto Explosivo offers a blend of humour, vibrant graphics, and engaging sound effects. The incorporation of a mariachi band with skulls rolling off their necks, paired with the celebratory tunes upon wins, provides a fresh and entertaining take on the traditional Day of the Dead theme.