Pros and Cons
Pros

Dual RTP setup of 96.09% and 94.13% (DX1)
Unique game features for engaging gameplaypp
Direct entry into bonus features available
Cons

High volatility may deter some players
Bonus feature buy-in can be costly
Punk Toilet Pokie Review
Go crackers on a gaming adventure like no other with Punk Toilet pokie by NoLimit City. With beloved characters from Punk Rocker making a comeback to Australia's online gambling scene, this time in a public restroom setting, the game is set to either be a highlight of your gaming night or take you to a bizarre yet amusing nightmare.
The pokie pops with vivid colours, striking graphics, and an edgy soundtrack, providing not just a game but a spectacle of fun and rebelliousness, perfect for those seeking something different in the realm of online casino games.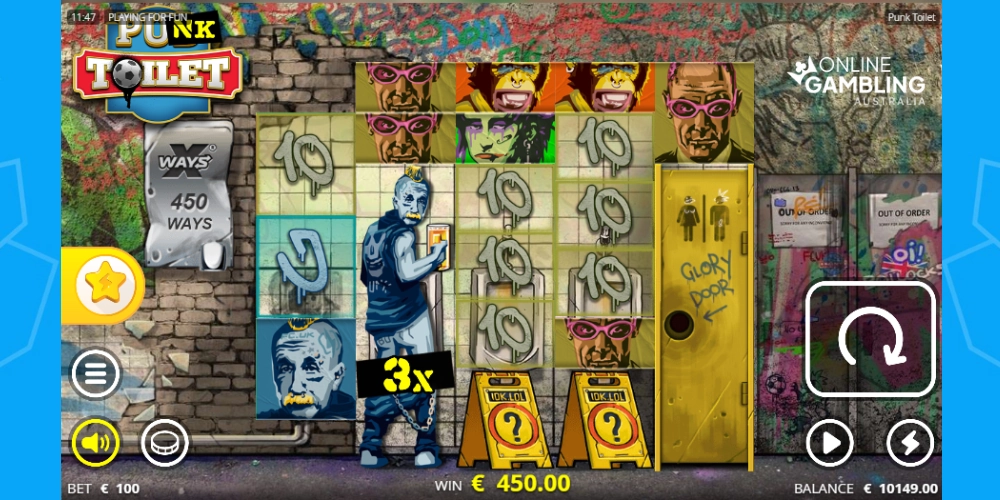 How to Play Punk Toilet
Playing Punk Toilet is an engaging and berserk experience, thanks to its variety of features and straightforward gameplay. The pokie operates with a dual RTP setup at 96.09% and 94.13% (DX1), providing different playstyle options for players. With extreme volatility, players should brace for significant fluctuations in their gaming journey, making every spin an exhilarating moment.
The game allows a minimum bet of $0.20 and a maximum of $100, catering to both cautious players and high rollers, just like the Hula Balua pokie game. The maximum win one can achieve in a single spin is a whopping 33,333 times the base bet, offering the potential for substantial rewards for the lucky ones.
Punk Toilet is not just about spinning the reels; it's about enjoying the unique features it offers. The game introduces locked Urinal Cells at the bottom of reels 2, 3, and 4, revealing oversized character symbols for more winning chances. There's also the Glory Door feature on reel 5, which introduces special symbols and enhanced character symbols to boost your winnings. With the xWays symbol, players can uncover random or Wild symbols, creating more opportunities for winning combinations.
Basic Information
Pokie

Punk Toilet

Software

NoLimit City

Release Date

February 2022

RTP

96.09%

Volatility

Extreme

Maximum Win

33,333x

Minimum Bet

$0.20

Maximum Bet

$100

Payline

81

Reels

5

Jackpot

No

Free Spin

Yes
Punk Toilet Pokie Symbols
Punk Toilet is rich with symbols that not only align with its quirky theme but also play crucial roles in helping players secure wins. Each symbol has been designed with attention to detail, reflecting the game's overall anarchic and fun atmosphere. These symbols, ranging from iconic figures rendered with a punk twist to creatively designed Royals, contribute significantly to the game's engaging atmosphere and dynamic play.
Low-Payout Symbols
The game's low-payout symbols consist of the Royals: A, K, Q, J, and 10. These symbols, while offering smaller rewards, appear frequently on the reels, providing players with consistent wins to keep the game's pace and excitement alive.
High-Payout Symbols
High-payout symbols are where the game's unique personality shines through. The Haw-King symbol and Winny (Winston Churchill) both offer substantial rewards when they appear on the payline. Additionally, players will encounter other character symbols like the Green Punk, Banksy's Chimp, Mohawked Einstein, and the Pink-Haired Sting with Glasses.
Each character is designed with a distinct punk aesthetic, adding to the game's rebellious and playful theme while promising more considerable payouts.
Special Symbols
Punk Toilet incorporates a collection of special symbols, each bringing a unique dynamic to the gameplay. These symbols are designed not just to align with the game's theme but also to offer players intriguing ways to win.
Wild Symbol: Acts as a substitute for other symbols, aiding in completing winning combinations.
xSplit Symbol: Appears on the reels and transforms symbols on its row into double symbols while acting as a Wild, increasing the potential for winning combinations.
Mega Split Symbol: Introduces more winning opportunities by splitting symbols.
Urinals: Located at the bottom of reels 2, 3, and 4. Each Urinal has a specific character symbol assigned to it, and when it opens, it can significantly impact the game's outcome by helping to complete winning combinations.
Symbols Paytable
| | | |
| --- | --- | --- |
| Symbol | Payline | Maximum Payout |
| Haw-King | x5 | 5x |
| Winny (Winston Churchill) | x5 | 5x |
| Green Punk | x5 | 4x |
| Banksy's Chimp  | x5 | 3.5x |
| Mohawked Einstein  | x5 | 3x |
| Pink Haired Sting with Glasses | x5 | 2.5x |
| A | x5 | 2x |
| K | x5 | 1.5x |
| Q | x5 | 1.5x |
| J | x5 | 1.25x |
| 10 | x5 | 1.25x |
Punk Toilet Pokie Bonuses
The Punk Toilet pokie isn't just about spinning and winning; it's also about enjoying the rebellious and delightful bonuses that add layers of excitement to your gaming experience. Each bonus round in the game is designed to not only align with the pokie's eccentric theme but also to provide players with unique ways to win and enjoy the game even more.
P!$$ Spins
When three Scatter symbols land on reels 2, 3, and 4, players are awarded six P!$$ Spins. In this feature, Urinal Cells are consistently open, revealing over-sized character symbols and improving the odds of winning. The feature also introduces Wild Beer and Loo symbols, with additional multipliers to enhance winnings further.
$h!t Spins
$h!t Spins begin with three Scatter symbols and a Loo symbol, awarding players eight spins.
The Loo symbol maintains its initial position and the Glory Door is perpetually open, incorporating the features of P!$$ Spins and providing a gaming session filled with surprises and opportunities.
Glory Door Feature
The Glory Door Feature is a special aspect of Punk Toilet, located on reel 5. When the Loo symbol lands, the Glory Door opens, revealing the Haw-King Symbol or a special symbol paired with a character symbol. This feature not only doubles the size of character symbols on reels 1 to 4 but also introduces unique symbols like Wild, xSplit, and Mega Split to increase winning possibilities.
Ways Feature
The xWays Feature in Punk Toilet is thrilling, with the xWays symbol appearing on the middle three reels, revealing either a random or a Wild symbol. When multiple xWays symbols land, they all show the same symbol, ranging from 2 to 6 symbols in size, creating more opportunities for wins.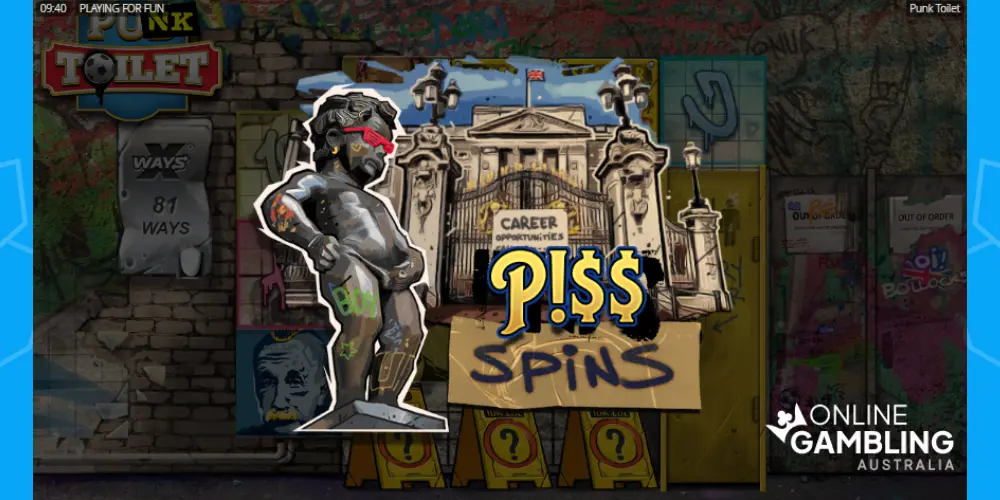 Flush Away Boredom with Punk Toilet: Where Anarchy Meets Fun on the Reels!
With its unconventional theme, vibrant graphics, and an array of unique symbols, Punk Toilet by NoLimit City offers a gambling experience that is as unusual as it is entertaining. The pokie combines the rebellious spirit of punk with a capricious toilet setting, providing players at Betibet Casino with a gaming environment that is both engaging and humorous.
Its assortment of features, including special symbols, varied bonus rounds, and the unique Urinals, ensures that players have plenty of opportunities to secure wins while enjoying the game's eccentric atmosphere. Whether you're a fan of punk culture or simply looking for a pokie that offers something different, Punk Toilet is worth a spin.
However, players should approach with caution due to its extreme volatility, which means there might be longer periods without wins, but once they hit, they can be substantial. This characteristic makes Punk Toilet a bit of a high-risk, high-reward scenario similar to pokies such as Blue Wizard by Playtech and Let it Slide by Jade Rabbit Studios, which might not be suitable for players who prefer frequent, smaller wins.
Frequently asked questions
What makes Punk Toilet Pokie unique?
Punk Toilet stands out with its distinctive punk theme combined with humorous toilet-inspired graphics and symbols. Its unique features like P!$$ Spins, $h!t Spins, Glory Door, xWays, and special Urinal symbols offer players a gameplay experience that is both engaging and entertaining.
How does the volatility of Punk Toilet affect gameplay?
With extreme volatility, Punk Toilet can have periods without wins but compensates with potentially substantial payouts when wins do occur. This high-risk, high-reward dynamic is exciting but may not be suitable for players who prefer smaller, more frequent wins.
Can I increase my winning chances in Punk Toilet?
While pokies are primarily games of chance, understanding and leveraging Punk Toilet's features like P!$$ Spins, $h!t Spins, and the special symbols can help maximise your winning potential.
What is the RTP of Punk Toilet?
Punk Toilet offers an RTP of 96.09%, providing a fair return rate to players over time. However, it's crucial to remember that RTP is a theoretical figure, and actual returns can vary in the short term.
What are the special symbols in Punk Toilet?
The game features unique symbols like Wild, xSplit, Mega Split, and Urinals, each contributing to the gameplay in different ways, from substituting other symbols to revealing oversized characters.
How are the P!$$ Spins and $h!t Spins features triggered?
P!$$ Spins are activated with three Scatter symbols on reels 2, 3, and 4, while $h!t Spins require three Scatter symbols and a Loo symbol. Each feature offers unique gameplay dynamics and winning opportunities.
How does the Glory Door feature enhance the Punk Toilet gameplay?
The Glory Door feature is a pivotal element in Punk Toilet, significantly enhancing the gaming experience. Located on reel 5, it opens when a Loo symbol lands, revealing either the Haw-King Symbol or a special symbol paired with a character. This not only enlarges character symbols on reels 1 to 4 but also introduces unique symbols like Wild, xSplit, and Mega Split, creating additional winning opportunities.