Pros and Cons
Pros

Rich bonus features including Fire Blaze Respin
Engaging magical and mediaeval design
Wide range of dynamic gameplay symbols
Cons

Complexity may deter some players
Blue Wizard Review
Blue Wizard unveils a magical realm, presenting a pokie that effortlessly weaves a tale of magic and wonder with every spin. Developed by the renowned Playtech in collaboration with Rarestone, this game is a visual and auditory delight. The setting is a serene forest, where the Wizard's mystical abode is tucked away, with a distant castle painting a perfect mediaeval backdrop. The colours are rich and vibrant, with deep blues dominating the palette, evoking a sense of night-time mystery and magic.
The graphics are sharp and detailed, showcasing Playtech and Rarestone's commitment to quality. Symbols, from Royals to premium icons like Owls and Cauldrons, are intricately designed, adding depth to the narrative. The ambient sounds accompanying spins and wins perfectly encapsulate the magical theme, with subtle chimes and mystical tunes enhancing the immersive experience.
For those who have traversed the world of online pokies, Blue Wizard stands out not just for its gameplay but also for its impeccable design and audio elements. It's not just a game; it's a journey into a world where every spin holds a story.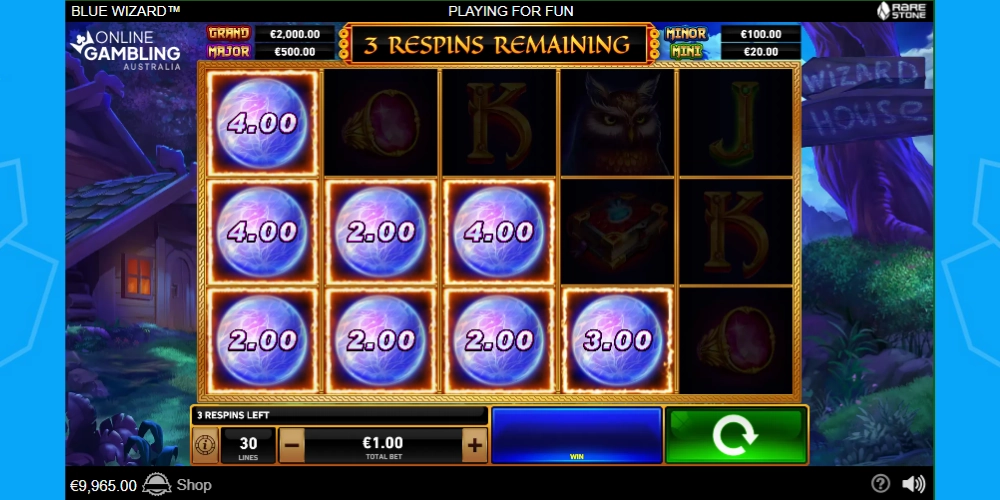 How to Play Blue Wizard
Playing Blue Wizard is more than just spinning the reels; it's about understanding the game's dynamics to truly appreciate its offerings. This pokie masterpiece offers a vast array of potential winning combinations available with each spin.
With a respectable RTP of 96.48% and a high volatility level, players can anticipate substantial payouts, especially with the potential maximum win of a whopping 10,000 times the initial bet. This max payout can be found at other pokies, for instance Peter Hunter is a great example of such a pokie. Bets can range from a modest $0.10 to a daring $250, accommodating players of all budgets.
The game boasts an impressive 12,348 paylines across its 5 reels, ensuring diverse winning combinations. Although there isn't a progressive jackpot, the inclusion of the Free Games feature adds an extra layer of thrill. As players spin the reels, certain positions in the Free Games come alive with unique multipliers, amplifying the excitement and potential rewards.
For those eager to familiarise themselves with the game's intricacies, the subsequent sections offer a deeper insight into the foundational details and the distinctive symbols of Blue Wizard.
Basic Information
Pokie

Blue Wizard

Software

Playtech

Release Date

August 2021

RTP

96.48%

Volatility

High

Maximum Win

10,000x

Minimum Bet

$0.10

Maximum Bet

$250

Payline

12,348

Reels

5

Jackpot

No

Free Spins

Yes
Blue Wizard Pokie Symbols
The symbols in Blue Wizard are not just mere placeholders on the reels; they are the essence of the game, each telling a fragment of the magical story this pokie aims to narrate. Crafted with meticulous detail, these symbols range from the everyday to the extraordinary, each with its significance and payout potential.
As players embark on this enchanting journey, understanding the role and value of each symbol can greatly enhance the online gambling experience. Let's suss out the different categories of symbols that Blue Wizard offers.
Low-payout Symbols
Representing the foundational elements of the game are the Royals. These symbols, from 10 to A, are frequent guests on the reels, offering smaller but consistent payouts. While they may not promise the riches that some of the other symbols do, their regular appearances ensure that players have a steady stream of wins, especially when multiple symbols of the same kind align on the paylines.
High-payout Symbols
For players seeking more substantial rewards, the high-payout symbols are the ones to watch. These include symbols steeped in magic and mystery: the Owls, Cauldrons, Spellbooks, and Rings. These symbols are rarer compared to the Royals, but when they do make an appearance and align in the right combinations, the payouts can be significantly larger. For instance, aligning five of the Owl symbols can lead to a payout much greater than that of five of any Royal symbol.
Special Symbols
The heart of Blue Wizard's enchantment lies in its special symbols. The Wizard serves a pivotal role in the game as the wild symbol. Substituting for almost all other icons, except the Scatter and Crystal Ball, it enhances the potential for creating winning combinations.
Its true potential is unveiled during the Free Games. Any Wild symbols landing on reel 3 come with enticing multipliers — these can be 2, 4, 8, or even 16 times the bet value. Notably, the Wild can only grace the reels 2, 3, 4, and 5.
The Scatter is another cornerstone of the Blue Wizard gameplay. Collecting three or more Scatters, irrespective of their position on the reels, is the key to unlocking the Free Games Feature. This not only offers additional spins but also introduces other special gameplay dynamics.
Symbols Paytable
| | | |
| --- | --- | --- |
| Symbol | Payline | Maximum Payout |
| Owl  | x5 | 6x |
| Bubbling Cauldron  | x5 | 4x |
| Spellbook | x5 | 3x |
| Golden Jeweled Ring  | x5 | 2.5x |
| A | x5 | 1.6x |
| K | x5 | 1.6x |
| Q | x5 | 1.6x |
| J | x5 | 1.6x |
| 10 | x5 | 1.6x |
Blue Wizard Pokie Bonuses
In the world of online pokies, bonuses can be the difference between a good online casino game and a great one. Blue Wizard doesn't disappoint in this realm, offering players a suite of intriguing bonuses that elevate the gaming experience. From the potential for free spins to the allure of the Fire Blaze Respin feature, the bonuses in Blue Wizard can lead to substantial rewards.
Each bonus comes with its own set of triggers and outcomes, designed to keep players on the edge of their seats with every spin. While the game's visuals and core mechanics are commendable, it's these bonus features that truly shine, promising both excitement and the potential for big wins. To understand the depth and intricacies of each bonus, let's explore them in detail.
Fire Blaze Respin Feature
The Fire Blaze Respin Feature stands out as a prominent bonus in Blue Wizard. Triggered by the appearance of 6 to 15 Crystal Ball symbols, this feature promises both excitement and lucrative rewards. Each Crystal Ball can showcase a cash prize or a Star icon.
Once this feature is activated, players are awarded 3 respins, with the potential to reset this count if new Crystal Ball symbols appear. Securing all positions with Crystal Balls awards the Grand prize. Yet, even if not all positions are filled, other significant prizes can still be claimed.
Crystal Ball Symbol in Fire Blaze Respin
Intricately tied to the Fire Blaze Respin is the Crystal Ball. While this symbol appears throughout the game, its role in the Respin feature is paramount. Depending on its appearance, it can display cash prizes or the Star icon.
The potential prizes range from 1 to 50 times the total bet. However, during the Free Games, if the Crystal Ball occupies the middle reel, its prize values can be 5, 10, 15, or 50 times the total bet.
Fire Blaze Prizes
Within the Fire Blaze Respin Feature, players can aspire to claim one of several prizes: Major, Minor, Mini, or the grandest of them all, the Grand prize. The Grand prize is particularly enticing, offering 2,000 times the total bet. Meanwhile, the Major, Minor, and Mini prizes offer multipliers of 500, 100, and 20 respectively.
Free Games Feature
Securing 3 or more Scatter symbols anywhere on the reels unlocks 6 Free Games. This bonus round amplifies the game's dynamics, with Wild symbols on reel 3 boasting attached multipliers, which can be 2, 4, 8, or 16. Wins involving a Wild symbol with a multiplier get enhanced by the multiplier's value. Further adding to the anticipation is the potential retriggering of the Free Games, offering extended opportunities for rewards.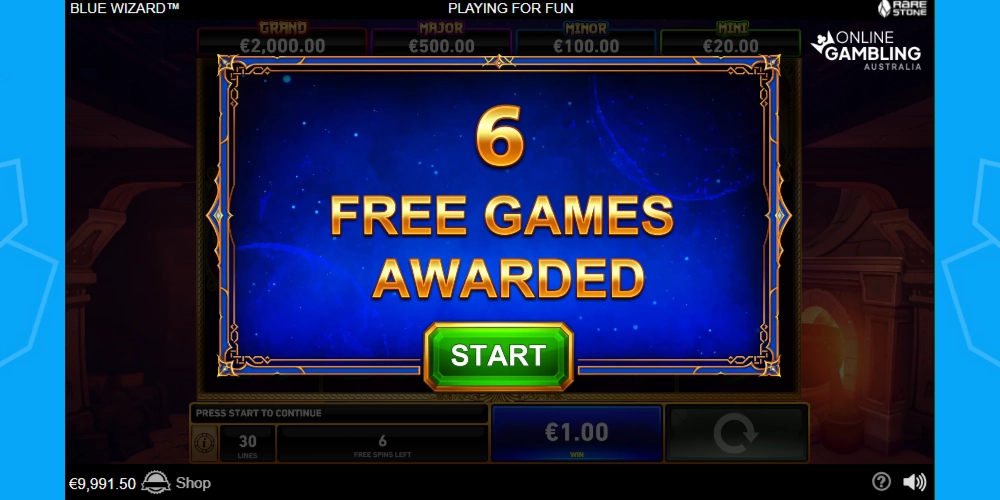 Blue Wizard Where Every Spin is an Enchanting Tale
The Blue Wizard pokie is more than just a game; it's an enchanting journey through a realm where magic is real, and every spin offers a tale of wonder. Playtech, in collaboration with Rarestone, has meticulously crafted a pokie that captivates not only through its mesmerising visuals but also its enthralling gameplay mechanics. Given this, many casinos have included this game in their library. Two of these types of casinos are ZotaBet and Zoome Casino, which are both reliable and user friendly platforms that many Aussie players seem to use.
From the intricate design of each symbol of this pokie game to the adrenaline-packed bonuses, there's always something to look forward to. Whether you're in it for the thrill of the Fire Blaze Respin or the allure of the Free Games, Blue Wizard promises an experience that will keep you coming back for more. As with all enchanting tales, there's always something new to discover, and this pokie ensures that the magic never truly ends.
Frequently asked questions
Who is behind the creation of the Blue Wizard pokie?
Blue Wizard is a collaborative creation by Playtech and Rarestone, two renowned names in the online gaming industry, known for their innovative and engaging pokies.
Are there any special symbols in Blue Wizard that aren't typically found in other pokies?
Absolutely! The Crystal Ball symbol in Blue Wizard is quite unique, providing both cash prizes and being intrinsically linked to the Fire Blaze Respin feature, making it a symbol to watch out for.
Is there a storyline or theme that Blue Wizard follows?
Blue Wizard immerses players in a magical realm where every symbol and feature is steeped in enchantment and mystery. While there isn't a linear storyline, the theme revolves around the mystical arts and the powers of the Blue Wizard.
What sets the Return to Player (RTP) of Blue Wizard apart?
The RTP of Blue Wizard stands at 96.48%, which is competitive when compared to many other online pokies. This figure indicates the theoretical percentage of total bets that players can expect to win back over an extended playtime, making it a useful metric for those keen on understanding potential game returns.
How significant can a single win be in Blue Wizard?
Blue Wizard boasts a substantial maximum win of up to 10,000 times your bet on a single spin! This highlights the game's potential for offering lucrative rewards and makes it especially attractive for those chasing big payouts.
Are there certain combinations that lead to bigger wins in Blue Wizard?
Yes, while every spin is a game of chance, aligning specific high-payout symbols or securing special symbols like the Crystal Ball can lead to more significant rewards. Furthermore, activating features like the Fire Blaze Respin or Free Games can greatly enhance win potential.
What makes the Free Games feature in Blue Wizard so special?
The Free Games feature in Blue Wizard is triggered by landing three or more Scatter symbols. This bonus round not only awards players with additional spins but also introduces special gameplay elements, such as enhanced Wild multipliers and unique prize values on the Crystal Ball symbol, making every free spin a chance for added magic.