Best Online Casinos for Gonzo's Treasure Hunt Live
In order to assist Australian players who are seeking top online gambling platforms to play this unique title, we have listed some great options below. These casinos not only offer an unparalleled gaming experience but also boast robust security measures, ensuring a safe gaming environment. Moreover, they provide a wide range of promotions and casino bonuses tailored to enhance the overall playing experience.
What is Gonzo's Treasure Hunt Live?
Gonzo's Treasure Hunt live pokie brings together the thrill of a modern pokie with the allure of a live game show. Presented against a backdrop that reflects the enchantment of South American landscapes, the colours used in this game are a vibrant mix of earthy browns, regal purples, and fiery oranges. These hues complement the rich cultural aura and make the game visually appealing.
A standout feature that sets this game apart from traditional pokies is the inclusion of a live host. Throughout the gameplay, this interactive host offers guidance, commentary, and a touch of entertainment, making players feel as if they're participating in a real-life game show. The direct engagement between players and the live host enriches the gaming experience, marrying the thrill of treasure hunting with the congeniality of a live presenter.
The visual presentation and set design are of outstanding quality, echoing the superior standards set by its creators. As for the sounds, they envelop players with an aura of mystery and intrigue, reminiscent of the dense jungles and ancient civilisations of South America.
Fun Fact About the Developers of this Game
This unique live game is the product of a synergistic collaboration between industry heavyweights, Evolution and NetEnt. Gonzo's journey began with the widely acclaimed Gonzo's Quest, created by NetEnt. The series then expanded with Gonzo's Quest Megaways, providing a new spin with Megaways mechanics.
Following Evolution's landmark 2020 acquisition of the Swedish online gaming solutions provider, they launched Gonzo's Treasure Hunt Live, and most recently, Gonzo's Gold. Evolution is also well renowned for other live game shows such as Crazy Time, Deal or No Deal Live, and Dream Catcher Live.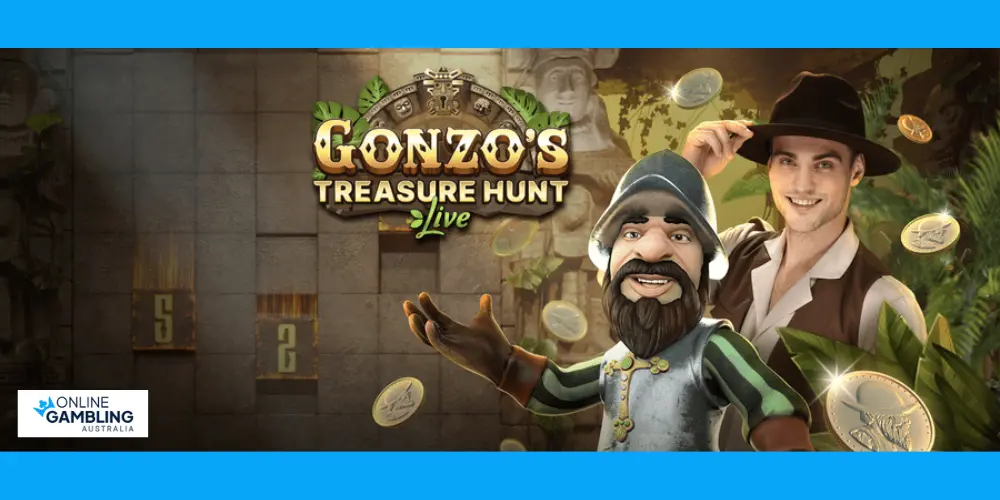 How to Play Gonzo's Treasure Hunt
Playing Gonzo's Treasure Hunt is a refreshing live casino experience. The game is segmented into progressive play stages, simplifying the gameplay. Starting with the stone selection, players bet on their preferred stones. Following this, the stones shuffle, and players get the chance to hunt for the selected stones. Prize drops and revealing the hunted stones add to the intrigue.
The pokie's theoretical RTP stands at a competitive 96.56%, with the game's volatility leaning towards the higher side. This means players might experience longer spells without significant wins but can also anticipate substantial rewards in a single round. Players can achieve a maximum win of 20,000x on an individual stone.
The betting range is accommodating for all types of players, with the minimum bet set at $0.10 and the maximum cap at $1. One of the underlying strengths of Gonzo's Treasure Hunt Live is its cross-platform accessibility. Designed with cutting-edge technology, the game is optimally rendered for desktop play, ensuring smooth visuals and interactive elements.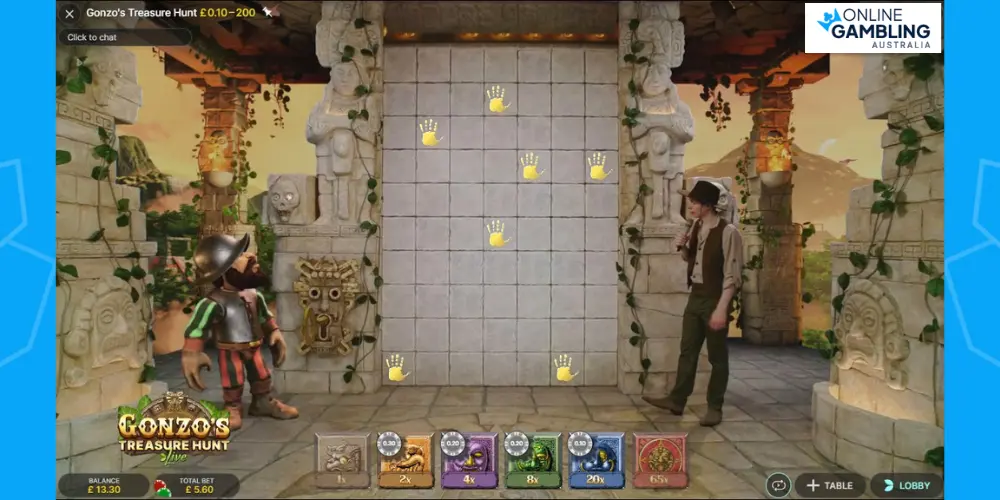 The Bonus Round in Gonzo's Treasure Hunt
One of the standout features in Gonzo's Treasure Hunt Live is the Prize Drop, an engaging bonus round that dramatically heightens the excitement of the game. With its potential to significantly amplify winning possibilities through extra prizes and multipliers, the Prize Drop offers both novice and seasoned players a refreshing twist to the gameplay. Here's a comprehensive breakdown of how the Prize Drop functions:
Activation of the Prize Drop Feature
The Prize Drop is randomly triggered at the onset of a game round and can occur during any round of Gonzo's Treasure Hunt Live. When initiated, it appears on top of the stone wall, heralding the commencement of this riveting bonus round.
Extra Prizes
Upon activation of the Prize Drop feature, up to seven prize symbols may cascade onto the top row of the stone wall. These additional prizes are randomly distributed and signify further win amounts that players can clinch. They complement the original prizes concealed beneath the chosen stones, elevating the value of those awards.
Multiplier Enhancements
Beyond the added prizes, the Prize Drop can also bestow multiplier enhancements. These multipliers augment the value of particular awards, rendering them even more enticing. If a multiplier descends atop an existing prize symbol, it amplifies the underlying prize by that specific figure, paving the way for potentially considerable wins.
Strategy Implications
While the Prize Drop's occurrence is random, its manifestation can sway a player's game plan. By discerning the allocation of supplementary prizes and multipliers, players can make calculated decisions about which stones to opt for. The Prize Drop feature infuses an additional strategic depth into the game, encouraging players to adapt and strategise adeptly.
With the Prize Drop, Gonzo's Treasure Hunt Live epitomises the creative prowess that both developers have channelled into this title, fostering an immersive dimension that rewards a harmonious blend of luck, strategic thinking, and adaptability.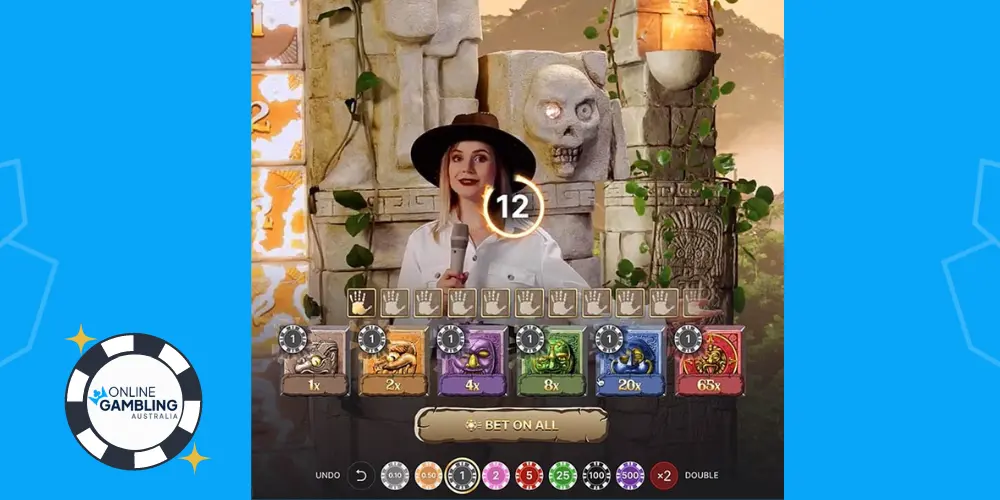 Strategy & Tips for Playing Gonzo's Treasure Hunt Live
Gonzo's Treasure Hunt Live stands out from the crowd, and to make the most of it, understanding its mechanics and leveraging certain strategies can considerably elevate your gameplay experience. Let's dive deeper into these essential strategies and tips.
Understanding the Game
Gonzo's Treasure Hunt Live stands out with its unique structure. It's pivotal for players to grasp the stone selection phase and the intrinsic value of each stone. By understanding the potential payouts tied to each stone, players can make better-informed betting decisions. The 'Prize Drop' feature also deserves special attention, as it augments the potential winnings linked to your selected stones.
Strategy for Gonzo's Treasure Hunt
In Gonzo's Treasure Hunt Live, adopting a well-defined strategy can be the difference between a regular and a rewarding session. The game is designed to merge the predictability of online pokies with the unpredictability of live game shows. Therefore, considering the game's unique format, a blend of conventional pokie strategies combined with on-the-spot decisions can be beneficial.
Stone Selection: A balance between risk and reward is key. Although the stone promising the highest returns might be appealing, diversifying your choices might yield more consistent outcomes over extended play.
Tracking & Shuffle: Watching the shuffle phase can occasionally assist players in tracing the movement of specific stones. While not foolproof, it does add an interactive strategic layer to the game.
Tips for Playing Gonzo's Treasure Hunt Live
Gonzo's Treasure Hunt Live brings in a distinct flavour, presenting challenges and opportunities in its gameplay. To maximise the potential rewards and enjoy the game to its fullest, players should consider a range of tips tailored to this unique experience.
Consistency: Over multiple rounds, maintaining consistency in your stone choices can be advantageous.
Multiplier Moderation: While multipliers offer enticing prospects, players should be wary of over-betting based just on their potential.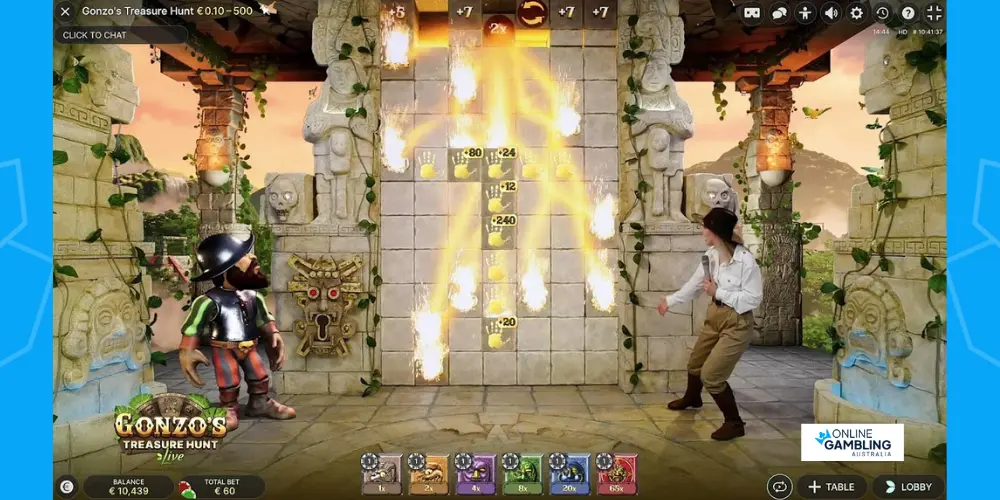 Observing Trends
Within Gonzo's Treasure Hunt Live, observing trends becomes a crucial tool for strategic gameplay. Over several rounds, certain patterns in stone reveals might emerge. For instance, if a specific stone consistently yields better outcomes, it can be a focal point for future bets.
Similarly, multipliers, even though random, might have an observed frequency of appearance. However, while these observations can guide decisions, it's vital to understand that each game round operates independently, and past results don't influence future outcomes. It's about blending instinct with observation.
Bankroll Management
Effective bankroll management is the foundation of any long-term successful gaming experience. Before diving into Gonzo's Treasure Hunt Live, set a clear budget for your gameplay session. This not only safeguards against impulsive bets but also allows for a more structured approach.
Various strategies, such as the Martingale, advocate for doubling bets after each loss, aiming to recoup previous losses. However, such strategies can be high-risk in a game with variable outcomes. Instead, consider setting bet limits, allocating portions of your bankroll to specific rounds, or setting loss thresholds to ensure sustainability.
Casino Bonus
The allure of Gonzo's Treasure Hunt Live is undeniable, and casino bonuses can be a fantastic way to extend your gameplay experience without overstretching your personal budget. Many online casinos offer bonuses like free play, deposit matches, or cashback offers which can be utilised for this game.
While these bonuses provide an immediate boost, it's paramount to be aware of the associated terms and conditions. Wagering requirements, in particular, dictate how many times a bonus amount must be bet before it becomes withdrawable. Always familiarise yourself with these stipulations to ensure maximum benefit.
Gonzo's Treasure Hunt Preveils | Live Treasures Await
Gonzo's Treasure Hunt Live undoubtedly stands as a testament to the innovative spirit of the online gaming industry, marking a distinctive blend between traditional pokie elements and the dynamism of a live game show. Born from the ingenious collaboration of industry behemoths, Evolution Gaming and NetEnt, this game offers players in Australia a fresh, interactive experience that veers off the beaten track.
Besides the game's impressive visual presentation and sounds, lies a gold mine of features and strategic elements that beckon both newbies and seasoned gamers alike. As with any gaming endeavour, a balance of strategy, luck, and responsible gaming promises the most rewarding adventure with Gonzo. If ever there was a time to don your explorer's hat and embark on a digital quest for riches, it's with Gonzo's Treasure Hunt Live.
Frequently asked questions
What is Gonzo's Treasure Hunt Live?
Gonzo's Treasure Hunt Live is a unique live dealer game show-style pokie developed by Evolution Gaming in collaboration with NetEnt. It brings players into a vibrant world where they join Gonzo on a quest to uncover hidden treasures.
Who are the creators of Gonzo's Treasure Hunt Live?
This game is a collaboration between industry giants Evolution Gaming and NetEnt. It's a continuation of the popular Gonzo's Quest series, offering a live gaming twist.
How does the Prize Drop feature work?
The Prize Drop feature is a bonus element of Gonzo's Treasure Hunt Live. When activated, it can enhance potential payouts by adding extra prizes or increasing the values of existing prizes on the stone wall.
Is Gonzo's Treasure Hunt Live purely luck-based?
While all casino games have an element of luck, Gonzo's Treasure Hunt Live allows players to make strategic decisions, such as which stones to pick or how many picks to purchase. However, the game's outcomes, like stone values and Prize Drops, are random.
How do the multipliers in Gonzo's Treasure Hunt Live work?
Multipliers in Gonzo's Treasure Hunt Live can significantly boost your winnings. They're applied to the value of the stone you pick, and if you get a Prize Drop, additional multipliers can be added or the existing ones can increase in value.
Can I play Gonzo's Treasure Hunt Live on any online casino?
Gonzo's Treasure Hunt Live is available at many online casinos that host Evolution Gaming content. However, it's always a good idea to choose reputable online casinos to ensure a fair and secure gaming experience.
What's the difference between Gonzo's Treasure Hunt Live and other Gonzo's Quest games?
While other Gonzo's Quest games are traditional pokies, Gonzo's Treasure Hunt Live combines elements of live game shows with interactive pokie features. It provides a fresh, immersive experience where players engage in real-time with live hosts and Gonzo himself.