Deal or No Deal Review
Back in February 2019, Evolution announced a new live casino game called Deal or No Deal. Evolution is known for creating unique and high-quality games, but no one expected this!
They brought the highly popular TV show into the gaming industry. It received multiple positive views from players, and if you try out the game you would know why. This isn't the first time Evolution Gaming has received such comments, with games such as Live Monopoly and Lightning Dice also being part of the list. So let's make a tasty deal! We'll provide the information, and you'll take a look at it. Deal or No Deal?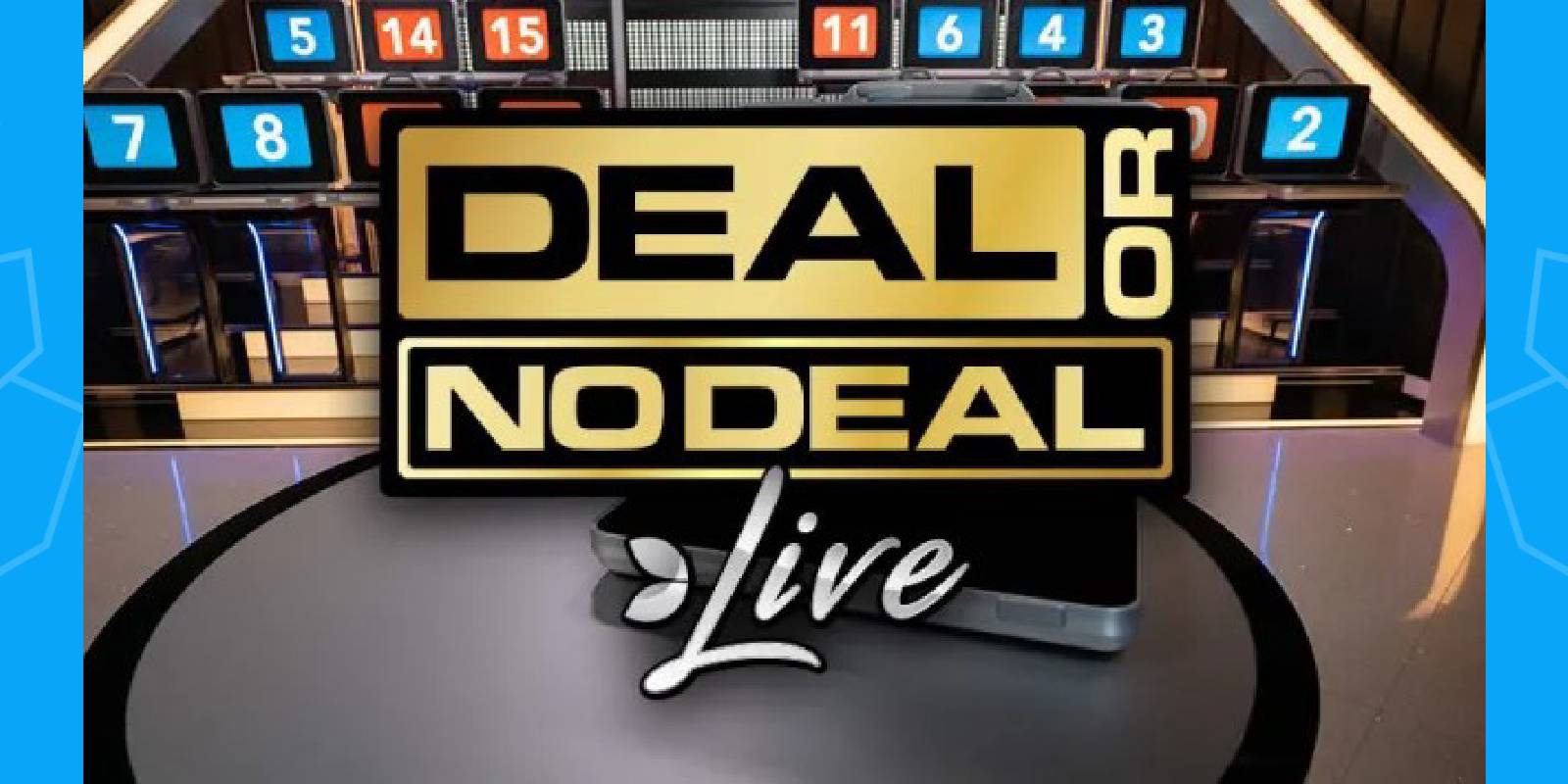 How To Play Deal or No Deal
Like many other Evolution Gaming creations, Deal or No Deal is a fairly quick and easy game to understand. In this section, we will be taking a look at how the game is played. Each round of Deal or No Deal starts with a qualification round.
The Qualification Process
In this live casino game, this is where players have to choose a number of their choice, and then press a button and try to get one of the golden segments into the top part of the wheel. At the top of the wheel, you can find the word "Locked".
This is exactly where you want the golden segment to land. Each time the golden segment doesn't land in the "Locked" segment, you would lose the amount wagered. But when it does, the amount wagered to qualify is taken to the next scene.
Different Available Modes
It is important to note that you may wish to use the 3 different levels available to qualify. The following are the 3 different modes available:
The Normal Mode does not give any advantages to the player. Every spin done is the cost at face value. You would need to get the 3 spinning segments in the "Locked" section.
The Easy Mode locks one of the 3 spinning segments in the "Locked" section, but you would still need to spin the other 2 segments and hope that they land in the "Locked" section.
Very Easy mode locks two of the 3 spinning segments in the "Locked" section. You would still need to spin the outer segment and hope that it lands in the "Locked" section.
If you don't wish to gamble on qualifying, then you can use the instant feature. This feature will allow you to qualify instantly for the next scene of the game. But to do so, you would have to pay a larger amount.
Briefcase Top-Up Scene
The next scene is optional. You can either stack up any briefcase of your choice, or wait until the timer goes down to 0:00. If you decide to stack up, then all you would need to do is decide on the amount you wish to bet. This is done by pressing the "+" or "-" button.
You would then need to press which briefcase you wish to top up. After that, you have to press the "Top Up" button to see the amount that will be added to your chosen briefcase. This can be done multiple times until the clock is 0:00.
Do remember that briefcases from 1 to 8 are blue, whilst briefcases from 9 to 16 are red.
The following are the multipliers available for each briefcase.
| | | | | | | | | |
| --- | --- | --- | --- | --- | --- | --- | --- | --- |
| Blue Briefcases | 1 | 2 | 3 | 4 | 5 | 6 | 7 | 8 |
| Multiplier | 0.10x | 0.20x | 0.50x | 0.70x | 1x | 2x | 3x | 5x |
| | | | | | | | | |
| --- | --- | --- | --- | --- | --- | --- | --- | --- |
| Red Briefcases | 9 | 10 | 11 | 12 | 13 | 14 | 15 | 16 |
| Multiplier | 8x | 10x | 12x | 15x | 20x | 25x | 50x | 65-500x |
Time To Deal or No Deal
It's finally time to make some important decisions! You will instantly realise that there is now a live dealer and their assistant. Behind the live dealer, you will notice 15 briefcases. Each briefcase has a number inside of it.
The dealer's assistant will go on to open the first 3 briefcases. After this, you would be given an offer. This offer would be the average amount of the remaining values of the numbers. You are now hit with your first decision.
You can either accept the offer (Deal) or not (No Deal). If you accept the offer, then you would collect the offered amount. But if you select No Deal, then you would go to the next phase of the game. It is important to note that in each round if you do not decide on which option you want, the game would instantly take it as No Deal.
This time there will be 4 briefcases that will be opened by the assistant. It's now time for you to make another decision. Deal or No Deal? If you choose No Deal, then you will go to the next phase.
Another 4 briefcases are removed and you will yet again have to decide on what you wish to do. If you choose No Deal, then you have 5 remaining briefcases. Please note that the next decision will be the most difficult one.
Choose Your Case
If you have made it all this way, then we surely know that you are on the brink of potentially winning something big! Out of the 5 remaining briefcases, 3 will be opened. This will leave you with 2 unopened cases. One is exactly in front of the dealer, and the other is next to the other opened briefcases.
It is time to choose. Deal? Switch Briefcase? Or No Deal? It is all up to you to decide what you wish to do!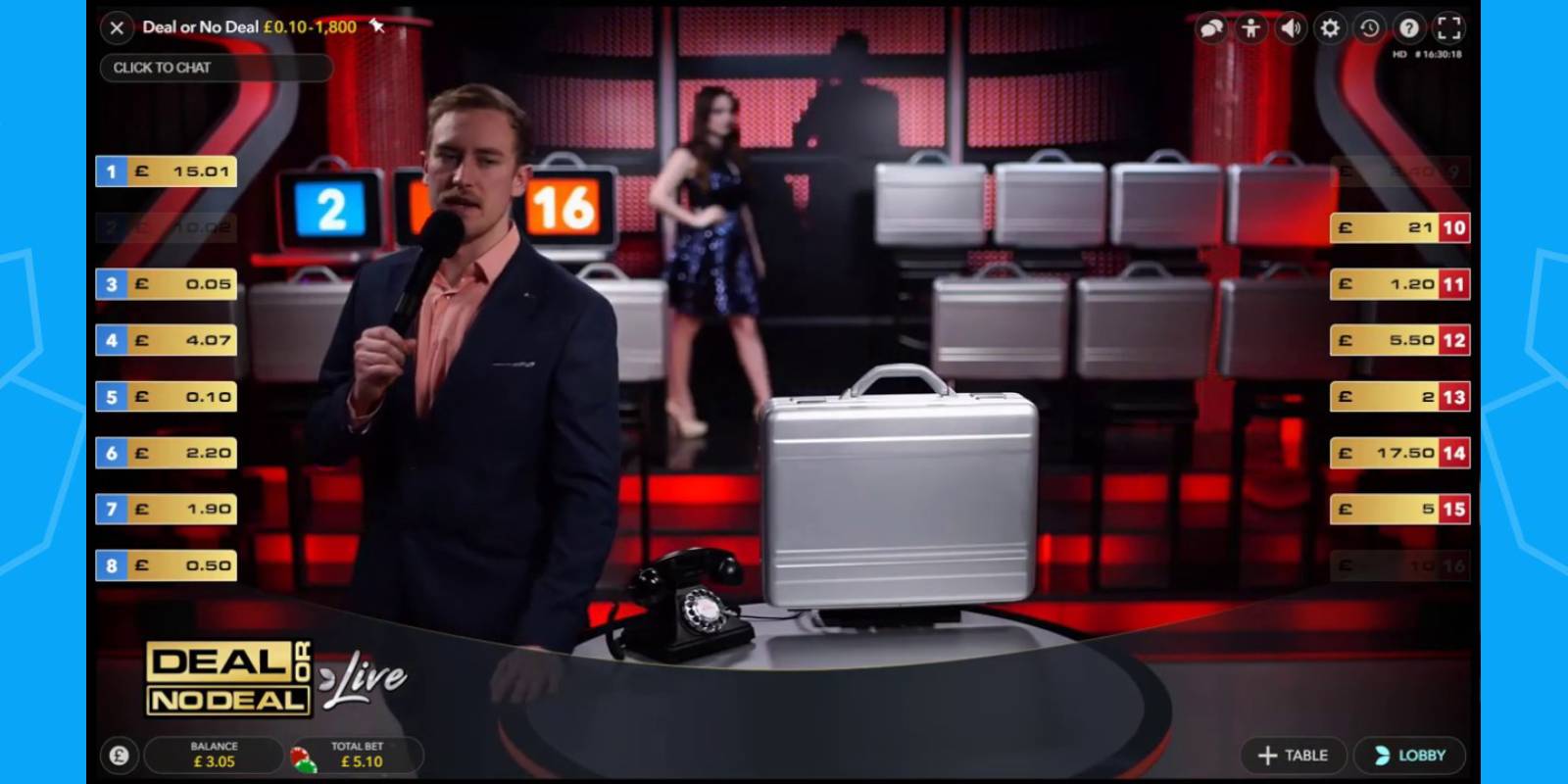 Deal or No Deal Strategy
Well, to be honest with you, there aren't any real strategies when playing Deal or No Deal. It all comes down to luck. What we would recommend is that if you have the chance to make a profit, take it.
What we do suggest though is to take a look at some important points that we have found when playing this game.
Important Points To Keep In Mind
If you are planning to play Deal or No Deal, then we can not emphasise enough the importance of understanding these critical points.
The first point is that it is really easy to go overboard on betting. There are 2 instances within the game where this can happen. This especially happens when you are trying to qualify. It is really easy for your balance to go down quickly, so make sure to keep that in check.
The second one is to take your profits whilst you can. The reason for this is that it is quite easy to lose every big briefcase in a single round. So if the dealer is offering you a great deal, we suggest you take it.
Finally, our third suggestion is to not wait until the very last box. It is a really big gamble and you may also put yourself in a situation that you don't wish to be in.
RTP, Betting Amounts & More
It is always vital to look at the Return To Player (RTP) rate of a game. The RTP of Deal or No Deal is 95.42%, which is not the best, but it is also not the worst. When compared to games such as Lightning Roulette which has an RTP rate of 97.30% it gets you thinking about whether you should play the game or not.
When it comes to the minimum and maximum bets, on the other hand, the minimum is $0.10 and the maximum is $200. These amounts are quite reasonable given the process of the qualification process. It is also worth noting that the maximum win a player can get is 500x their bet, which is quite a high multiplier.
Devices To Play Deal or No Deal
If you are the type of player that is always on the go and can't seem to find the time to play your favourite game, then you will be happy to hear this! The gaming software provider Evolution Gaming has a track record of creating high-quality games. But they also develop them so that players on the go can be able to play them from wherever they like.
If you use a smartphone or even a tablet, then all you would have to do is open up your browser of choice and sign into a mobile/tablet-friendly casino to play this game. It is that simple!
So… Is It a Deal, Or No Deal?
Well, to be completely fair, the game is not one of Evolution's best. It depends on the players' style of play and whether they are ready to try to reach the last box to get the highest possible deal of the round. It is undoubtedly a fun game to play. A player will go through a rollercoaster of emotions when playing it, but it also has its downsides.
The only downside we feel there is to this game is the fact that you would have to place a bet to qualify for a round. If you lose, you lose the bet you just placed. This is easy for any player to lose large sums of money.
At the end of the day, it comes down to the type of games that players like. Are you the type that has a lot of funds? Are you capable of going through different emotions that quickly? These are the types of questions you need to ask yourself.
If you want to play this game yourself, then we highly suggest that you take your time to see all of the online gambling sites that are available in the market. This will give you a clear idea of whom you should sign up and get a bonus from. Who knows? Maybe you'll the finest welcome bonus possible!
Frequently asked questions
Who Created Deal Or No Deal?
Deal or No Deal was created by one of the best live casino game providers in the world. The gaming provider's name is Evolution Gaming. They have created multiple other high-quality games apart from Deal or No Deal.
When Was Deal Or No Deal Released?
Deal or No Deal was released in February 2019 and was based on the highly popular TV show Deal or No Deal. Because of this, there have been many players that have thanked Evolution for such a creation.
What Is The Lowest And Highest Briefcase Multiplier Available?
The lowest briefcase multiplier is 0.01x which is located in briefcase 1. The highest briefcase multiplier is between 65x and 500x and is located in briefcase 16.
What Is The RTP Rate Of Deal Or No Deal?
The Return To Player (RTP) rate of Deal or No Deal is 95.42% which is not the highest. When compared to Evolutions Lightning Roulette live casino games there is a 1.88% difference. Lightning Roulette has an RTP rate of 97.30%.
Is The Qualification Process Mandatory And What Are The 3 Different Modes?
Yes! The qualification process is mandatory. There are 3 different modes for you to qualify for the next round. These are Normal, Easy, and Very Easy. These 3 modes all have to do 3 golden segments on the wheel.
What Is The Minimum And Maximum Amount I Can Bet?
The minimum amount a player can bet is $0.10, whilst the maximum is $200. It is a fair betting range given the circumstances of the qualification process.
What Are The 3 Stages Of Deal Or No Deal?
When playing Deal or No Deal, you will realise that there are 3 stages. These are the Qualification stage, Top Up stage, and Main Game stage.
Is There A Strategy To Deal Or No Deal?
There is no strategy when playing Deal or No Deal. It all comes down to how you wish to play the rounds of Deal or No Deal. For instance, if you think that taking the deal is the best thing, then do so!