Carefully Selected Online Casinos for Australian Players
For Australian players seeking the thrill of Crazy Time by Evolution, choosing the right online platform is a critical first step. Our team of professionals has meticulously handpicked online casinos that not only offer a variety of casino games but also value the player's trust and ensure secure and fair gameplay. As we delve deeper into the game, you will understand why choosing the right platform is key to maximising your Crazy Time experience.
The Gameplay of Crazy Time by Evolution
Dive headfirst into the captivating gameplay of Crazy Time by Evolution, an online game show-style experience that brings together all the thrills of live casino gaming. The lively hosts, the impressive wheel, and the suspenseful spins all conspire to create an unforgettable gaming journey. Here we unravel the complexities of the game, guiding you through the basics and your initial encounter with the wheel.
Understanding the Basics
The game revolves around a large spinning wheel segmented into 54 sections. These sections are a mix of numbers (1, 2, 5, and 10) and four bonus games: Coin Flip, Cash Hunt, Pachinko, and Crazy Time.
Taking Your First Spin
To participate in Crazy Time, players place wagers on the number they think the wheel will stop at or one of the four bonus games. Once the betting time ends, the presenter spins the wheel. If the wheel halts on a number, players who have bet on that number win and receive a payout corresponding to that number.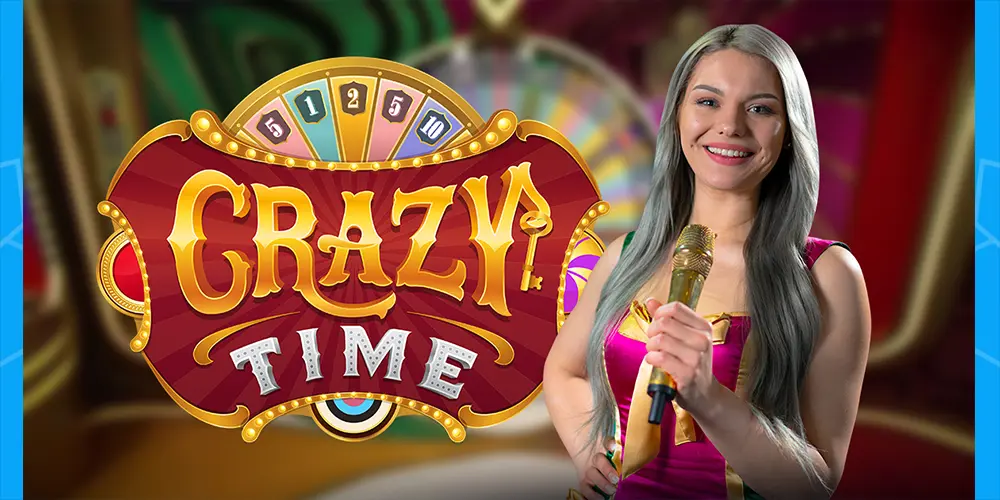 The Wheel & Betting Options
The distribution of betting options on the wheel and their respective payouts are as follows:
| | | |
| --- | --- | --- |
| Symbol | Appearances on Wheel | Payouts |
| 1 | 21 times | 1x your bet |
| 2 | 13 times | 2x your bet |
| 5 | 7 times | 5x your bet |
| 10 | 4 times | 10x your bet  |
| Coin Flip | 4 times | Varies  |
| Pachinko | 2 times | Varies  |
| Cash Hunt | 2 times | Varies  |
| Crazy Time | 1 time | Varies  |
Top Slot Multiplier
A second wheel, known as the 'Top Slot', is present above the main wheel. This Top Slot pairs one of the betting options with a multiplier, offering a potential boost to your winnings. For example, if the Top Slot lands on "10" with a multiplier of 50, you will get 500 times (10 * 50) your bet when the 10 falls on the main wheel. The multiplier ranges between 2 and 50, but it can also land between two multipliers, in which case there won't be any extra multiplier for that round.
Bonus Games & Features
Crazy Time is more than just a spinning wheel; it's a medley of exciting bonus games that amplify your potential winnings. Each bonus game – Coin Flip, Cash Hunt, Pachinko, and Crazy Time – offers a unique gaming adventure, adding to your overall gaming experience. We will delve into each of these features and their respective potentials to boost your winnings.
Coin Flip: Coin Flip is the bonus game that appears most often. A coin with a red and blue side is flipped by the host. A multiplier is assigned to both sides before the flip. The multiplier ranges from x2 to x100. Players who bet on Coin Flip will win if the coin lands on their chosen side. The maximum payout for Coin Flip is 5,000 times the stake.
Cash Hunt: In Cash Hunt, players are presented with a grid of 108 multipliers. Each player gets to fire a cannon at the screen and win the multiplier hit. Each player wins the amount behind their chosen symbol, so the multiplier varies per player. The maximum win in this game is 5,000 times the stake.
Pachinko: In Pachinko, a puck is dropped onto a large vertical board filled with pegs. The player wins the multiplier where the puck lands. There's a chance to hit a "double" segment, which doubles all multipliers and respins the puck. The maximum win in Pachinko is unlimited, owing to the 'double' feature which can theoretically continue to double the multipliers an unlimited number of times.
Crazy Time: The Crazy Time bonus game transports players to a virtual world where a massive wheel filled with impressive multipliers and 'double' or 'triple' segments awaits. If the wheel lands on 'double' or 'triple', all multipliers are increased accordingly, and the wheel spins again. This game offers unlimited potential for winning, making it the pinnacle of the Crazy Time experience.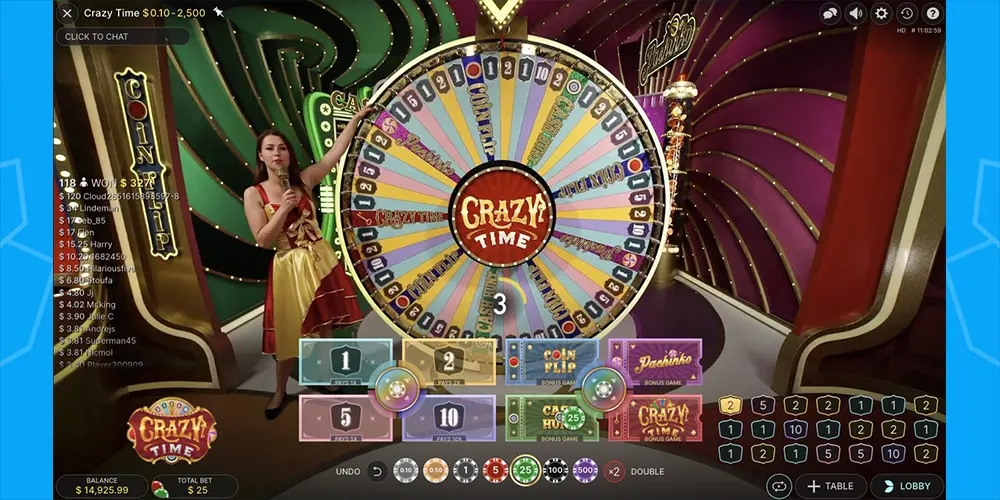 Strategies for Crazy Time
In the world of Crazy Time, strategic gameplay can make a difference. Understanding the game's high volatility and utilising effective betting strategies can enhance your potential for sizeable rewards. This section provides valuable insights on how to approach betting and leverage the bonus games for maximum benefit.
Embrace the Variance: The Crazy Time game is highly volatile, meaning wins can be few and far between, but when they do happen, they can be huge. Embrace the variance, spread your bets, and anticipate the big wins.
Understanding Probability: A firm understanding of the probabilities associated with the different sections on the wheel and the bonus games can inform better betting decisions. It's important to remember that while bonus games may offer higher potential payouts, they also occur less frequently.
Betting on All Bonus Games: To increase your chances of winning and participating in a bonus game, you might consider betting on all four bonus games each round. While this strategy can result in higher spending per round, it also ensures that you won't miss out on any potential bonus game.
Balanced Wagering: A balanced wagering strategy involves placing bets in a way that covers a broad range of possible outcomes. This might include betting on both the number outcomes and the bonus games.
Responsible Gaming: Perhaps the most critical strategy, responsible gaming involves setting a budget and sticking to it. It can be easy to get caught up in the excitement of the game, but it's essential to keep track of your spending and play responsibly.
Please remember that these strategies do not guarantee winning, as Crazy Time is ultimately a game of chance. These strategies can potentially enhance your gaming experience and possibly improve your overall success in the game.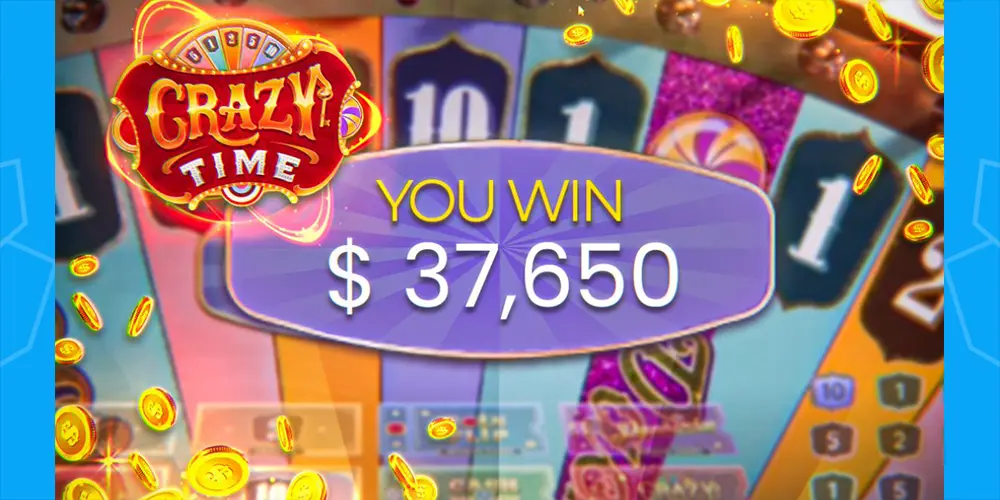 RTP, Bets, & Wins in Crazy Time
With its wide range of betting limits and substantial maximum wins, Crazy Time caters to all players. Unveiling the concept of RTP (Return to Player), we explore how this game offers a balanced mix of risk and reward. We will dissect the betting limits, and dive into the potential wins in this highly dynamic game.
Return to Player (RTP)
The RTP, or Return to Player, refers to the theoretical percentage of wagered money that a virtual game is expected to pay back to players over time. In Crazy Time, the RTP varies based on the specific bet types.
Here is the RTP for each betting option in Crazy Time:
| | |
| --- | --- |
| Betting Option  | RTP |
| Number 1 | 96.08% |
| Number 2 | 95.95% |
| Number 5 | 95.78% |
| Number 10 | 95.73% |
| Coin Flip  | 95.70% |
| Pachinko | 94.33% |
| Cash Hunt | 95.27% |
| Crazy Time | 94.41% |
Betting Limits
Crazy Time is accessible to all players with its wide range of betting limits. The minimum bet starts at $0.10, ensuring that even beginners can enjoy the game. Meanwhile, high-rollers can go up to the maximum bet limit of $5.000 per game.
Maximum Wins
The maximum win potential in Crazy Time is one of the factors that make it highly attractive, especially during the bonus rounds. While there is no defined limit on how many times your bet can be multiplied in the Crazy Time and Pachinko bonus rounds due to the multiplier-spinning feature, there is a cap on the maximum payout set by Evolution.
The maximum payout limit for any single game round is capped at $500,000. This is the highest payout limit set by Evolution for Crazy Time, meaning that even if your multipliers could theoretically exceed this, any winnings will still be limited to this amount. This ensures that while the game promises immense excitement and win potential, it also maintains a degree of balance and fairness.
Crazy Time, with its enticing gameplay and revolutionary design, has significantly impacted the landscape of live casino gaming. This Evolution creation is not just a game; it's a phenomenon that has set a benchmark for immersive and interactive live casino experiences.
Evolution, known for its innovative games, pioneered the concept of the live game show with Dream Catcher, a simple yet captivating wheel-based game. Crazy Time, in many ways, is the next step in the evolution of this genre, integrating a more complex wheel and the addition of exciting bonus games.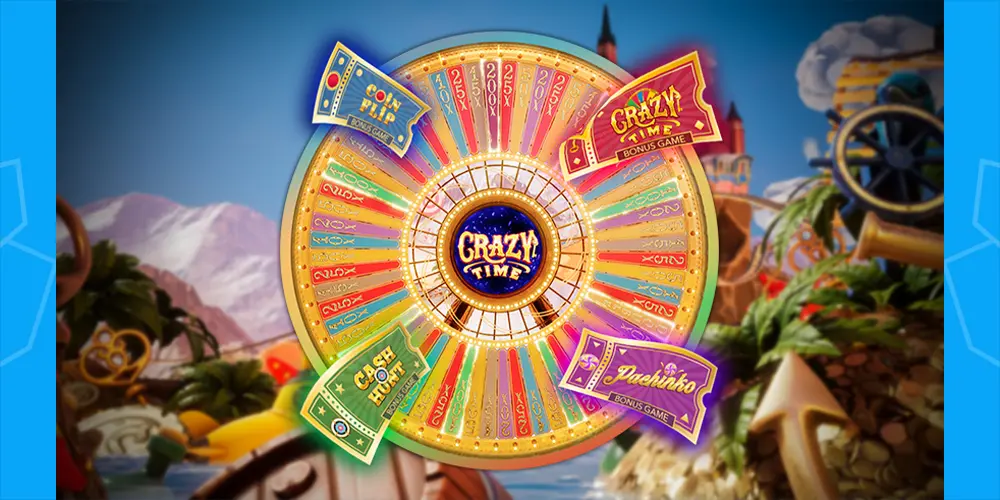 Influence & Successors of Crazy Time
The game's influence resonates beyond Evolution's portfolio. It has inspired other leading game show providers such as Playtech and Pragmatic Play Live to create similar games. Notable successors include Adventures Beyond Wonderland and Money Drop Live by Playtech and Sweet Bonanza Candyland by Pragmatic Play Live. The success of Crazy Time and its influence is clear in these creations, showing how it has set a new trend in the live gaming industry.
Influence aside, Crazy Time continues to command a massive following, attracting players with its vibrant gaming environment, immersive gameplay, and the potential for substantial wins. And while it shares some elements with its predecessors like Dream Catcher and Monopoly Live, Crazy Time offers a distinctive gaming experience that keeps players coming back for more.
Just a reminder to always check the game rules and regulations on your chosen online casino before playing, as these can vary between different online casinos. As with all casino games, it's crucial to play responsibly and within your means.
Lose your Mind & Come to your Senses with Crazy Time
Crazy Time by Evolution is not just a game; it's a high-energy adventure packed with thrilling twists, exciting bonuses, and the potential for significant wins. This game is a prime choice for players who thrive on an action-packed gaming environment filled with suspense and frequent bonus opportunities.
While the bonus rounds may not always yield huge payouts, the sheer anticipation of the next bonus game is enough to keep players on their toes. The frequency of bonus spins in Crazy Time is considerably higher compared to other live casino games, promising a whirlwind of entertainment just around the corner at any moment.
Whether you're new to the world of online gambling or a veteran player, the strategies, insights, and gameplay mechanics discussed in this guide are designed to help you navigate and maximise your Crazy Time experience effectively. So, buckle up and prepare for a rollercoaster of fun, suspense, and potential wins. But, if you wish to play a casino game rather than a live one, then you might want to take a quick glance at Casino Patience. If you choose to play Crazy Time of Casino Patience, we are sure you will have a blast! Happy gaming everyone!
Frequently asked questions
Can I play Crazy Time for free to get a feel of the game?
Most online casinos offer a free play or demo version of Crazy Time. This is a great way to get acquainted with the game's rules and features before wagering real money.
What is the live dealer's role in Crazy Time?
The live dealer is responsible for spinning the wheel and guiding players through the game. They interact with players, making the game more engaging and replicating the feeling of a real casino.
Is there a specific time to play Crazy Time for better winning chances?
No, Crazy Time results are generated randomly, and there isn't a specific "lucky" time to play. It's always best to play responsibly, regardless of the time.
Is it necessary to apply a strategy when playing Crazy Time?
While Crazy Time is largely a game of chance, applying betting strategies can manage your bankroll more effectively. But remember, these strategies don't guarantee a win.
Is there a limit on how many times I can play the bonus games?
No, there is no limit. As long as you keep landing on the bonus game segments on the wheel, you will be taken to the bonus games.
Is Crazy Time by Evolution optimised for mobile play?
Absolutely. While Crazy Time is mobile-friendly, the mobile gaming experience can vary from casino to casino. Players are encouraged to research and choose a casino that provides an optimised mobile platform.
How frequently are the bonus rounds in Crazy Time triggered?
On average, a bonus round in Crazy Time is triggered roughly once every six games, as 9 out of the 54 squares on the wheel are bonus games. However, these are averages, and actual gameplay can vary due to chance, offering ample opportunities for exciting bonus rounds.