Top Online Casinos for Playing Gonzo's Treasure Map Live
Choosing the right place to gamble online in Australia is crucial, especially with the surplus of options available. It can be a bit overwhelming to sift through the masses, seeking that one platform offering the utmost security combined with the outstanding features that every player desires.
Our online casino reviews methodically assess a wide range of criteria to pinpoint the best choices for Australian players. For your convenience, we've compiled a list of our favourites below, ensuring a seamless and rewarding gaming experience.
What is Gonzo's Treasure Map Live?
Gonzo's Treasure Map Live is a distinctive blend of live casino gambling with the excitement of pokies. Unlike traditional pokies, this game offers real-time interaction, bringing the energy and atmosphere of a casino straight to players' screens.
The game's augmented reality technology elevates the experience, merging the digital and real-world seamlessly. With an RTP of 95.26%, the game strikes a balance between risk and reward.
The vibrant theme, inspired by ancient Central and South American civilizations, is complemented by rich colours, authentic sounds, and engaging hosts guiding players throughout the game. Additionally, the game's outcomes are driven by RNG (Random Number Generators), ensuring fairness and unpredictability in every round.
The Developer of Gonzo's Treasure Map Live
Evolution is the mastermind behind Gonzo's Treasure Map Live. As a leading provider in the live casino sector, Evolution has consistently pushed boundaries to offer players unparalleled experiences. Gonzo's Treasure Map Live, released on July 12, 2023, stands as a testament to this commitment.
For this particular title, they've drawn from their earlier game, Gonzo's Treasure Hunt Live, but have enriched it to create something more accessible and visually appealing. With an RTP of 95.26% and the potential to win up to $500,000, it's evident that Evolution has seamlessly blended entertainment with rewarding gameplay in this release.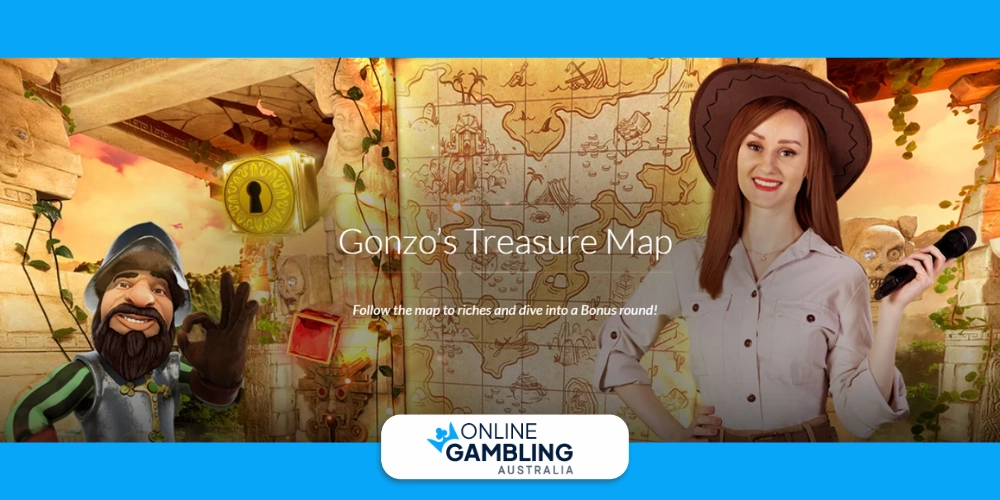 How to Play Gonzo's Treasure Map Live
Gonzo's Treasure Map Live offers a refreshing take on the classic pokie gameplay found in the original Gonzo's Quest. Set against a backdrop resembling an ancient map, the game board is filled with 70 betting positions, inviting players to predict where the next big win will land.
Betting Phase: Players initiate by placing chips on one or multiple segments of the map at the heart of the screen, with a 14-second window to place bets.
Main Round: After bets are placed, three keyhole blocks appear at random on the board, hinting at the upcoming Gonzo's Treasure Map bonus round.
A pokie at the game's pinnacle releases five blocks onto the board, each landing on a distinct column. Winning is as straightforward as the blocks landing on your bet positions. There are two types of blocks:
Gold Blocks: Magnify the stake by 10x.
Multiplier Blocks: Boost the stake by 20x.
Bonuses & Special Features of Gonzo's Treasure Map Live
Gonzo's Treasure Map Live isn't just another pokie; it's a full-on experience. Evolution has seamlessly integrated state-of-the-art technology with unique gameplay mechanics to create a game that stands out. This live casino game is streamed directly from Evolution studios in Latvia. Beyond the main gameplay, several features and bonuses enhance the player's journey, making every round intriguing and potentially rewarding.
Bonus Round
Triggering this feature offers players the chance to amplify their winnings. When a Keystone on a wagered position turns into a winning spot, the Bonus Round is activated. If a win is clinched via a Multiplier block, all ensuing rewards in this round are doubled. Here, Gonzo unveils a new wall with 70 stones, each carrying a randomly assigned multiplier.
The potential multipliers range from 25x to 500x, with a special Double tile also in the mix. The pivotal moment is the descent of a Ruby block, deciding the multiplier's magnitude. Should the Ruby land on a Double tile, the round's excitement escalates as all multipliers double, with the process repeating until the Ruby settles on a regular multiplier.
Interactivity with Gonzo
This feature ensures players remain engrossed. As rounds progress, the interactions between the live dealer and Gonzo, the 3D character, add layers to the narrative, making players feel a part of Gonzo's quest.
Language Flexibility
Catering to a diverse audience, the game offers multiple language options. While the presentation is predominantly in English, players can switch in-game text to their preferred language, ensuring comfort and comprehension.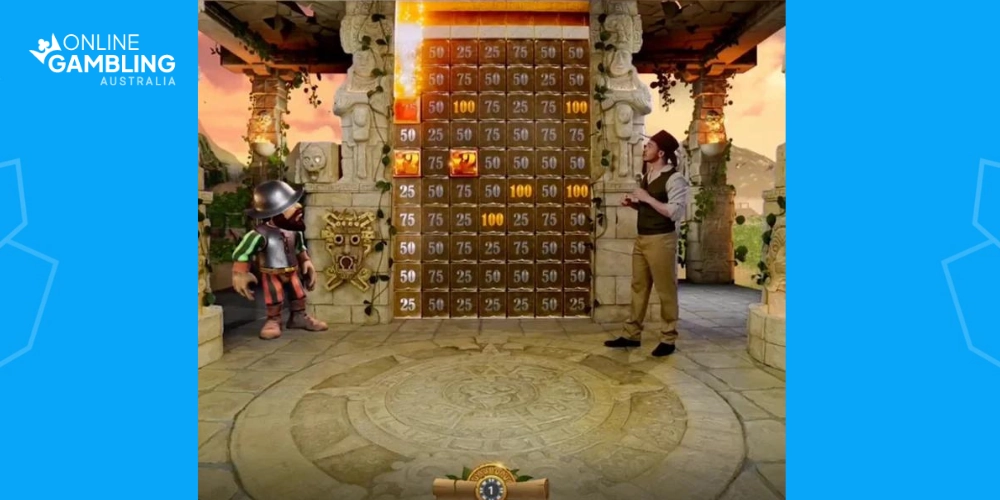 Strategy & Tips for Playing Gonzo's Treasure Map Live
When venturing into the world of Gonzo's Treasure Map Live, players are not just reliant on luck; a strategic approach can enhance the gaming experience and potentially tilt the odds slightly in their favour. While no strategy guarantees a win, understanding the game's nuances and making informed decisions can boost your chances. In the section below, we'll cover some pivotal tips and strategies that can serve as a guide for players on this adventurous quest.
Diversify Your Bets
While it's tempting to place bets on just a few positions, spreading your bets across multiple tiles increases your chances of landing a winning position. The probability of a single position winning stands at approximately 1.43%. Thus, betting on multiple tiles enhances the likelihood of securing at least one winning spot.
Column Betting
Considering that only one block can drop per column, a strategic move would be to place a bet in every column. This approach gives players a fair shot to secure at least one win in each round. Deciding whether to bet on several positions within one column or distribute them across different columns becomes a pivotal choice.
Mind the Volatility
Gonzo's Treasure Map Live is notably volatile, which means players can experience both significant wins and losses in a short span. Recognising this, it's crucial to manage your bankroll effectively. Setting a budget and sticking to it ensures that players enjoy the game without overextending themselves financially.
Bonus Round Potential
The Bonus Round in Gonzo's Treasure Map Live holds significant winning potential. Keeping an eye out for the Gonzo Key stones and understanding the multiplier dynamics in this round can be advantageous. Remember, if a Multiplier block activates the Bonus Round, all ensuing rewards are doubled, amplifying the potential payout.
RTP Awareness
While the game's RTP stands at 95.26%, which is a tad lower than some other live casino offerings, players should be aware of this rate. It provides insights into the potential return over an extended play period. Comparing it to other games, especially its predecessor, Gonzo's Treasure Hunt, which had an RTP of 96.56%, can offer a perspective on potential returns.
| | |
| --- | --- |
| Landing Block | Payouts |
| Gold Block | 9:1 |
| Multiplier Block | 19:1 |
| Bonus Round | Max: $500,000 |
Armed with these strategies and tips, players can embark on Gonzo's Treasure Map Live journey with a little more confidence, ensuring not just an entertaining but also a potentially rewarding gameplay experience.
Charting Unknown Territories: Gonzo's Latest Adventure Beckons
Gonzo's Treasure Map Live, crafted by the maestros at Evolution, the makers of other exceptional live titles such as Live Football Studio and Adventures Beyond Wonderland, takes players on a mesmerising journey, merging the thrill of pokies with the immersive experience of live gambling. With its augmented reality visuals, the game truly sets itself apart, offering an unparalleled visual treat that resonates with both rookies and mavens.
On the positive side, the game's theme, inspired by ancient civilizations, is a visual delight. The interactions with the 3D-rendered Gonzo character and the live dealer enhance the gambling experience, making it more engaging especially with the live chat option. The game's unique features, like the Bonus Round, offer substantial winning potential, ensuring that every round pulsates with excitement.
However, every treasure map has its pitfalls. The RTP of 95.26% is slightly lower than some other live casino offerings, which might not appeal to players looking for higher return rates. Additionally, the game's volatility, while adding an element of suspense, might not be everyone's cup of tea, especially those who prefer steadier gameplay.
In essence, Gonzo's Treasure Map Live is a vibrant blend of entertainment and potential rewards. While it has its highs and lows, it's an adventure worth exploring for those seeking a fresh spin on live casino gambling.
Frequently asked questions
What is Gonzo's Treasure Map Live?
Gonzo's Treasure Map Live is a unique live casino game show created by Evolution. It merges traditional pokie gameplay with augmented reality visuals, offering players an interactive and immersive treasure-hunting experience.
Who developed Gonzo's Treasure Map Live?
The game was developed by Evolution, a renowned name in the live casino gambling industry known for its innovative and high-quality offerings.
How does the game incorporate augmented reality?
Gonzo's Treasure Map Live uses augmented reality technology to superimpose dynamic overlays, like the 3D-rendered character of Gonzo, onto the live casino setting. This creates a rich visual experience that brings the treasure-hunting theme to life.
What's the RTP of Gonzo's Treasure Map Live?
The Return to Player (RTP) for Gonzo's Treasure Map Live is 95.26%. It's always good to be aware of the RTP when playing any game to understand potential returns over an extended play period.
Are there any special rounds or features in the game?
Yes, the game boasts a Bonus Round where players can amplify their winnings with multipliers. If a Gonzo Key stone is activated and leads to a win, the Bonus Round is triggered, offering substantial multiplier potentials.
What's the maximum payout for Gonzo's Treasure Map Live?
Players can win up to $500,000 in the game, especially if they manage to hit the right multipliers in the Bonus Round.
How does Gonzo's Treasure Map Live differ from traditional pokies?
While it incorporates elements of traditional pokies, Gonzo's Treasure Map Live stands out due to its live game show format, augmented reality visuals, and interactive features. It offers a more immersive and dynamic gameplay experience compared to standard online pokies.