Software Providers
In the gambling industry, there are many factors that a player needs to take into account. An example is finding an online casino that has a high level of security, or that it has several payment method options.
Though, many players forget the importance of searching regarding the gaming providing softwares that is being used at online casinos. Knowing which gaming provider the gambling establishment uses helps you in knowing what sort of games you will be able to play.
In this article, we shall be looking into one of the most promising gaming providers in the market right now, which is Mancala Gaming. We shall speak about the range of games they provide, level of security and more!
What is Mancala Gaming?
Mancala Gaming is a company that creates gambling games for casinos to use on their website for players to play such games. This essentially means that Mancala Gaming tries to create eye-catching games for players to enjoy the games they produce.
This gambling provider was founded in 2019, which is considered to be very recent. It hasn't reached the levels of other gaming providers such as Play'n Go or Microgaming, but from its early years it is showing a great deal of potential. It is set to shortly launch around 50 high quality game titles. With iGaming experts within their team, it will surely help them in making the impact they want.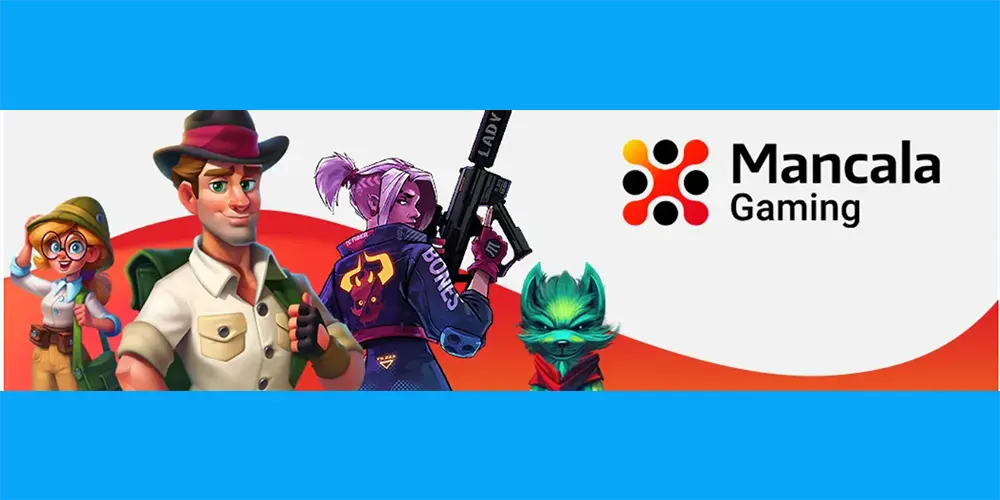 Is Mancala Gaming Trustworthy?
Given that there are numerous other gaming providers, why should a casino try out this provider specifically? Well, given that it has a team of experts in the iGaming development scene, it shows that they have what it takes to provide online casinos with a great service. The team is said to be always looking at ways to improve, and freshly develop their products. All the team cares about is providing online casinos with an excellent service.
It can also be seen that many other companies within the gambling industry share the same feeling with Mancala Gaming, as they have partnered up with many leading companies. These companies include SoftSwiss, Ously Games, PariMatch, BetConstruct, as well as BetB2B.
On the other hand, their media partnerships are companies that are quite popular in the gambling industry. With so many companies invested in Mancala Gaming, it just shows how much trust there is that this gaming-providing company will be highly successful in the future. With popular games such as Jili Slots and Amatic Slots, many really believe that this gaming provider is on the right track to becoming one of the very best.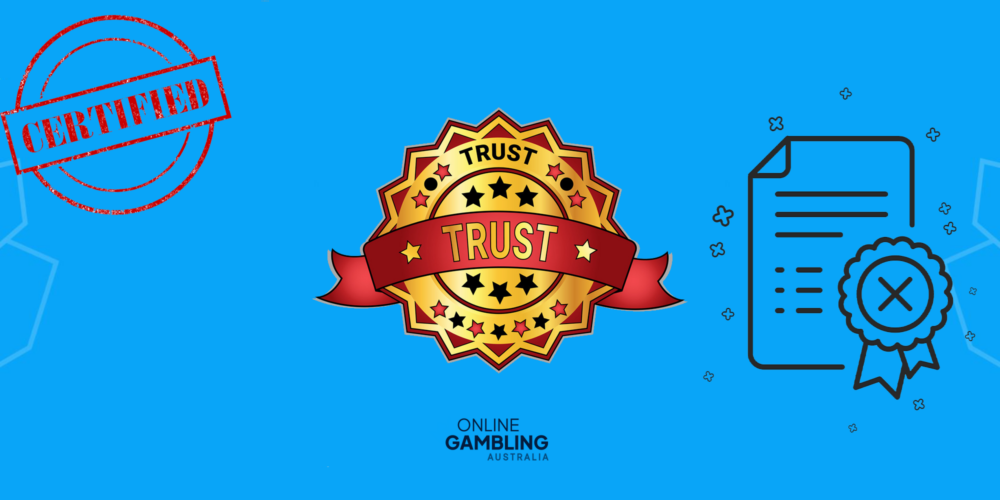 What Games do Mancala Gaming Produce?
As a gaming provider, their main aim is to produce high quality games for players at online casinos to enjoy playing them. Mancala Gaming produces a variety of games and it's great to know a little bit on how they work. Here is a bit of information regarding the games produced by Mancala Gaming.
Slots
When it comes to the reel set-up, the majority of Mancala Gaming slots have a 5 by 3 reel engine, but there are also slot games that have 4 or even 3 reels. This shows that they are not taking the risk of overcomplicating their games. They also have reasonable win pay lines with some having either 9,10, 15, or even 25 pay lines.
With regards to pokie variety, Mancala looks to provide players with a wide range of themes. It tries to create games for players to enjoy themselves whilst playing it. With their development team always looking to find a way to create new themes, it is not surprising to see that they have multiple different themes in their wide range of games. Here are just some of the examples of what games they have to offer;
Bars and Bells
Spirit of the Lake
Mancala Quest
and more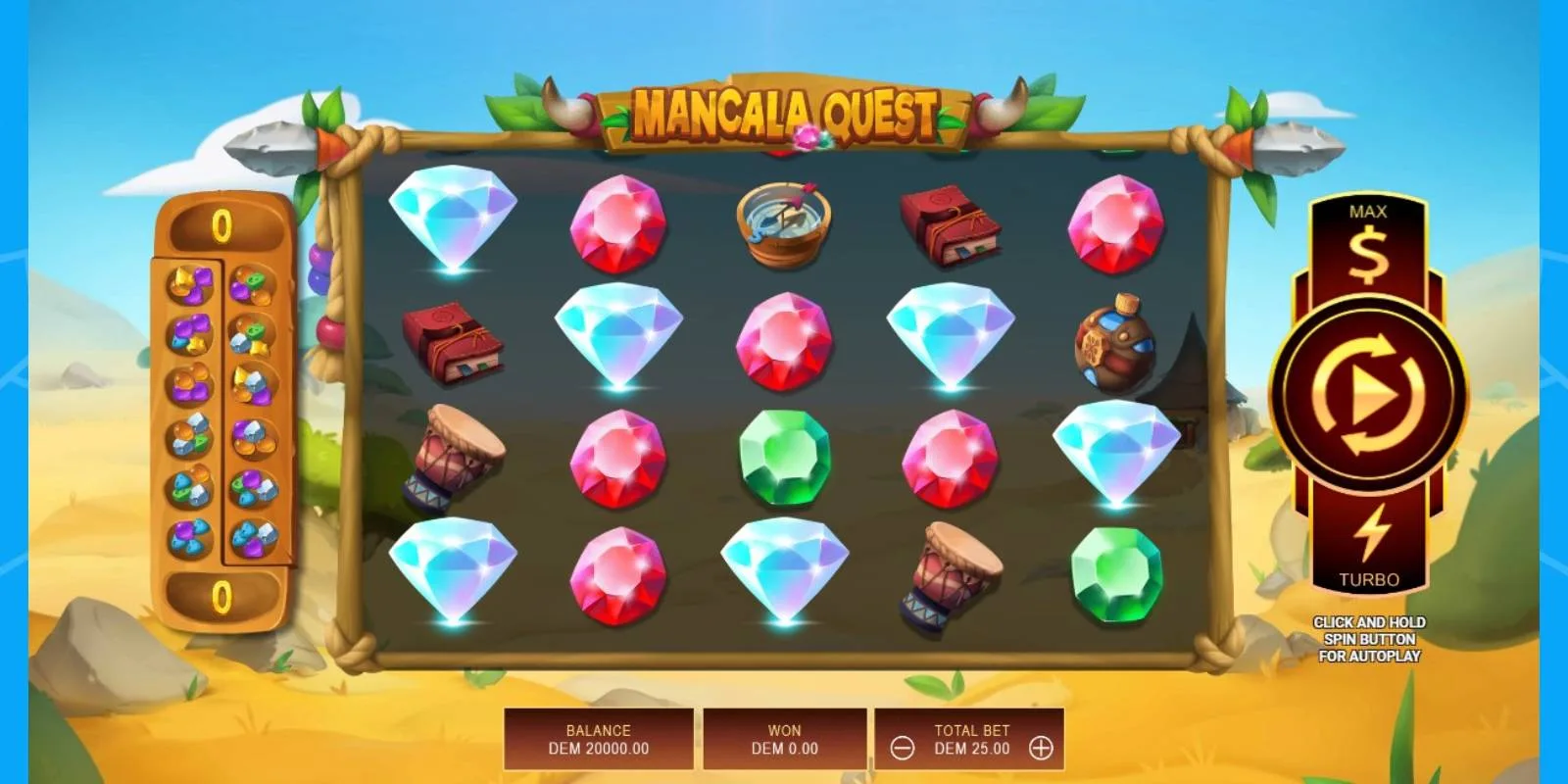 Dice Games
It may come to a surprise for many, but Mancala Gaming is still looking into creating table games such as blackjack and roulette. Because of this Mancala Gaming looked into creating and developing a different type of game. They launched a few dice slots, which is something rather new within the market.
As you may assume, these sorts of slots have to do something with dice. The difference between normal slots and this type of slot is that instead of icons, they use the faces of the normal dice. The games that implement this sort of slot are Portal Romance, as seen in the example below, as well as Blood Romance, Sunken Ships, Brazil Carnival, Tomb of Egypt, Kings and Dragons, and Goal Star.
Apart from this version of slots, which has dice numbers instead of symbols, they are really similar to regular slots, with many players finding them to be different in a positive way. This sort of slot still has common features that "normal" slots have, such as a bonus, and a wild symbol.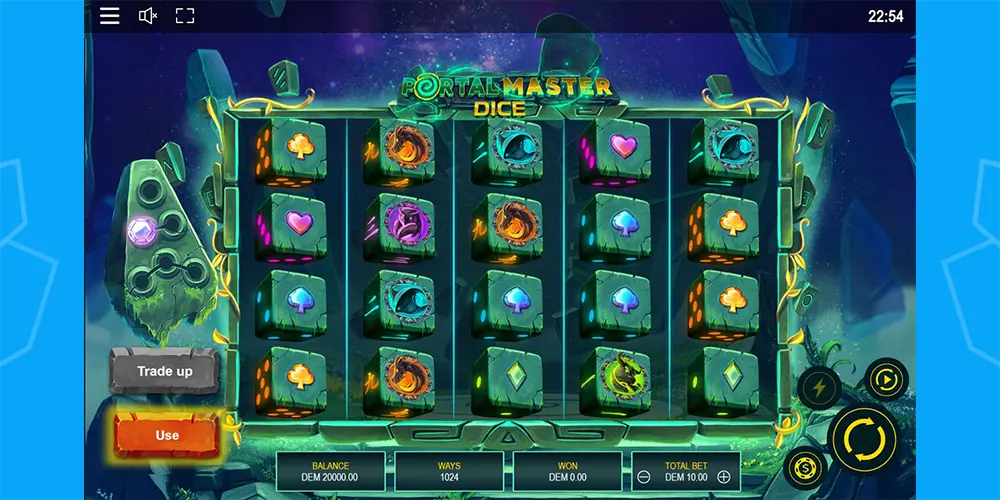 Is Mancala Gaming Mobile Compatible?
There are many reasons as to why players should love playing games produced by Mancala Gaming, but here is another one for you. In this day and age, with smartphones feeling like they are part of who we are, it is critical for a gaming provider to allow players to play games through their smartphone.
Well, Mancala Gaming does just that! They design their games in a way which allows players to play their favourite games on the go. But it is also important to note that their games are available on both smartphones and laptops.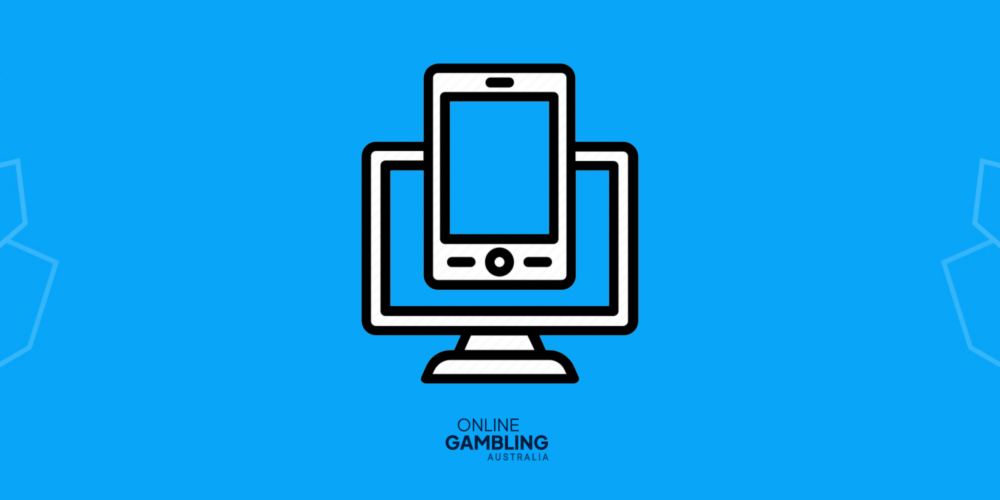 The Security and Licencing of Mancala Gaming
Although Mancala Gaming doesn't really have the longevity side of it, it still has a high level of security. With Mancala Gaming being so promising in its early stages, it was critical to improve their security as they grew. They go through a lengthy process to see the games are completely safe for players to use.
In terms of their licensing, they are authorised by not one, but two of the most reputable regulators in the world, which are the UK Gambling Commission (UKGC) and the Malta Gaming Authority (MGA).
Conclusion
This gaming provider is on its way to the very top. With its creative games and different themes, it really provides players a different way of enjoying their time playing gambling games. Sometimes it sounds like it's too good to be true, but with this gaming provider it's nothing but the truth. In its short span of operation, it is showing a great deal of potential. They check all the important checkboxes, such as games, visuals, audio, and also licensing and security.
Frequently asked questions
When Was Mancala Founded?
The Mancala Gaming Casino Software Provider Company was founded in 2019 and is considered to be quite recent, compared to industry giants like Netent, who have been in the game for over 10 years.
Does Mancala Gaming Provide Live Casino and Table Games?
No, unfortunately they don't provide any live casino games. It only offers slots for now, due to it still being fairly new to the market.
Is it Safe to Play Mancala Games?
It is completely safe to play games which are developed by Mancala Gaming. They have a high security level and are licensed by the UK Gaming Commission (UKGC) as well as Malta Gaming Authority (MGA).
What Devices Are Their Games Compatible With?
The more devices they are compatible with, the better. In fact, their games are compatible with smartphones, tablets, laptops, and computers.
What is Mancala Gaming?
Mancala Gaming is a company in the gambling industry that creates, develops and publishes casino games for online casinos. The online casinos would then provide them to their players.
What Famous Pokies Games Have Mancala Gaming Created?
They have produced numerous popular pokie games over the years. Reel Reel Hot, Seth VS Horus, and Hot Fruits on Ice are some of the most popular pokies they have produced.