Pros and Cons
Pros

Classic yet modern design
Engaging bonus features
Wide betting range
High maximum win of 4,100x
Nudge and Hold mechanics
Cons

No additional game levels
Lacks a gamble feature
Reel Reel Hot Review
Take a spin back in time with Reel Reel Hot, a dynamic pokie that brings the traditional fruit machine into the modern era. This exciting game, developed by the accomplished software provider Mancala Gaming, strikes an excellent balance between retro nostalgia and fresh features.
Stepping into Reel Reel Hot, you're greeted by a radiant array of fruit symbols, alongside the timeless Diamond, Bell, and Bar icons. Each symbol is thoughtfully designed with sharp, detailed graphics and a vibrant colour palette that adds a burst of energy to every spin.
It's not just about visuals however, the game's sound design is an integral part of the experience. Echoing the classic pokie machine sounds, the audio effects bring a rhythmic beat that complements the gameplay, making every win a melodious event.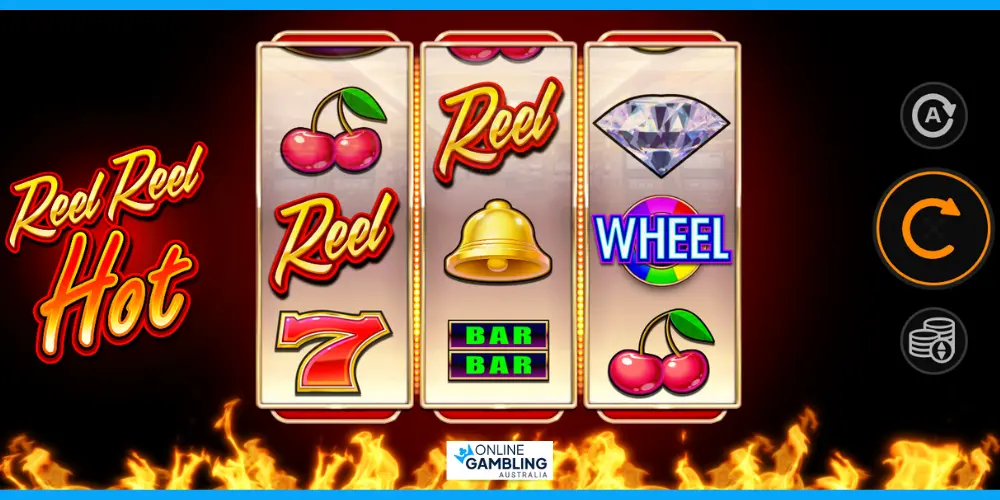 How to Play Reel Reel Hot
Playing Reel Reel Hot is an enjoyable journey that is easy to navigate for both seasoned pokie lovers and newbies alike. You commence your gaming session by adjusting the betting range, which spans from a modest $0.10 to a more daring $200 per spin. Once the bet is set, get the reels spinning with a press of the Spin button, or utilise the Autoplay and Turbo options for a more relaxed or speedy play, respectively.
The game offers a fair RTP of 95%, giving you reasonable chances to win big. The enticing maximum win, a whopping 4,100 times your initial bet, adds a taste of thrill to your every spin. The game introduces an innovative Nudge and Hold feature that provides a unique strategic twist to the standard pokie gameplay.
All-Ways-Pay
What makes this online pokie particularly intriguing is its 'All-Ways-Pay' system, a feature that significantly increases winning possibilities by accepting combinations in any direction across the reels. The game smoothly blends this innovative mechanic with its retro visuals, creating an interactive interface that ensures every spin is a delightful experience.
Even though Reel Reel Hot takes its inspiration from the past, the gameplay experience is anything but outdated. With an array of bonus features, each spin is imbued with potential and suspense, making it a classic pokie with a thrilling modern twist. This attractive combination is what sets Reel Reel Hot apart, making it a must-play for both seasoned and new pokie enthusiasts.
Nudge & Hold Feature
The Nudge and Hold feature provides an intriguing spin to the traditional pokie gameplay, injecting a dose of strategy into the mix. This feature allows players to manipulate the reels manually, granting them a greater degree of control over the game's outcome. Specifically, Nudges are assigned to particular reels and can be used for the subsequent five spins, nudging the reels downwards.
On the other hand, Holds are applied to specific reels and can be activated for an additional five spins. If another Nudge or Hold gets assigned to the reel already carrying one, the usability of the feature extends by another five spins.
Basic Information
Pokie

Reel Reel Hot

Software

Mancala Gaming

Release Date

February 2022

RTP

95%

Volatility

Medium

Maximum Win

4,100x

Minimum Bet

$10

Maximum Bet

$200

Paylines

5

Reels

3

Jackpot

No

Free Spins

Yes
Reel Reel Hot Symbols
In the game of Reel Reel Hot, the symbols are quintessential to classic pokies, delighting players with their traditional aesthetics. These well-loved symbols have been given a modern makeover, offering high-definition, crisp imagery, which greatly adds to the overall gaming experience. Each time these symbols fall into alignment on the reels, they trigger the game's payout mechanism, making for a thrilling pokie experience.
Low-Payout Symbols
The low payout symbols in Reel Reel Hot are a feast for the eyes, consisting of watermelons, cherries, and lemons. These symbols, brimming with juicy vibrancy, set the pokie machine's reels on fire with their frequency, and although their payouts are modest, their regular appearances keep the excitement flowing.
Landing three of these vibrant symbols in a row on a payline will reward you with a small but sweet payout.
High-Payout Symbols
For those hunting for bigger wins, Reel Reel Hot offers a delectable range of high payout symbols. These include the nostalgic figures of the number '7', diamonds, bells, and bars, presented in single, double, and triple configurations. These symbols are designed to set your heart racing, as they offer substantially heftier payouts when they land in sets of three on a payline.
While these symbols are a little shyer than their fruity counterparts, when they do grace your screen, they bring with them the promise of significant wins!
Other Symbols
There are a few other noteworthy symbols in Reel Reel Hot. The Wild symbol is an essential part of the game, capable of substituting for all other symbols, thereby helping to create more winning combinations. During the base game, it appears only on the first and second reels, but during free spins, it graces all three reels.
We also encounter 'Reel', 'Hot', and 'Wheel' symbols on the reels of this pokie. However, they play a crucial role in triggering the game's exciting bonus features, which will be discussed in detail in a separate section.
Symbols Paytable
| | | |
| --- | --- | --- |
| Symbol | Payline  | Maximum Payout |
| 7 | x3 | 10x |
| Diamond | x3 | 8x |
| Bells  | x3 | 6x |
| BAR x3 | x3 | 5x |
| BAR x2 | x3 | 4x |
| BAR | x3 | 2x |
| Watermelon | x3 | 1.4x |
| Cherries | x3 | 1x |
| Lemon | x3 | 1x |
Reel Reel Hot Pokie Bonuses
An impressive element that adds further pzazz to the Reel Reel Hot Pokie is the abundance of bonuses it provides. Each bonus feature is like an unexplored territory full of rewarding treasures that can enhance your gaming experience substantially. Moreover, these features blend perfectly with any online casino bonus when playing for real money, thus amplifying your potential rewards.
In this section, we'll delve into these exciting bonuses, shedding light on their inner workings, which could prove pivotal to your Hot adventure.
Reel, Wheel, & Hot Feature
Reel, Wheel, and Hot symbols serve as the game's bonus symbols, and they work together to trigger bonus features. The 'Reel' symbol appears only on reels 1 and 2 and does not offer payouts, but can activate a bonus feature when it lands on the centre payline with either 'Hot' or 'Wheel' symbols.
The 'Hot' symbol can only appear on reel 3 during the base game, and it can trigger the Free Spins round if it lands on the centre payline with 'Reel' symbols on both reels 1 and 2. Lastly, the 'Wheel' symbol appears on reel 3 only in the base game and can reward a Bonus Prize Wheel if it aligns on the centre payline with 'Reel' symbols on reels 1 and 2.
Bonus Prize Wheel
The Bonus Prize Wheel can be activated by landing a combination of 'Reel', 'Reel', 'Wheel' symbols on the grid, or through a Nudge. Once triggered, the wheel spins to reward a plethora of prizes, including additional free spins, multipliers applicable to the next Free Spins round, or extra Nudges and Holds. Prize multipliers and additional Free Spins can accumulate until the next Free Spins round, heightening the anticipation and potential rewards of this feature.
Free Spins Feature
Free spins are an integral part of any pokie, and in Reel Reel Hot, they are triggered by landing a 'Reel', 'Reel', 'Hot' combination on reels 1, 2, and 3 respectively, in the base game. On activation of the feature, you are awarded ten free spins.
However, if you have managed to accumulate additional spins before triggering the feature, these are added to the initial ten, making this feature particularly potent in terms of potential rewards. Plus, any accumulated multipliers from the Bonus Prize Wheel feature are also applied, adding further excitement to these free spins.
| | | | |
| --- | --- | --- | --- |
| Symbol  | x3 Symbols Payout | x4 Symbols Payout | x5 Symbols Payout |
| 7 | 75x | 250x | 2500x |
| Diamond | 40x | 100x | 500x |
| Bell | 25x | 50x | 150x |
| x3 BAR | 10x | 15x | 25x |
| x2 BAR | 10x | 15x | 25x |
| BAR | 10x | 15x | 25x |
| Watermelon | 5x | 10x | 15x |
| Cherries | 5x | 10x | 15x |
| Lemon | 5x | 10x | 15x |
Extra Free Spins Feature
While the Free Spins feature is already a boon to players, the Extra Free Spins feature in Reel Reel Hot Pokie takes the excitement to an entirely new level. This bonus feature arises from the Bonus Prize Wheel. When the wheel spins, one of the possible awards can be these Extra Free Spins. They accumulate over time, waiting in the wings while you spin through your base game or navigate other bonus rounds.
The real magic happens when the Free Spins feature is next activated. Any Extra Free Spins you've won are added to your initial free spins count, enabling an even longer session of spinning without dipping into your funds. This way, you could potentially land substantial winnings from the payout table.
Remember, any accumulated multipliers from the Bonus Prize Wheel will be applied to these spins too, multiplying the thrill and potential rewards in this spectacular bonus round.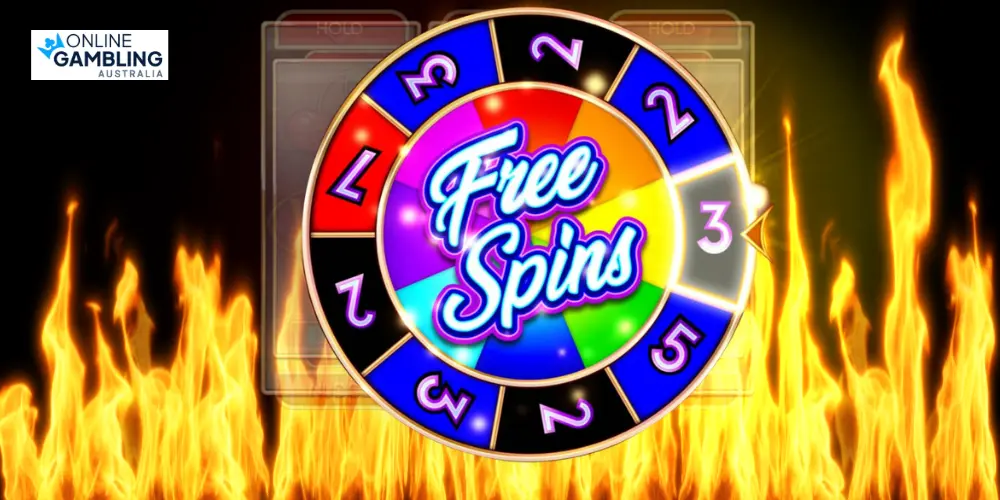 Juicy Wins Await in a Reel Reel Hot | Spin into the Future
Reel Reel Hot is a brilliant embodiment of the classic fruit machine pokie, elevated with modern twists and unique gameplay features. This pokie is an ideal choice for players looking for a nostalgic trip down memory lane, while still enjoying the advanced features of contemporary pokies. It's clever blending of the old and new makes it a stand-out choice for those seeking a fresh but familiar gaming experience.
If you've enjoyed playing this pokie, you might also want to try out other high-quality pokies by Mancala Gaming. With their knack for creating innovative and engaging games, titles like Seance: Mysterious Attic and Seth Vs Horus offer more intriguing adventures with rewarding gameplay. These games further underscore this software developer's reputation for delivering top-tier pokies, ensuring every spin is filled with fun and potential wins.
Get ready to spin the reels at Lucky Hunter and embark on a bountiful journey that combines the charm of classic pokies with the excitement of modern gameplay. So, what are you waiting for? It's time to heat up your pokie experience with Reel Reel Hot!
Frequently asked questions
Who is the software provider for Reel Reel Hot?
The software provider for Reel Reel Hot is Mancala Gaming, a well-known company in the gaming industry.
Can I win real money playing Reel Reel Hot?
Absolutely, you can win real money when you place bets and play Reel Reel Hot at a licensed online casino that offers this game.
What is the maximum win possible on Reel Reel Hot?
The maximum win you can achieve on Reel Reel Hot is 4100x your bet. This means that the bigger your bet, the bigger your potential win!
What's unique about Reel Reel Hot compared to other fruit pokies?
Reel Reel Hot stands out with its blend of classic pokie design and modern features like Nudge, Hold, and a Bonus Prize Wheel. It's an All-ways-pay game that adds an extra layer of excitement to your gaming experience.
Can I change the speed of the reels in Reel Reel Hot?
Yes, there is a Turbo mode in Reel Reel Hot. By activating this mode, the reels will spin at a much faster rate, providing a more rapid gaming experience.
What is the role of the Nudge and Hold features in Reel Reel Hot?
The Nudge and Hold features in Reel Reel Hot allow players to manipulate the outcome of their spins to a certain extent. The Nudge feature lets you move a reel downward to possibly create a winning combination, while the Hold feature lets you keep a reel in place for the next spin.
How are the High-Payout symbols different from the Low-Payout symbols?
The High-Payout symbols in Reel Reel Hot, such as the 7, Diamond, Bell, x3 Bar, x2 Bar, and Bar, offer greater returns than the Low-Payout symbols when they form winning combinations. The Low-Payout symbols like Watermelon, Cherries, and Lemons provide smaller rewards. Both sets of symbols require at least three in a line for a win.