Pros and Cons
Pros

Vibrant cherry bomb theme
Smooth and immersive gameplay
Captivating visuals and animations
Exciting multiplier feature
Wide compatibility across platforms
Creative and innovative gameplay mechanics
Cons

No bonus game or free spins
RTP slightly below average
Cherry Bombs Pokie Review
In the sphere of online gambling, Cherry Bombs shines as a thrilling 5×3 reel pokie from Mancala Gaming. It offers ten paylines, all hosting radiant and energetic symbols including cherries, BARs, and the timeless lucky 7. This game encapsulates the excitement of modern pokies, delivering a contemporary vibe that both seasoned players and newcomers will appreciate.
Cherry Bombs doesn't just hinge on modern visuals. It enriches the online gaming experience by integrating high-quality graphics and explosive animations. These modern additions construct a dynamic gameplay environment that appeals to both classic pokie lovers and modern pokie fans. This fusion of classic and contemporary elements elevates it from a standard pokie to a must-play game for anyone interested in online gambling.
Similar Games
You can observe parallels between Cherry Bombs and other popular games in the industry. Notably, NetEnt's Hotline pokie also embraces a similarly retro feel. Moreover, this classic vibe extends beyond pokies to the live casino realm, with Side Bet City showcasing a similar thematic approach.
If you love Mancala Gaming, on the other hand, it has a suite of engaging games that may appeal to you. Other noteworthy Mancala titles include Spirit of the Lake, a serene game that takes players on a tranquil journey across a mystical lake, offering a beautifully immersive gaming experience or Mancala Quest where the game takes players on a gem collecting, African adventure.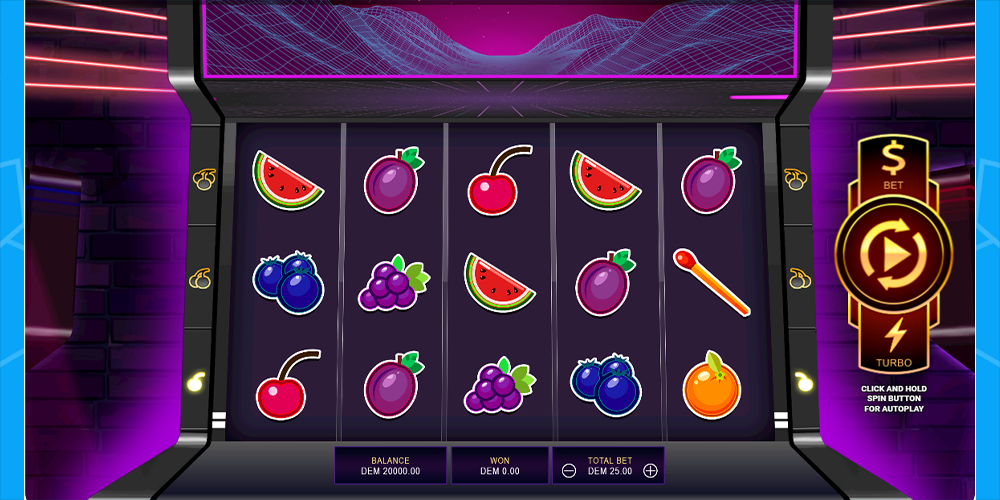 How to Play Cherry Bombs Pokie
Before diving into real money play, novices can test the waters with the demo version of Cherry Bombs to get acquainted with the gameplay mechanics. When ready to ignite the real gaming experience, bets can be placed using real money.
What sets Cherry Bombs apart from other pokies is its dynamic playing field and win line system, which evolves as you advance through the game levels.
The 3 Levels of Cherry Bombs
In Level 1, the gameplay unfolds on a 5×3 grid, offering 25 win lines for players to land winning combinations.
As you advance to Level 2, the game switches to a cluster-winning system on a 6×4 field, increasing the possibilities for more explosive wins.
Finally, in Level 3, the game field expands to an impressive 7×5 grid, once again utilising the cluster-winning system. This unique mechanism adds an extra layer of excitement and novelty to the gameplay.
While the Return to Player (RTP) rate of 95% might be slightly below the industry average, the game's distinctive features and dynamic gameplay provide plenty of opportunities for players to reel in some juicy wins.
The gameplay itself is quite straightforward – choose your preferred bet amount and spin the reels to see if fortune favours your spins.
Basic Information
Pokie

Cherry Bombs

Software

Mancala Gaming

Release Date

December 2020

RTP

95%

Volatility

High

Maximum Win

2,500x

Minimum Bet

$0.25

Maximum Bet

$250

Paylines

25 / Clusters

Reels

5-7

Jackpot

No

Free Spins

Yes
Cherry Bombs Feature
The game takes an explosive twist with its special symbols – The Cherry Bombs pokie features two unique special ignition symbols: the Single Matchstick and the Double Matchstick. Whilst these symbols don't offer direct payouts, they play a crucial role in triggering Cherry Bomb explosions, which can significantly increase your winnings.
The Single Matchstick
The Matchstick is present throughout all three gameplay levels, appearing on all reels. For those that surface on reels 2, 3, and 4, they can point in any direction – up, down, left, or right. However, Single Matchsticks that appear on reel 1 will only point up or down to the right, and those on reel 5 will point up or down to the left.
The Double Matchstick
This in contrast, only appears in the second and third levels of the game. During Level 2, these symbols can emerge on reels 2, 3, 4, and 5, while in Level 3, they only appear on reels 3 and 5. The Double Matchstick has the unique attribute of pointing both left and right, as well as either up or down.
Adding an element of thrill to the game is the "2nd Chance" spin. If a Single Matchstick appears near a Cherry Bomb symbol but isn't pointing towards the fuse, the Matchstick spins to offer a 1-in-4 chance of triggering the Cherry Bomb explosion. Notably, the odds of triggering a Cherry Bomb may increase if more than one Cherry Bomb is adjacent to the Matchstick, adding an extra layer of excitement to your gameplay experience.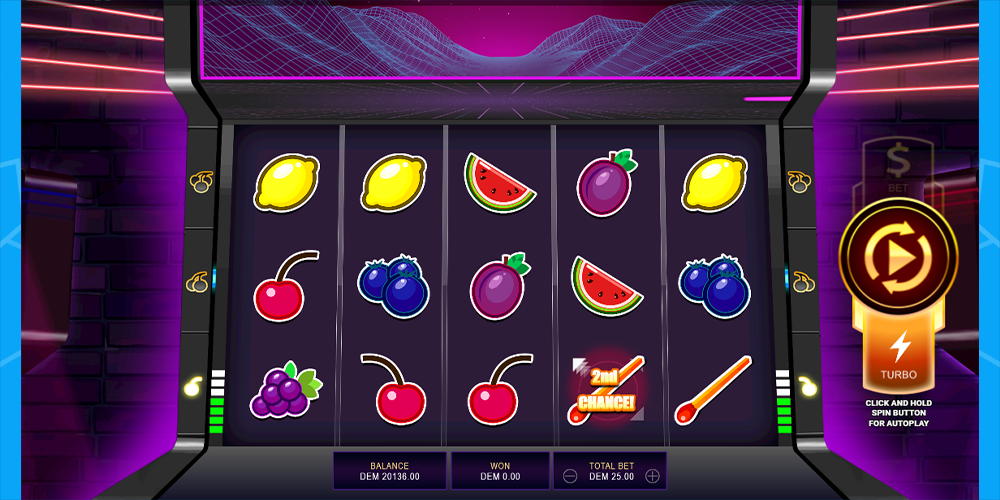 The Cherry Bomb Symbols
The symbols in Cherry Bombs are a delightful mix of vibrant fruit icons, each with its own unique value. On the high end of the pay scale, you'll find the ripe and juicy watermelon, which can offer substantial rewards potentially worth thousands of times your original bet. The tangy orange, which holds the potential to multiply your bet into hundreds, follows closely behind. The grapes also add excitement to the mix, offering a chance to transform your bet into a significant return.
Adding to the lower end are the sweet blueberries and plums, while their rewards might be smaller in comparison to the other symbols, their ability to multiply your bet can make every spin a potential win.
Last but not least, let's not forget the bright yellow lemon, despite its modest position in the pay table, it holds the capacity to turn even the smallest bet into a reward. The diverse range of symbols and their varying values make Cherry Bombs a vibrant and dynamic pokie game.
Symbols & PayTable
Cherry Bombs Pokie is a game bursting with colour and juicy rewards, thanks to its array of symbols. You'll encounter a total of eight different symbols, six regular and two special. The regular symbols are divided into two categories: higher value symbols, which include the watermelon, orange, and grapes; and lower-value symbols, such as blueberries, lemons, and plums. Each fruit has been carefully crafted to bring a lively and vibrant aesthetic to the game.
Cherry Bombs Payout Overview
Below, you'll find a comprehensive list of the fruit symbols and their corresponding payouts, ranging from the mouth-watering watermelon to the zesty lemon. Each fruit comes with its own unique rewards, so keep an eye out for these juicy symbols on your reels!
Payout overview level 1
| | | |
| --- | --- | --- |
| Symbol | Payline  | Maximum Payout  |
| Watermelon  | x5 | $1,000 |
| Orange | x5 | $400 |
| Grapes | x5 | $200 |
| Blueberries  | x5 | $120 |
| Plums | x5 | $28 |
| Lemon  | x5 | $10 |
Payout overview level 2
| | | |
| --- | --- | --- |
| Symbol | Payline  | Maximum Payout  |
| Watermelon  | x24 | $2,500 |
| Orange | x24 | $2,000 |
| Grapes | x24 | $1,750 |
| Blueberries  | x24 | $1,500 |
| Plums | x24 | $1,000 |
| Lemon  | x24 | $750 |
Payout overview level 3
| | | |
| --- | --- | --- |
| Symbol | Payline  | Maximum Payout  |
| Watermelon  | x35 | $300 |
| Orange | x35 | $250 |
| Grapes | x35 | 200 |
| Blueberries  | x35 | $150 |
| Plums | x35 | $100 |
| Lemon  | x35 | $50 |
Cherry Bombs | Levels Explained
Playing Cherry Bombs isn't just a simple spin-the-reels experience. The online pokie elevates the gameplay through its unique multi-level system that adds an exciting layer of progression and anticipation.
Level Progression Mechanics
Cherry Bombs introduces a dynamic and engaging progression system across three different levels. As a player, you start at Level 1 in the base game. Each time a Cherry Bomb explodes, it contributes to the progress bar. Once the bar is full, you advance to the next level, bringing more explosive Cherry Bombs into play.
Enhanced Rewards in Higher Levels
Progressing through the levels isn't just for bragging rights; it also enhances your chances of bigger wins. With each level, the Cherry Bombs become more powerful, starting from Single Cherry Bombs in Level 1, transforming into Double Cherry Bombs in Level 2, and culminating with Triple Cherry Bombs in Level 3. This progression adds an intriguing element of strategy and anticipation to the gameplay, keeping players engaged as they aim to reach the top level and unlock the pokie's full potential.
Single Cherry Bomb
The Single Cherry Bomb is a standard bearer. Present across all three gameplay levels and on any reel, these explosive symbols don't pay out themselves, but they hold the key to creating potentially substantial additional wins.
Their 'fuse' has an intriguing dynamic orientation – leaning to the left or right on reels 2, 3, and 4, leaning rightwards on reel 1, and leftwards on reel 5. The real excitement kicks in when the Single Cherry Bombs explode, causing an impactful destruction of the symbols that lie directly above, below, and to the left and right of them.
In the Level 1 base game, their explosions prompt symbols from above the blast zone to cascade down. This movement can not only instigate further line wins but also potentially trigger more Cherry Bomb explosions. As the game advances to Levels 2 and 3, the Single Cherry Bomb maintains its explosive pattern. Instead of causing cascades though, all symbols affected by the explosion, including the initiating Matchstick(s), are replaced by the same randomly selected regular symbol.
Double Cherry Bomb
The Double Cherry Bomb raises the stakes in the feature Level 2 gameplay. Exclusive to the middle reels (2, 3, 4, & 5), this symbol boasts two fuses leaning both left and right, setting the stage for even bigger blasts. Upon ignition, the Double Cherry Bomb annihilates all adjacent symbols around it, including the triggering Matchstick(s). The aftermath of the explosion sees the ravaged symbols replaced by the same randomly chosen regular symbol, giving way to a victorious winning cluster.
Triple Cherry Bomb
The Triple Cherry Bomb is the pinnacle of explosive power in Cherry Bombs pokie. This symbol emerges only in feature Level 3 and exclusively on the central reel (reel 4). Characterised by three fuses merging into a single one, it can lean either right or left, amplifying the anticipation.
When this powerhouse detonates, it unleashes a blast wave that engulfs all symbols on the 5×7 game grid. In a spectacular aftermath, every single symbol on the grid is replaced by a randomly chosen regular symbol, offering an unparalleled opportunity to secure impressive wins.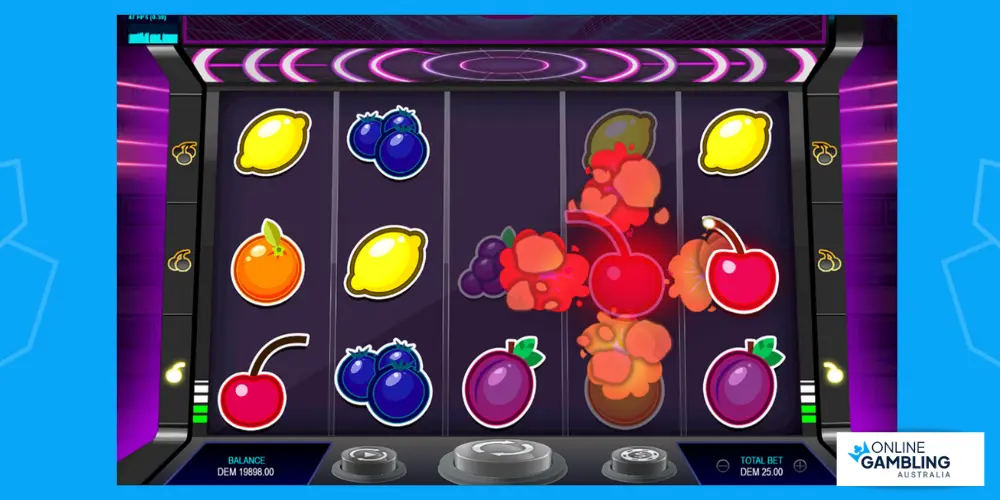 Bonus Features in Cherry Bombs
Cherry Bombs pokie takes a uniquely appealing route by diverging from the typical assortment of special features often observed in contemporary pokies. Instead, it innovatively captures the player's interest with its exclusive Prize Multiplier feature.
This special feature pays homage to the straightforward gameplay of classic pokie machines, devoid of the need to navigate through intricate bonus rounds or meet special conditions. In essence, Cherry Bombs doesn't rely on a single overarching bonus feature; rather, it weaves an entire tapestry of special gameplay elements that make it truly distinctive.
Prize Multiplier Feature & Mechanics
The Prize Multiplier is the game's primary special feature. This feature activates when all fifteen positions on the reels fill up with the same symbol during a single spin. Accomplishing this will double the total win from that spin.
Cherry Bombs | Free Spins
Cherry Bombs offers an interesting twist on the standard Free Spins feature that is often found in other pokies. Here, progression through the game's levels depends on the sequential explosions of Cherry Bombs. Every time a Cherry Bomb explodes, it injects a certain amount of energy into the Level-Up Meter, which is conveniently located on both sides of the reels.
Players receive a burst of excitement as they climb the levels. Upon reaching a sufficient energy level to transition from Level 1 to Level 2, players are awarded five Free Spins. The thrill intensifies when moving from Level 2 to Level 3, where ten Free Spins are up for grabs. It's important to note, however, that no Free Spins are awarded when descending levels.
During the Free Spins, the energy level of the meter remains constant. But that's not to say it can't increase; Cherry Bomb explosions during these Free Spins can cause the energy level to surge. If, after the Free Spins are exhausted, there hasn't been enough Cherry Bomb activity to maintain the new level, the gameplay will gracefully drop back to the previous level. This dynamic adds an additional layer of suspense and thrill to each spin in the Cherry Bombs pokie.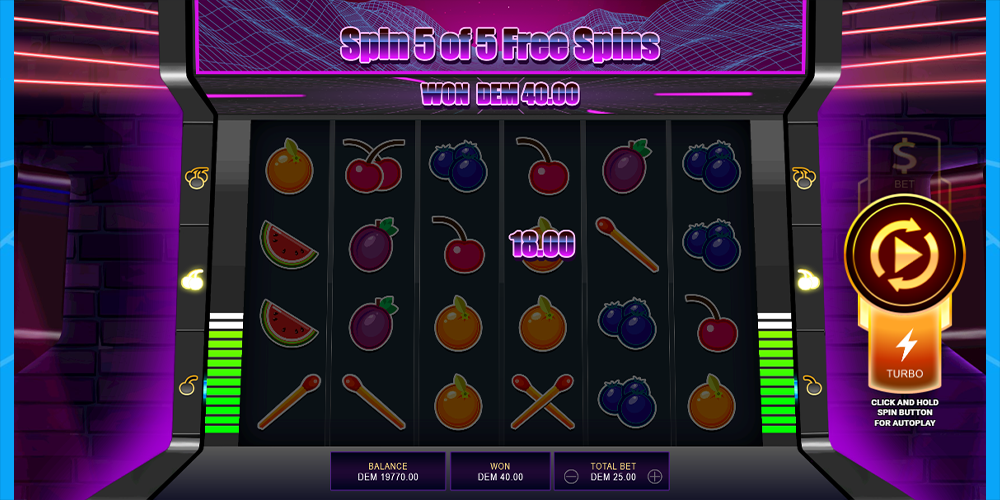 Unleashing the Final Burst: Cherry Bombs Wrap-up
Cherry Bombs stands as an exceptional pokie, offering a unique blend of classic and modern elements in its gameplay. Its engaging theme, coupled with its vibrant graphics and simple yet rewarding Prize Multiplier feature, make this game a worthy addition to any player's gaming repertoire. The pokie is able to be played at multiple different casinos, such as CasinoChan.
The game may have its limitations, such as the absence of bonus games or free spins and a slightly below-average RTP, but these factors do not diminish the overall fun factor and the chance of reaping handsome rewards. Cherry Bombs is a testament to Mancala Gaming's capability to deliver exciting and modern gaming experiences.
So, are you ready to ignite your pokie fun with Cherry Bombs? Give it a spin today, and you might just land an explosive win!
Frequently asked questions
Can I play Cherry Bombs for Free?
For sure! Mancala Gaming offers a free demo version of the game where you can practise prior to playing with real money. Any online casino that is partnered up with Mancala will provide players with a free demo version.
How many paylines does Cherry Bombs have?
Cherry Bombs offers players 30 fixed paylines, providing various opportunities to win.
Are there special symbols in Cherry Bombs?
Yes, Cherry Bombs introduces special symbols like single, double, and triple Cherry Bombs, along with the matchstick symbol, all of which add a dynamic element to the game.
How does the level system work in Cherry Bombs?
The game has a unique progression system across three levels. Players start at Level 1, and by filling up the progress bar, triggered by Cherry Bomb explosions, they can advance to higher levels, each one offering more potent Cherry Bombs.
What are the highest and lowest value symbols in Cherry Bombs?
The watermelon symbol offers the highest payout, with up to x1000 the bet, while the lemon symbol has the lowest value, paying up to x10 the bet.
Can I play Cherry Bombs on mobile devices?
Absolutely! Like all Mancala Gaming's products, Cherry Bombs is fully optimised for mobile play. It's compatible with iOS and Android devices.
How volatile is Cherry Bombs?
Cherry Bombs is classified as a medium volatility pokie. This means it offers a balanced mix of win frequency and potential payout size, appealing to a wide range of players.