Pro's and cons
Pro's

Retro Theme
Three Different Game Levels
Innovative Game
Exciting in-game features
Con's

Pay out percentage could be better
Cherry Bombs Review
Ready to go back in time with Cherry Bombs? Relive that nostalgic feeling of arcade rooms and flashing lights thanks to the creative design of this pokie. The glowing neon purple lights and the flickering sign with the pokie's logo set the mood, with the vintage-style symbols of fruits and matchsticks, and an 80s-style soundtrack complimenting the theme nicely. A similar theme is used in NetEnt's Hotline, and you can even find this retro theme in the live casino at the game Side Bet City.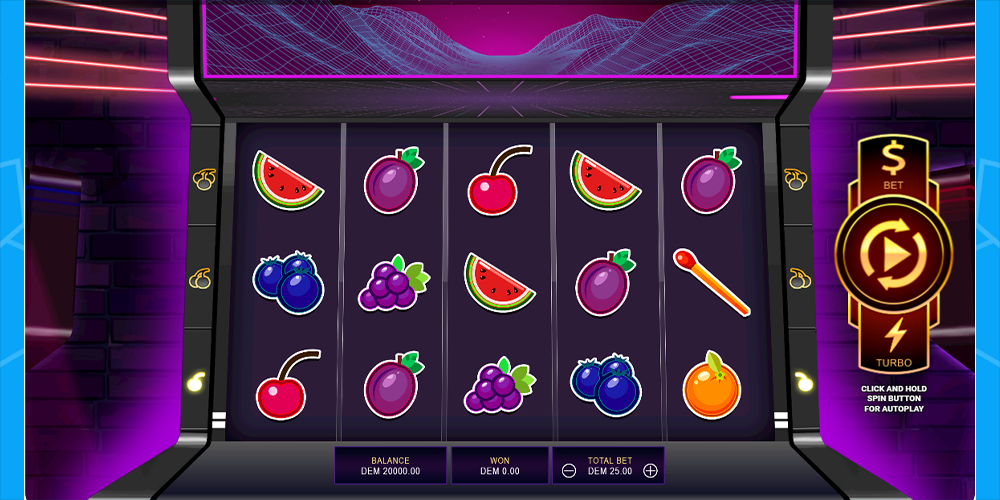 How to Play the Cherry Bombs Slot
Since the payline of Cherry Bombs is fixed, the pokie is relatively easy to play and understand. Before you hit "spin", make sure to adjust the amount of your bet by clicking on the + or – signs, with the minimum bet being $25 and the highest being $2,250. There are also turbo and autoplay features that make the reels spin faster and spin on their own for a predetermined amount of spins, respectively. The game operates with 25 standard winlines.
Basic Information
Pokie

Cherry Bombs

Software

Mancala Gaming

Release Date

December 2020

RTP

95%

Volatility

Extreme

Maximum Win

3.000x

Minimum Bet

$0.25

Maximum Bet

$250

Paylines

25

Reels

5

Jackpot

No

Free Spins

Yes
Symbols
Every symbol has different payouts, so make sure to understand how much each symbol is worth before you start spinning. The highest paying symbol is the watermelon, with the possibility of winning x1000 your original bet!
This pokie's RTP is 95% and has a high volatility, which means that players might have to spin several times before they hit a high payout. The 95% RTP is used in (almost) all games from Mancala Gaming, other examples would be Spirit of the Lake, Mancala Quest and the Hot Fruits on Fire pokie.
Cherry Bombs Symbols and Paytable
| | |
| --- | --- |
| Symbol | Maximum Pay out |
| Watermelon | 3, 4, 5 on the payline = x3, x50, x1000 |
| Orange | 3, 4, 5 on the payline = x1.2, x16, x400 |
| Grapes | 3, 4, 5 on the payline = x0.8, x10, x200 |
| Blueberries | 3, 4, 5 on the payline = x0.6, x8, x120 |
| Plum | 3, 4, 5 on the payline = x0.28, x2, x28 |
| Lemon | 3, 4, 5 on the payline = x0.16, x1, x10 |
Cherry Bombs Bonuses
This pokie has three levels of gameplay. This first level is the base game. This takes place on a 5×3 grid. The second level takes place on a 4×6 grid and it's a cluster pay game. Lastly, the third level is also a cluster pay, but it happens on a 5×7 grid. The cherry bombs and matchsticks control the game's progression and you can see which level you're on by looking at the progress line on both sides of the reels.
The cherry bomb explodes when a matchstick is aligned with the bomb's fuse. Cherry bombs can also be set off if they're in the blast zone of another cherry bomb explosion. Let's go over the different types of cherry bombs and matchsticks.
Single Cherry Bomb
The single cherry bomb can show up in all three levels of the game, on any of the reels. When it explodes, it will destroy the symbols that are to its left and right, and those above and below it. After the explosion, there will be a cascade of symbols that can lead to more explosions or wins. In the second and third levels, the exploded symbols will be randomly replaced by a regular symbol.
Double Cherry Bomb
A double cherry bomb will only show up in level 2 and on middle reels. This one has two fuses, one to the left and another to the right. Its explosion will destroy all the symbols around it.
Triple Cherry Bomb
This one will only appear during level 2 on the centre reel. Its fuse can either lean to the left or right, and it will destroy all the symbols on the grid.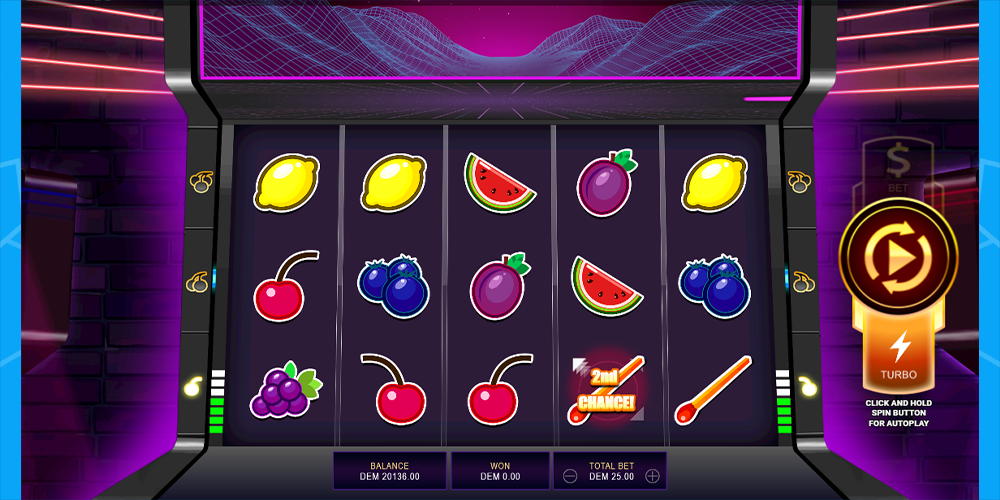 Single Matchstick
A single matchstick can show up on all three levels, and it can point either to the left or right, or up or down.
Double Matchstick
This will only appear on levels two and three. It can point up, down, left, or right.
During the base game, a second chance spin will be awarded if a single matchstick lands near a cherry bomb, but it's not pointing towards the fuse. The matchstick will then spin and realign itself with the fuse, setting off the cherry bomb.
In order to move from level to level, you will need cherry bombs to explode, as every time they explode, they add energy to the progress meter. When the meter is charged enough, it will award the player with five free spins to move from level 1 to level 2. Then another ten free spins will be given to move from level 2 to 3.
However, if not enough cherry bombs go off during the free spins and the meter isn't charged enough to make it to the next level, then the meter will go down.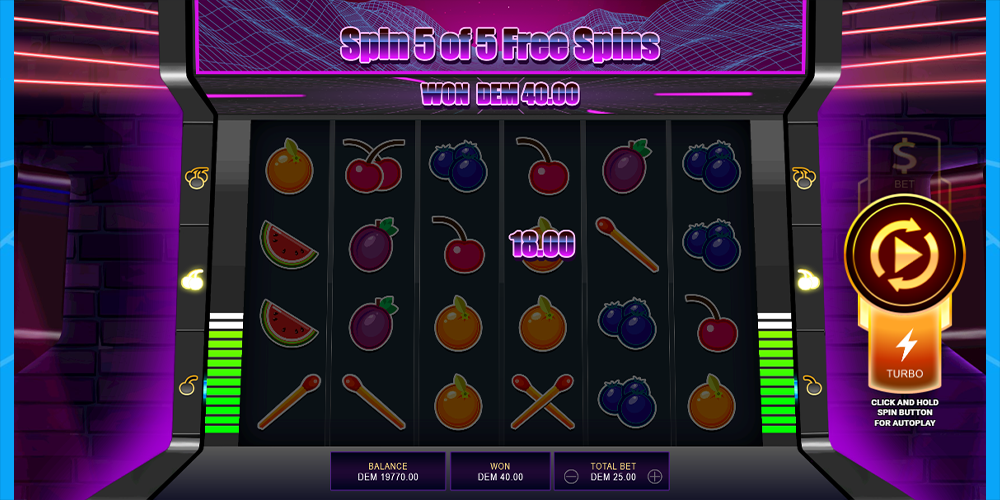 Cherry Bombs an Explosive Pokie
While Cherry Bombs mimics an arcade-style design, it certainly is a step up from the vintage arcade games due to its multi level games and exciting bonus features! Mancala Gaming showed it's innovativity with some unique bonus features. This pokie is definitely one you should try out if you're looking for a pokie that can guarantee you a good time and awesome bonuses!
Frequently asked questions
Can I play Cherry Bombs for free?
Yes, demo versions of the game are available. This will allow you to get the hang of the game before betting any of your actual money.
What os Cherry Bombs' RTP and volatility?
This pokie has an RTP of 95% and is extremely volatile. 
Is there a progressive jackpot?
No, Cherry Bombs does not have a progressive jackpot. However, there are several other exciting in-game features and bonuses that players can enjoy.
Can I play Cherry Bombs on mobile?
Yes. Mancala Gaming has designed Cherry Bombs to be compatible with mobile devices, so players can play on the go!
What are the minimum and maximum bets for this pokie?
The lowest bet you can place is $0.25, which is higher than usual for a minimum bet. The highest you can bet is $250.
What are the different levels in the Cherry Bombs game?
Cherry Bombs has a unique feature, which makes you move through different levels. Levels are unlocked by making cherry bombs explode. When you are playing in a higher level in this pokie you get certain advantages, and better chances at higher prices.