Side Bet City Review
This game's primary emphasis is on a kind of wager known as a side bet, which plays a significant role not just in poker games played in casinos but also in ultimate hold 'em poker and other variants of the game played in other settings.
Side bets are, in all essence, wagers that play a supporting role during a game of poker; nevertheless, in the context of side bet city, these bets take on the role of the game's protagonist. It is as if you are there in person, witnessing the cards being dealt in front of you, thanks to the entertaining dealers who are running the game and the high-quality video.
Let's take advantage of Side Bet City's Great and engaging visuals, some of the highest quality dealers, and some of the most cutting-edge technology, and dive right into the core concepts of this fantastic online casino game!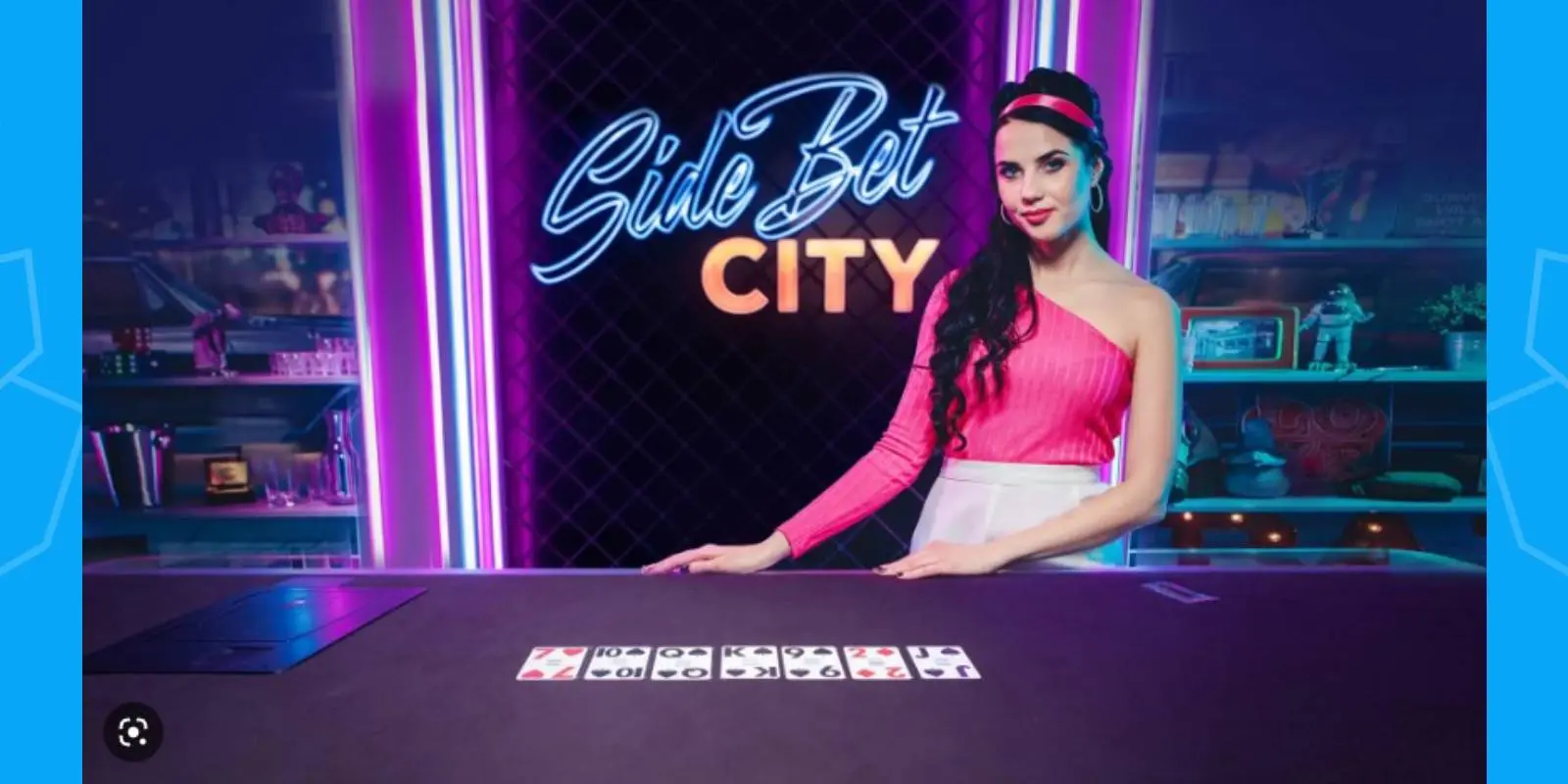 Mechanics, RTP, & Betting Amounts
The gameplay is quite similar to that of the vast majority of other live dealer games; however, the primary difference is in the types of wagers that may be placed.
If you play a three-card hand and do everything perfectly, the return-to-player percentage for this game is 96.69%. However, the return to player (RTP) for larger hands is reduced to compensate for this fact.
The cards in Side Bet City are dealt from a single deck, and the deck is shuffled after each round of play. In spite of the name, there are no opportunities to participate in side bets while playing this game. You are only allowed to participate in the game's four primary wagering options. The primary emphasis of the game is not placed on the wagers that are more often known as side bets. It is also worth noting that the minimum amount a player can bet is $0.50 per round, whereas the maximum amount is $250 per round.
How To Play Side Bet City
At the beginning of each game, the players have the option of selecting a coin from the pile. Choose one of the four possibilities that have been laid out in front of you and put the coin on that choice. As long as the traffic light is still green and yellow, you are able to play and make adjustments to this wager. As soon as the colour changes to red, all bets are called off, and the money that was staked will be used for the next round.
After then, the dealer will begin the process of dealing out the cards. First, he will draw three cards for the three-card hand bets that have been placed.
If you have a bet put here and a winning hand is generated, the winnings will be paid out to you as soon as they are determined. In the meanwhile, the dealer will draw two more cards to make a hand with five cards, and then two more cards after that to make a hand with seven cards.
With the exception of the "All Lose" prize, all winnings are handed out as soon as the winner is picked. It won't pay out until the conclusion of the round, and even then, only if none of the other three choices were successful.
Technical Evaluation
When it comes to having a look at the technology that is employed by this live casino game, one would be able to discover that the game makes use of technology of the best possible quality. To begin, streaming is performed in real-time using some of the finest quality cameras and streaming equipment available. The connections are excellent, and players have reported very few if any, severe outages or significant connection losses. In addition, everything is provided at a fast frame rate and in a clear, high-quality format.
This is crucial for the players since it is their window into the game itself; if it is delayed or confusing, it may make the experience less enjoyable overall. On the other hand, this is not the situation for the player participating in the live poker game.
Dealer Evaluation: Interactivity, Player Engagement
Take a look at one of the most integral parts of a live dealer game within an online casino, that being the dealers themselves. Dealers are supposed to be interactive and lively, being able to engage the attention of the player. The dealers for Live Side Bet City are no exception. Even their attire is on par with the Miami vice-style 80's theme, with bright blue and pink colours representing the vibrance of that era.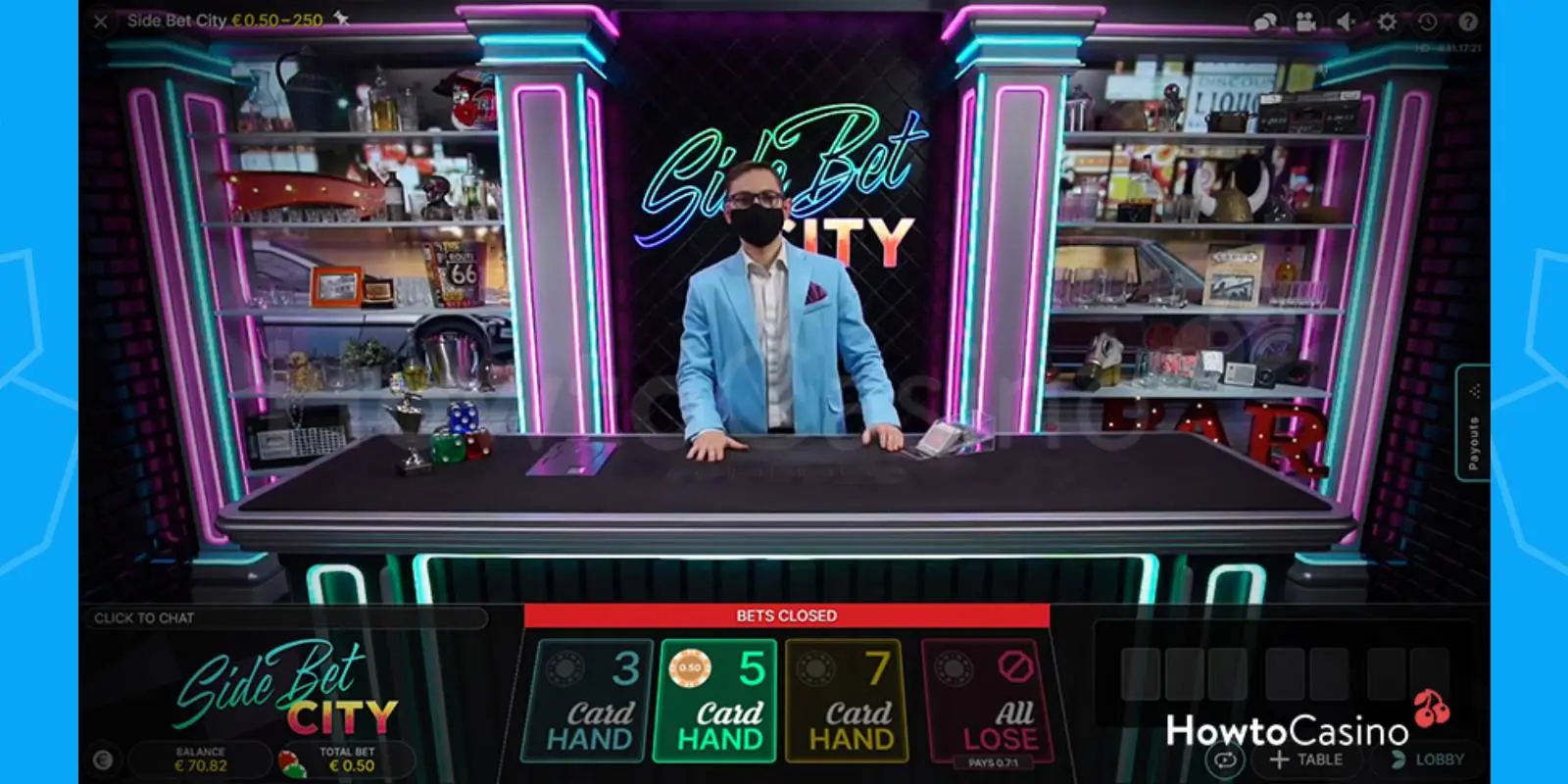 Payouts
For three of the four primary bets, you will often get payments for the same winnings. The prices, however, are quite different. The Royal Flush is the highest-paying hand for the three major wagers. Getting paid out 100:1 for a safe three-card poker hand is a huge bonus. In comparison, a five-card royal flush pays out 1000:1 and a seven-card royal flush pays out 500:1!
A straight flush pays 40:1, a normal flush pays 4:1, a straight pays 5, a full house pays 35, and a pair of jacks or better pays 1. Straight flushes pay 250:1, full houses pay 100:1, four-of-a-kind pay 50:1, flushes pay 25:1, straights pay 7, three-of-a-kind pay 4, two pairs pay 2, and jacks, queens, and aces pay 1. Finally, a straight flush pays 100:1, a full house 7:1, a flush 5:1, a straight 4:2, and a straight 3:2. These payouts are for seven-card hands. All draws payout at a rate of 0.7:1.
Any Extra Features?
If this were any other poker-based live casino game, there would typically be quite a bit of discussion about side bets. However, given that side bets have taken the place of main bets, side bets themselves are nowhere to be seen.
This indicates that this particular online casino does not actually have a great deal to offer in the way of unique features.
Conclusion
As a result of the all-encompassing human element that is represented by the live dealers themselves, the live dealer games offered by online casino gambling sites are among the most complex and precision-based games available. The live dealer games at online casinos and online gambling sites are among the most notable examples of some of the most important aspects of both of these types of establishments.
The developers, which are Evolution Gaming, take care of everything via careful preparation and a lot of hard work. As a result, they are able to present the player with a magnificent casino game that has amazing aesthetics and a new viewpoint on the game of poker.
Frequently asked questions
What Sort Of Poker Is Offered by Side Bet City?
As the namethe live casino game would suggest, this sort of poker focuses mostly on the side bets, which end up taking the place of the main bets.
Which Developers Have Made this Online Casino Game?
Evolution Gaming was responsible for the creation of this live casino game. They are one of the most realiable gaming providers in the market, having created other innovative games for players to play.
How Many Betting Options does the Player Have?
When playing this live casino game, the player has around four betting options to be able to play. It is critical for the players to know exactly what each betting option is and what outcomes they would want.
How is the Streaming for Live Side Bet City?
Streaming is accomplished through cutting-edge cameras and streaming technology to ensure everything can be seen perfectly and accurately.
What Are The Payouts In Live Side Bet City?
In Live Side Bet City, A straight flush pays 40:1, a normal flush pays 4:1, a straight pays 5, a full house pays 35 etc… there are countless other payouts available in the Payouts section.
What Is The RTP Of Live Side Bet City?
The RTP of Live Side Bet City is 96.69% when having a three-card hand. When having more than that amount, the RTP would decrease.