Top Online Casinos for Playing 7's On Fire
Finding a quality online casino is crucial for a safe and enjoyable gambling experience, especially when it feels like an endless maze to sift through the abundance of options. Australians seeking a reputable venue need look no further; our meticulous reviews sift through the myriad of platforms to spotlight the ones offering ironclad security, generous perks, and the full spectrum of player benefits. Below, we've curated a list spotlighting our favourite destinations for indulging in games like 7's On Fire Live, ensuring you're playing at the best of the best.
What is 7's On Fire Live?
7's On Fire Live is not your typical online pokie; it's a dynamic live dealer game that infuses the classic pokie experience with the electric atmosphere of live casino play. Standing out in a sea of digital-only options, it pairs the allure of a one-line pokie with the strategy of roulette, boasting a live component that brings the game to life.
The unique format includes elements like a Random Number Generator (RNG) to ensure fairness, while maintaining a competitive Return to Player (RTP) rate and balanced volatility. From the vivid hues of blazing sevens to the engaging sounds that punctuate every win, 7's On Fire Live captivates with every spin. The game's hosts, more than mere croupiers, are the ringmasters of excitement, guiding players through the scorching action in real-time.
The Developer of 7's On Fire
Authentic Gaming is the architect behind 7's On Fire Live. Since its inception in 2015, this Malta-headquartered innovator has carved a niche in the live roulette space, boasting an impressive portfolio that merges the glamour of casino floors with the innovation of studio-based games.
Partnered with Genting Casinos UK, a titan in the global land-based casino arena, Authentic Gaming brings expertise from the industry's giants to the digital domain. This game, a testament to their player-first philosophy, showcases their commitment to high-quality live gaming experiences for both mobile and desktop players. With 7's On Fire Live, Authentic Gaming maintains its reputation for excellence, delivering a game that truly stands out in the crowded landscape of online pokies Australia.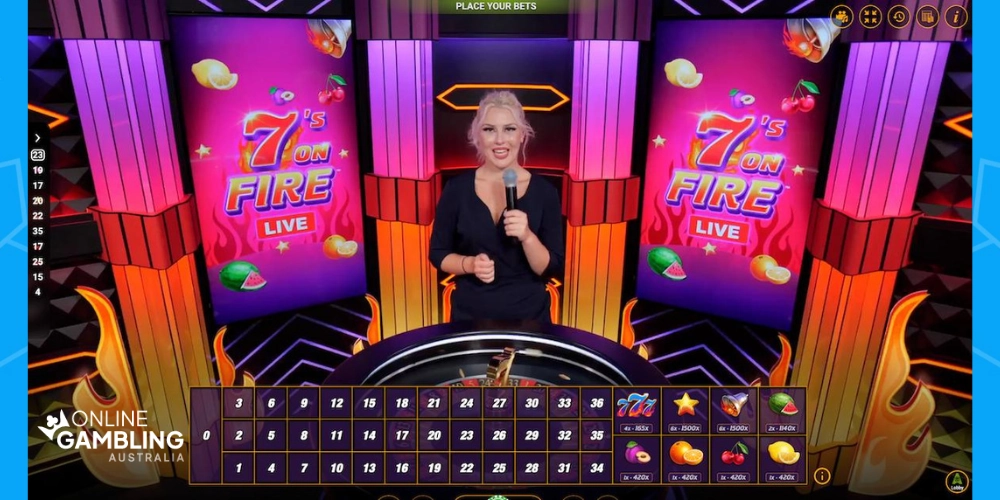 How to Play 7's On Fire Live
7's On Fire Live presents a unique gameplay experience that cleverly combines elements of pokie action with the thrill of live roulette. At its heart, the game operates on a one-line six-column format that's simple yet engaging. Players place their bets on which symbols they believe will appear, much like choosing numbers in roulette. But instead of a ball spinning in a wheel, the symbols land in slots to determine the outcome.
The live dealer aspect brings a communal and interactive dimension to each round, with players witnessing the outcome in real-time, accompanied by a professional host. Special features and multipliers add layers of excitement and potential rewards to the gameplay. For those ready to heat things up with this fiery pokie, the next section will detail the special features that make 7's On Fire Live a scorching hot choice.
7's On Fire Bonuses
7's On Fire Live turns up the heat with its bonus features, which can significantly increase the potential rewards for players. Approximately every eighth round, players can feel the temperature rise as the Bonus is triggered, potentially multiplying all payouts by up to 7x. This not only adds a layer of exhilarating unpredictability but also ramps up the stakes, making every spin that much more impactful.
When the Bonus round activates, it does so at the culmination of the roulette spin, applying a mystery multiplier to all wins. This mysterious twist can see any winning amounts boosted by a random multiplier—anything from 2x to a sizzling 7x. The excitement is further fueled by the game's design, which allows for the Bonus to trigger randomly after the result is determined but before payouts are given. This means that even after the wheel has spun and the pokie round has concluded, there's still a chance for a sudden increase in winnings.
Moreover, the payouts for roulette are enhanced by the multipliers assigned to individual numbers during the pokie round, intertwining the two game components seamlessly. 7's On Fire Live is a game that offers both the excitement of a live casino and the rewarding potential of a top online pokie.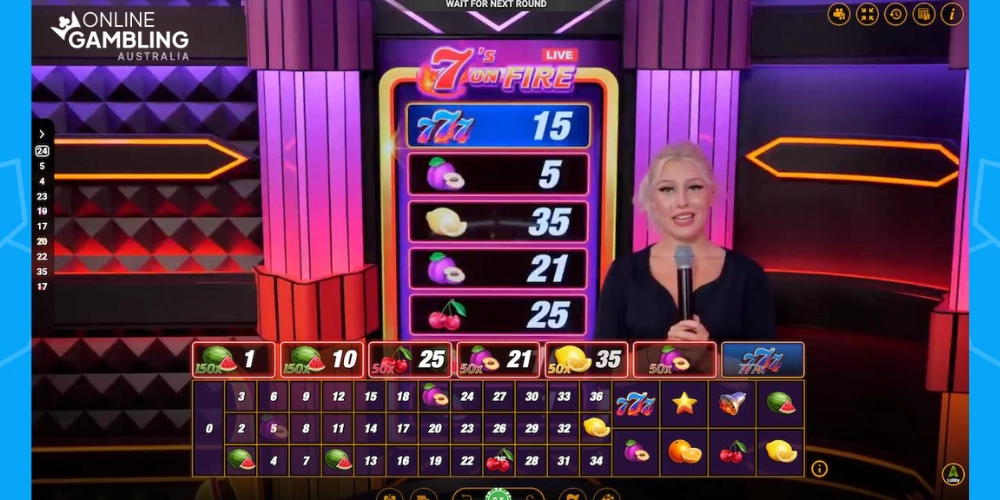 Strategy & Tips for Playing 7's On Fire Live
Playing 7's On Fire Live is as much about strategy as it is about luck. While the game relies on the random nature of the pokie and roulette outcomes, there are ways to position yourself more favourably. It's crucial to understand the game mechanics, the timings of the bonus rounds, and the best practices for wagering. Below are strategies and tips designed to give you an edge, or at least make your gambling session more enjoyable and possibly more profitable. As with any form of gambling, remember that there are no guaranteed wins, and these strategies are meant to improve your overall experience, not to serve as surefire ways to win.
Understand the Odds
Before placing any bets, it's important to get to grips with the game's odds. The roulette component of 7's On Fire Live offers a high RTP of 98.00%, indicating that over time, the game is designed to return 98.00% of wagered money back to players. The pokie rounds have slightly lower, yet still high RTPs ranging from 97.14% to 97.23%. Betting on outcomes with higher multipliers will be riskier, but the potential return is also greater. Weighing this risk against the potential reward is a key strategic element.
| | | | | | |
| --- | --- | --- | --- | --- | --- |
| Symbol  | Number of Symbols | Payout: Base Game | Payout: Enhanced  | Multiplier | RTP |
| Lemon-Orange-Plum-Cherry  | 5-6 | 140x | 420x | 50x | 97.14% |
| Watermelon  | 5-6 | 380x | 1,140x | 150x | 97.17% |
| Star-Bell | 4-6 | 500x | 1,500x | 300x | 97.22% |
| 777  | Blue  | 4x | 12x | 777x | 97.32% |
| 777 | Gold  | 55x | 165x | 777x | 97.32% |
| Roulette  | Straight-up | 12:1 | 777 | | 98.00% |
Manage Your Bankroll
Effective bankroll management is pivotal. Decide in advance how much you're willing to spend and stick to that budget. It's wise to place smaller bets that allow you to stay in the game longer, rather than depleting your funds with a few large wagers. This way, you increase your chances of being in play when bonus rounds trigger, which could multiply your wins significantly.
Take Advantage of Bonuses
Since bonuses in 7's On Fire Live can amplify your winnings, it's beneficial to understand their triggers and plan accordingly. Remember that the bonus rounds occur approximately every eighth round, so consider this in your betting strategy. If you've been playing for a while and haven't seen a bonus, you might decide to increase your bet size in anticipation of the next one, always within the limits of responsible gambling.
Play for Fun
Always approach 7's On Fire Live with the mindset that you're playing for entertainment. While the strategies above can help, they can't change the fact that this is a game of chance. Enjoy the unique combination of pokie and roulette elements, engage with the live dealers, and revel in the excitement that comes with each spin. After all, the true win is enjoying the online gambling experience.
Blazing Bets, Sizzling Spins & Fiery Wins: 7's on Fire Live
In concluding our review of 7's On Fire Live, this title from Authentic Gaming stands as a shining example of innovation in the live dealer casino space. It offers a unique gambling experience that successfully merges the best aspects of pokies and roulette, topped with the thrill of a live dealer. The game's design, which integrates random multipliers and the anticipation of bonus rounds, adds a layer of excitement not often found in traditional online pokies or table games.
On the flip side, the game's complexity and the dual nature of its mechanics might be daunting for newcomers to live dealer games or those who prefer more straightforward pokie play. It requires a level of engagement and understanding that might not suit all players. While the potential for high payouts exists, the reliance on bonus rounds for the most significant wins may not appeal to those looking for more consistent, smaller payouts.
Despite these considerations, 7's On Fire Live is a testament to Authentic Gaming's dedication to providing high-quality and unique live gambling experiences. It's a game that will surely satisfy players looking for a blend of strategy, luck, and the live casino atmosphere. Whether it ignites a passion for a new style of play or simply serves as an occasional adventurous diversion, 7's On Fire Live is a worthy addition to the repertoire of any live casino enthusiast.
Frequently asked questions
Can I interact with the dealer in 7's On Fire Live?
Yes, interaction is a key feature of 7's On Fire Live. The game's live dealers are not just there to manage the game – they are your hosts, ready to chat and respond to your questions or comments in real-time, enhancing the social aspect of the game.
What sets 7's On Fire Live apart from other live casino games?
This game stands out due to its hybrid nature, combining the fast-paced excitement of a pokie game with the classic betting strategies of roulette, all wrapped up in a live dealer format. It's a unique blend that offers a new type of engagement for players.
How often can I expect the bonus multipliers to trigger?
The bonus multipliers in 7's On Fire Live are designed to be part of the excitement, occurring roughly every eighth round. This adds an element of surprise and anticipation as you play.
Are there any specific betting strategies for 7's On Fire Live?
While there's no one-size-fits-all strategy, players often benefit from familiarising themselves with the odds and betting on a mix of high and low multipliers. Managing your bankroll to sustain longer play can also be a wise approach to encountering more bonus rounds.
What should I do if I'm new to live dealer games?
If you're new to live dealer games, it's a good idea to spend some time observing a few rounds of 7's On Fire Live to get a feel for the game flow and betting options. Don't hesitate to ask the dealer questions – they're there to help make your experience enjoyable.
How does the game ensure fairness in play?
7's On Fire Live uses a Random Number Generator (RNG) for the pokie game outcomes, ensuring that each spin is completely random and fair. The live roulette aspect is governed by the same rules and standards as in a physical casino, with transparency in every spin.
What is the ideal way to experience 7's On Fire Live?
The ideal experience comes from balancing the excitement of play with the enjoyment of the live casino atmosphere. Place your bets based on your comfort with risk and odds, engage with the community and the dealer, and most importantly, play for fun and entertainment.