Pro's and cons
Pro's

Totally refreshes the classic Starburst pokie machine
Per-spin maximum payout of 200,000 times the wager
Consistently maintains the same high standards as the groundbreaking original
User-friendly interface
Con's

There is no free-spin feature available
Starburst XXXtreme Pokie Review
Given that a Starburst XXXtreme is a remake of the original Starburst pokie game, there aren't that many changes to the game itself. The main thing that players can instantly notice is the interface. Starburst XXXtreme's interface is more to the red/black side of things, with a pinkish to a reddish coloured planet in the background. With its 5 reels and colourful symbols, it is truly an eye-catching game that players will surely enjoy playing.
The sounds match the game perfectly and subsequently give the players more chances of joy when playing. With the game being a space-themed game, the background music, winning sound, as well as play button all match the theme that the software providers created.
The interface is super user-friendly as it allows players to view all the options available on one single screen. Players can find the autoplay button, settings, and buttons to place a fixed bet, as well as the rules of the game and what the symbols represent. This is perfect for someone that is still new to the game and wishes to understand more about the game.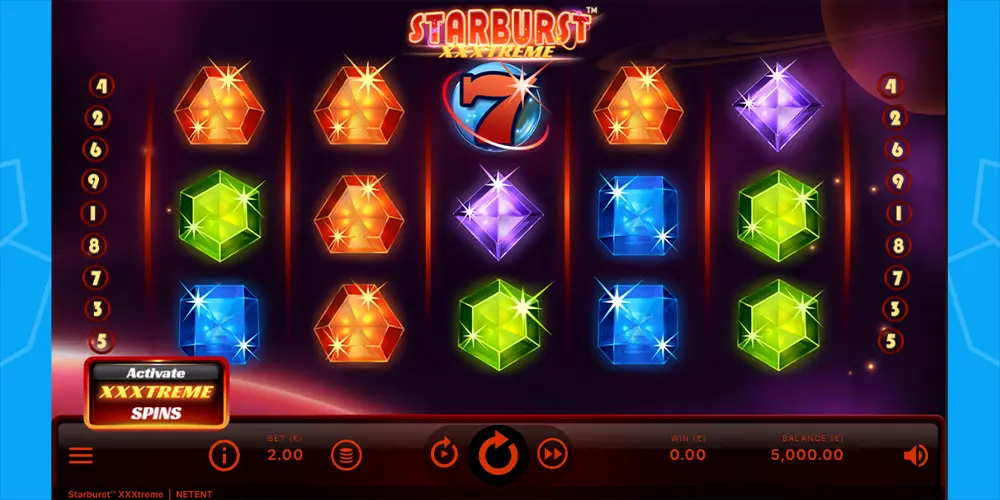 How to play the Starburst XXXtreme
Starburst XXXtreme is a fairly simple and easy pokie machine to play. All it requires you to do is select the number of funds you wish to play and then you may begin to play! NetEnt's main aim was to make the game as simple as possible for all the players. And fortunately for us, they have done just that.
After the player chooses the number of funds they wish to play with, all there needs to be done is to choose the betting amount to get the reels turning. Then players would only need to sit back and watch the magic happen!
Starburst XXXtreme is played with 3 rows, 5 reels, a well as 9 fixed pay lines. In case you're curious, the classic version includes 5 reels as well as 10 pay lines. Three, four, or five identical symbols or wilds appearing in a row from the leftmost reel generate a victorious combination.
Starburst XXXtreme allows players to place bets between $0.10 and $50 for each spin, which is quite a good range when it comes to pokies. This, therefore, means that players can place bets between that range and are not fixed on placing either a $0.10 bet or a $50 bet.
As you can see there is a wide selection of bets for players to choose from, which is perfect for players who wish to have a variety of options when betting.
One of the most important figures when it comes to pokies is the RTP rate that the pokie machine has. Fortunately, Starburst XXXtreme has an RTP rate of 96.26% which is considered to be higher than the average percentage, which is 96%.
Pokie

Starburst XXXtreme

Software

NetEnt

Release date

15th July 2021

RTP

96.26%

Volatility

Very High

Max Win

$10,000,000

Min Bet

$0.10

Max Bet

$50

Paylines

9

Reels

5

Jackpot

No

Free spins

No
Starburst XXXtreme Symbols and Paytable
When it comes to the symbols, viewers can see that there are 7 symbols when playing Starburst XXXtreme. There are 5 bright gemstones, whilst there is the Lucky Red 7 symbol, and the Golden Bar symbol. Not all symbols have the same payout. In fact, only 2 symbols have the same payout, which is the Purple Gemstone and the Blue Gemstone. These have a payout of either 0.5, 1, or 3 times the players bet.
When it comes to the Golden Bar symbol, players may get a payout of either 2.5, 5, or 50 times their bet of that round. This is only possible if the Golden Bar simply lands in 3, 4, or 5 across the possible winning combination.
There is one symbol that cannot be forgotten, which is the Starburst Wild symbol. Although this is not played with every single round, this symbol is the one that can give the maximum possible payout in the game. Although it is hard to get the highest possible payout, it is not impossible. This symbol only appears on 3 specific reels which are 2, 3, and 4. There is more information about this symbol in the bonuses section.
| | |
| --- | --- |
| Symbol | Maximum Payout |
| Purple Gemstone | 3, 4, or 5 = 0.5, 1, or 3 x your stake |
| Blue Gemstone | 3, 4, or 5 = 0.5, 1, or 3 x your stake |
| Orange Gemstone | 3, 4, or 5 = 0.7, 1.5, or 4 x your stake |
| Green Gemstone | 3, 4, or 5 = 0.8, 2, or 5 x your stake |
| Yellow Gemstone | 3, 4, or 5 = 1, 2.5, or 6 x your stake |
| Lucky Red 7 | 3, 4, or 5 = 1.5, 3, or 20 x your stake |
| Golden BAR | 3, 4, or 5 = 2.5, 5, or 50 x your stake |
| Starburst Wild | Substitutes for all the other symbols & triggers the re-spinning feature |
Starburst XXXtreme Pokie Bonuses
Starburst XXXtreme has 3 available bonuses that players may get whilst play. These are Starburst Wilds Feature, Random Wilds Feature, and the XXXtreme Spins Feature. In this section, we shall be taking a look at all these bonus features and explain how they work, and what it means if you get one of these bonuses.
Starburst Wilds Feature
Let's start off with a bang! Starburst Wilds Feature is the main bonus of Starburst XXXtreme. It basically revolves around it. As for the Starburst Wilds feature to be able to trigger, the symbols can only land on 3 specific reels, which are 2, 3, and 4. Given that these symbols are not there from the start, what the pokie machine does is simply substitute the Starburst Wilds Feature symbol instead of the other 7 available regular symbols.
When a Starburst Wild symbol appears on a reel, it will immediately grow to cover the particular whole that is located on the reel. After then, a re-spin will take place, during which the loaded Starburst Wild will remain in its current place. If either Starburst Wild appears, it will also get fixed in that particular place it lands on, and the game will continue with another re-spin. It can also trigger a respin with all positions on reels 2, 3, and 4 carrying the wild symbol.
Although it may seem that there is the same type of bonus in the original game, this is not entirely the case. One of the biggest differences between the two is that Starburst XXXtreme's Starburst Wilds Feature is able to have multipliers attached to the symbols. There are 8 possible multipliers that players may get, which are 2x, 3x, 5x, 10x, 25x, 50x, 100x, and 150x.
Random Wilds Feature
As seen on many Netent pokies such as Divine Fortune, When it comes to the Random Wilds Feature, it can be triggered completely randomly after a re-spin or a normal spin. There is a possibility that between 1 and 3 Starburst Wilds symbols are substituted with normal symbols on the reels, and would therefore give an opportunity for players to get a big payout. These symbols may also have a multiplier attached to them that range between 2x and 150x. Furthermore, there is also a possibility of a maximum multiplier of 450x!
XXXtreme Spins Feature
Players are given the option to buy spins at a cost in which it is guaranteed that a Starburst Wild symbol will appear in the next round that is played. You have two alternatives when it comes to the feature that is referred to as XXXtreme Spins:
10x your stake: 1 Starburst Wild symbol is guaranteed to land on one of the reels
95x your stake: 2 Starburst Wild symbols are guaranteed to land on one of the reels
The XXXtreme Spins would continue to function regularly unless you take action to stop them from continuing. To enable or disable the XXXtreme Spins feature, you will need to click on the button located in the bottom left-hand corner of the game's interface. Using such features can result in an increase in the RTP of up to 96.45%.
It is also important to know that when using this particular feature, the background of the game would change. It looks as if you are going through the stars in space at the speed of light, due to the way that interface looks.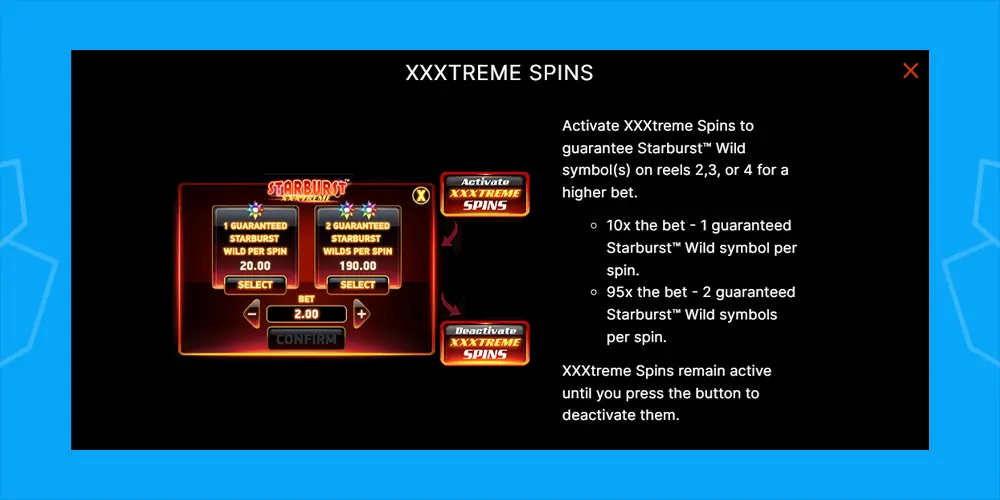 Starburst XXXtreme: Shining Brighter Than Ever
It is not surprising to see that NetEnt has once again produced a high-quality game. This is truly a step up on the original version of Starburst, with plenty more features added, as well as an excellent interface to go with it.
When comparing the two pokies, one can see that NetEnt tried, and successfully took the main components of the original game, developed them, and placed them in the recently launched game. An example of this is that the Starburst Wilds Feature is able to have multipliers attached to it.
Given that there is a possibility of getting a 450x on a re-spin, this surely shows that a massive payout is absolutely possible! One of the biggest differences between the two is that the original version of Starburst allows a maximum multiplier of 500x, whilst the newer version allows a massive 200,000x potential. Additionally, with the addition of another bonus, which is the Random Wilds Feature bonus, further gives joy to players when playing this pokie game.
Unfortunately, you have to be ready to be let down by the XXXtreme Spins feature, since the majority of your winnings will be less than the charge that you spend in order to access it. This feature is ideal for players who wish to increase their chances of obtaining the Starburst Wilds feature.
For more exciting unique themed pokie action from other software providers, make sure to check out our review on Pirates' Plenty.
Frequently asked questions
Is there a free spin bonus on Starburst XXXtreme?
When it comes to Starburst XXXtreme, unfortunately, there are no direct free spin bonuses. What there is though is the Starburst Wilds Feature which may trigger a re-spin.
Can I play the Starburst XXXtreme pokie on mobile?
Yes, you can! NetEnt made it possible for players to play Starburst XXXtreme on multiple devices, including mobile phones.
Is it possible to play Starburst XXXtreme for free?
Yes! NetEnt made a free version of the game for players to be able to try out the game before having to spend any amount of money.
What is the minimum and maximum bet on Starburst XXXtreme?
When playing Starburst XXXtreme, the minimum bet is $0.10, whilst the maximum bet is $50.00. It is also worth noting that players are able to select a betting amount from the list provided by the game.
How do I win on the Starburst XXXtreme pokie game?
As for you to win when playing Starburst XXXtreme, you would need 1 of the possible 9 pay lines to hit. That would classify as a win when playing this pokie game.
What is the maximum multiplier I can get on Starburst XXXtreme?
The maximum amount is 200,000x your stake. For reference, in the original version of Starburst, it was only 500x your stake.
What is the RTP rate of Starburst XXXtreme?
The RTP rate is 96.26% but is able to increase to 96.45% when using the XXtreme Spins Feature Bonus.