Pros and Cons
Pros

High RTP of 96.26%
Unique 7x7 cascading grid
Super Charge offers multipliers up to x20
Four distinct worlds for variety
Wins of up to 7,500 times the stake
Cons

No free spins bonus round
Gameplay might be complex for beginners
Gemix 2 Pokie Review
Venture into the glittering world of Gemix 2, a creation by Play'n Go that radiates nothing but charm and allure. Set against a backdrop of mystical realms, the pokie's vibrant hues come alive, creating a visual extravaganza. Its graphics, detailed and refined, mirror the game's high-quality design.
The accompanying sounds elevate the experience, harmonising with the game's enchanting theme. In the realm of online pokies, Play'n Go's Gemix 2 truly stands out, offering players an unforgettable journey filled with magic and wonder.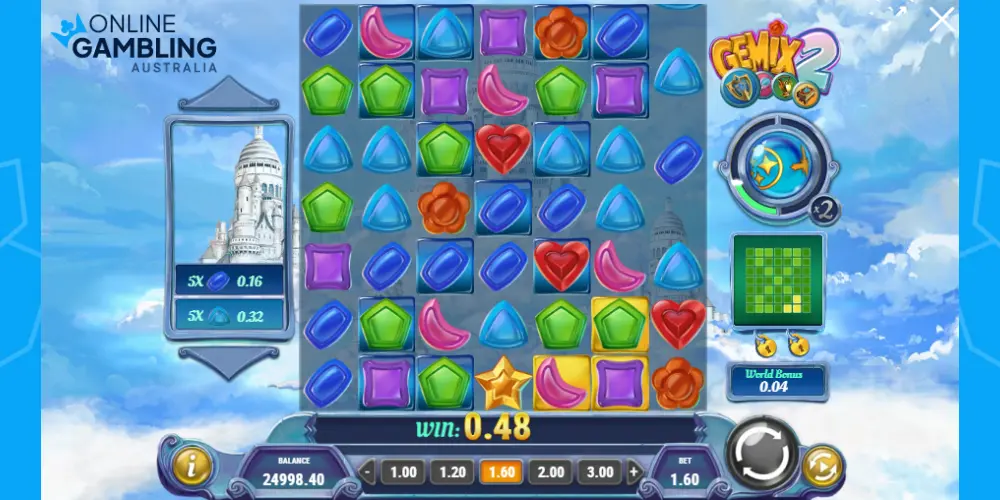 How to Play Gemix 2
Playing Gemix 2 is a thrilling experience on its 7×7 cascading grid. Wins are achieved by getting clusters of 5 or more symbols. As symbols form winning clusters, they vanish, making room for new ones to drop in and potentially create more wins. The game comes with an RTP of 96.26% and medium volatility, striking a balance between frequent payouts and the chance for significant wins.
Players can anticipate a maximum win of 7,500 times their stake in a single spin. With a minimum bet of $0.10 and a max bet of $100, this game offers a range suitable for both casual players and high spenders. Gemix 2 is also feature-rich with elements like the Crystal Charge meter that can activate multiple effects, adding a stratum of excitement to every spin.
Basic Information
Pokie

Gemix 2

Software

Play'n Go

Release Date

April 2021

RTP

96.26%

Volatility

Medium

Maximum Win

7,500x

Minimum Bet

$0.10

Maximum Bet

$100

Paylines

Cluster Pays

Reels

7

Free Spins

No

Jackpot

No
Gemix 2 Pokie Symbols
In the luminous realm of Gemix 2, symbols play a pivotal role in crafting the narrative and determining player rewards. Each symbol, meticulously designed by Play'n Go, not only adds to the game's visual appeal but also contributes to potential wins. The symbols can be broadly categorised into low-payout, high-payout, and special symbols, each with distinct features and payout values.
As we submerge into the cascading grid mechanism of Gemix 2, a parallel can be drawn to another engaging title, Fire Hopper by Push Gaming. Where we witness different game developers leverage similar mechanisms to create diverse gaming experiences is truly intriguing.
Low-payout Symbols
The Turquoise Triangle, Blue Rectangle, Purple Square, and Green Hexagon are the more frequently occurring symbols on the grid. These gems, while not offering the highest rewards, play a consistent role in padding your wins. Clusters of these symbols, especially in larger groups, can contribute to steady payouts, ensuring the game's pace remains engaging.
High-payout Symbols
Among the more coveted icons players eagerly await are the Pink Moon, Orange Flower, Red Heart, and the radiant Gold Star. These symbols, with their intricate designs and vibrant hues, promise richer rewards. The Gold Star, in particular, shines bright, offering up to 200x your stake for a cluster of 15 or more, making it a symbol every player wishes to land.
Special Symbols
Gemix 2 boasts special symbols that come with unique abilities and features. While the exact details were not provided in the initial material, these symbols typically range from wilds that substitute for other symbols to scatters that might offer additional game features. The dynamics of these symbols add layers of excitement to every spin, enhancing the overall gameplay experience.
| | | |
| --- | --- | --- |
| Symbol | Payline | Maximum Payout |
| Gold Star | 15+ | 200x |
| Red Heart | 15+ | 100x |
| Pink Moon | 15+ | 50x |
| Orange Flower | 15+ | 25x |
| Green Hexagon | 15+ | 10x |
| Purple Square | 15+ | 7x |
| Turquoise Triangle | 15+ | 5x |
| Blue rectangle | 15+ | 4x |
Gemix 2 Pokie Bonuses
In Gemix 2, bonuses play an instrumental role in amplifying the excitement and enhancing the potential for significant rewards. Play'n Go has infused this pokie with a variety of bonus features, each intricately designed to elevate the player's experience. These bonuses not only offer a chance for amplified rewards but also introduce captivating gameplay mechanics that make every spin a thrilling adventure.
Crystal Charge Meter
The Crystal Charge Meter is a central bonus feature in Gemix 2. As players form winning clusters, the meter starts charging. Once 25 winning symbols are collected and there are no more cascades, the meter activates, triggering one of four potent effects:
Chain Lightning: Two corner symbols unleash an electric arc that zaps other symbols. The affected symbols then transform into one of the corner symbols, offering a chance for new winning clusters.
Light Beam: A beam of light radiates vertically and horizontally from a symbol on the grid. This beam changes all symbols in its path into other symbols, potentially forming new winning combinations.
Crystal Warp: One symbol on the grid gets chosen, and it, along with all its matching symbols, morphs into other symbols. This transformation can lead to new cluster formations.
Nova Blast: A symbol gets selected and subsequently explodes. Surrounding symbols within a 7-symbol diameter get removed from the grid, making way for a core cluster of identical symbols. This core cluster can then contribute to a win.
Super Charge Feature
When the Crystal Charge Meter gets supercharged by collecting 50 winning symbols, the game elevates to a new level of excitement. This supercharging activates all four Crystal Charge effects simultaneously. Moreover, it introduces an x2 multiplier to the game.
What's even more exhilarating is that with each additional 50 winning symbols collected, this multiplier can increment by x2, going up to a maximum of x20. This feature not only amplifies the win potential but also adds layers of depth to the gameplay.
World Patterns
Gemix 2 offers players the thrill of journeying through four distinct worlds. Each of these worlds has two specific patterns players need to complete. By forming wins on indicated grid positions, players can complete these patterns. Advancing through these worlds not only offers variety in visuals and gameplay but also enhances the chances of securing wins.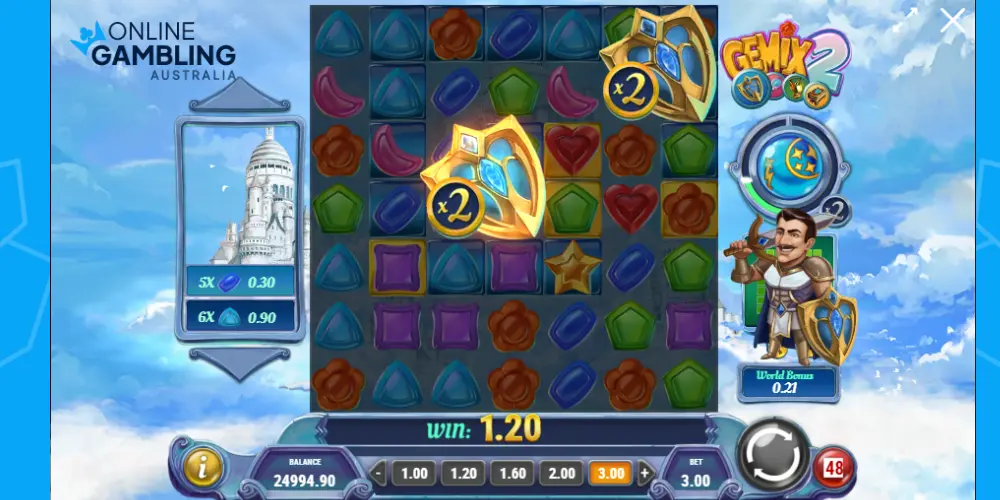 Gleaming Reflections: Farewell to Gemix 2's World
In the vibrant cascade of online pokies, Gemix 2 emerges as a luminous gem. Play'n Go has masterfully crafted a game that offers more than just spins; it's an adventure through enchanted worlds, each filled with distinctive symbols and bonuses. The 7×7 grid introduces a refreshing gameplay dynamic, while the Crystal Charge Meter and Super Charge Feature elevate the excitement with every win. It's the journey through the game's four worlds, each presenting its own challenges, that truly hooks players.
While the game shines in many aspects, its absence of a traditional free spins round might leave some yearning for more. Nevertheless, for those seeking a blend of allure, and potential rewards, Gemix 2 is a worthy pick. For more insights into games like this, OnlineGamblingAus offers invaluable online gambling reviews, guiding players to their next favourite online gambling platform and the best online casino games on the market.
Frequently asked questions
Who is responsible for the Gemix 2 creation?
Gemix 2 is a brainchild of Play'n Go. This game developer has a reputation for merging traditional pokie elements with innovative features, creating a unique gaming experience for players across various titles.
What is a cascading grid mechanism?
Certainly! The cascading mechanism in Gemix 2 offers dynamic gameplay. When you form winning clusters, those symbols disappear, paving the way for new symbols to fill the void. This cascade can lead to consecutive wins, often resulting in chain reactions of rewards, enhancing the game's excitement.
Is there a free spins feature in Gemix 2?
Unlike many pokies, Gemix 2 doesn't have a traditional free spins bonus round. Instead, it focuses on other engaging features like the Crystal Charge Meter and Super Charge to amplify player rewards.
What makes the Gemix 2 gameplay unique?
Beyond its cascading grid, Gemix 2 offers players a journey through four distinct worlds, each with its patterns to complete. This aspect makes each spin both a challenge and a delight.
Are there any special symbols in Gemix 2 that players should be aware of?
Yes, Gemix 2 features special symbols that can trigger various effects. For instance, the Crystal Charge Meter, when filled, can activate effects like Chain Lightning, Light Beam, Crystal Warp, and Nova Blast, each offering unique rewards and gameplay twists.
How many paylines does Gemix 2 have?
Gemix 2 does not feature traditional paylines. Instead, it utilises a cluster pays mechanism. In this system, players secure wins by forming clusters of matching symbols. This departure from conventional paylines offers a unique gameplay experience, allowing for varied and often larger combinations of symbols to achieve wins, adding a fresh dimension to the game.