Pros and Cons
Pros

Vibrant grid layout
Multiple engaging features
High win potential
Developed by Hacksaw Gaming
Cascading symbols
Cons

Simpler design
Playful theme might not suit all
Double Rainbow Review
Double Rainbow, an online pokie by Hacksaw Gaming, transports players to a magical world of rainbows, clouds, and unicorns. As you spin the reels, a mesmerising display of vibrant colours, reminiscent of a real-life rainbow, unfolds before your eyes. From the richest reds to the softest purples, the game's visuals are a true treat.
Accompanied by a harmonious soundtrack, the atmosphere of this casino game evokes joy and relaxation. Beyond its enchanting aesthetic, Double Rainbow offers gameplay that keeps players engrossed. The pivotal wild symbol enhances opportunities for wins, making each spin an adventure.
Whether you're new to the world of online pokies or a dedicated enthusiast, Double Rainbow promises a journey through a unique, magical and colourful realm.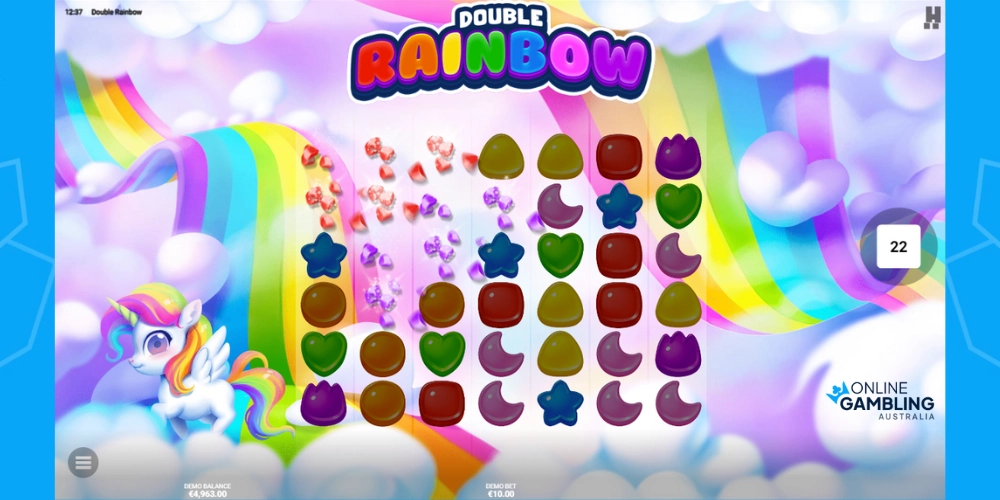 How to Play Double Rainbow
Starting your journey with Double Rainbow is straightforward. This 7×6 grid online pokie beckons players to form winning combinations by landing 5 or more connecting symbols of the same kind anywhere on the grid. Once a winning combination is achieved, the cascading symbols feature comes into play. Symbols involved in the win are removed, making way for new symbols to drop in, potentially creating further winning combinations in a cascading manner. This process can lead to multiple wins from a single spin, enhancing the game's dynamism.
The theoretical payout or RTP for this game stands at 96.38%, offering a fair chance for players to secure wins. Falling under the medium volatility category, Double Rainbow strikes a balance between frequent smaller wins and occasional big wins, with the maximum win potential being a generous 5,000x. Players can adjust their bets ranging from a minimum of $0.10 to a maximum of $100 per spin, catering to both casual players and high-rollers.
While the game is packed with features, one of the standout elements is the Rainbow Reels. These reels, combined with multiplier clouds, can significantly amplify your winnings, making each spin a potential treasure trove. To assist players further, the following basic information about Double Rainbow has been provided in the table and the subsequent sections below.
Basic Information
Pokie

Double Rainbow

Software

Hacksaw Gaming

Release Date

March 2022

RTP

96.38%

Volatility

Medium

Maximum Win

5,000x

Minimum Bet

$0.10

Maximum Bet

$100

Payline

5

Reels

7

Jackpot

No

Free Spins

Yes
Double Rainbow Pokie Symbols
The Double Rainbow pokie, at its heart, is a delightful blend of colour and charm. Each symbol on the reels represents a candy-shaped delight, embodying the playful and vibrant nature of the game. Whether it's the Red Square Candy, the Orange Circular Candy, the Yellow Triangular Candy, the Green Heart Candy, the Blue Star Candy, the Pink Moon Candy, or the Purple/Pink Flower Candy, each brings its own splash of colour and design to the reels.
These symbols don't just stand out for their appearance; they also come with a rewarding potential. Players landing 15 or more of any of these candies can look forward to a payout of up to 50 times their bet. The uniformity in payouts ensures that players can anticipate consistent rewards irrespective of the specific candy combination they land.
However, beyond these delightful candies, the game also boasts special symbols that introduce unique gameplay elements and offer enhanced winning opportunities.
Special Symbols
Special symbols in Double Rainbow are the real game-changers. These symbols come packed with unique features and functionalities that can significantly amplify a player's winnings. The wild symbol, for instance, can substitute for other symbols, enhancing the potential for forming winning combinations.
Another notable special symbol is the Rainbow Reel, combined with multiplier clouds, which can substantially boost payouts. Players should always be on the lookout for these symbols as they can turn an ordinary spin into a highly rewarding one, adding layers of excitement to the gameplay.
Symbols Paytable
| | | |
| --- | --- | --- |
| Symbol | Payline | Maximum Payout |
| Red Square Candy | x15+ | 50x |
| Orange Circular Candy | x15+ | 50x |
| Yellow Triangular Candy  | x15+ | 50x |
| Green Heart Candy | x15+ | 50x |
| Blue Star Candy | x15+ | 50x |
| Pink Moon Candy | x15+ | 50x |
| Purple/Pink Flower Candy | x15+ | 50x |
Double Rainbow Pokie Bonuses
Double Rainbow isn't just a visual treat; it's a game that offers a multitude of bonuses, each designed to enhance the player's chances of securing rewarding combinations. Central to this pokie's allure are its Rainbow Reels, each linked to a colour of the rainbow.
From the dynamic Rainbow Reels and the impactful Multiplier Clouds to the exhilarating Full Rainbow feature, each bonus element introduces unique opportunities for rewards. These bonuses not only amplify the winning potential but also infuse the gameplay with moments of anticipation and joy. To gain a clearer understanding of how each of these bonuses contributes to the game, let's explore them further.
Normal Clouds & Multiplier Clouds
The Normal Cloud serves as one of the primary bonus symbols in Double Rainbow. Floating into view, when this cloud settles on a reel, it reveals a multiplier value. This multiplier is then added to the reel's Reel Multiplier, amplifying the winning potential. But the rewards don't stop there. The Normal Cloud not only activates the Reel Multiplier if it isn't already active, but it also introduces multipliers ranging from 2x to a significant 250x.
To further sweeten the deal, the appearance of the Normal Cloud grants players an extra spin. During this spin, all previously activated Rainbow Reels remain in play, offering increased chances of lucrative combinations.
Rainbow Reels
Representing the core theme of the game, the Rainbow Reels are integral to Double Rainbow's gameplay. Each of the seven reels corresponds to a colour of the rainbow, and their activation is central to the game's bonus mechanics. When a Cloud symbol lands on a reel, it activates the associated Rainbow Reel. This activation not only introduces a multiplier to the game but also sets the stage for other bonuses.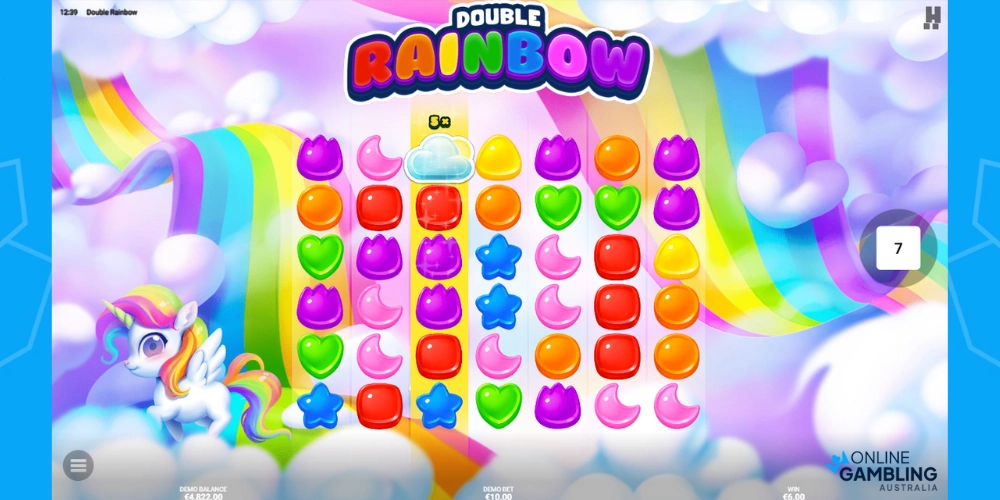 Double Rainbow Pokie Bonuses
Within the vibrant landscape of Double Rainbow, players are treated to a range of bonuses that elevate the gambling experience. From the dynamic Rainbow Reels and the impactful Multiplier Clouds to the exhilarating Full Rainbow feature, each bonus element introduces unique opportunities for rewards.
Full Rainbow Feature
The Full Rainbow feature is the zenith of bonuses in Double Rainbow. This feature springs to life when all Rainbow Reels light up simultaneously. Once triggered, every active Reel Multiplier gets a boost, with multipliers ranging from x3 to x10. To make things even more rewarding, players are granted 5 additional spins, prolonging their engagement with this vibrant bonus.
Bonus Buy & FeatureSpins
In addition to the standard bonuses, Double Rainbow offers players the chance to fast-track their way to the action. The "Bonus Buy" feature allows players to directly purchase access to the game's primary bonus rounds, bypassing the usual gameplay required to trigger them. This feature is particularly enticing for those eager to experience the pokie's bonus features without waiting.
Meanwhile, the "FeatureSpins" add another layer of excitement. Players can opt to buy a set number of spins that come with a guaranteed appearance of a specific feature, ensuring that the ensuing spins are packed with heightened anticipation and potential rewards.
These purchasable features not only amplify the winning potential but also infuse the gameplay with moments of decision-making and strategy, adding a unique twist to the traditional pokie experience.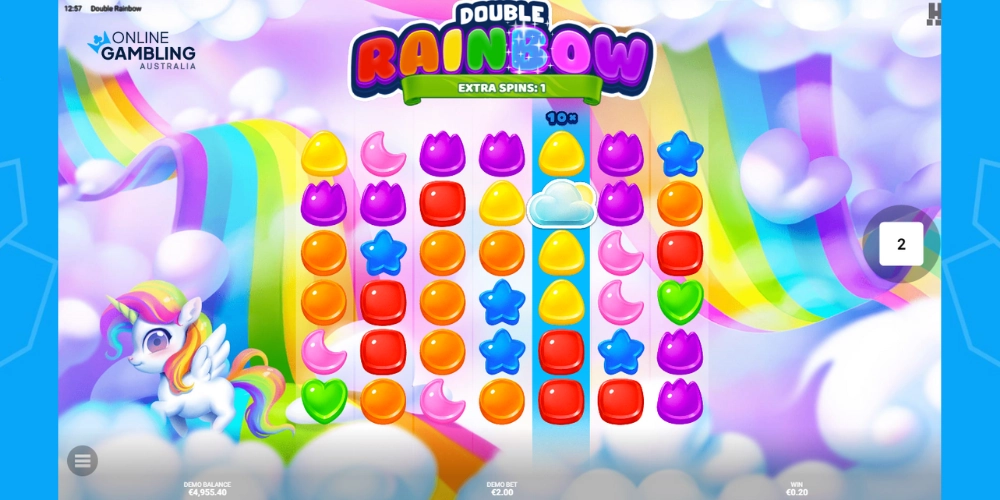 Riding the Rainbow to Endless Fun
Candy-themed pokies have been a staple favourite amongst pokie enthusiasts for years. With titles such as Candy Clash by Mancala, 101 Candies by NetEnt, and Sweet Bonanza by Pragmatic Play, there are ample choices crafted by some of the top providers in the business. However, Double Rainbow, designed by Hacksaw Gaming, uniquely stands out amidst this sugary landscape.
It's not just a vibrant and playful addition to the world of online pokies but a game that offers a distinct blend of colour and charm that sets it apart. With its colourful candies and spectrum of rewarding features, it offers players both visual and gaming delight. The meticulous design, paired with a harmonious soundtrack, ensures a delightful gaming session every time.
Beyond aesthetics, the game's bonuses, from Rainbow Reels to Multiplier Clouds, ensure that players are constantly engaged, anticipating the next big win. The medium volatility, combined with a fair RTP, strikes the perfect balance between frequent rewards and the potential for significant payouts.
Double Rainbow promises a refreshing gambling experience, packed with joy, excitement, and, of course, the chance to chase that elusive double rainbow to grand rewards.
Frequently asked questions
Who is the developer behind Double Rainbow?
Double Rainbow is crafted by Hacksaw Gaming, renowned for its innovative and engaging pokies.
How do the multipliers in Double Rainbow enhance my winnings?
Multipliers, especially from features like Rainbow Reels and Multiplier Clouds, can significantly boost your winnings, multiplying the payout by the specified value.
What sets Double Rainbow apart from other candy-themed pokies?
Double Rainbow uniquely combines its candy theme with vibrant rainbow elements, clouds and unicorns offering a fresh twist on the traditional candy-themed pokie experience.
How important are the Rainbow Reels in determining the game's outcome?
The Rainbow Reels play a pivotal role, especially when activated. They introduce multipliers which can substantially enhance your winnings during the game.
Can I limit the number of spins or a loss limit in Double Rainbow?
Yes, Double Rainbow provides customisable settings allowing players to set spin limits or loss limits, ensuring responsible gameplay and easier bankroll management.
How does the game ensure fairness in outcomes?
Double Rainbow, like other Hacksaw Gaming titles, uses Random Number Generators (RNG) to ensure each spin's outcome is random and fair.
How do cascading symbols work in Double Rainbow?
In Double Rainbow, the cascading symbols feature ensures that symbols involved in a winning combination disappear from the grid. New symbols then fall or 'cascade' into their places, offering another chance for winning combinations. This process continues until no new wins are formed, potentially leading to multiple wins from a single spin.