Pros and Cons
Pros

Cluster Pays mechanic offers unique gameplay
Wild Conveyor feature introduces dynamic multipliers up to 101x
Array of engaging in-game modifiers via Feature Coins
Potential hefty wins with a 3,580x stake
Avalanche feature maximises winning opportunities
Direct access to Free Spins with the Buy Feature
Cons

Max win occurrence is rare - 1 in 50M
101 Candies Review
Embark on a tantalising online gambling journey with NetEnt's latest creation, the 101 Candies pokie. This game transports players to a colourful candy wonderland, where every spin is a sensory delight. The pokie showcases a vibrant array of symbols set against a charming countryside backdrop, with reels adorned on the side of a candy truck.
The visuals, while not boasting an ultra-modern design, captivate with their bright colours and glossy finishes. The soundtrack, reminiscent of video games, complements the theme, making each spin an auditory pleasure. From the online pokies genre, 101 Candies stands out not just for its engaging gameplay, but also for its dedication to recreating the playful essence of a candy store.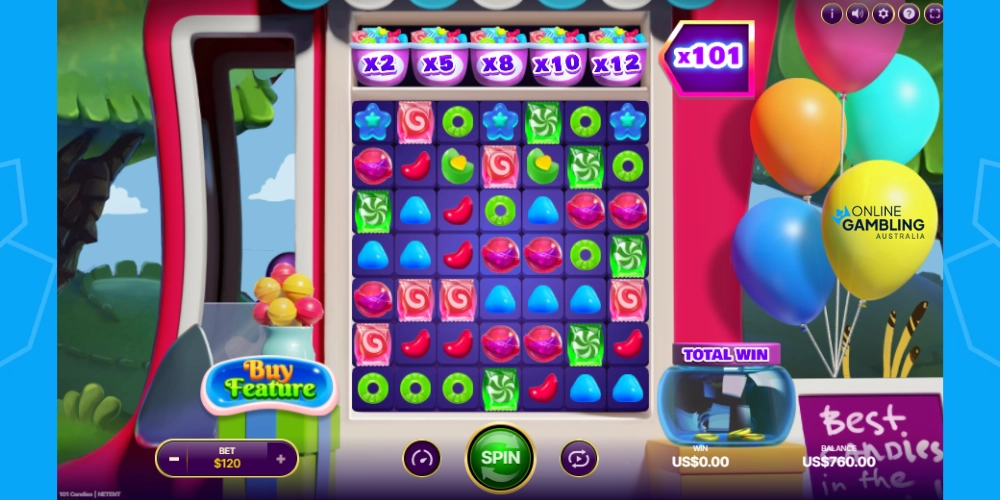 How to Play 101 Candies
Engaging with the 101 Candies pokie is both easy and rewarding. Set on a 7×7 grid, the game employs the Cluster Pays system. This means that rather than looking for linear combinations, players should aim to gather clusters of 5 or more matching symbols, either horizontally or vertically aligned. The game's Avalanche feature ensures symbols from winning clusters disappear, paving the way for new ones and offering further opportunities for wins.
The pokie's RTP is set at 96.08%, which is paired with low-to-medium volatility, indicating relatively frequent, smaller wins. Players can hope for a maximum win of 3,580x their stake on any given spin. Bets can range from a modest $0.20, appealing to cautious players, up to a more daring $120 for those seeking higher stakes.
One of the standout mechanics is the Avalanche feature. When you form a winning combination, those symbols disappear, allowing new symbols to drop into their places. This can create a cascade of potential wins from just a single spin. As you navigate through the reels, also be aware of special features like the Wild Conveyor and Feature Coins, which are explained further in the 'Bonuses' section.
Basic Information
Pokie

101 Candies

Software

NetEnt

Release Date

September 2023

RTP

96.08%

Volatility

Low-Medium

Maximum Win

3,580x

Minimum Bet

$0.20

Maximum Bet

$120

Payline

Cluster Pays

Reels

7

Jackpot

No

Free Spin

Yes
101 Candies Pokie Symbols
In 101 Candies, each symbol is thoughtfully designed to transport players into a world of delightful sweetness. As they cascade down the reels, these icons not only represent potential wins but also contribute to the game's overall narrative of a candy-filled wonderland. The cascading grid is similar to that of Gemix 2 by Play'n Go, so if you like this one, why not check that one out too?
The symbols vary in value and function, ranging from low-payout candies that frequently populate the reels to high-payout treats and unique special symbols, each serving a distinct purpose in enhancing the gameplay, let us find out how:
Low-payout Symbols
The pokie brims with candies that frequently appear on the reels but offer modest rewards. Among these are the glossy Pink Opaque Candy, Green and Yellow Candy, and Blue Star Candy. Slightly differing in appearance but slightly less rewarding, the Pink Jelly Bean, Green Circular Candy, and Blue Triangular Candy.
High-payout Symbols
For those seeking more rewarding sweets, the Wrapped Candies are a treat. The Wrapped Red Candy, with its alluring red sheen, stands out as the most rewarding among these.
The Wrapped Green Candy isn't far behind, presenting a 25x multiplier for similar clusters. The Wrapped Blue Candy, though on the lower end among the wrapped delights, still entices with a 15x multiplier for 12 or more in a cluster.
Special Symbols
Beyond the usual candies, players should be on the lookout for Feature Coins. These unique symbols can make an appearance during Avalanches and come packed with distinct modifiers that can enhance the gameplay by shuffling wilds, transforming symbols, or amplifying multipliers.
The Wilds from the Wild Conveyor also play a pivotal role. Not only do they substitute for regular symbols, but they arrive bearing gifts in the form of multipliers. These multipliers, ranging from a modest 2x to a whopping 101x, significantly boost the potential rewards when forming part of winning clusters.
Symbols Paytable
| | | |
| --- | --- | --- |
| Symbol | Payline | Maximum Payout |
| Wrapped Red Candy | 12+ | 30x |
| Wrapped Green Candy | 12+ | 25x |
| Wrapped Blue Candy | 12+ | 15x |
| Pink Opaque Candy | 16+ | 2.5x |
| Green & Yellow Candy | 16+ | 2.5x |
| Blue Star Candy | 16+ | 2.5x |
| Pink Jelly Bean | 16+ | 2x |
| Green Circular Candy | 16+ | 2x |
| Blue Triangular Candy | 16+ | 2x |
101 Candies Pokie Bonuses
In the sugary realm of the 101 Candies pokie, players aren't just enticed by the colourful confectionaries; it's the delectable bonuses that often prove most alluring. Each bonus, meticulously crafted by NetEnt, adds depth to the gameplay, weaving additional layers of strategy, anticipation, and potential rewards.
Whether you're keen on unlocking the cascading potential of Avalanches, or eager to harness the power of feature coins, the bonuses in 101 Candies not only complement the core gameplay but amplify the winning prospects for players.
Avalanche Mechanism
Central to 101 Candies is the Avalanche feature similar to that of Gonzo's Quest by the same developer. When players secure a winning combination, those symbols vanish, allowing new ones to cascade into place. This dynamic can set off a ripple effect of potential wins from just one spin, creating a vibrant backdrop upon which several of the game's bonuses emerge.
Wild Conveyor
The Wild Conveyor, an innovative feature seamlessly integrated atop the gaming grid, plays a pivotal role in augmenting player wins. As each Avalanche triggers, a Wild symbol from the leftmost side of the conveyor is ushered onto the reels, equipped with a multiplier ranging from 2x to an astounding 101x.
This multiplier not only augments the win but can dramatically amplify potential rewards. The conveyor keeps moving and replenishing after each Avalanche, ensuring a steady stream of Wilds ready to enhance the gameplay.
Feature Coin Symbols
Deep within the Avalanche cascades, players may chance upon the elusive Feature Coin symbols. These modifiers, though seemingly innocuous, can profoundly alter the course of a game. Each coin has a distinct feature it triggers:
Upgrade Coin – This modifier elevates all Wild Multipliers by one unit, potentially reaching the coveted 101x maximum.
Destroy Symbol – This feature strategically removes the five leftmost Wilds from the conveyor, making space for fresh Wilds to enter the fray.
Scramble Symbol – Introducing an element of unpredictability, this symbol shuffles all Wilds on the conveyor, potentially aligning more lucrative multipliers for the upcoming Avalanches.
Transform Symbol – Demonstrating its transformative power, this symbol chooses a random icon on the reels, replacing all its instances with another symbol, adding an element of surprise and strategy to the game.
Free Spins
Arguably the crown jewel of bonuses in 101 Candies, the Free Spins feature is triggered when 3 to 8 scatter symbols grace the reels. Depending on the number of scatters, players can unlock between 10 to 15 free spins. During these spins, the Wild Conveyor has a unique twist: it only resets once at the onset of the free spins. This allows for a continuous stream of multipliers to enhance the wins throughout the duration of the bonus rounds.
3 Scatters: 10 Free Spins
4 Scatters: 11 Free Spins
5 Scatters: 12 Free Spins
6 Scatters: 13 Free Spins
7 Scatters: 14 Free Spins
8 Scatters: 15 Free Spins
Buy Feature
For players keen on diving directly into the Free Spins action, 101 Candies offers the Buy Feature. For a price of 100 times the bet, players can instantly activate the Free Spins, bypassing the base game and heading straight to the heart of potential high rewards.
101 Candies: From Surface Sugar to Core Gameplay
In the bustling world of online pokies, 101 Candies by NetEnt stands out as an intriguing blend of innovative mechanics and delightful theming. Beyond the surface-level appeal of its candy-inspired visuals and sound, it's the deeper gameplay features that solidify its position. The Avalanche mechanism, a mainstay in modern pokies, is masterfully integrated, giving players extended opportunities with every win. Coupled with the Wild Conveyor, it introduces a strategy layer uncommon in many of its contemporaries.
NetEnt's commitment to delivering a balanced gaming experience is evident. The game's low-to-medium volatility paired with a 96.08% RTP makes it appealing to a broad spectrum of players, from novices to seasoned veterans. Furthermore, the inclusion of unique features like the Feature Coin Symbols demonstrates NetEnt's dedication to pushing the boundaries of pokie gameplay.
However, like with Beach Invaders and many other online pokies, 101 Candies isn't just about features. It's about the immersive experience. The candy shop setting, complete with a vibrant colour palette, offers a visual treat. And the audio complements this, drawing players into a world where every spin holds promise.
Frequently asked questions
Who is the developer behind 101 Candies?
101 Candies is developed by NetEnt, a renowned gaming software company known for its innovative and high-quality pokies.
How does the Cluster Pays system differ from traditional paylines?
Unlike traditional paylines where symbols need to align in predetermined patterns, the Cluster Pays system rewards players when they land a cluster of identical symbols. In 101 Candies, a cluster is formed by 5 or more symbols that are either horizontally or vertically adjacent.
What's unique about the Wild Conveyor feature in 101 Candies?
The Wild Conveyor is a dynamic feature situated above the reels. It holds Wild symbols with multipliers ranging from x2 to x101. With each Avalanche, a Wild is introduced to the reels, potentially amplifying the Cluster Pay wins.
Are there any multipliers in the 101 Candies pokie?
Yes, there are. Multiplier Wilds from the Wild Conveyor can significantly boost your wins. These multipliers can range from a modest 2x to a staggering 101x.
How are the Free Spins triggered in this pokie?
Free Spins in 101 Candies are activated by landing between 3 to 8 Scatter symbols on the reels. Depending on the number of Scatters, you can receive between 10 to 15 Free Spins.
Does 101 Candies have any unique symbols to look out for?
Indeed! Apart from the usual candy symbols, keep an eye out for Feature Coin symbols. These can significantly enhance gameplay by introducing modifiers like Upgrade, Destroy, Scramble, and Transform effects on the Wild Conveyor or the main grid.
What sets NetEnt's 101 Candies apart from their other releases?
101 Candies, while retaining NetEnt's signature high-quality design, introduces an innovative Wild Conveyor feature and the dynamic Cluster Pays system. Unlike some other releases, this pokie has a candy truck countryside setting, which adds a different dimension to its theme. The game's blend of traditional candy symbols with modern gameplay mechanics makes it a unique addition to NetEnt's diverse portfolio.