Pros and Cons
Pros

Extremely High RTP rate
Vintage look to the game
Has low volatility
Incredible bonus round
Cons

Low maximum potential win
Blood Suckers Pokie Review
Although some say that the game software looks old, we feel as if it is an advantage for the pokie game to be considered old. When you think about vampires, you think about the 1980s and all the old movies you watched on this topic. You feel as if you are an expert on the subject.
The pokie looks like it takes place in an abandoned house, with a bloody handprint on the side of the wall on the right-hand side of the pokie. There are 5 reels that have 3 rows each, with 25 different pay lines available. Here you will find all of the symbols that will appear in each round.
Spooky Sounds
As you may have guessed correctly, the sounds are spooky. Before playing a round, you will hear weird, but scary sounds in the background. It's as if there are people talking from afar but underwater.
Every time the reels are spun, it will make the sound of someone pressing an old button. It's as if it hasn't been used for quite some time now. Each time the Bonus and Scatter symbols appear a middle to high-pitch sound is heard.
The gameplay matches the visuals and sounds perfectly. The vintage look and sound will surely satisfy your wish of playing a vampire-themed pokie!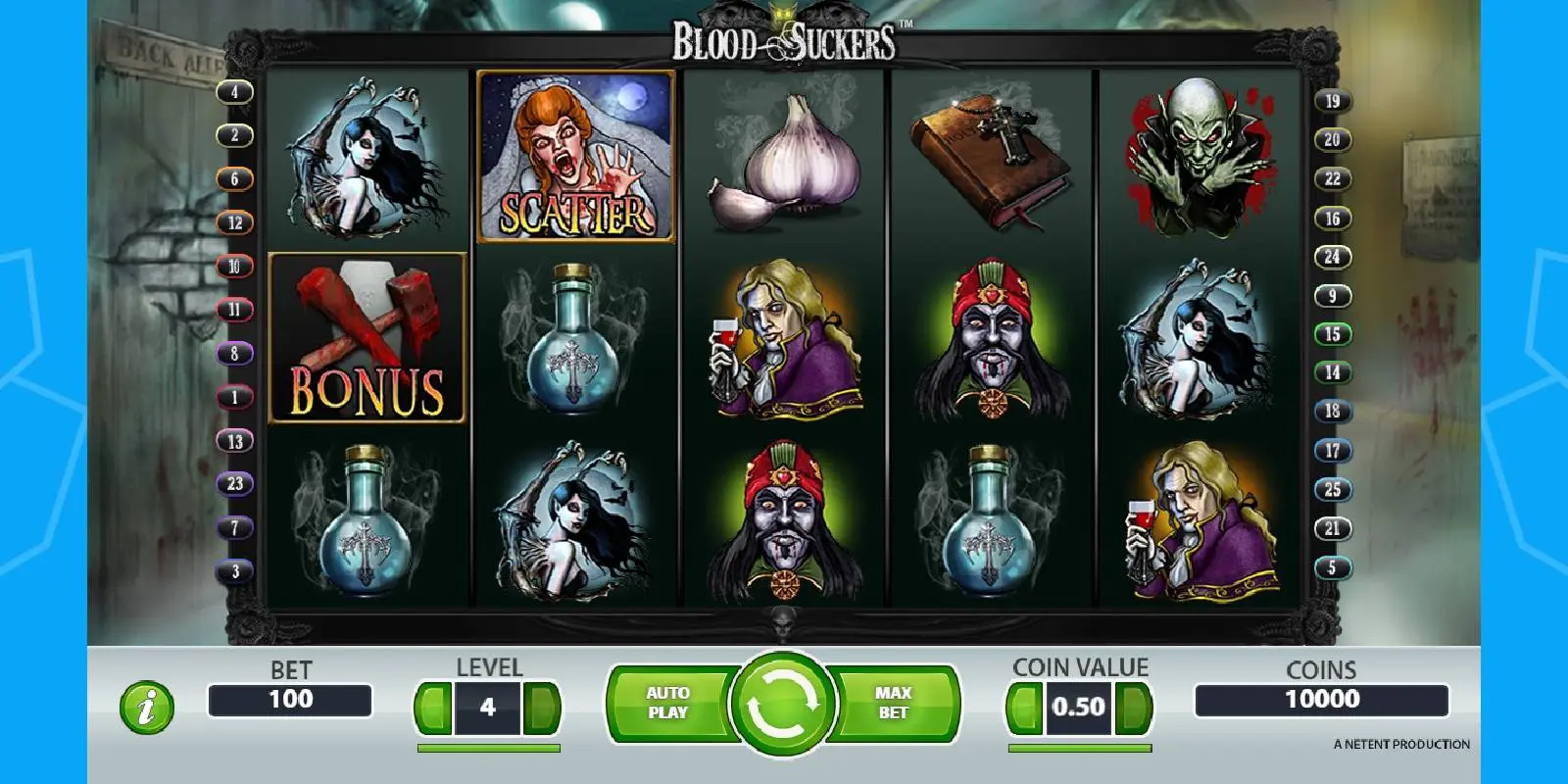 How to play the Blood Suckers Pokie
NetEnt's Blood Sucker is a fairly simple game to play. There is a playing bar located at the lower part of the pokies interface. There you will find all the different options you need to be able to play the game. Let's take a look at them!
Betting Options
Let's start off with the betting options. On the left-hand side of the bar, you will find the word "Level". You are able to adjust your bet from level 1 to level 4. Furthermore, there is the word "Coin Value" located on the right-hand side of the bar. This is where you are able to adjust your bet even more. You can have a coin value between 0.01 and 0.5. While Blood Suckers is not a 1 cent slot, it is not far off with a minimum bet of 10 cents, whilst the maximum is $50.
With the maximum betting option being just $50, it is not surprising to see that the maximum amount a player can win is just $50,750. On the bright side, Blood Suckers does have an RTP rate of 98% and is low in volatility.
Something Special
There are 2 symbols that really give this pokie game an incredible boost. These are the Wild and Scatter Symbols. When the wild or the scatter symbol has a winning combination, the symbol would change to a gif so to say. In the wild symbol, it would appear as if the vampire has just bitten the woman. Whilst with the scatter symbol, it gets a close-up of the woman's eye. This is quite impressive!
Pokie

Blood Suckers

Software

NetEnt

Release date

2009

RTP

98%

Volatility

Low

Maximum win

$50,750

Minimum bet

$0.10

Maximum bet

$50

Paylines

25

Reels

5

Jackpot

No

Free spins

Yes
Symbols
We really have to give credit when it's due. The symbols on blood Sucker are incredible. They check every box! It has incredible symbols that match the theme perfectly. You may see that there is a male and female version of the vampire.
The highest-paying symbol is the Fortune Teller who has a maximum multiplier of 20x your bet. Although it is not, you still have to take into account the wild symbol, which has a maximum multiplier of 300x.
The lowest-paying symbol is the garlic symbol; this makes sense as vampires hate garlic. It has a maximum multiplier of just 3x your bet. But don't worry there are 6 other normal symbols that have a higher multiplier than 3x.
Blood Suckers Symbols and Paytable
| | |
| --- | --- |
| Symbol | Maximum Pay out |
| Garlic Symbol | 3, 4, or 5 = 0.08, 0.6, or 3 x your bet |
| Crossbow Symbol | 3, 4, or 5 = 0.08, 0.6, or 3 x your bet |
| Book with a Cross Symbol | 3, 4, or 5 = 0.2, 1, or 4 x your bet |
| Potion Glass Symbol | 3, 4, or 5 = 0.2, 1, or 4 x your bet |
| Dead Bride Scatter Symbol | 2, 3, 4, or 5 = 0.08, 0.16, 1, or 4 x your bet |
| Female Vampire Symbol | 3, 4, or 5 = 0.4, 2, or 5 x your bet |
| Monster Symbol | 3, 4, or 5 = 0.6, 3, or 10 x your bet |
| Male Vampire Symbol | 3, 4, or 5 = 0.6, 3, or 10 x your bet |
| Fortune Teller symbol | 3, 4, or 5 = 2, 4, or 20 x your bet |
| Woman and Vampire Wild Symbol | 2, 3, 4, or 5 = 0.2, 8, 80, or 300 x your bet |
Blood Suckers Pokie Bonuses
There are three main bonuses in Blood Suckers. These are the Wild symbol, Scatter and Free Spins Symbol, and the Burial Chamber Bonus Game Symbol. In this section, we will be taking a look at all of these 3 bonuses, how they are triggered, and what it means for you.
Wild Symbol
Did you see the symbol where there is a vampire behind a beautiful blonde woman? That is basically the Wild Symbol. From the table in the symbols section, we have shown that it is the highest-paying symbol available, with a possible 300x your bet. This can be triggered if there are 2-5 symbols on a payline.
Burial Chamber Bonus Game
The symbol for this bonus is a hammer & stake made out of wood that is coated in blood. If you catch 3 of these symbols on a payline, you will be sent to a large burial room that has 12 closed coffins, as shown below.
Get ready to make your descent into this chamber.
Your mission is to remove the lids from each casket and then kill the vampires who are hiding inside of them. Nine of the coffins are taken, but there are still three left. Discovering and slaying a vampire would result in the awarding of a variable quantity of coins, whilst selecting a coffin that is empty brings an end to the bonus feature.
During the bonus round, players have a chance to win a maximum of 20,320 coins.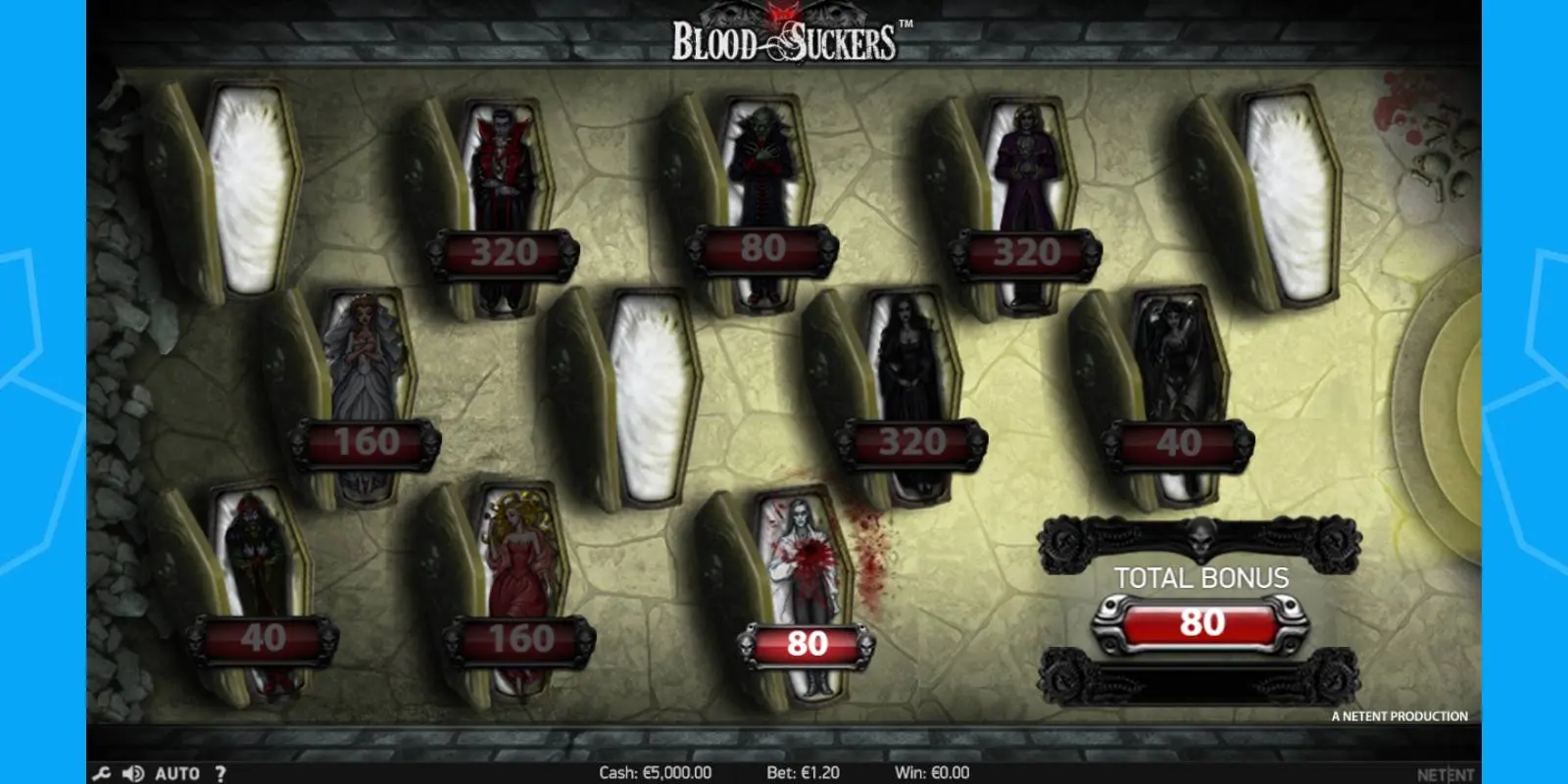 Scatter and Free Spins
The scatter symbol on the pokie machine is a dead bride with outstretched arms, covered in blood. 5 brides result in a payout of 100 times the entire stake, which, assuming the maximum wager it placed, would amount to $5,000.
You will be awarded $20 for that combo if you choose to participate at the lowest possible stake level. If you get 3 or more of these horrifying symbols, you will receive ten free spins during which all of your winnings will be multiplied by three.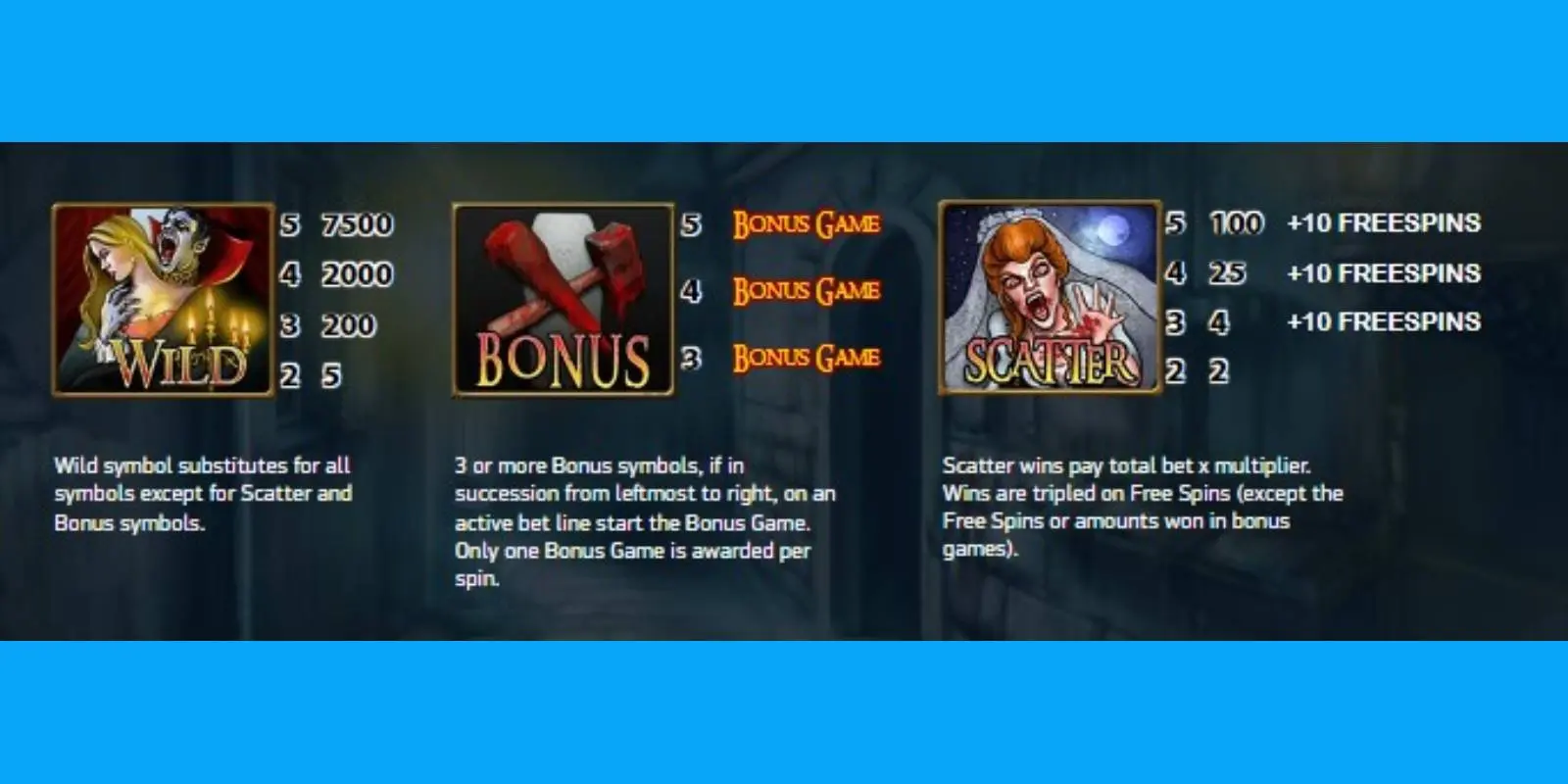 Is Blood Suckers Frighteningly Good?
With all things taken into consideration, we are really impressed with how good this pokie is. Not only with its vintage looks, but also with the overall gameplay. It is easy to play and extremely user-friendly.
The only real downside that we found about the game is that it doesn't have a high maximum payout possibility. The maximum amount a player can get is $50,750. When compared to other pokies such as Aloha Cluster Pays, which has a maximum payout of $40,000,000, Blood Suckers doesn't really start with it with respect to this.
But one thing is for sure. Blood Suckers is a very enjoyable pokie game to play. With a High RTP rate of 98%, low volatility, and amazing visuals and audio, it really makes the game enjoyable for all the players.
Frequently asked questions
Is There A Free Spin Bonus On Blood Suckers?
Yes, there is! This is called the Scatter and Free Spins Bonus. If you get 3 symbols of the Scatter symbol, you would receive 10 free spins!
Can I Play The Blood Suckers Pokie On Mobile?
Yes, you can! NetEnt made it available back in 2013. Although the game was launched a long time ago, NetEnt made sure to update its range of games to make them available for players to play on the go!
Is It Possible To Play Blood Suckers For Free?
Yes, it is! NetEnt made it possible for players to try the game out prior to them having to use their funds to play the game. This is a great way to see if you would want to play the pokie game or not.
What Are The Minimum And Maximum Bets On Blood Suckers?
The minimum amount you are able to bet is $0.10. The maximum amount you are able to bet is $50. Although it is not the widest range of bets, it is still considered to be a reasonable range by many.
How Do I Win On The Blood Suckers Pokie?
It is fairly simple to try, but it is all about luck in the end. All you have to do is get symbols that go in line with one of the 25 paylines.
What Is The Maximum I Can Win On Blood Suckers?
The maximum amount a player can win is $50,750. This is practically the only downside to this pokie game. There are many other pokies that NetEnt has created which have a higher maximum payout.