Best Online Casinos for Aussies to Play Live Mega Ball
With a vast selection of reliable and exciting casinos online available for Australian players. Our team of experts have a curated list of top online casino sites that offer Evolution's Mega Ball, along with other thrilling live casino games and fantastic online casino bonus offers.
The Basics of Mega Ball
Mega Ball is a unique blend of bingo and lottery-style gaming elements brought to life by Evolution. Presented in a game show style, this live dealer game introduces a fresh and exciting approach to online gambling, offering thrills and lucrative opportunities to its players.
Game Specifications
Live Mega Ball is an exclusive Evolution product, considered a game show type. It is streamed live from Latvia and boasts an RTP of 95.40%. The game accepts bets ranging from $0.10 to $100 and offers a maximum win of 100,000x your bet or $500,000. The game supports a variety of platforms including Android, Apple, Desktop, Mobile, Tablet, and Windows. It's accessible in multiple languages, perfect for a global audience.
How to Play
Playing Live Mega Ball requires purchasing Mega Ball Cards and setting their value. You can buy up to 200 cards at a time, each with a 5×5 square layout, and the centre square unnumbered.
Once the betting time expires, the host spins the Ball Draw Machine, and 20 balls are drawn from a total of 51. These numbers get marked automatically on your Mega Ball Cards. With each completed line on your card—horizontal, vertical, or diagonal—your winnings increase.
The highlight of the game is the Mega Ball draw, where a randomly generated multiplier amplifies your wins.
A Step-by-step Guide to Playing Mega Ball
Let's dive deeper into how to play Mega Ball, step by step. This should provide a comprehensive guide for new players to understand and enjoy the game.
1. Setting Your Bet: After entering the game, the first step is to set your bet. Decide on the value of your cards, which can range from $0.10 to $100.
2. Buying Cards: The next step is purchasing your Mega Ball cards. You can buy a single card or up to 200 cards at a time, depending on your budget and risk preference.
3. Ball Draw: Once all bets are placed, the Ball Draw Machine, containing 51 balls, starts spinning. The live dealer draws 20 balls, and the numbers are automatically marked on your cards.
4. Checking Your Cards: As the balls are drawn, your cards get rearranged automatically. The cards closest to winning move to the top, making it easier for you to track your progress.
5. Completing Lines: By forming horizontal, vertical, or diagonal lines on your cards, you win payouts. With each completed line on your card, your winnings grow exponentially.
6. Mega Ball Draw: The final stage is the Mega Ball draw. A special 21st ball, the Mega Ball, is drawn along with a randomly generated multiplier. If the Mega Ball number forms part of any winning lines, those winnings are multiplied by the value on the multiplier wheel.
Remember, you have the freedom to alter your cards' value or purchase more as long as the betting time lasts. This adds an element of strategy and engagement, making Mega Ball a delightful live casino game to play.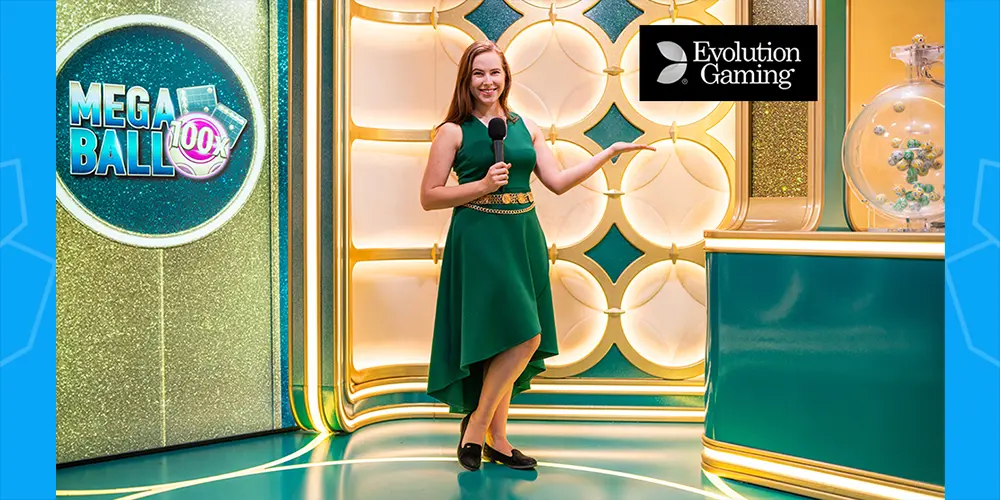 Special Features of Live Mega Ball
Apart from its core gameplay, Mega Ball boasts several special features that make it stand out in the landscape of live dealer games. These include the Mega Ball itself, the multiplier feature, and unique user-interface elements designed to enhance player immersion and experience.
The Wheel of Multipliers
The Wheel of Multipliers is a core feature of Mega Ball that boosts your winnings. After the first 20 balls are drawn, a special 21st Mega Ball is chosen, followed by a spin of the multiplier wheel. If the Mega Ball number forms part of any winning lines, the winnings get multiplied.
Quality-of-Life Features
Evolution has packed Mega Ball with several user-friendly features. You can automate your gameplay using the Auto Play function, keep track of your spending through the history panel, and alter your selections before the betting time ends.
Interaction & Support Features
Live Mega Ball, ensures a high-quality, immersive gaming experience. Interaction is a significant aspect of live casino games, and Mega Ball doesn't disappoint. The live chat feature, located to the left of the screen, allows you to interact with the game host and other players, enhancing the real-life casino feel.
The game also includes comprehensive support features, including a detailed FAQ section and customer service access, ensuring a smooth gaming experience.
Tools & Features in the Game
Live Mega Ball offers a range of tools and features that can enhance your gaming experience. The "Numbers Needed to Win" feature displays the numbers you require to complete a line. Additionally, the "Ball History" option allows players to review the sequence of balls drawn previously.
Also, don't forget the "Refresh" option. If you are not happy with the numbers on your purchased cards, you can use this function to get a new set of numbers until the betting time is over. This offers players a degree of control and keeps the game engaging.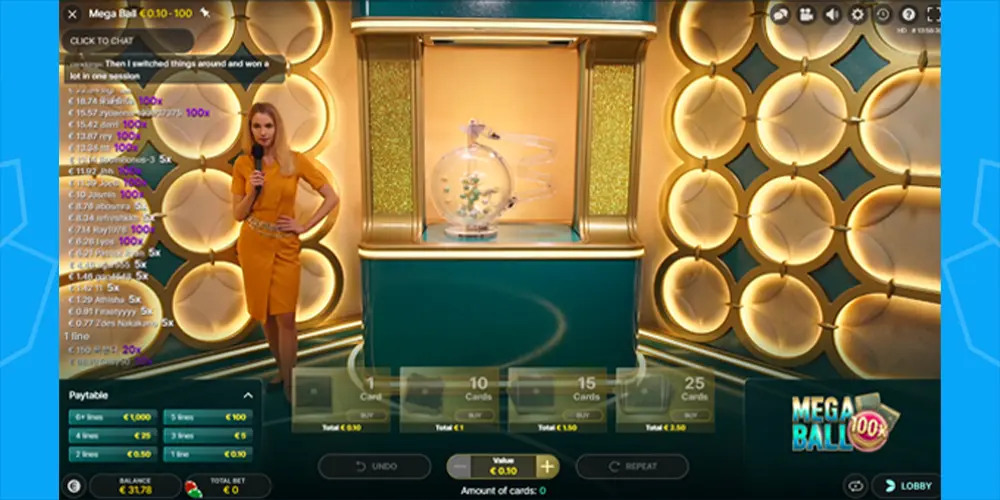 Live Mega Ball Strategies
While Mega Ball largely relies on luck, there are a few strategies that players can employ to potentially maximise their winnings. These include managing your budget wisely, understanding the game mechanics, and making smart decisions about the number of cards to buy and their value.
Understanding the Multiplier Concept
Evolution's Mega Ball benefits from the successful multiplier concept. The final Mega Ball, with its attached multiplier, can substantially boost your winnings if it forms part of your winning lines. Remember, the multiplier can range from 5x to 100x, turning even smaller wins into substantial payouts.
Choosing the Right Number of Cards
One of the most significant strategic decisions in Mega Ball is determining the number of cards to play. Although buying more cards can increase your chances of winning, it's essential to avoid overspending. Make sure to find the right balance for your budget.
Winning Potential & Payouts
One of the most enticing aspects of Mega Ball is its winning potential. Payouts can be significantly amplified by the Mega Ball feature, with the maximum win capped at 1,000,000 times the card price. This high potential return on investment keeps players engaged and coming back for more.
Maximum Win & Betting Range
Live Mega Ball offers a betting range from $0.10 to $100 per card, allowing players with various budget sizes to enjoy the game. The maximum win you can land is a whopping 100,000x your bet or $500,000, offering the chance for some life-changing wins.
Mega Ball Payout Structure
The payout structure in Mega Ball is straightforward yet nuanced. Generally, a one-line card pushes but can offer up to a 100x payout when multiplied. For substantial wins, you would need at least three lines on your card.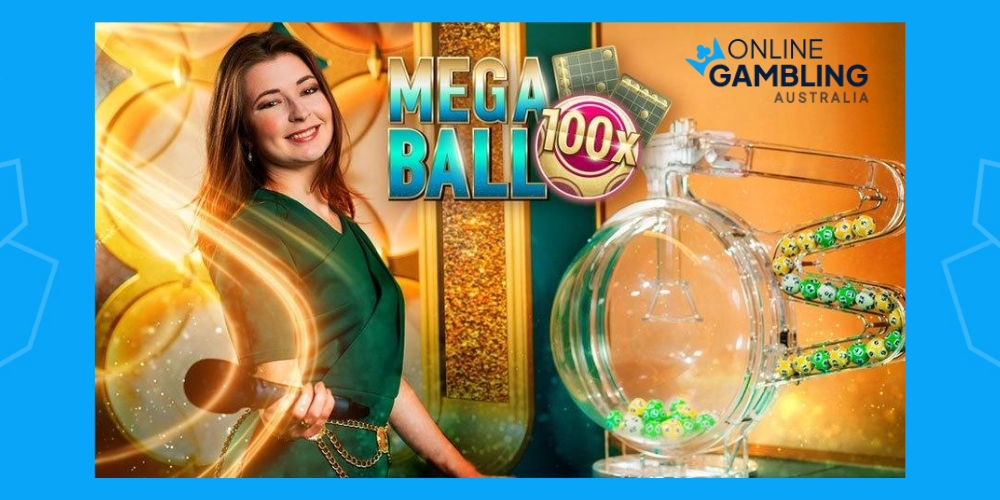 Understanding the Game Interface
To kick off your Mega Ball journey, it's crucial to familiarise yourself with the game interface. With a user-friendly layout, the screen displays your bingo cards, the live host, the Ball Draw Machine, and various game information panels.
The game's graphical user interface (GUI) shows your selected cards at the bottom of the screen. As the draw proceeds, these cards get rearranged according to their win potential, with those closest to winning moving to the top. This automatic sorting feature assists players in tracking their performance during the game, keeping the excitement high.
Venture into the world of Mega Ball Today!
Live Mega Ball by Evolution offers an exciting and dynamic blend of lottery and bingo. With its top-notch features, engaging hosts, user-friendly interface, and immense winning potential. Evolution consistently delivers high-quality live dealer games, backed by advanced software and features, making it a leading choice for online casinos. New players can benefit from a variety of bonus offers when joining an online casino, potentially boosting their chances to secure a win.
While you're exploring Mega Ball, it's worth taking a look at other offerings by Evolution. Games like Lightning Roulette, Deal or No Deal, and Cash or Crash are other exciting live dealer options that bring unique game mechanics and huge winning potential. They are packed with top-notch features and immersive gameplay, making them worth a try for any casino enthusiast.
Frequently asked questions
Is Mega Ball available for free play?
Unfortunately, as Mega Ball is a live casino game by Evolution, it isn't available for free play. Live dealer games typically require real money wagers.
How many Mega Ball cards can I purchase at once?
You can purchase up to 200 Mega Ball cards in a single round. This provides more opportunities to win, but it also increases your stake.
Is there a winning strategy for Mega Ball?
Mega Ball is a game of chance, meaning there isn't a surefire strategy to guarantee a win. However, buying more cards could increase your chances of getting a payout.
Is Mega Ball mobile-friendly?
Yes, Mega Ball is fully optimised for mobile play. Whether you're using an Android or iOS device, you can enjoy the game without compromising on quality.
What's the maximum payout in Mega Ball?
The maximum payout in Mega Ball is capped at $500,000, irrespective of the multiplier effect. This could turn a relatively small stake into a substantial windfall!
How often is Mega Ball played?
Mega Ball runs continually, with new rounds starting every few minutes. So, you can jump in and play at a time that suits you best.