Introduction To Mega Ball
If you are a person that loves bingo or wants to start playing it, Mega Ball is one of the games that you might want to play. The highly popular game, which was created and developed by Evolution Gaming, is a highly entertaining bingo game that has many players loving every second of it. It was officially released in 2020, and during its short term, it has really caught the eyes of several players.
Evolution Gaming made it look as if the player has a sheet of paper with random numbers on it, just like a normal bingo game would have. The twist with Mega Ball is you are able to have up to 200 different 5×5 randomly generated number sheets. In reality, it would be incredible if someone was able to keep notes on 200 different bingo sheets.
Mega Ball's Interface
At Online Gambling Australia, we put a lot of value in a good user interface, and Evolution yet again have not let us down. It is not surprising to see that Evolution Gaming has yet again done a terrific job on this. The studio that Mega Ball has is absolutely insane. The colour scheme of Mega Ball is gold and green which are two colours that really go well together.
Once you load Mega Ball, you will find an incredibly filled studio. You will find the live dealer beside a sphere-shaped glass that is placed on a green and gold-coloured table. The sphere-shaped glass is where all of the numbered balls are placed.
On the left-hand side of the screen, you will see a large screen. This is where the multiplier is chosen at the end of each round. At the end of each round, a bonus ball comes out of the sphere-shaped glass. You will see more information about this part in the How To Play Mega Ball section.
Lower Part Of The Mega Ball Interface
The lower section of the live casino game is where it gets interesting. As a new round is about to start, you will see 4 golden cards, the value of the cards, the recent multiplier number chosen with the multiplier itself, and the paytable.
These 4 cards are different, as you can either purchase 1 card or 100 cards with just a click of a button. You can also adjust the value of each card. Doing so will increase your betting amount and payout amount.
How To Play Mega Ball
One important priority that Evolution Gaming has is that they try to make the gameplay as easy as possible for their players. They have successfully satisfied this goal as it really doesn't involve too many clicks!
After the game is loaded, it is finally time to play some Mega Ball! Firstly, you need to select the amount you wish to play with. This can be done through the value button below the golden cards. After that, it is time to choose the number of cards you wish to play in the next round.
You are able to choose between 1 and 200 cards. The more cards you have, the better the chance of hitting a 6+ line payout. These cards are 5 by 5 and are filled with 24 randomly generated numbers. The one missing space is located in the middle of the card. This slot is the neutral slot. It is as if you already got this number before the round began so to say. Prior to the round start, you can also change the numbers on your card with a click of a button.
The Start Of The Round
After the 12 seconds window is up, and you have chosen the number of cards you wish to play with, it is time for the sphere-shaped glass to do its thing. The sphere-shaped glass is called the Ball Machine and it is where it stores 51 different numbers. From 1 to 51 to be more specific.
When the round begins, the Ball Machine will start to blow air so that the numbered balls would be mixing around. Then the balls will shoot up vertically into the chosen slot. This is when the number is shown on the board on the right-hand side of the Ball Machine. Additionally, the Ball Machine needs to choose 20 balls.
For instance, if the number 13 is chosen then all number 13's that are on your cards will be covered by a green circle to indicate to you that it has been chosen.
After the round is over, you are able to repeat the previous betting round by simply pressing the repeat button that is located on the right-hand side of the value button.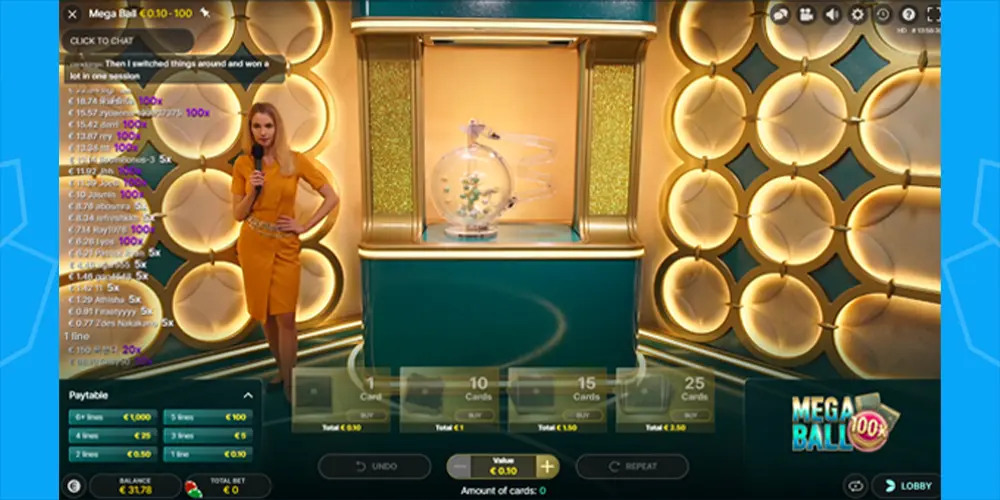 Multiplier Ball, Payout & Lines
To win you would have to get at least one of 12 possible line wins. There are 5 vertical lines, 5 horizontal lines, and 2 diagonal lines. This can be done by getting 5 numbers that connect a line.
If after the 20 balls are chosen you are left with a line that needs one more number, then you have the last chance to get one! In Mega Ball, after the 20 numbers are chosen, there is a bonus number. This number will have a random multiplier given to it. It can be either 5x, 10x, 12x, 15x, 20x, 25x, 50x, or 100x.
After the multiplier is revealed the Ball Machine will shoot up the last number. If you need the number 5 for instance and the number 5 is chosen, then you would win that round!
Below you can find a table that shows the payout available to the number of lines you get within one card.
| | |
| --- | --- |
| Winning Lines From One Card | Payout |
| 1 | 1x – 100x |
| 2 | 5x – 500x |
| 3 | 50x – 5,000x |
| 4 | 250x – 25,000x |
| 5 | 1,000x – 10,000x |
| 6 | 10,000x – 100,000x |
Minimum & Maximum Bets, RTP, and Max Win
It is important to know the amount that you are able to bet when playing Mega Ball. The minimum amount you are able to wager is $0.10, whilst the maximum amount is $100.
It is also critical to note that you should keep in mind the amount that you played in the previous round. The reason is that if you choose more cards to play with, you would ultimately be increasing your betting amount. Always keep track of the betting value and the number of cards you are about to play with!
It is also important to note that the RTP rate of Mega Ball is 95.40%, whilst the maximum amount you are able to win is $500,000.
Mega Ball Strategy
When it comes to Mega Ball, there aren't any real strategies for it. It all really comes down to luck. You can choose to purchase more cards to get a better chance to have a large winning card, but that also requires you to bet a larger amount.
If you're someone that doesn't really want to place a large bet whilst playing Mega Ball, then we suggest that you play with between 1 to 5 cards. But if you're someone that is looking to try their best to win a large sum of money, then we suggest you buy a minimum of 25 cards.
Additionally, if you're not sure about the amount you wish to bet with, we suggest that you place between 5% to 10% of your budget within each round.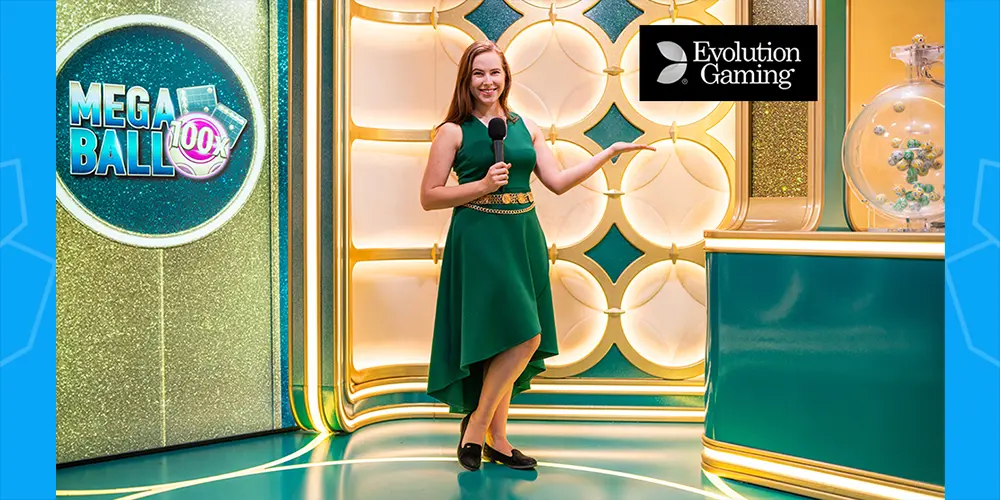 Compatible Devices To Play Mega Ball
It has now become somewhat of a standard in the iGaming industry that all companies have to have their games available on practically every single device possible. Given that Evolution Gaming is one of the most popular and highly loved gaming providers, it is not surprising to see that they have made Mega Ball available on every single device.
You're at home? You can play Mega Ball on your laptop or PC. You're on the bus on your way home? You can play it on your phone or tablet. Evolution Gaming really made it that simple! You are only a WiFi connection away.
Mega Ball: Calling Out All Bingo Lovers
Evolution Gaming has produced yet another outstanding game. It really gives you that bingo feel. The fact that each round takes about a minute long is also impressive. This gives players the chance to play Mega Ball multiple times in the space of 5 minutes.
The fact that you can also play the game on the go is also something worth pointing out. It is vital for games in this day and age to be mobile-compatible and Evolution has yet again satisfied this need. They also have other games such as Lightning Dice Live Monopoly, Lightning Roulette & Deal or no Deal, that are mobile-friendly as well!
Additionally, the fact that you can have multiple cards within the same round is also incredible. It is like playing 100 bingo in one round. Wow!
Frequently asked questions
Who Created Mega Ball?
Mega Ball was created by Evolution Gaming, which is regarded to be one of the best iGaming providers in the industry. They have created multiple other well-known games such as Lightning Dice and Deal or No Deal.
Is Mega Ball Mobile Compatible?
Yes, it is! Evolution Gaming has made it its mission to produce high-quality games that are compatible with all devices, including mobile.
What Is The Minimum And Maximum Amount A Player Can Wager On Mega Ball?
When playing Mega Ball it is important to highlight the minimum and maximum a player can wager. The minimum amount a player can wager is $0.10 whilst the maximum is $100.
Are There Any Complaints From Players About Mega Ball?
When conducting our research, we didn't find any complaints from players that have already tried out the game. This is a positive thing as it gives an indication that the game is a great one!
Is There A Strategy For Mega Ball?
When it comes to a strategy for Mega Ball, there isn't really one. What we suggest that you could do though is to place a bet that contains a minimum of 25 cards.
What Is The Maximum Possible Payout Multiplier?
The maximum multiplier a player is able to get is 100,000x. This only happens when a card contains 6 lines. This is something that rarely happens.
Is Mega Ball User-Friendly?
Yes, it is! Mega Ball is super user-friendly. The interface itself gives players a clear indication of what happened, and what they are able to do for the next round.