Pros and Cons
Pros

Exceptional cabaret-themed design
Varied bonus features to keep the gameplay exciting
Medium volatility suitable for various players
High-quality graphics and audio
Cons

RTP is slightly lower than average
No bonus buy feature
Wild Velvet Pokie: A Glamorous Affair
Boasting rich aesthetics of a cabaret show, Wild Velvet pokie invites you to a splendid evening of charm and mystery. As the curtain rises, will you be the lucky one walking away with the grand prize? Wild Velvet guarantees an engaging, thrill-filled gambling experience, with its standard 5×3 game grid and 20 paylines, it captivates players in the enthralling mystique of the cabaret world.
Allow Lady Belle to celebrate your wins with you from her swing on the left-hand side of your screen. Experience the splendour of Wild Velvet at top casinos such as Golden Crown and NeoSpin. Get ready for a luxurious pokie journey like no other.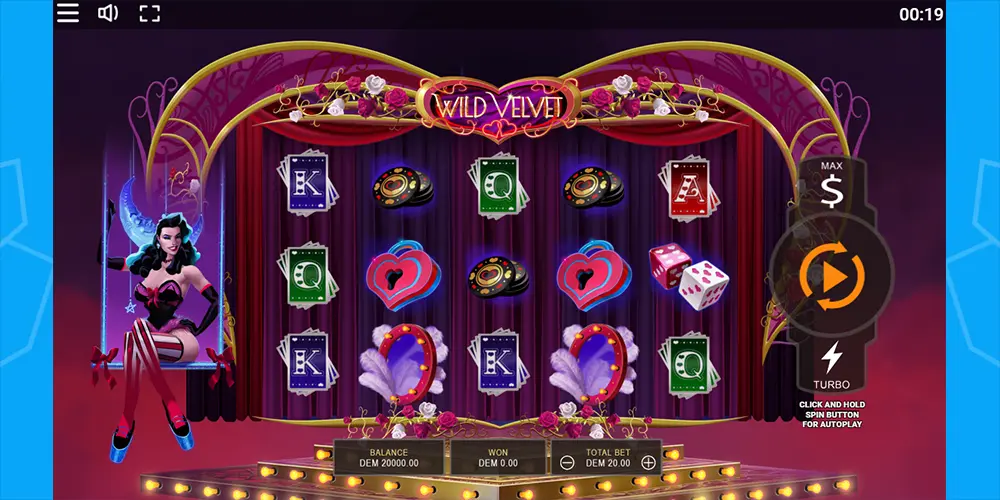 How to Play Wild Velvet
The magic of Wild Velvet unfolds as players take a moment to set their wager, a gesture that echoes their strategic insight and comfort. With stakes decided, a mere touch of the 'Spin' button releases the reels into a symphony of motion. The spectacle is a visual treat, adorned with high-value symbols like the Heart Padlock and Heart Wild that could multiply winnings significantly.
While the game operates on fixed paylines, it's the unpredictable dance of symbols on the reels that hold the player's gaze. The game's medium volatility implies a balanced risk-reward equation, further enhanced by an RTP of 96%, signalling fair return prospects over extended gameplay.
The unique charm of Wild Velvet also lies in the power of Scatter symbols. Their appearance triggers a respin feature, adding an unexpected twist to the play. For those who enjoy a continuous rhythm, the 'Auto Play' feature can set a predetermined number of spins in motion. The harmonious blend of these elements makes Wild Velvet a captivating journey, offering both excitement and simplicity.
Basic Information
Pokie

Wild Velvet

Software

Mancala Gaming

Release date

January 2023

RTP

95%

Volatility

Medium

Maximum win

2,913x

Minimum Bet

$0.20

Maximum Bet

$18

Paylines

20

Reels

5

Jackpot

No

Free Spins

Yes
Wild Velvet Symbols
In the heart of the glitzy and glamorous world of Wild Velvet pokie, players will encounter a myriad of vibrant symbols, each adding an additional layer of excitement and possibility to the gameplay. The game ingeniously combines a variety of high-paying and lower-paying symbols to create a balanced and enticing gaming environment.
High Paying Symbols
Among the high-paying symbols, the Heart Padlock and Heart Wild stand out for their value, offering up to 25 times your bet for landing five on a payline. They add richness and depth to the game, with the Heart Wild also playing a role in creating winning combinations. The Feathered Mirror, Dice, and Casino Chips follow in the hierarchy of value, symbolising good luck, classic gambling elements, and the stakes at play respectively.
Low Paying Symbols
Meanwhile, lower-paying symbols adopt the classic card values, from Ace to Jack. These symbols may not offer the hefty rewards of their high-paying counterparts, but they are frequent contributors to your wins, keeping the gameplay engaging and rewarding.
The Wild Velvet pokie has been meticulously designed to ensure every symbol matters, each playing a unique role in dictating your rewards. Payouts are calculated based on your bet per line, not your total bet, so the right combination of symbols can lead to impressive winnings. The key to winning big lies in understanding how these symbols interact with each other, offering a rip-roaring and unpredictable gaming experience.
Symbols & Paytable
| | | |
| --- | --- | --- |
| Symbol | Payline  | Payout |
| Padlock | x5 | 25x |
| Heart Wild | x5 | 25x |
| Feathered Mirror | x5 | 12.5x |
| Dice | x5 | 10x |
| Casino Chips | x5 | 7.5x |
| A Cards | x5 | 5x |
| K Cards | x5 | 4x |
| Q Cards | x5 | 3x |
| J Cards | x5 | 2x |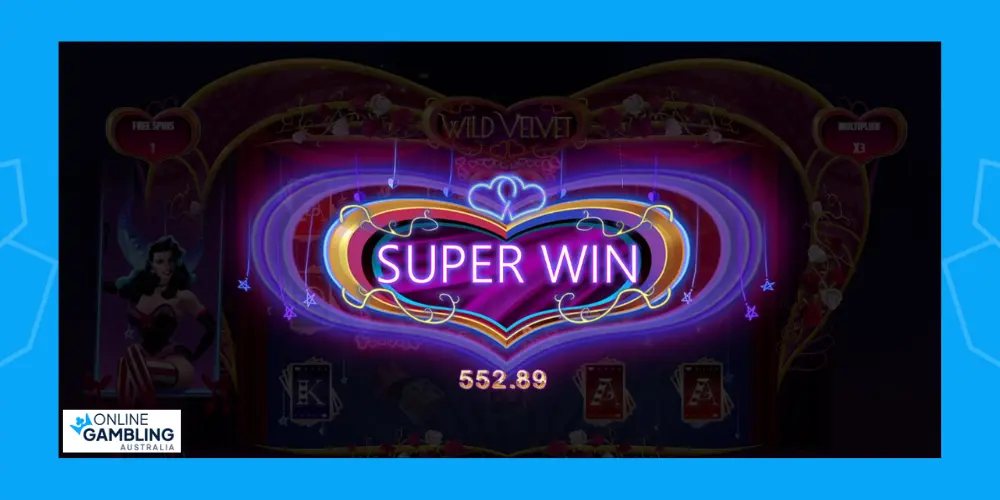 Bonuses of Wild Velvet Pokie
In Wild Velvet, you'll find an array of dynamic features and symbols that enrich the gameplay. From captivating bonus rounds to rewarding wild substitutions, these engaging elements offer players a unique journey through the glamorous world of cabaret. Apart from the standard card symbols, the game features special symbols like Poker Chips, Dice, Mirror, and Heart, along with a Wild and Scatter symbol.
Respin Feature
The scatter symbols are truly a player's best friend in this pokie. Appearing on any reel during the base game, these precious icons unlock the exciting respin feature when two or more are collected in a single spin. During this feature, the reels lacking scatters will indulge in a flamboyant dance, spinning once more.
Should the reels be graced with additional scatter symbols, the respin performance repeats itself, focused on the remaining scatter-free reels. This glittering spectacle ends only when each reel is adorned with a scatter symbol or the reels come up empty after a respin.
Wild Velvet Free Spins
The enchanting Free Spins feature in Wild Velvet is not only a thrilling part of the gameplay but also a strategic tool for players. It's triggered when a player lands three or more Scatter symbols on the reels. Each Scatter symbol plays a crucial role in determining the number of free spins and the multiplier that a player receives.
Three Scatter symbols give you seven free spins, coupled with a multiplier of 2 on each win during the spins, doubling the joy of every winning combination. Landing four Scatter symbols ups the ante, gifting you ten free spins with a multiplier of 3 on each win, tripling your excitement. And if you're fortunate enough to land five Scatter symbols, the game rewards you with twelve free spins and a remarkable multiplier of 4 on each win, quadrupling the buzz.
Sticky Wilds
Even more exciting is the Sticky Wilds feature, which comes alive during the Free Spins round. When active, these Sticky Wilds latch onto the reels and stay in place for the duration of the free spins. This boosts your chances of forming winning combinations, providing another exciting layer to the captivating gameplay of Wild Velvet.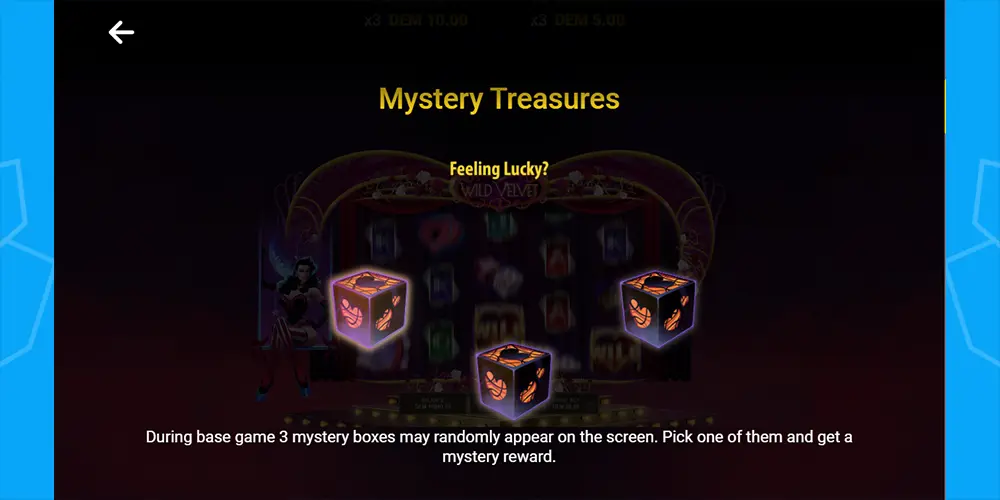 Mystery Treasures
The charm of Wild Velvet deepens with the inclusion of the captivating 'Mystery Treasures' feature. This unique bonus provides an exhilarating layer to the gameplay, making each spin potentially even more rewarding. Upon its activation, players are greeted with mystery boxes, each harbouring a hidden prize waiting to be unveiled.
Cash prizes are one of the enticing rewards that players could potentially uncover. The joy of unboxing a mystery treasure to find a direct boost to your winnings adds an indescribable delight to the game. Even more intriguingly, another surprise awaiting in these mystery boxes could be a direct pass to the coveted free spin feature. This bonus not only enriches the gameplay but also provides a strategic advantage, as free spins can significantly improve winning chances.
The Mystery Treasures feature embodies the essence of Wild Velvet – it's unpredictable, exciting, and carries the potential to change the course of the game at any moment.
Other Noteworthy Games by Mancala
Mancala Gaming boasts an entire portfolio of engaging pokies with other fascinating titles such as the ones listed below and many, many more.
Reel Reel Hot: This is a classic-themed pokie game that has won over millions of players worldwide. This 3×3 line-wins-based fruit pokie transforms into an all-ways-paying game during the free spins feature, offering increased chances of winnings. To add to the excitement, it features a bonus prize wheel that can award more free spins, multipliers, or nudge or hold for basic game reels. The popularity and feature-packed gameplay of Reel Reel Hot make it a must-try for any pokie enthusiast.
Book of Wealth: Experience the allure of hidden riches in Book of Wealth. This captivating pokie combines ancient scrolls, treasure-filled chests, and daring adventures to offer an immersive gaming experience. With its rewarding features and intriguing gameplay, Book of Wealth provides an unforgettable pokie adventure.
Curtain Call: Wild Velvet Pokie
With a captivating cabaret theme and innovative features that keep the gameplay quaking, just like Astro Jewels, Wild Velvet pokie is a first-class offering from Mancala Gaming. It's sure to appeal to a wide range of players, from those fascinated by the cabaret world to those interested in engaging gameplay mechanics.
So, as the spotlight shines on the final curtain call, we can proclaim that this is one cabaret experience worth embracing. Step into the dazzling world of Wild Velvet today and let the grand show begin!
Frequently asked questions
Is there a demo version available for Wild Velvet?
Yes, most online casinos powered by Mancala Gaming offer a demo version of Wild Velvet. It's a good way to try out the game mechanics and understand the features before you start playing with real money.
Can I play Wild Velvet on my mobile device?
Absolutely. Like all Mancala Gaming offerings, Wild Velvet is optimised for mobile play. It supports all major operating systems, including iOS and Android, ensuring a seamless gaming experience on the go.
What's the maximum win possible on Wild Velvet?
The maximum win on Wild Velvet can vary based on the bet size and the multiplier obtained during the bonus rounds. For the exact details, you should check the game's paytable in the online casino where you are playing.
Does Wild Velvet have a progressive jackpot?
No, Wild Velvet does not feature a progressive jackpot. However, it does offer a variety of rewarding features such as free spins, multipliers, and bonus rounds that could lead to substantial wins.
What's the theme of Wild Velvet?
The theme of Wild Velvet is inspired by luxury and elegance. The pokie incorporates symbols of velvet, diamonds, and other precious gems, creating a visually rich and indulgent gaming experience.
Can I play Wild Velvet for free?
Yes, you can play Wild Velvet for free by selecting the demo or "play for fun" version in most online casinos that host Mancala Gaming pokies. However, any winnings in the demo mode are virtual and cannot be cashed out.
How can I maximise my wins on Wild Velvet?
While pokies are largely based on luck, understanding the game mechanics, special features, and betting within your budget can increase your chances of winning. It's also beneficial to take advantage of the free spins and bonus rounds in Wild Velvet, as these often lead to higher payouts.