Pros and Cons
Pros

Mammoth payline range
High RTP 97.24%
Loaded with special features
Engaging graphics
Cons

Max bet comparatively low
White Rabbit Megaways Review
White Rabbit Megaways is a spectacular online pokie developed by Big Time Gaming, offering players a mesmerising experience through its vibrant theme inspired by the Alice in Wonderland tale. While the enchanting Wonderland theme has been explored in various online pokies, White Rabbit Megaways stands out as the only Megaways title in this genre, offering a unique twist to the familiar and beloved narrative.
Notably, other titles in the market, such as the original pokie Adventures Beyond Wonderland and Adventures Beyond Wonderland Live, both developed by Playtech, have also drawn inspiration from this timeless tale, yet none offer the Megaways mechanic. The pokie showcases an array of vivid colours, enchanting sounds, and finely detailed graphics, creating an atmosphere that transports players into an extraordinary world.
The symbols, including the eponymous White Rabbit, Red Queen, and the Cheshire Cat, are designed meticulously to reflect the humour and charm of the beloved tale.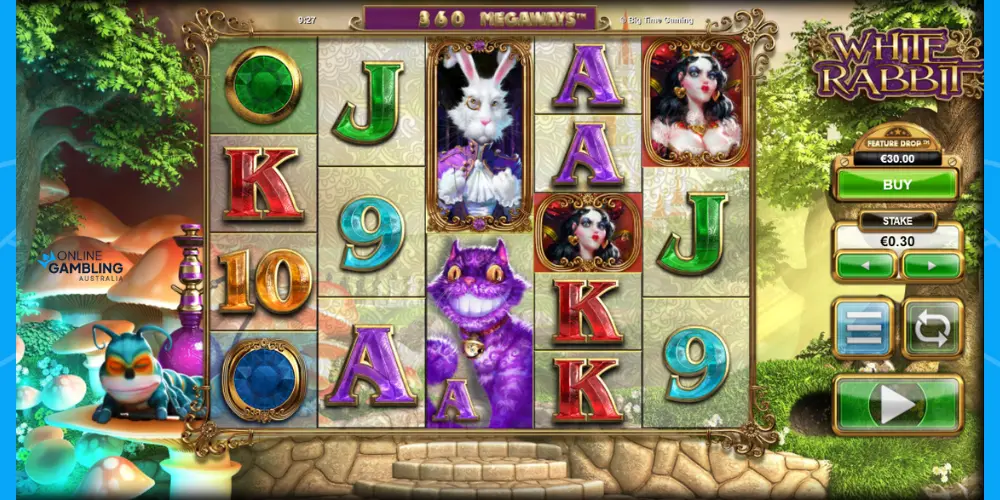 How to Play White Rabbit Megaways
Playing White Rabbit Megaways is an engaging experience, offering a unique gaming environment with a high RTP of 97.24%. This game is characterised by high volatility, providing the potential for significant wins, though it also entails a degree of risk. Players can enjoy a maximum win of up to 10,000x their stake in a single spin, with betting limits ranging from a minimum of $0.10 to a maximum of $20 per spin.
The game boasts a myriad of features that enhance the gameplay. For instance, the Megaways mechanism alters the number of symbols on each reel with every spin, offering between 16,807 and 248,832 paylines. The Extending Reels feature adds extra symbols to the reels during the Free Spins round.
Pokie

White Rabbit Megaways

Software

Big Time Gaming

Release Date

November 2017

RTP

97.24%

Volatility

High

Maximum Win

250,000x

Minimum Bet

$0.10

Maximum Bet

$20

Payline

16,807 - 248,832 ways

Reels

6

Jackpot

Megaways

Free Spin

Yes
White Rabbit Megaways Pokie Symbols
White Rabbit Megaways is adorned with a variety of symbols that each carry distinct values and functions within the game. These symbols are meticulously crafted to align with the enchanting theme of the pokie, contributing to an engaging and visually pleasing gambling experience. The symbols are categorised into low-payout, high-payout, and special symbols, each playing a crucial role in the game dynamics and the potential winnings a player can accumulate.
Low-Payout Symbols
In White Rabbit Megaways, the low-payout symbols are represented by the classic card icons ranging from 9 to Ace adorned with characters from Alice in Wonderland. These symbols appear frequently on the reels, offering players consistent, albeit smaller, wins. To secure a win with these symbols, players need to land at least three of a kind on the reels.
These symbols provide a steady stream of smaller payouts, keeping the game engaging and rewarding even for those who don't land the high-value symbols.
High-Payout Symbols
White Rabbit Megaways features an array of high-payout symbols that bring the enchanting theme to life while offering players the chance to secure substantial wins. The most distinguished among these is the Red Queen, a symbol of majesty and power, which promises the highest payouts among the regular symbols.
The other high paying symbols include precious Gems in red, blue, and green, with each colour presenting a different value. The Red Gem, being the most valuable among the three, is a coveted symbol on the reels, followed closely by the Blue and Green Gems, which also hold significantly high value.
Special Symbols
White Rabbit Megaways boasts several special symbols that enhance the gameplay and unlock additional winning possibilities. The Wild symbol, which can appear on reels 2 to 5, substitutes for all other symbols except the Cupcake, Scatter, and Feature Drop symbols, acting as a linchpin for creating winning combinations.
The Scatter symbol triggers the Free Spins feature when three of them land on the reels. Each special symbol in the game is designed to provide players with exciting opportunities and surprises with each spin.
Symbols Paytable
| | | |
| --- | --- | --- |
| Symbol | Payline | Maximum Payout |
| Red Queen | x5 | 25x |
| Red Gem  | x5 | 5x |
| Blue Gem | x5 | 2x |
| Green Gem | x5 | 2x |
| Cheshire Cat (A) | x5 | 2x |
| Tweedledum & Tweedledee (K) | x5 | 1.9x |
| Dodo (Q) | x5 | 1.5x |
| Mad Hatter (J) | x5 | 1.3x |
| Teapot (10) | x5 | 0.7x |
| Stacked Cups & Saucers (9) | x5 | 0.6x |
White Rabbit Megaways Pokie Bonuses
White Rabbit Megaways brings forth an array of enticing bonuses that significantly enhance the gaming experience by offering additional ways to win. Each bonus is meticulously crafted, not only to align with the game's whimsical theme but also to provide players with exciting and rewarding opportunities. The bonuses are triggered in various ways, each unfolding a unique layer of gameplay that holds the potential for lucrative payouts.
Free Spins
The Free Spins bonus is a highlight in White Rabbit Megaways, triggered when three Scatter symbols land on the reels. Players are initially awarded 15 free spins to enjoy. During these spins, the game's mechanics subtly shift to offer increased winning potential. The Free Spins start with 5 to 7 symbols per reel, and with each spin, the number of symbols per reel can increase, thereby escalating the excitement and potential rewards with every spin.
Extending Reels
Big Time Gaming introduces the Extending Reels feature in White Rabbit Megaways, adding an extra layer of thrill to the gameplay. This feature is activated during the Free Spins bonus round. Every time a Cupcake symbol lands on the reels, it is replaced by two new symbols, effectively increasing the number of symbols on that reel by one. This expansion allows reels to extend up to a maximum of 12 symbols per reel, providing players with even more ways to win.
Feature Retrigger
The Feature Retrigger is another exciting bonus that activates when a reel reaches its maximum extension of 12 symbols during the Free Spins round. When this happens, the feature is retriggered, and players are awarded additional free spins, ranging from 3 to 12. This retriggering can occur up to five times during the feature, providing a roller-coaster of excitement and potential for substantial wins.
Queen's Reel
Upon the extension of a reel to 12 symbols, not only is the Feature Retrigger activated, but players also gain access to the Queen's Reel. The Queen's Reel is an enhanced version of the standard reel set, enriched with extra Red Queens and Wild symbols. This special reel significantly increases the chances of forming winning combinations, making it a coveted feature among players.
Feature Drop
White Rabbit Megaways incorporates the Feature Drop, allowing players to buy access to the Free Spins feature at the listed price on the Feature Drop button. Interestingly, as you play, you can accumulate tokens that reduce this price, and if it reaches zero, the feature triggers automatically. The RTP increases to 97.77% when the feature is bought at full price and adjusts to 97.24% when it's triggered at zero cost, offering varied potentials for wins.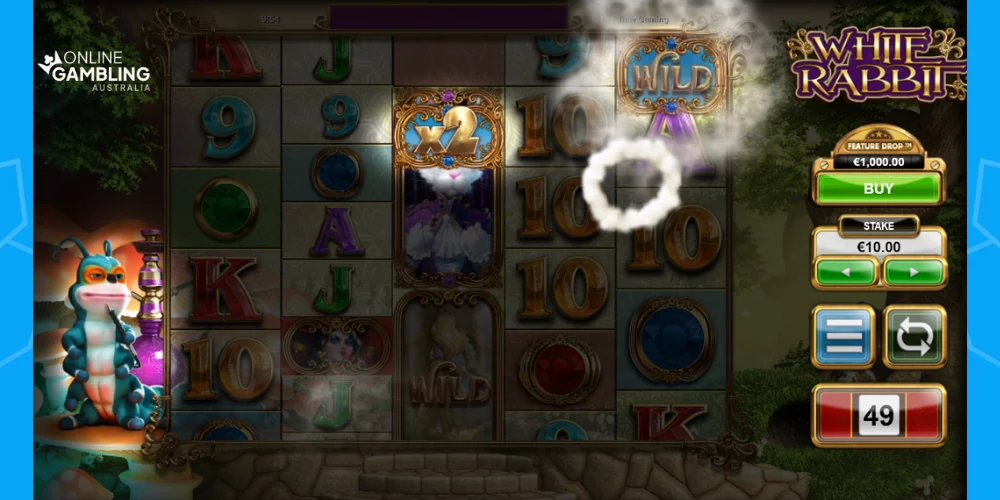 Spilling the Tea: White Rabbit Megaways
White Rabbit Megaways, developed by Big Time Gaming, just like the pokie Royal Mint Megaways, is a distinctive online pokie offering a blend of enchanting visuals, a wide range of paylines, and captivating array of bonus features designed for an engaging gaming experience. This is a high RTP pokie of 97.24% with an elevated volatility making it a promising choice for players seeking both entertainment and the potential for substantial rewards.
While the game provides a myriad of positive attributes, it's important for players to approach it with a balanced perspective. One notable aspect that might not appeal to all is the duration the reels take to halt.
The extended spin time, although adding to the suspense, might be a source of frustration for some players who prefer quicker outcomes. This factor, however, is a matter of personal preference and does not detract from the overall allure and thrill that White Rabbit Megaways consistently delivers.
Frequently asked questions
What makes White Rabbit Megaways unique from other pokies?
White Rabbit Megaways is distinguished by its Megaways mechanism, which offers a varying number of paylines with each spin, ranging from 16,807 to 248,832. This, combined with its enchanting theme inspired by Alice in Wonderland, and a host of special symbols and bonus features, provides a dynamic and unpredictable gaming experience.
Does the game have a stop-spin feature?
White Rabbit Megaways doesn't come with a stop-spin feature. The reels take some time to come to a halt, adding to the suspense of the game. While some players might find this engaging, others who prefer quicker gameplay might find it slightly tedious.
What's the significance of the Cupcake symbol?
The Cupcake symbol plays a pivotal role during the Free Spins feature by increasing the number of symbols on the reels. When a Cupcake symbol lands, it is replaced by two new symbols, allowing the reel to extend, which in turn increases the ways to win.
Are there any limitations on triggering the Free Spins feature?
The Free Spins feature is primarily triggered by landing three Scatter symbols on the reels. However, players also have the option to directly buy into the feature using the Feature Drop, if they don't want to wait for the Scatter symbols to land organically.
How does the Feature Drop work?
The Feature Drop allows players to purchase the Free Spins feature at any time for a specified cost, providing instant access to the feature without having to wait for Scatter symbols to appear on the reels.
How does the game maintain its unpredictability with each spin?
White Rabbit Megaways utilizes a Random Number Generator (RNG) to ensure that each spin is independent and unpredictable. The RNG ensures that the outcome of each spin is entirely random, providing a fair and unbiased gaming experience where each spin has an equal chance of winning or losing.
What is the significance of the Extending Reels feature?
The Extending Reels feature is crucial as it dynamically alters the game grid during the Free Spins round. With the appearance of the Cupcake symbol, the reels can expand, increasing the number of symbols that can appear, which subsequently increases the number of ways to win. This dynamic reel extension adds a layer of excitement to the gameplay, as it opens up more possibilities for forming winning combinations with each spin.