Pros and Cons
Pros

Unique Triple Reaction and Heartstopper mechanics
Up to 117,649 Megaways to win
Extra reels enhance winning possibilities
Superior graphics and sound effects
Cons

Game mechanics may confuse new players
Royal Mint Megaways Review
Royal Mint Megaways is a testament to Big Time Gaming's creativity in developing casino games that captivate players. This pokie amalgamates the gameplay of Extra Chilli and Bonanza, doubling the excitement and entertainment for players in a single game. Online pokies enthusiasts will appreciate the sophisticated design and substantial winning potential presented by Royal Mint Megaways.
The game exudes a sense of wealth and luxury, represented by meticulously designed symbols and game elements. The sound effects are carefully chosen to complement the visual elements, providing an overall atmosphere of excitement and elegance.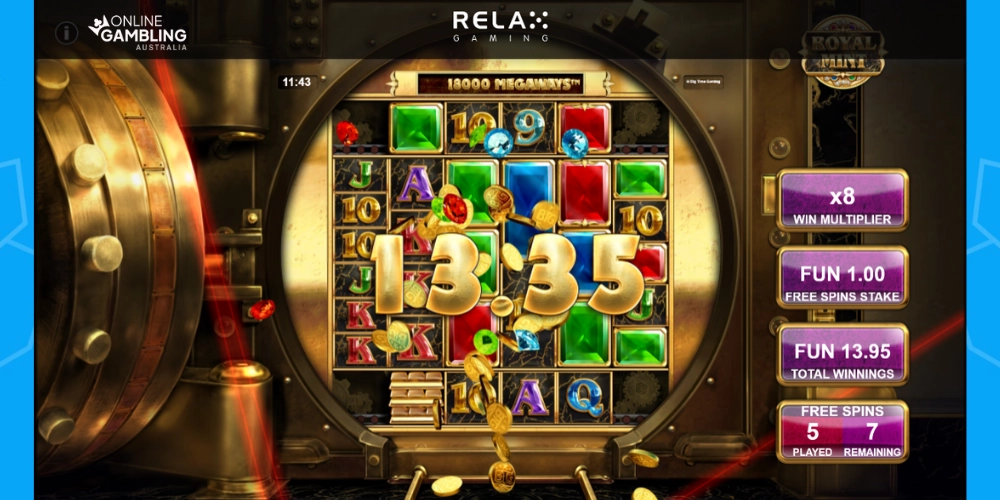 How to Play Royal Mint Megaways
Playing Royal Mint Megaways is an exhilarating online gambling experience, with a Return to Player (RTP) percentage of 96.48%, high volatility, and a maximum win of 40,000 times your stake on a single spin. With bets ranging from $0.10 to $20, it accommodates various budget sizes.
Players will encounter extra reels that add symbols to reels 2, 3, 4, and 5, increasing the possibilities of forming winning combinations. Additionally, the game features a reaction mechanism where winning symbols (excluding scatters) are replaced, creating dynamic and ever-changing gameplay.
Pokie

Royal Mint Megaways

Software

Big Time Gaming

Release Date

February 2020

RTP

96.48%

Volatility

High

Maximum Win

40,000x

Minimum Bet

$0.20

Maximum Bet

$50

Payline

117,649

Reels

6

Jackpot

No

Free Spin

Yes
Royal Mint Megaways Pokie Symbols
Royal Mint Megaways dazzles players with a variety of symbols intricately designed to reflect the game's luxurious and royal theme. As you navigate through this opulent setting, each spin reveals a blend of classic and unique symbols, each contributing to the game's engaging narrative.
Low-Payout Symbols
Low-payout symbols, encapsulated by the classic card icons ranging from Ace (A) to the number 9, are frequent guests on the reels. These symbols, bathed in vibrant gem-coloured hues, provide frequent, though smaller, wins to the players, maintaining a steady flow of rewards as you indulge in the gameplay. Their prevalence on the reels offers consistent opportunities for players to accumulate wins, making them integral to the gambling experience.
High-Payout Symbols
On the other end of the spectrum, the reels are graced by the lustrous high-payout symbols, embodied by the radiant gemstones in various colours. The elusive Purple Gem, a symbol of opulence within the game, leads the pack in terms of value.
The Red, Blue, and Green Gems, while appearing less frequently than their low-payout counterparts, bring with them the promise of more substantial rewards, making each of their appearances on the reels a moment of anticipation and excitement.
Special Symbols
The game further heightens the thrill with the introduction of special symbols, each with unique functionalities. The Wild symbol, exclusive to the extra reels, acts as a versatile substitute for other symbols, facilitating the formation of winning combinations. The golden 'MINT' Scatter symbol is the gateway to the game's lucrative free spins feature, serving as a herald of potential windfalls awaiting lucky players.
| | | |
| --- | --- | --- |
| Symbol | Payline | Maximum Payout |
| Purple Gem | x6 | 50x |
| Red Gem | x6 | 7.5x |
| Blue Gem | x6 | 2x |
| Green Gem  | x6 | 2x |
| A | x6 | 1.75x |
| K | x6 | 1.75x |
| Q | x6 | 1x |
| J | x6 | 1x |
| 10 | x6 | 0.9x |
| 9 | x6 | 0.8x |
Royal Mint Megaways Pokie Bonuses
Royal Mint Megaways isn't solely about its mesmerising aesthetic; it's also a powerhouse of exciting bonuses designed to amplify the thrill and potential rewards for players at every turn. Each bonus feature is intricately crafted to weave into the gameplay seamlessly, providing surprises and opportunities for players to amass wins. Below, we explore these lucrative features in detail, unveiling the mechanisms that make this pokie a treasury of excitement and rewards.
Free Spins
The Free Spins feature in Royal Mint Megaways is a significant highlight, providing players with extra opportunities to win without additional wagers. Triggered by landing four or more Scatter symbols, this feature is a fan favourite due to its potential for high rewards.
Unlimited Win Multiplier Bonus
Integral to the Free Spins feature is the Unlimited Win Multiplier Bonus. This bonus is activated once players enter the Free Spins mode, starting with a x1 multiplier that increases by one with each reaction or win. With no cap on the multiplier, players can anticipate substantial wins, making every free spin a potential treasure trove.
Heartstopper Enhanced Free Spins
The Heartstopper Enhanced Free Spins is another noteworthy bonus in Royal Mint Megaways. Players can unlock this feature by collecting 40 Gold Bars, which adds an extra scatter per spin until the next feature is triggered. When activated, this bonus not only offers free spins but also starts with a x2 win multiplier, which increases by 2 after every reaction, adding a layer of excitement and potential to every spin.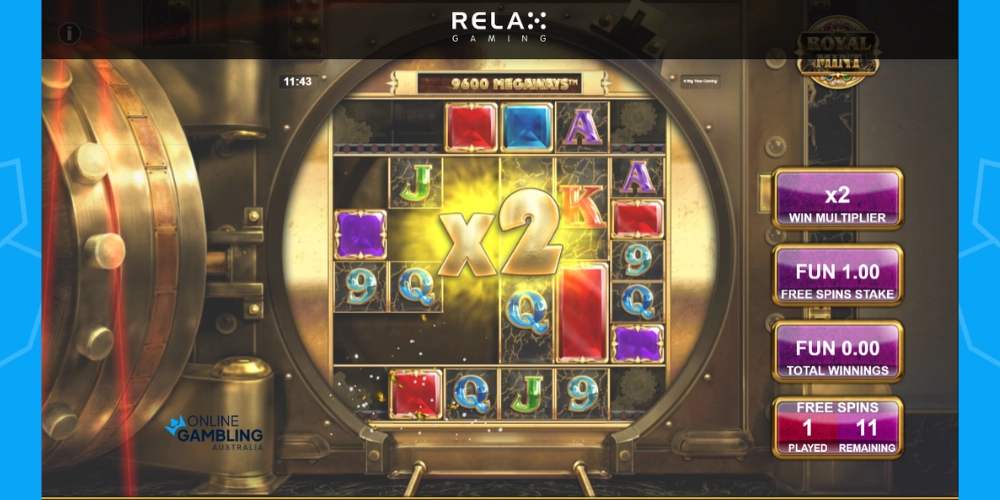 Royal Mint Megaways: Where Majesty Meets Mega Wins!
Royal Mint Megaways stands out as a compelling offering from Big Time Gaming, blending exquisite design with exciting gameplay. Set in a luxurious royal environment, the pokie showcases a variety of symbols, from gleaming gemstones to classic card icons, creating a visually engaging experience.
With up to 117,649 Megaways, the game keeps players engaged with each spin, enhanced by the innovative Triple Reaction and Heartstopper features. While its intricate mechanics might challenge beginners, the learning curve is worth the array of winning opportunities provided.
Though lacking a fixed jackpot, Royal Mint Megaways compensates with enticing Megways and bonuses. The Free Spins and Heartstopper Enhanced Free Spins not only extend gameplay but significantly boost winning potential, with the Unlimited Win Multiplier Bonus adding an extra layer of excitement.
Frequently asked questions
What makes the Royal Mint Megaways unique compared to other pokies?
Royal Mint Megaways incorporates the distinctive Megaways mechanic with up to 117,649 ways to win, accompanied by unique features like Triple Reaction and Heartstopper, setting it apart from other pokies in terms of gameplay and winning potential.
How does the Triple Reaction feature work?
The Triple Reaction feature adds two extra reels to the game, one above and one below the standard reels. These extra reels can contribute additional symbols to the second, third, fourth, and fifth reels, creating more opportunities for winning combinations.
Can I adjust the volatility of Royal Mint Megaways?
The game comes with a set, high volatility, providing the potential for larger but less frequent payouts. Players cannot adjust the volatility, making it important to strategise bets accordingly.
Is there a strategy to increase winning chances in Royal Mint Megaways?
While outcomes in pokies are determined by Random Number Generators, ensuring fair play, players can still employ betting strategies, like setting budget limits and understanding the game's paytable and features, to enhance their gaming experience.
What is the significance of the Heartstopper feature?
The Heartstopper Enhanced Free Spins feature is a unique bonus that increases the starting win multiplier during free spins, providing players with the chance for higher payouts. This feature is activated after collecting 40 Gold Bars, adding excitement and value to the gameplay.
Are there any limits on winnings in Royal Mint Megaways?
Royal Mint Megaways offers a maximum win of 40,000x your stake, providing substantial winning potential for players in each gaming session.
How user-friendly is Royal Mint Megaways for beginners?
While the game's mechanics are slightly more complex due to the various features and bonuses, a little practice and understanding of the rules can quickly get beginners up to speed, allowing players of all levels to enjoy the game.