Best Online Casinos for Adventures Beyond Wonderland Live
For Australian pokie enthusiasts keen to explore the enchanting world of Adventures Beyond Wonderland Live, we've curated a selection of top online gambling platforms. These platforms not only promise an unmatched gambling experience but also stand out for their stringent security standards, ensuring a safe gaming atmosphere. In addition, they offer a variety of promotions and casino bonuses, meticulously crafted to enhance your pokie adventures.
What is Adventures Beyond Wonderland Live?
Developed by the renowned gaming company, Playtech, Adventures Beyond Wonderland Live provides a fresh take on its existing game. Instead of the traditional pokie setup, the live version transforms its features into segments on a spinning wheel, reminiscent of a wheel of fortune similar to Crazy Time, a live casino game by the developers — Evolution. As you navigate through this vibrant Wonderland, you'll encounter a cast of colourful characters, symbolic elements, and a game dynamic that keeps you engaged.
Building on the legacy of Lewis Carroll's classic, Playtech's rendition merges the essence of conventional casino games with the whimsical narrative of Alice in Wonderland. The result? A game that beckons players time and again for another spin.
Adventures Beyond Wonderland Live & Playtech
Originally a traditional pokie, Adventures Beyond Wonderland was skilfully reinvented into a Live Casino game by Playtech and exclusively launched on GVC Holdings (now Entain plc) brands for UK and .com markets. The game's mesmerising ambience is heightened by augmented reality and a revolving studio, with dealers taking on the roles of iconic characters.
Playtech's visionary approach, as expressed by CEO Edo Haitin, is to treat Live Casino as not just a segment of the gambling industry but a pivotal part of the entertainment sector. Since its inception, both players and partners like GVC Holdings have lauded its unique charm. Beyond this game, Playtech, established in 1999, has consistently been at the forefront of technology in the gambling sector, delivering data-driven solutions across a spectrum of product verticals.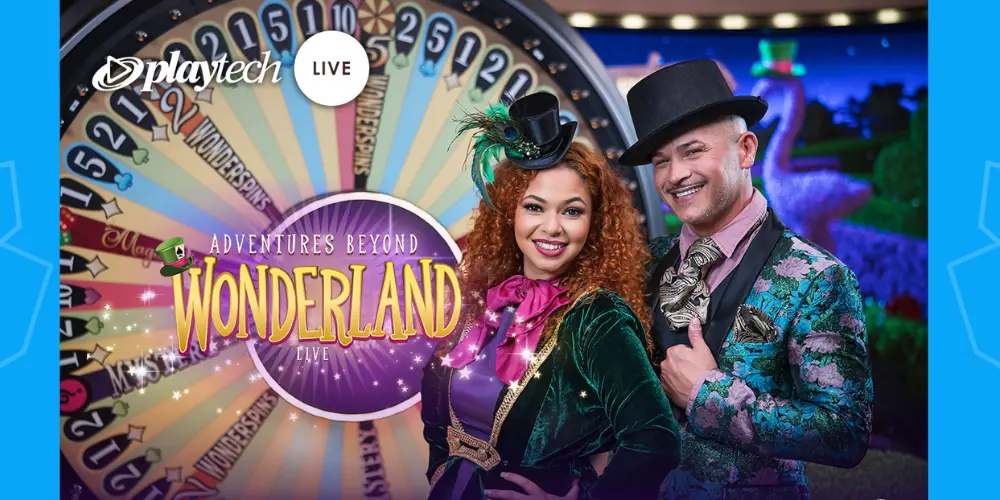 How to Play Adventures Beyond Wonderland Live
Initiating a game session in Adventures Beyond Wonderland Live allows for bets ranging between $0.10 and $500. Regardless of your chosen wager, the game operates based on the following dynamics:
Players can bet on various segments, including numbers like 1, 2, 5, and 10, as well as specific features like Magic Dice and Wonder Spins.
A host initiates the game by spinning the wheel.
Once the wheel stops, the flapper points to the winning segment.
If the wheel lands on a "mystery" segment, the caterpillar grants a random prize, which could be a cash reward or a multiplier up to 10x. It's essential to note that these mystery segments are not directly bettable, but they benefit all players when activated. The game offers specific payouts based on the wheel's stopping point:
1 offers a 1x payout
2 offers a 2x payout
5 offers a 5x payout
10 offers a 10x payout
Various bonus rounds and features, detailed in the Bonus Section, can further enhance winnings. The game's average RTP is 96.82%. Due to its inherent volatility, players are encouraged to strategise their bets.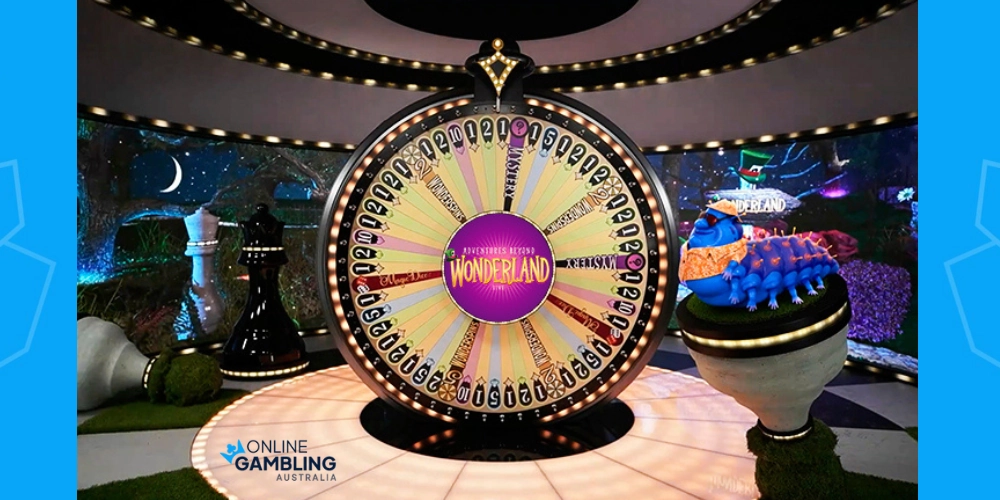 The Bonuses of Adventures Beyond Wonderland Live
The allure of Adventures Beyond Wonderland Live isn't solely based on its whimsical theme or enchanting visuals. A significant part of its charm lies in its bonus features, which not only amplify the excitement but also bolster the win potential. Each bonus feature offers a unique spin, intertwining the classic elements of Alice in Wonderland with innovative gameplay mechanics. Let's explore these bonuses in more depth.
Wonderspins
The Wonder Spins feature is activated when players land on the corresponding segment on the wheel. Depending on the outcome, they could receive either 2 or 4 spins on a newly unveiled money wheel. This wheel consists of two layers:
The outer layer has 54 segments, with potential prizes up to 50x the bet.
The inner layer offers additional multipliers up to 10x.
The combination of multipliers from both layers can propel payouts, enabling them to achieve up to 500x their initial bet. However, it's worth noting that winnings are capped at $500,000.
Magic Dice
Magic Dice transports players to a strategic game board, composed of 6 columns and 4 rows. Upon choosing a red or white dice, players roll it with the aid of an automatic shaker. The ultimate aim is to ascend the board, with the pinnacle offering the tempting 100x multiplier. The blend of strategy and chance makes this feature a standout.
Mystery Bonus Spins
As unpredictable as Wonderland itself, the Mystery Bonus Spins can suddenly come into play. Players might find themselves engaged with The Caterpillar Mystery Bubble or marching alongside the Card Soldiers. Both games dangle the possibility of substantial multipliers, adding an extra layer of thrill to the overall experience.
Mystery Round
Within the ever-changing landscape of Adventures Beyond Wonderland Live, the Mystery Round emerges as a testament to the game's penchant for surprise and enchantment. When this feature springs to life, players are presented with a concealed segment on the wheel.
The anticipation builds as the mystery outcome is unveiled, which can manifest as additional bonuses, bountiful cash prizes, or other tantalising rewards. This enigmatic feature ensures players remain captivated, always eager to discover the secrets hidden within the next spin.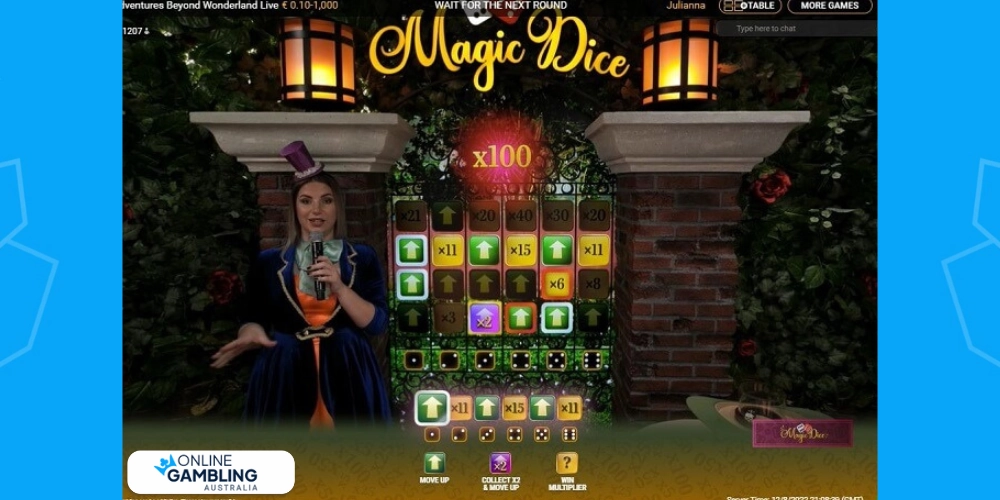 Tips & Tricks for Playing Adventures Beyond Wonderland Live
A thorough understanding of Adventures Beyond Wonderland Live can significantly enhance your gameplay experience. With the right strategies in place, players can not only enjoy the off-the-wall journey but also increase their potential for success:
Understand the Bonuses: Adventures Beyond Wonderland Live is rich in bonus features. While it's tempting to chase after numbers, remember that much of the game's potential lies in its bonus rounds. Engage with them strategically to maximise your rewards.From the Magic Dice to the Mystery Bonus Spins, it's crucial to know how each bonus works and what they offer. This will enable you to capitalise on these features when they are triggered.
Be Mindful of the Mystery Round: The Mystery Round can add an unexpected twist to the gameplay. It's beneficial to be prepared for this element of surprise, as it can lead to additional bonuses or cash prizes.
Use the Auto-Select Feature Wisely: If you don't make a selection within the given time during certain rounds, the game will automatically choose for you. While this can be helpful, making your own informed decisions is often more advantageous.
Stay Updated with Game Changes: As with any live casino game, features or rules might get updates or tweaks. Regularly reviewing the game's rules or any updates from Playtech ensures you're always in the loop.
Lastly, it's essential to play responsibly. While it's easy to get lost in the enchanting world of Wonderland, remember to set limits and ensure your gameplay remains enjoyable and within your means.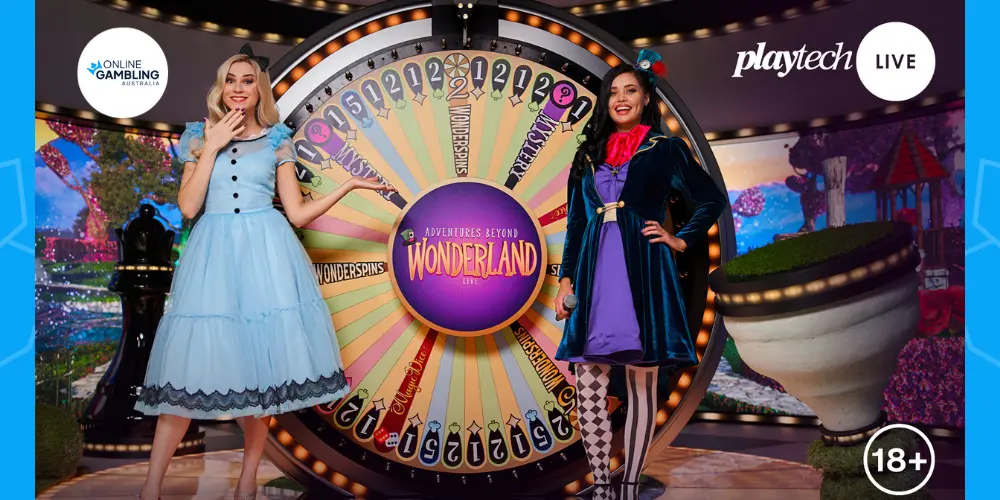 Adventures Beyond Wonderland: Down the Rabbit Hole & Beyond the Looking Glass
Adventures Beyond Wonderland Live stands out as a remarkable creation by Playtech, combining the whimsy of a beloved classic with the excitement of live casino gambling. Its vibrant visuals, thematic bonuses, and engaging gameplay mechanics transport players to a world where fantasy meets reality, offering a truly unique gaming experience.
The diverse range of bonus features, from the strategic Magic Dice to the unpredictable Mystery Round, adds layers of depth and intrigue, ensuring that players have compelling reasons to return for more spins. The potential for substantial payouts, especially with multipliers reaching up to 500x, is undoubtedly one of the game's major draws.
However, as with any casino game, players should be cognizant of its inherent volatility. While the game offers thrilling moments and substantial win potential, outcomes can vary significantly from one session to the next. The game's RTP, at 96.82%, is commendable, but players should strategise their bets and approach the game with both enthusiasm and caution.
Adventures Beyond Wonderland Live is a testament to Playtech's innovative prowess, offering a refreshing twist on live casino gaming. While it promises a mesmerising journey filled with wonder, players should remain grounded, ensuring they enjoy the game responsibly.
Frequently asked questions
Who is behind the creation of Adventures Beyond Wonderland Live?
Adventures Beyond Wonderland Live is a creation of Playtech, a leading gambling technology company globally renowned for its innovative casino games and software solutions.
What inspired the theme of this live casino game?
The game draws inspiration from Lewis Carroll's timeless tale, "Alice in Wonderland." It beautifully integrates iconic characters and elements from the story into the gameplay, offering a fusion of classic literature and modern casino gaming.
Are there any unique technological features in the game?
Yes, Adventures Beyond Wonderland Live boasts several technological innovations, including augmented reality and a revolving studio setup. These elements, combined with dealers dressed as the game's iconic characters, enhance the immersive experience.
How does the live version differ from the original pokie?
While the original pokie centred on reel spinning, the live version has transformed those features into segments on a wheel of fortune, providing a different gameplay experience while retaining the familiar theme and graphics.
Can I interact with the game's host during play?
Absolutely. One of the hallmarks of live casino games is the interactive aspect. Players can communicate with the charismatic presenters, who guide the gameplay, creating a more engaging and entertaining atmosphere.
What's the significance of the caterpillar in the game?
The caterpillar plays a crucial role during the "mystery" segments. If the wheel lands on a mystery segment, the caterpillar awards a random prize, which could be either a cash reward or a multiplier of up to 10x.
Are there any strategies to enhance my chances of winning?
While Adventures Beyond Wonderland Live is primarily a game of chance, players can benefit from familiarising themselves with the game's rules and bonus features.