Pros and Cons
Pros

Cluster-pay format.
Multiple power-up features
Golden Free Spin Bonus with multiplier symbols
High maximum win potential
Cons

Reduced RTP compared to its predecessor
Golden Glyph 2 Pokie Review
Golden Glyph 2 is the second installation in the series and stands out not just for its cluster-pay format but for its vivid representation of Ancient Egypt. Its vibrant colours, mesmerising sounds, and striking graphics transport players to a world of pyramids and pharaohs. Online pokies rarely capture a theme with such finesse, making Golden Glyph 2 a standout choice for players seeking a unique gaming experience.
How to Play Golden Glyph 2
Spinning the reels on Golden Glyph 2 is straightforward. The 7×7 playing field requires players to form clusters of five or more symbols to secure a win. The cluster pays mechanic is the same as that of Honey Rush by Play'n Go. Bets can range from a minimum of 20 cents to a maximum of $100. With an RTP of 96.09% and a shift in volatility from medium to high, players are in for an exciting ride.
In addition to the standard gameplay, Golden Glyph 2 introduces the Patterns of Horus. These unique patterns can remove symbols in specific configurations, offering a dynamic twist to the gameplay. There are six different possible patterns players can encounter: Cross, Ankh, Bird, Eye, Hourglass, and Snake. Each of these patterns has a unique shape and can influence the outcome of a spin in a distinct way.
The potential winnings have been amplified, with the chance to gain a payout exceeding the stake by 29,500 times. Players should be keen on the Power Glyph and Power Up symbols, as they hold the key to significant rewards.
Basic Information
Pokie

Golden Glyph 2

Software

Quickspin

Release Date

June 2021

RTP

96.09%

Volatility

High

Maximum Win

29,500x

Minimum Bet

$0.20

Maximum Bet

$100

Payline

Cluster-pays

Reels

7

Jackpot

No

Free Spins

Yes
Golden Glyph 2 Pokie Symbols
Golden Glyph 2 beautifully encapsulates the essence of Ancient Egypt. From hieroglyphs to artefacts, each symbol has been carefully crafted to fit the theme. Let's explore the different categories of symbols and their significance.
Low-payout Symbols
In pokie games, low-payout symbols typically offer smaller rewards but appear more frequently, balancing the gameplay. In Golden Glyph 2, these symbols are inspired by iconic Egyptian glyphs, namely the Snake, Ankh, Eye, and Water. Each of these symbols has its own significance in Egyptian culture. For instance, the Ankh represents life, while the Eye, often referred to as the Eye of Ra, symbolises protection and good health.
High-payout Symbols
On the other end of the spectrum, high-payout symbols are the game-changers. While they might appear less frequently, landing them can lead to substantial rewards. In Golden Glyph 2, players will encounter revered figures from Egyptian history. The high payout symbols are Horus the falcon-headed god of the sky, Cleopatra the last active ruler of the Ptolemaic Kingdom of Egypt and Tutankhamun the young pharaoh.
These symbols, with their rich backstories, add depth to the game, making each spin a step further into the annals of history.
Symbols Paytable
| | | |
| --- | --- | --- |
| Symbol | Payline | Maximum Payout |
| Horus  | x15+ | 150x |
| Cleopatra | x15+ | 90x |
| Tutankhamun | x15+ | 75x |
| Snake Glyph | x15+ | 18x |
| Ankh Glyph | x15+ | 13.5x |
| Eye Glyph | x15+ | 12.5x |
| Water Glyph | x15+ | 7.5x |
Golden Glyph 2 Pokie Bonuses
Golden Glyph 2 ensures that players are constantly on the edge of their seats with its tantalising golden free spins bonus. These free spins not only offer the potential for impressive rewards but also add layers of intrigue to the gameplay.
Golden Free Spins Bonus
A standout bonus in Golden Glyph 2 is the Golden Free Spins Bonus. Triggered by collecting three Bonus Scatter symbols in the base game, players are initially awarded seven free spins. This bonus is made even more enticing by the addition of the Golden Glyph Wild symbol during the free spins.
This Wild remains on the reels for the entire duration of the bonus spins, moving to a random location after each spin. Furthermore, if players land three more Bonus Scatters during these spins, they are awarded an additional five free spins, prolonging the excitement.
Other Bonus Features
Golden Glyph 2 introduces a myriad of wild characters, each bringing a unique twist to the game:
Power Glyph: This symbol activates when it lands in a winning position. When part of a win, it triggers a Power-Up feature, enhancing the potential for bigger rewards.
Wild: A versatile symbol, the Wild can substitute for most other symbols, aiding in forming winning combinations.
Gigantic Wild: Larger than the standard Wild, this 2-Tall-3-Wide symbol can replace a wide range of symbols, increasing winning opportunities.
Golden Scarab: When activated, this Power-Up introduces between 4 to 11 wild symbols to the play area, dramatically increasing the potential for big wins.
Golden Glyph: A unique Power-Up that awards the player with a Golden Glyph Wild, up to a total of four. If four Golden Glyph Wilds are already present, this Power-Up grants an extra spin. This feature truly shines during the Golden Free Spins Bonus.
Bonus Scatter: A symbol of opportunity, landing three of these in the base game heralds the beginning of the Golden Free Spins Bonus.
However, the true jewel of the game is the Golden Glyph Wild symbol, which isn't just a regular wild. It adds a layer of excitement and potential rewards, especially during the bonus spins.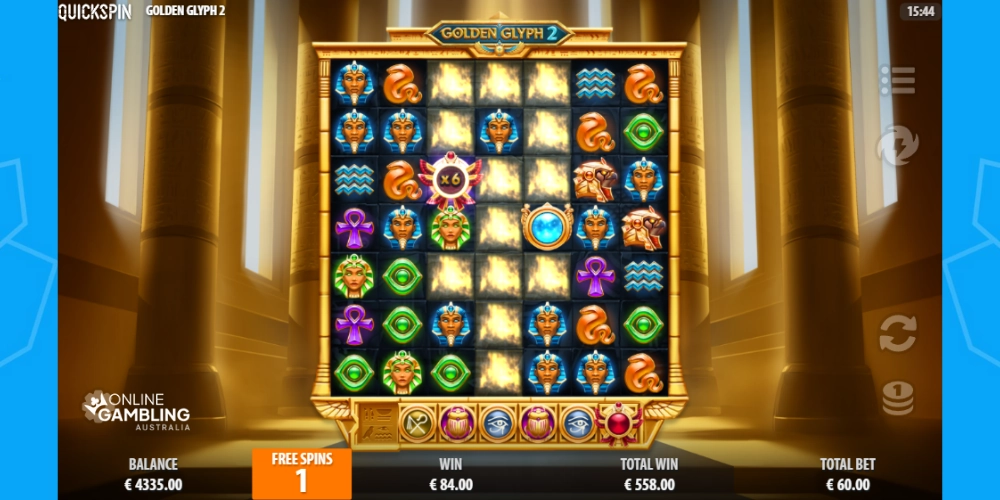 Golden Glyph 2: From Hieroglyphs to High Wins & Mysteries of the Pyramids
The allure of Ancient Egypt has always been a prominent theme in the world of online pokies. Titles like Doom of Egypt, Book of Ra Deluxe, and Legacy of Dead have captured the imaginations of players worldwide, and Golden Glyph 2 is no exception. Quickspin has done a commendable job with Golden Glyph 2, intertwining rich graphics, compelling soundscapes, and innovative features to bring the mysteries of the pharaohs to life.
While Golden Glyph 2 boasts a myriad of features and a captivating theme, it might feel a tad overwhelming for beginners due to its various symbols and their corresponding functions. However, once players get the hang of it, the game promises an experience that's both rewarding and immersive. The inclusion of Power-Ups, the Golden Glyph Wild, and the tantalising bonus rounds offers ample opportunities for substantial rewards.
In the grand tapestry of Egyptian-themed pokies, Golden Glyph 2 certainly stands out, not just for its aesthetic appeal but for its unique gameplay mechanics. Whether you're just stepping into the sands of Ancient Egypt for the first time, Golden Glyph 2 promises an adventure worth taking on. If you wish to take the adventure, then you might wish to do it a trusted online casino like 31Bet!
Frequently asked questions
Who is the developer behind Golden Glyph 2?
Golden Glyph 2 is a creation of Quickspin, a renowned game developer known for producing high-quality and innovative online pokies.
How does Golden Glyph 2 compare to other Egyptian-themed pokies?
While many pokies explore the Egyptian theme, Golden Glyph 2 stands out due to its unique Power-Up features, cluster payouts, and immersive gameplay dynamics. Its rich graphics and sound design further enhance the gaming experience.
Are there any unique gameplay mechanics in Golden Glyph 2?
Absolutely! One of the standout features is the Power-Up mechanism, triggered by the Power Glyph. This can activate various in-game bonuses, from introducing wild symbols to removing certain patterns of symbols, making each spin unpredictable and exciting.
What's the significance of the Golden Glyph Wild symbol?
The Golden Glyph Wild is not just a regular wild symbol. It acts as a multiplier, boosting potential wins. It's especially potent during the Golden Free Spins Bonus, where it can lead to multipliers of up to 50 times.
How do cluster payouts work in this pokie?
Instead of traditional paylines, Golden Glyph 2 operates on cluster payouts. To secure a win, players need to land a cluster of five or more matching symbols. The bigger the cluster, the higher the potential reward.
Can I set loss or win limits in Golden Glyph 2?
Absolutely. Golden Glyph 2 offers customizable settings that allow players to set loss or win limits. This ensures that gameplay remains within your comfort zone and budget.
Does Golden Glyph 2 offer any free spins feature?
Yes, Golden Glyph 2 features the Golden Free Spins Bonus, triggered by collecting Bonus Scatter symbols, offering extra chances for wins.