Pros and Cons
Pros

Unique dual-reel mechanism
Stunning, crisp graphics
Engaging Egyptian theme
Special expanding symbol feature
Free games available
Cons

Lack of diverse bonus features
Requires some learning for beginners
Book of Ra Deluxe Review
Book of Ra Deluxe, developed by Greentube, is a standout title in the esteemed Book of Ra pokie series. This version offers players a unique and entertaining experience, setting itself apart with a distinctive dual-reel setup that presents more chances for winning and enjoyment.
Set against the enigmatic backdrop of ancient Egypt, the game tantalises with its vivid and striking visual design. The graphics, bathed in rich and vibrant colours, craft an atmosphere filled with mystery and allure, drawing players into a world of ancient wonders and treasures. The carefully selected sounds subtly complement the visual elements, providing a harmonious and engaging gaming environment without overwhelming the senses.
This pokie is not merely a visual delight; its gameplay mechanics are designed to engage and entertain players. The introduction of the dual-reel system in Book of Ra Deluxe significantly enhances the dynamics of the game, offering a fresh and invigorating experience even to players familiar with the previous titles in the series.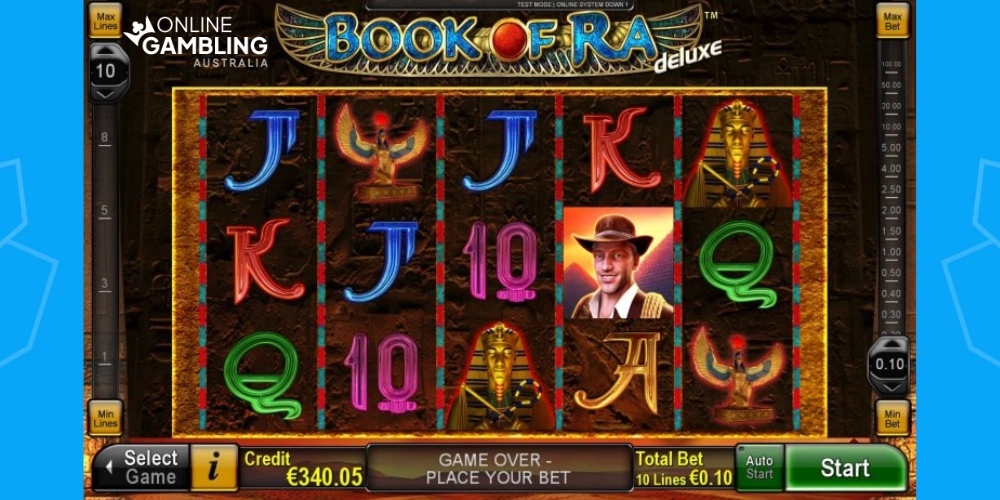 How to Play Book of Ra Deluxe
Engaging with Book of Ra Deluxe is straightforward, even for those new to online pokies. The game introduces a distinctive dual-reel mechanism, where two sets of reels spin simultaneously, offering players double the action and chances to secure wins, thereby heightening the excitement in every round of play. With its return-to-player (RTP) rate of 95.02% players can anticipate a balanced mix of small frequent wins and occasional substantial rewards. Boof of Ra Deluxe has a 5,000x maximum win, which is also found in other pokies, such as Wolf Treasure.
This game can also be classified as a "penny pokie" since the minimum bet is of $0.01, while the maximum bet of $50 makes it a great option for high rollers too.
Volatility in Book of Ra Deluxe is medium, making it suitable for players with different risk preferences. Whether you prefer placing small bets or are in the mood for high-stake gambling, this pokie accommodates a wide betting range. Players can select their wager amount per spin, providing control over their gambling and budget.
One of the engaging features of this game is the special expanding symbol, activated during the Free Games feature. This symbol can expand to cover three positions on the reel, increasing the possibility of a win. It's essential for players to familiarise themselves with this feature, as it plays a pivotal role in the game's payout dynamics.
Basic Information
Pokie

Book of Ra Deluxe

Software

Greentube Novomatic

Release Date

April 2008

RTP

95.02%

Volatility

High

Maximum Win

5,000x

Min Bet

$0.01

Max Bet

$50

Payline

100

Reels

5

Jackpot

No

Free Spin

10
Book of Ra Deluxe Pokie Symbols
The symbols within Book of Ra Deluxe are diligently designed, reflecting the game's ancient Egyptian theme while contributing significantly to the captivating gambling atmosphere. Each symbol carries a specific value and role within the game, enhancing the player's engagement and chances of winning as they spin the reels.
Low-Payout Symbols
The low-payout symbols in Book of Ra Deluxe are represented by classic playing card icons, including 10, Jack, Queen, King, and Ace. These symbols are stylized to seamlessly blend with the game's theme, adorned with vibrant colours and subtle Egyptian motifs. While these symbols offer smaller payouts, they appear frequently on the reels, providing players with consistent wins and maintaining a balanced gameplay dynamic.
High-Payout Symbols
High-payout symbols encompass images deeply embedded in Egyptian mythology and iconography, such as the scarab and the sarcophagus. These symbols not only offer higher payouts but also enrich the gaming experience with their detailed designs and thematic relevance. Landing several of these symbols on the reels can lead to significant wins, making them highly sought-after during every gaming session.
Special Symbols
Book of Ra Deluxe features special symbols that unlock unique game features, providing more excitement and potential rewards for players. The Book of Ra symbol acts both as the Wild and Scatter. As a Wild, it can substitute for all other symbols to create winning combinations.
When it appears as the Scatter, landing three or more triggers the Free Games feature, where a special expanding symbol is randomly selected to further increase winning opportunities.
Symbols Paytable
| | | |
| --- | --- | --- |
| Symbol | Payline | Maximum Payout |
| Archeologist | x5 | 5,000x |
| Book of Ra (scatter) | x5 | 2,000x |
| Sarcophagus | x5 | 2,000x |
| Goddess Idol | x5 | 750x |
| Scarab | x5 | 750x |
| A  | x5 | 150x |
| K | x5 | 150x |
| Q | x5 | 100x |
| J | x5 | 100x |
| 10 | x5 | 100x |
Book of Ra Deluxe Pokie Bonuses
Book of Ra Deluxe offers intriguing bonuses that significantly enhance the player's chances of securing wins while providing an exhilarating gaming experience. These bonuses are intricately linked to the game's theme and symbols, creating dynamic gameplay where players are eagerly anticipating the activation of these rewarding features.
Free Games Feature
The Free Games Feature is a significant highlight, activated by landing three or more Book of Ra symbols on the reels. This event grants players ten free games, providing a golden opportunity to accumulate wins without wagering additional funds. But there's more to this feature than merely free gameplay. During these free games, a Special Expanding Symbol is randomly selected, adding a layer of intrigue and potential payouts to the mix.
The Free Games are not just a series of spins but a spectacle of ancient Egyptian magic unfolding on the screen, with each spin holding the promise of the Special Expanding Symbol appearing and covering the reel.
This process can lead to impressive wins, as the expanded symbols pay on all active lines, even in non-adjacent positions. The visually striking symbols, alongside the tension-building soundtrack, create an atmosphere of suspense and excitement, making the Free Games Feature a memorable and rewarding experience for players.
Special Expanding Symbol
During the Free Games feature, a Special Expanding Symbol is randomly selected at the start, playing a crucial role in potential wins. This symbol can expand to cover three positions on the reel, paying like a regular symbol but even on non-adjacent positions and on all lines played.
For those familiar with the enchanting Legacy of Dead by Play'n Go, you'll recognise a similar feature, as this pokie also celebrates the mysteries of ancient Egypt with its own set of Expanding Symbols. The expansion in Book of Ra Deluxe only occurs if there are enough symbols present to form a win, making it a pivotal element in the game's strategy and a source of anticipation and excitement during the bonus rounds.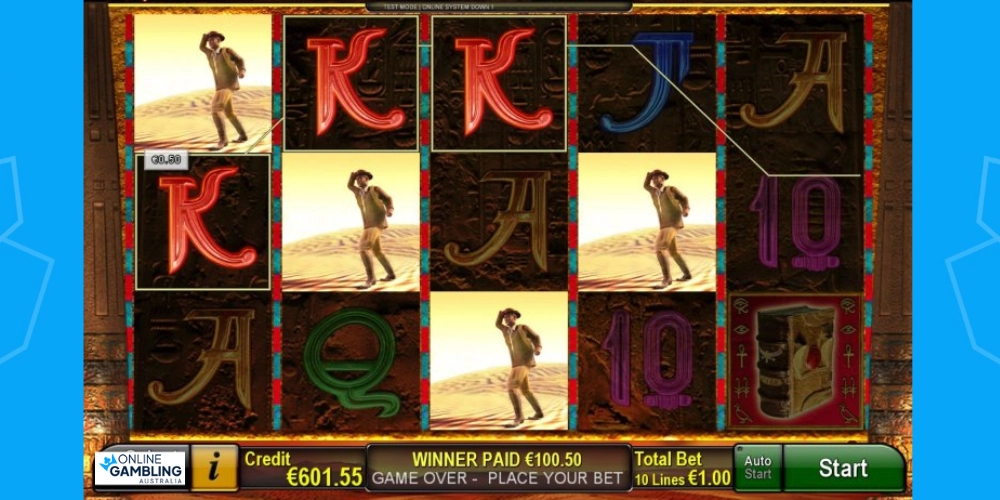 Book of Ra Deluxe: Spinning Reels of History & Fortune
Book of Ra Deluxe successfully carries the legacy of the popular Book of Ra series by Greentube Novomatic, presenting players with a rejuvenated adventure amidst the pyramids and golden sands of ancient Egypt. With its unique dual-reel system, the pokie offers a fresh and exciting gameplay experience that keeps players engaged and entertained from the first spin to the last.
The game's vivid and meticulously designed symbols, reflecting the enchanting aura of Egyptian mythology, not only contribute to a visually delightful gambling environment but also play crucial roles in helping players secure wins.
The bonuses and features embedded within Book of Ra Deluxe, especially the Free Games add layers of excitement and opportunities for players to win big. Each feature is thoughtfully integrated into the game, providing a seamless and captivating gaming experience.
For those in search of a pokie that combines a beloved theme with innovative gameplay, striking visuals, and rewarding features, Book of Ra Deluxe is undoubtedly a top contender worthy of attention. So, gear up for a delightful gambling expedition where treasures and adventures await at every turn!
Frequently asked questions
Who is the developer behind Book of Ra Deluxe?
Book of Ra Deluxe is developed by Greentube Novomatic, the interactive division of Novomatic, known for creating visually appealing and mechanically sophisticated online pokies.
What makes Book of Ra Deluxe stand out from its predecessors?
The game introduces a unique dual-reel mechanism, offering an innovative twist to the gameplay and increasing winning opportunities, making it distinct from earlier versions in the series.
Can I adjust the number of paylines in Book of Ra Deluxe?
Book of Ra Deluxe offers a fixed number of paylines, ensuring that players have maximum chances of winning on every spin, without the need for adjustment.
What kind of gaming experience does Book of Ra Deluxe offer to novices?
Book of Ra Deluxe welcomes novices with its user-friendly interface and straightforward gameplay mechanics, making it easy for new players to immerse themselves in the excitement and enjoy the adventure.
How does the dual-reel mechanism enhance the game?
The innovative dual-reel mechanism in Book of Ra Deluxe offers players additional chances to form winning combinations, adding an extra layer of excitement and unpredictability to every spin.
How do the RTP and volatility in Book of Ra Deluxe affect my gaming experience?
The RTP (Return to Player) and medium volatility in Book of Ra Deluxe offer a balanced gaming experience. With a fair RTP rate, players can expect a decent return over time, while the medium volatility ensures a mix of frequent smaller wins and occasional larger payouts, catering to a wide range of players and playing styles.