Pros and Cons
Pros

Tumble Feature for ongoing play
An additional reel of random multipliers
Opportunity to win free spins
Wide betting range from $0.20 to $240
Designed for those who prefer high stakes and big wins
Cons

+300 base game spins to trigger Free Spins
Candy Blitz Review
Candy Blitz is a pokie that brings a burst of sweetness to the online pokie scene with its candy-themed spectacle. The game is wrapped in a kaleidoscope of pastel hues, set against a backdrop that's a candy lover's dream. The theme is joyously executed with symbols that are reminiscent of everyone's favourite confectionery treats, and the colours are a vibrant mix of pinks, blues, and yellows that are a feast for the eyes.
The sounds are just as delightful, with a cheerful soundtrack that complements the game's visuals and enhances the overall experience. Pragmatic Play has ensured that the graphics are sharp and the animations smooth, providing a visual treat that is just as enjoyable as the potential rewards. The fusion of colour, sound, and user-friendly gameplay makes Candy Blitz a standout in the world of online pokies.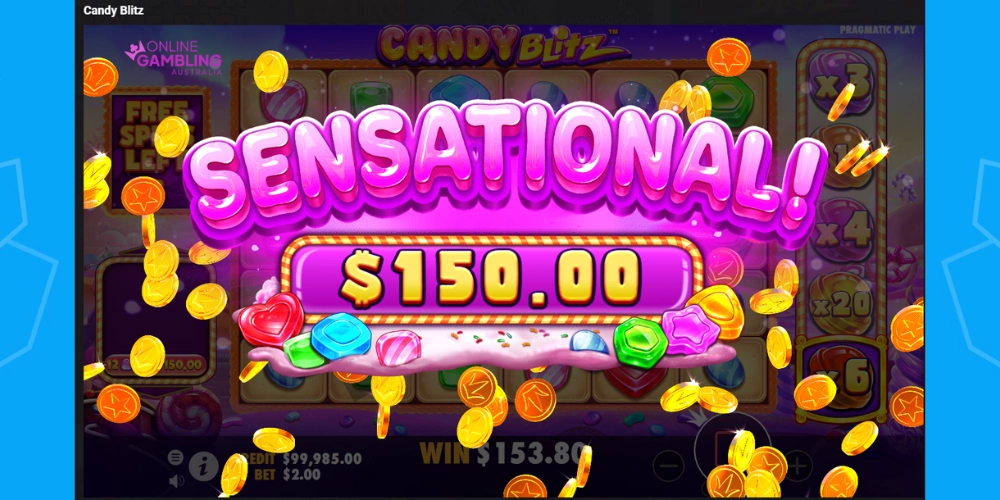 How to Play Candy Blitz
Setting off on your Candy Blitz adventure is as simple as selecting your bet and pressing spin. The game uses a scatter pays mechanic, awarding wins for clusters of matching symbols. Wins trigger the Tumble Feature, where new symbols drop to fill the spaces, potentially creating more wins on a single wager.
The RTP for Candy Blitz is variable, offering 96.08%, 95.05%, or 94.03%, which is a competitive range within the industry. The high volatility level means that while wins may be less frequent, they can be quite significant, echoing the excitement one might feel with a sudden sugar rush.
The pokie caters to a wide range of betting preferences, with options starting as low as $0.20 and extending to a maximum of $240. The maximum win on a single spin escalates to an impressive multiple of the stake, providing a considerable reward for lucky players. The Multiplier Reel is another key feature, amplifying payouts with generous multipliers for each tumble within the same spin.
For those eager to explore the full spectrum of Candy Blitz's gameplay, detailed information on the bonuses and special features awaits.
Basic Information
Pokie

Candy Blitz

Software

Pragmatic Play

Release Date

August 2023

RTP

96.08% / 95.05% / 94.03%

Volatility

High

Maximum Win

10,000x

Min Bet

$0.20

Max Bet

$240

Payline

Scatter pays

Reels

6

Jackpot

No

Free Spins

Yes
Candy Blitz Pokie Symbols
Candy Blitz features an array of symbols that are as delightful as they are rewarding. The reels are a kaleidoscope of sugary treats, from the understated Green Candy to the standout Red Heart Candy, all crafted to create a visually engaging experience. Each candy with its own value and ability to trigger wins when it appears in the right combination. From the lower-value treats to the high-paying delights and special symbols that activate the game's enticing features, every icon is designed to enhance the player's experience.
The symbols' vibrant colours and playful designs are a visual feast, ensuring that every spin is an engaging spectacle. Following this, we will explore the symbols in more depth, starting with the low-payout icons that lay the foundation for the gameplay.
Low-payout Symbols
In Candy Blitz, the low-payout symbols are just as important as their high-value counterparts. These include the Green Candy and the Oval Blue Swirl Candy, modest in payout but fundamental in keeping the game's momentum. The Purple Candy and the Pink & Red Swirl Candy also fall into this category, appearing more frequently and providing consistent wins. These symbols are the foundation of the gameplay, ensuring that players enjoy a steady stream of action as they spin the reels.
High-payout Symbols
The most tantalising treats in Candy Blitz are the high-payout symbols, the coveted candies that every player hopes to match. Leading the way is the Red Heart Candy, a symbol of both affection and fortune.
Following close behind are the Yellow Triangular Candy and the Pink Star Candy, symbols that not only catch the eye with their bright hues but also promise greater rewards. These premium sweets are the key to the most significant payouts in Candy Blitz, and their rare appearances on the reels make them all the more exciting when they land.
Symbols Paytable
| | | |
| --- | --- | --- |
| Symbol | Payline | Maximum Payout |
| Red Heart Candy | x12 – x30 | 50x |
| Yellow Triangular Candy | x12 – x30 | 10x |
| Pink Star Candy | x12 – x30 | 5x |
| Green Hexagon Candy | x12 – x30 | 4x |
| Blue Diamond Candy | x12 – x30 | 3x |
| Pink & Red Swirl Candy | x12 – x30 | 2.5x |
| Purple Candy | x12 – x30 | 1.5x |
| Green Candy | x12 – x30 | 1x |
| Oval Blue Swirl Candy | x12 – x30 | 0.75x |
Candy Blitz Pokie Bonuses
In Candy Blitz, the bonuses are as varied and enticing as the candy symbols themselves, providing layers of excitement and opportunities for players to increase their winnings. The game is designed with several features that can be triggered throughout play, each offering a unique way to boost your gameplay experience.
From multipliers that can escalate your wins to free spins that extend your game, the bonuses in Candy Blitz add depth to the game that keeps players engaged and looking for the next sweet reward. Let's explore the different bonuses that make Candy Blitz a game to remember.
Multiplier Reel
Candy Blitz enhances each spin with an extra reel that displays five random multiplier symbols. These multipliers range from x1 up to an impressive x500, with the potential to significantly increase winnings.
After each tumble, the multipliers drop down a position, introducing a chance for the multipliers to grow with each consecutive win. This feature operates in both the base game and the Free Spins round, ensuring that every win has the possibility to be multiplied for greater payouts.
Free Spins
Scatter symbols are the key to unlocking the Free Spins feature in Candy Blitz. By hitting 4, 5, or 6 scatters, players are rewarded with 10, 12, or 14 free spins, respectively. During the Free Spins round, the Multiplier Reel is juiced up, offering a minimum multiplier of x2 and the possibility of retriggering additional spins by landing more scatter symbols. Special reels come into play during this feature, enhancing the chances of striking it sweet.
Buy Free Spins
For those looking to get straight to the heart of the action, Candy Blitz offers the option to Buy Free Spins. This feature can be purchased for 100x the current total bet, guaranteeing 4, 5, or 6 scatters on the triggering spin and providing instant access to the Free Spins round. It's a fast track to the game's most thrilling feature, giving players the power to control their journey towards the bigger wins.
Bite into the Sweetness with Candy Blitz's Tasty Treats
As we wrap up our exploration of Candy Blitz, it's clear that this game is a standout addition to the confectionery-themed pokie universe. Top providers have served up a delectable selection with offerings like Candy Clash, 101 Candies, and Double Rainbow, each bringing its own brand of sugar-coated fun to the table. Yet, Candy Blitz, the latest release from Pragmatic Play, manages to shine brightly among these tempting options.
What sets Candy Blitz apart is not just its vibrant graphics and engaging gameplay but also its innovative features like the Multiplier Reel and the Tumble Feature, which keep the excitement building with each spin. These may be the reasons as to why online casinos like ZotaBet included this particluar game within their library.
As a fresh face in the world of candy-themed pokies, it delivers a unique blend of sweet aesthetics and thrilling mechanics that are sure to satisfy both new and experienced players alike. With its high maximum win potential and the engaging Free Spins round, Candy Blitz is poised to become a favourite treat for anyone with a taste for adventure and wins.
In a market that's always hungry for the next big hit, Candy Blitz is a refreshing and flavorful spin on the genre, offering just the right mix of fun and potential rewards. It's a game that invites players to indulge in its sugary world and emerge with a possibly hefty prize. So, if you're ready to indulge in a pokie that's as rewarding as it is delightful, Candy Blitz is waiting for you to take a spin.
Frequently asked questions
What unique features does Candy Blitz offer to pokie enthusiasts?
Candy Blitz sweetens the gameplay with its distinctive Multiplier Reel and Tumble Feature. These innovative mechanics enhance each spin by offering the chance for multiplied winnings and consecutive wins from a single spin. The game's design ensures that each round can bring a new and unexpected twist, keeping players engaged.
How does the Tumble Feature in Candy Blitz work?
The Tumble Feature activates after a winning combination, where the winning symbols vanish, and new symbols drop down to fill the spaces. This can lead to additional wins and continues until no more winning combinations are formed, adding an exciting layer to each spin.
Are there any tips for triggering the Free Spins round in Candy Blitz?
The Free Spins round is triggered by landing Scatter symbols. While it's a game of chance, playing more rounds increases the likelihood of experiencing all the features the game offers, including Free Spins. Patience and a steady pace can often be key.
What sets Candy Blitz apart from other candy-themed pokies?
Candy Blitz distinguishes itself with its generous maximum win of up to 10,000 times the bet and the option to buy into the Free Spins feature directly, offering a shortcut to the game's most exhilarating moments. These elements, combined with vibrant graphics and dynamic gameplay, make Candy Blitz a unique player in the candy-themed pokie scene.
How does the Buy Free Spins option work?
The Buy Free Spins option allows players to enter the Free Spins round instantly in exchange for a fixed price of 100 times their current total bet. This feature guarantees that a set number of Scatter symbols will appear, ensuring immediate access to the Free Spins round.
Is Candy Blitz suitable for high rollers and what features accommodate their play style?
High rollers will find the adjustable bet settings of up to a max of $240 and the option to purchase Free Spins in Candy Blitz particularly accommodating. The game's high maximum win potential is also designed to appeal to players seeking high-stakes play and the thrill of chasing substantial payouts.
Can the RTP of Candy Blitz vary, and what does that mean for players?
Yes, the Return to Player (RTP) rate in Candy Blitz, as with many online pokies, can vary. This variance allows for different configurations by casinos, which can adjust the RTP to suit their offering. A higher RTP means a higher percentage of all wagers is returned to players over time, while a lower RTP means a greater percentage is retained by the casino. Players should check the game's information at their chosen casino to understand the expected payout ratio.