Pros and Cons
Pros

Stunning gem and crystal-themed graphics
Offers a chance for a progressive jackpot
Unique special features to boost wins
Powered by the reputable Skywind Group
Cons

Short on bonus features
Super Lion Pokie Review
Super Lion, brought to life by the renowned Skywind Group, presents players with a scintillating visual experience. As the name might suggest, one might expect a safari or jungle theme. However, Super Lion is a delightful twist, showcasing a universe abundant with glistening gems and crystal elements. Every spin is like a journey through a star-studded galaxy, where each gem holds the promise of significant rewards.
Online pokies have always been the go-to for many gambling enthusiasts, and Super Lion is no exception. The game promises not only an aesthetic treat with its gleaming crystals but also boasts of special features that enhance the gameplay. The sounds accompanying each spin and win are harmonious, ensuring that players are not only visually engaged but audibly entranced.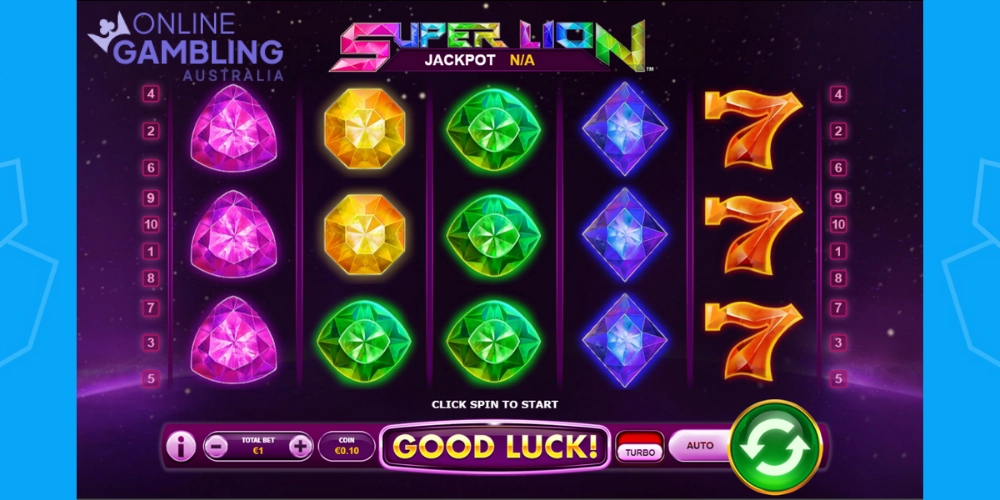 How to Play Super Lion
In the vast cosmos of gambling online in Australia, playing Super Lion is a straightforward affair, even for those new to online pokies. The casino game revolves around its gem and crystal-themed symbols, where combinations on the reels can lead to impressive payouts. Like most modern pokies, it comes with the standard set of reels and paylines, ensuring familiarity for seasoned players.
With its 5×3 layout and 10 bothway betways, navigating the game is super intuitive. Players have the flexibility to adjust their wagers, starting from a modest $0.10 bet up to a more adventurous $300 per spin, catering to high rollers also. The game's RTP stands at 96.1%, but it's essential to remember that this can fluctuate. Given its low volatility, Super Lion offers more frequent, albeit smaller, payouts, resonating with its hit frequency of 22.46%.
The potential for substantial returns is evident, with winnings reaching up to an impressive 993 times the stake in one spin. For those intrigued by the intricate details of this game, the following segment provides an overview of its core characteristics.
Basic Information
Pokie

Super Lion

Software

Skywind Group

Release Date

April 2019

RTP

96.1%

Volatility

Medium

Maximum Win

993x

Minimum Bet

$0.10

Maximum Bet

$300

Payline

10

Reels

5

Jackpot

Yes

Free Spins

Yes
Super Lion Pokie Symbols
In the vast expanse of the Super Lion universe, each gem and crystal isn't just a sight for sore eyes, but holds a unique value and significance. These symbols, carefully designed and polished to perfection, are the essence of the game.
They determine the outcomes of spins, reward players with wins, and bring the theme of the game to life. As players spin the reels, they'll come across a variety of these symbols, each falling into categories of low-payout, high-payout, and special symbols. Let's explore them in detail.
Low-payout Symbols
The low-payout symbols in Super Lion are often the most frequently appearing on the reels. These are typically the gems, each with its own colour and shape. While they might not offer the massive wins of their high-payout counterparts, they play a crucial role in maintaining a steady flow of smaller rewards, ensuring that players remain engaged and feel the consistent thrill of winning.
High-payout Symbols
The high-payout symbols in Super Lion pokie truly take centre stage. While there are only two – the Lucky number 7 and a crystal omega sign – their significance is undeniable. These symbols stand out, not just for their unique designs but for the substantial payouts they promise.
Far exceeding the rewards of the gem symbols, these two icons are the ones players eagerly anticipate with each spin. Their appearance on the reels can transform an ordinary spin into a moment of high excitement, enhancing the overall gameplay experience.
Other Symbols
Special symbol in Super Lion elevates the game to a whole new level. The colourful lion Wild comes with functionalities that can drastically change the outcome of a spin. For example, the Expanding Wild can replace other symbols, increasing the chances of a win. Such symbols may be scarce, but when they appear, they bring with them a wave of excitement and anticipation.
Symbols Paytable
Amidst the sparkling gems of the Super Lion pokie, the rainbow-coloured crystal lion head emerges as an iconic presence. Not only is it visually striking, but this symbol carries with it a weight of functionality that can be a game-changer for players. Serving as the Expanding Wild, it has the potential to substitute for all other symbols, enhancing the chances of creating winning combinations.
Symbols Paytable
| | | |
| --- | --- | --- |
| Symbol | Payline | Maximum Payout |
| Crystal Omega | 5x | 300x |
| Lucky Orange 7 | 5x | 125x |
| Yellow Gem | 5x | 60x |
| Green Gem | 5x | 50x |
| Pink Gem | 5x | 40x |
| Purple Gem | 5x | 35x |
| Red Gem | 5x | 30x |
Super Lion Pokie Bonuses
The allure of Super Lion isn't just in its shimmering gems and the vast cosmic backdrop; it's also in the enticing bonuses that await players. These bonuses, meticulously integrated into the gameplay, can be the key to unlocking some of the game's most significant rewards.
From expanding wilds that give players another shot at a big win, to the progressive jackpot, each bonus is a testament to the game's potential for excitement and sizable payouts. Let's dig deeper into each of these captivating bonuses.
Expanding Wild with Respin
This wild symbol is exclusive to reels 2, 3, and 4. When it graces these reels, it triggers the 'Wild Respin' feature. Here, the wild symbol expands to envelop the entire reel, and any winning combinations formed with the wild from the original spin are first awarded. Following this, a Free Respin is initiated, with the expanded wild reel firmly locked in place.
The excitement doesn't stop there; any new wilds appearing on reels 2, 3, or 4 during this respin will activate another respin, with all previously expanded wild reels from prior respins also locked. This cascade of respins can lead to substantial rewards, making the rainbow-coloured crystal lion head a symbol of both beauty and bounty in the Super Lion pokie.
Progressive Jackpot
Super Lion offers players a chance at a life-changing sum with its Progressive Jackpot. This jackpot is won when a player manages to land five gem symbols on an active payline. It's the ultimate prize in the game, and the anticipation of possibly hitting this jackpot adds an extra layer of excitement to every spin.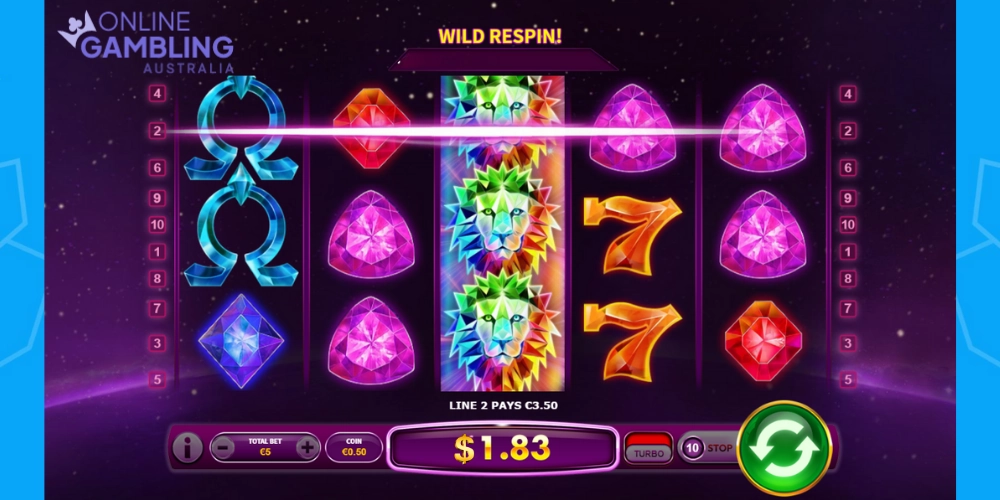 From Cosmic Spins to Radiant Wins: Super Lion
In the ever-expanding realm of online pokies, Super Lion by Skywind Group carves its own niche. Its elegantly simple gem and cosmic theme, combined with its distinct bonuses, offer a refreshing experience. With a betting range designed to suit varied preferences, players can easily tailor their gameplay. The allure of a progressive jackpot adds a sprinkle of anticipation, ensuring every spin carries the potential of a significant reward.
As we've journeyed through the stars and danced among the radiant gems, Super Lion showcases that sometimes, simplicity paired with quality can lead to a compelling gaming session. For those who appreciate a straightforward yet engaging pokie, Super Lion shines bright in the vast constellation of online games. If you have enjoyed this interstellar gem journey why not try out Starburst or Straburst: XXXtreme by NetEnt, two other brilliant gem filled space odysseys.
Frequently asked questions
Who is the software provider for Super Lion?
Super Lion is developed and powered by Skywind Group, a renowned name in the online gaming industry known for its innovative and high-quality pokies.
How does the bothway betway system work in Super Lion?
The bothway betway system in Super Lion means that winning combinations can be formed from both left-to-right and right-to-left, providing players with more opportunities to secure wins.
What's the significance of the hit frequency in Super Lion?
The hit frequency, which stands at 22.46 for Super Lion, indicates how often players can expect a winning combination. A higher hit frequency means more frequent, albeit smaller, wins.
Can I expect any special visual or sound effects in the game?
Yes, Super Lion is designed with stunning graphics that showcase a cosmic theme with radiant gems. The accompanying sound effects are harmonious, creating an immersive gaming atmosphere.
Is there a particular symbol I should keep an eye out for?
While all symbols in Super Lion have their importance, the rainbow-coloured lion head crystal, acting as the Expanding Wild, is a game-changer. It can substitute for all other symbols and triggers the Wild Respin feature, adding excitement and potential rewards to the gameplay.
What is the Progressive Jackpot in Super Lion, and how is it activated?
The Progressive Jackpot in Super Lion is a cumulatively growing prize pot. Every bet made contributes a small portion to this jackpot, allowing it to grow until it's won. In Super Lion, players have a chance to win this jackpot by landing five gem symbols on an active payline. It's the ultimate reward in the game, making each spin potentially life-changing.
Does Super Lion cater to high-rollers?
Absolutely! Super Lion is designed to cater to a broad spectrum of players. Whether you're playing on a tight budget or feeling more adventurous, the game allows bets ranging from a modest $0.10 up to a substantial $300 per spin, providing flexibility in gameplay strategy.