Pros and Cons
Pros

Innovative Hot Spins feature
Stacked wilds during bonus rounds
Original take on classic fruit theme
Maximum win is 625x your stake
Cons

RTP is below average at 94%
Super Hot Fruits Review
In the bustling arena of online pokies, which is saturated with a myriad of fruit-themed games like Hot Fruits on Fire, Starburst and Fruit Shop, Super Hot Fruits carves a niche for itself by offering a distinctive gaming experience that combines classic appeal with innovative features. The game brings the nostalgia of traditional fruit machines to the digital age, with bright, colourful symbols set against a dark, flame-licked background.
Its visuals are complimented by competent graphics designed to perform well on various devices, from mobile screens to PCs. The game's soundtrack maintains a simple and classic vibe, without distracting from the gaming experience.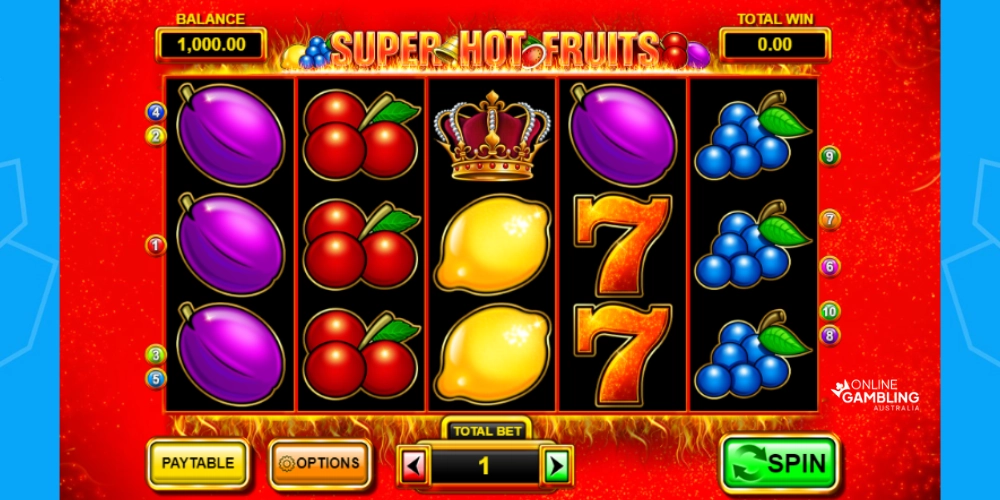 How to Play Super Hot Fruits
Playing Super Hot Fruits is a breeze, even for those new to online pokies. Select your total bet amount, ranging from $0.10 to $100 per game, across the 10 fixed paylines. The game operates uniquely, paying out for matching three or more symbols on a payline, regardless of their position on adjacent reels.
With an RTP of 94% and medium-to-high volatility, just like with Valhall Gold, players can expect fewer but more significant wins. The maximum win you can secure from a single spin is 625 times your stake, providing a thrilling online gambling experience without the need for jackpots or progressive features. To understand more about the unique aspects of this game, let's explore the basic information and the array of symbols within Super Hot Fruits.
Basic Information
Pokie

Super Hot Fruits

Software

Inspired Gaming

Release Date

March 2015

RTP

94%

Volatility

Medium to High

Maximum Win

625x

Min Bet

$0.10

Max Bet

$100

Payline

10

Reels

5

Jackpot

No

Free Spin

No
Super Hot Fruits Pokie Symbols
In Super Hot Fruits, each symbol that dances on the reels is meticulously designed to enhance your gaming experience while increasing your chances of winning. From low to high-value symbols, every icon plays a crucial role in your journey through this vibrant and fiery fruit-themed pokie.
Whether it's the juicy cherries, the sparkling jewelled crown, or the special symbols that trigger unique features, each has its own tale to tell and a special contribution to your gameplay. Let's take a closer look at each category of symbols, dissecting their values and functions to provide a clearer picture of what to expect when the reels start spinning.
Low-Payout Symbols
Lemons, oranges, and cherries vividly decorate the reels, embodying the classic, beloved elements of traditional pokies. These delightful icons are frequent and welcome visitors on the reels, providing players with consistent, albeit smaller, wins. Their presence ensures a steady, engaging rhythm to the gameplay, making every spin an anticipation-filled experience.
High-Payout Symbols
The high-payout tier introduces a more decadent, valuable set of symbols. Grapes and plums, plump and juicy, join the fray, followed closely by the refreshing watermelons and the lustrous golden bells. However, the true stars of the show are the iconic lucky 7s and the exquisitely crafted jewelled crowns.
These symbols not only elevate the visual appeal of the game but also hold the promise of substantial rewards, making them the most eagerly anticipated icons on the reels.
Special Symbols
During the Hot Spins feature, special Wild symbols make an appearance. These Wilds are crucial for enhancing winning opportunities, as they substitute for other symbols to form winning combinations. Their unique behaviour during the Hot Spins feature adds an extra layer of excitement to the gameplay.
Symbols Paytable
| | | |
| --- | --- | --- |
| Symbol | Payline | Maximum Payout |
| Jeweled Crown  | x5  | 250x |
| 7  | x5 | 50x |
| Golden Bell | x5  | 40x |
| Watermelon | x5  | 40x |
| Plum | x5  | 20x |
| Grapes | x5  | 20x |
| Cherries | x5  | 15x |
| Orange  | x5  | 15x |
| Lemon | x5  | 15x |
Super Hot Fruits Pokie Bonuses
The allure of the Super Hot Fruits pokie is significantly heightened by its distinctive bonus features, providing players with not just an engaging experience, but also additional avenues for potential wins. These bonuses, namely the Bonus Hot Spins and Stacked Wilds, are seamlessly woven into the game's fabric, offering dynamic gameplay moments and enticing winning opportunities.
To gain a deeper understanding of these bonuses, how they are activated, and their contribution to the player's winnings, let's check out each feature in more detail.
Bonus Hot Spins
The Bonus Hot Spins are triggered upon landing a win that is four times your stake or more. This feature is notable for playing at an impressive 100% RTP, giving players a fair and engaging opportunity to accumulate winnings. Players have the flexibility to adjust their stake per Hot Spin, which in turn alters the total amount of available Hot Spins. The feature is capped at a maximum of 50 Hot Spins, concluding either when this limit is reached or when the player decides to collect their winnings.
Stacked Wilds
Exclusive to the Hot Spins feature, Stacked Wilds bring an additional layer of excitement to the game. These symbols not only substitute for all others, facilitating winning combinations, but they also have a unique characteristic during the Hot Spins. When a Stacked Wild lands on the middle reel, it replicates itself onto the remaining reel sets, providing players with enhanced chances to secure wins.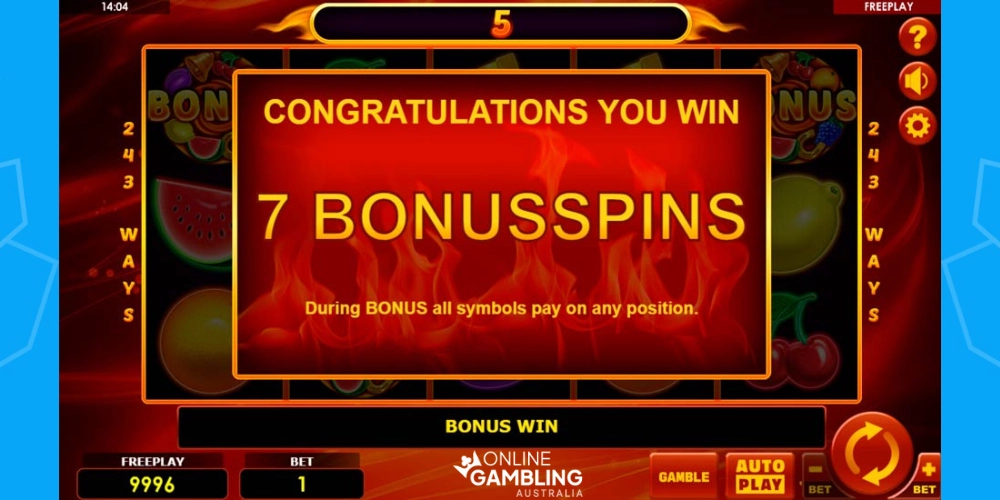 Super Hot Fruits: The Final Slice
In the dynamic realm of online pokies, Super Hot Fruits distinguishes itself with vibrant visuals and bountiful features. This game is not just a visual treat with its colourful fruit symbols but also a delightful adventure for players with its exciting Hot Spins feature.
However, while it offers a thrilling experience, some players might miss the variety of bonus features. While Super Hot Fruits prominently features Hot Spins and Stacked Wilds, it lacks dedicated free spins rounds and multipliers typically found in other games, like NetEnt's Fruit Shop Megaways, which offer a broader array of bonuses.
Additionally, the game's RTP of 94% might not appeal to those who are looking for pokies with higher return rates. Nevertheless, the opportunity to secure significant rewards with premium symbols like the Jeweled Crown and the Lucky 7s, and the overall engaging gameplay, make Super Hot Fruits a worthy choice for pokie enthusiasts.
Frequently asked questions
What sets Super Hot Fruits apart from other fruit-themed pokies?
Super Hot Fruits offers a distinctive Hot Spins feature and Stacked Wilds, making it a unique pick among the plethora of fruit-themed pokies available.
Can I alter my stakes during the Hot Spins feature?
Yes, players have the option to modify their stake per Hot Spin, affecting the total number of Hot Spins that can be played.
How frequently is the Hot Spins feature activated?
The Hot Spins feature is designed to be accessible, activating whenever a player wins 4x stake or more.
Which symbols yield the highest payouts in Super Hot Fruits?
The Jeweled Crown and the Lucky Red 7s are the game's premium symbols, promising higher payouts compared to other symbols in the game.
How does the Hot Spins feature enhance the gameplay in Super Hot Fruits?
The unique Hot Spins feature in Super Hot Fruits allows players to use their winnings to engage in extra spins, where the RTP is set at a striking 100%, providing increased chances of winning.
Why doesn't Super Hot Fruits have a dedicated free spins feature?
Although Super Hot Fruits doesn't offer a traditional free spins feature, the Hot Spins function effectively serves this role, utilising your winnings to fund additional spins, making the gameplay dynamic and engaging.
What role do Stacked Wilds play in Super Hot Fruits?
Stacked Wilds in Super Hot Fruits exclusively appear during the Hot Spins feature, playing a pivotal role in creating lucrative winning combinations by substituting for all symbols and replicating across reels.