Pros and Cons
Pros

Engaging gameplay
Dynamic and vibrant visual experience
Feature-rich with various bonuses
High RTP at 96.51%
Feel good vibes
Cons

Can be complex for beginners due to unique gameplay mechanics
Absence of traditional paylines may not appeal to all
Reactoonz Review
Developed by the renowned provider Play'n Go, Reactoonz is a delightful blend of fun and excitement. The game deviates from the traditional structure of online pokies, offering a unique 7×7 grid layout that adds a new dimension to your gaming experience.
The theme revolves around adorable alien characters called Reactoonz, led by the energetic Gargantoon. These colourful creatures animate the grid with bright colours and cute animations. The background of outer space complements the theme and adds an element of mystique to the game.
The vibrant visuals are well accompanied by an audioscape that is unmistakably sci-fi. The whizzes, clicks, and quirky music created by the audio team further enhance the interstellar experience. Overall, the graphics and sounds in Reactoonz are sure to transport players to a dynamic and energetic alien world.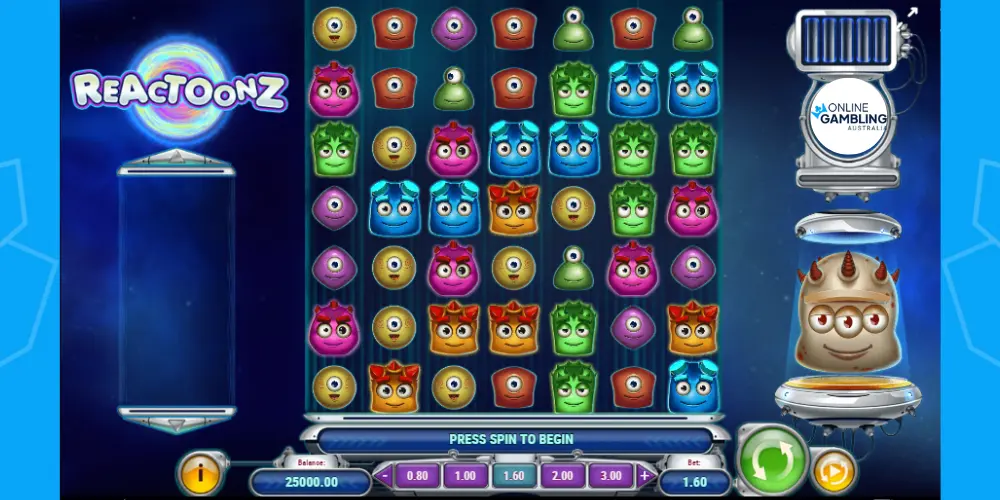 How to Play Reactoonz
Playing Reactoonz is an easy and intuitive process, once you understand its unique mechanics. The game doesn't follow the traditional payline structure. Instead, it awards players for collecting clusters of five or more matching aliens on the 7×7 grid, similar to the pokie Candy Clash by Mancala Gaming. The larger your cluster, the greater your win. Wild symbols in the form of flux capacitors help you win more as they replace other symbols, giving you more chances of winning in the same round.
The game has an RTP of 96.51%, and it can be described as medium to high volatility. This means you can expect a good balance of frequent wins and high payouts. The maximum win is an impressive 4,570x your stake in a single spin. With a minimum bet of $0.20 and a maximum of $100, Reactoonz caters to a wide range of betting preferences.
Basic Information
Pokie

Reactoonz Pokie

Software

Play'n Go

Release date

October 2017

RTP

96.51%

Volatility

Medium

Maximum Win

4,570x

Minimum Bet

$0.20

Maximum Bet

$100

Paylines

0

Reels

7

Jackpot

No

Free Spins

No
Reactoonz Pokie Symbols
In the Reactoonz pokie, the universe is bustling with lively alien characters. These colourful and charming creatures serve as symbols on the grid, each possessing distinct payout values. Matching these symbols in the correct quantities and arrangements leads to wins.
The game uses a cluster pay system where 5 or more matching symbols touching horizontally and/or vertically lead to a win. Once a winning combination is achieved, those symbols disappear, allowing new ones to cascade down and fill the spaces, potentially leading to more wins.
Low-Payout Symbols
The low-payout symbols in the Reactoonz pokie are represented by four one-eyed aliens. These can be recognised by their colours which are; pink, orange, red, green and yellow. These one-eyed ETs may not look as imposing as their two-eyed counterparts, but they serve as the constituents of your wins. Landing 5 or more matching one-eyed aliens triggers a payout.
One of these symbols is marked as a fluctuating symbol in each spin. When part of a winning combination, the fluctuating symbol leaves 2 wild symbols behind.
High-Payout Symbols
Stepping up the value are the two-eyed alien symbols. These are larger, brighter and come in four different colours: pink, green, orange and blue. The pink alien holds the highest value amongst them. Landing a cluster of 5 or more of these symbols results in higher payouts.
When four matching two-eyed aliens form a square, they automatically create a Giantoonz, a 2×2 larger version of the same symbol, which doubles the wins in any winning combination it is a part of.
Special Symbols
The game does not feature traditional scatter or bonus symbols. Instead, it introduces a unique Wild symbol, represented by the Gargantoon and flux capacitors. The Gargantoon is a trapped alien, which can add 4 to 8 wild symbols to the grid during non-winning spins. It also has the ability to turn into a 3×3 wild and move across the grid with each cascade.
The flux capacitors serve as Wild symbols and replace all other symbols on the grid, offering you multiple chances to win in the same round.
Symbols Paytable
| | | |
| --- | --- | --- |
| Symbol  | Paytable  | Maximum Payout |
| Pink two-eyed ET | 15+ | 750x |
| Green two-eyed ET | 15+ | 300x |
| Yellow two-eyed ET | 15+ | 150x |
| Blue two-eyed ET | 15+ | 75x |
| Pink one-eyed ET | 15+ | 10x |
| Red one-eyed ET | 15+ | 10x |
| Green one-eyed ET | 15+ | 3x |
| Yellow one-eyed ET | 15+ | 3x |
Reactoonz Pokie Bonuses
When playing Reactoonz at your favourite online casino, you're not only limited to the in-game bonuses, but you also have the chance to take advantage of online casino bonuses. While these are not the same as the bonuses found within the pokie itself, they are beneficial and can lead to extended gaming sessions and added benefits for players. Therefore, it's worth looking for them when playing pokies for real money online.
The Reactoonz pokie is packed with a range of appealing bonus features that not only heighten the gaming excitement but also offer substantial opportunities to increase your payouts. Let's delve into these features to understand how they can enhance your overall gaming experience.
Instability
The Instability bonus is triggered randomly on any initial non-winning spin. When this happens, the Gargantoon might decide to help you out by dropping 4 to 8 wild symbols onto the grid. This feature gives you an extra chance to form a winning combination and boosts the potential of any given spin.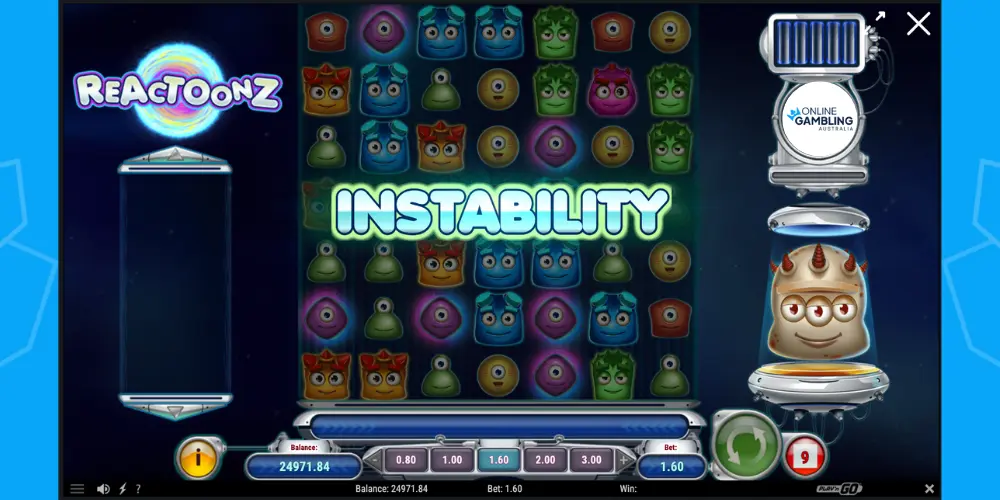 Quantum Leap
Every win in the game charges up the Quantum Leap meter. Once you win on 25 symbols, a random Quantum feature is added to the queue. You can queue up to four Quantum features. If the meter is charged a fifth time, the Gargantoon feature is added to the queue. The Quantum features trigger when no more wins are achieved, and the game round concludes once all queued Quantum features have been activated, and there are no more winning combinations.
Quantum Features
Implosion: This feature transforms 3 to 6 symbols into wild symbols and simultaneously destroys all adjacent symbols, which could lead to new winning clusters.
Incision: This feature cuts a wild symbol into the centre, creating two intersecting diagonal lines across the grid. Both lines then display the same random symbol, potentially leading to a winning combination.
Demolition: This feature destroys all one-eyed symbols and all matching symbols, allowing new symbols to cascade down and potentially form new winning combinations.
Alteration: In this feature, one random one-eyed symbol and all matching symbols turn into another symbol, potentially leading to a new winning combination.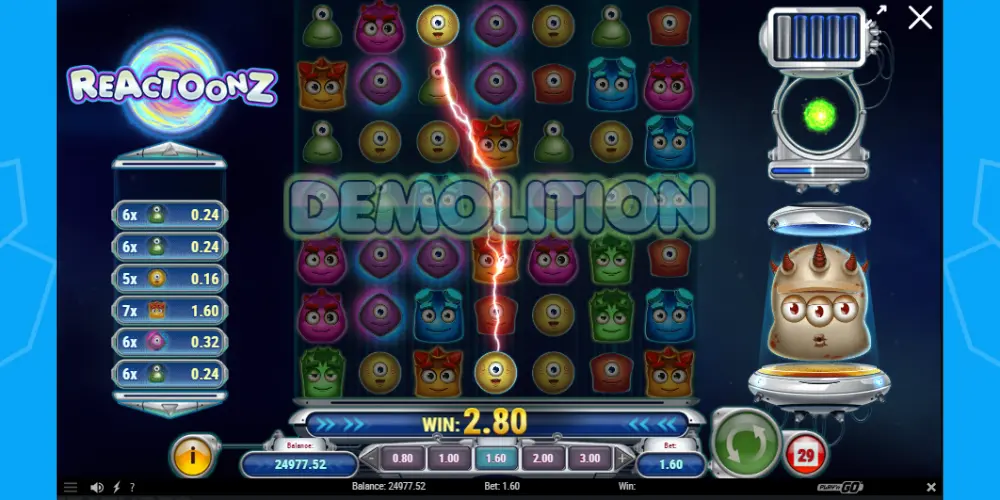 Giantoonz
The unique design of the Reactoonz pokie introduces the impressive Giantoonz feature. This particular bonus mechanism kicks in when four identical symbols come together to form a square on the grid. This cluster of matching symbols then automatically transforms into a single Giantoon, effectively giving you a larger symbol that carries greater weight in the game. What makes Giantoonz even more appealing is that they have the potential to double your winnings in any combination they're part of, raising the stakes and increasing your chances of hitting a bigger win.
Fluctuation Feature – A Wild Surprise
Linked closely to the Giantoonz is the Fluctuation feature. At the beginning of each spin, one random low-value symbol is designated as the "fluctuating" symbol. Should this fluctuating symbol be part of a winning combination, it will leave behind two Wild symbols once it disappears.
This not only boosts your chance of scoring more winning combinations but also introduces an unpredictable and exciting dynamic to every spin. With the Fluctuation feature, each round of play in the Reactoonz pokie holds the promise of unexpected rewards.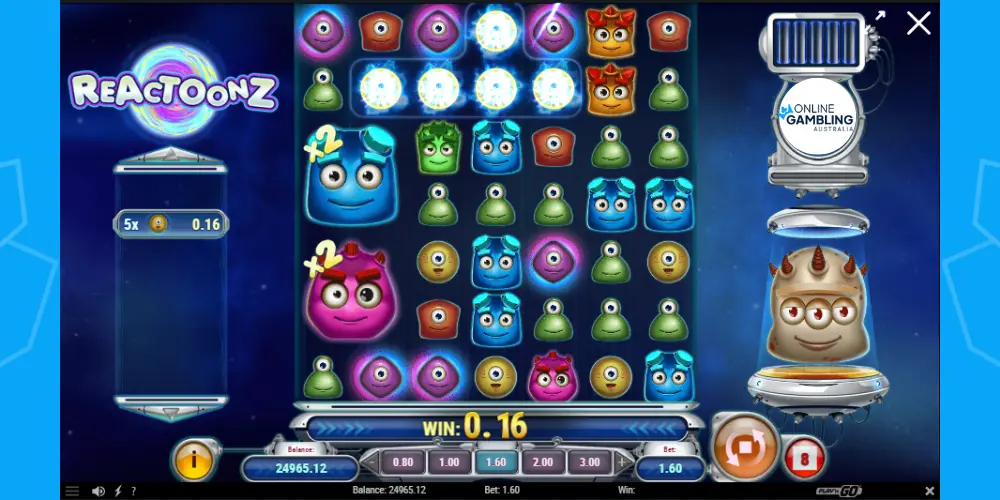 Blast Off with Reactoonz Pokie: A Galactic Finale
Reactoonz stands out as a lively and engaging pokie. It provides players with an array of exciting bonuses and features keeping you in suspense, eagerly anticipating the next quantum leap. While it might seem complex at first glance, once you catch on, you will find that the gameplay is intuitive and deeply gratifying.
Unlike Big Bamboo and Legacy of Dead for example, which uses a more traditional approach with fixed paylines, Reactoonz uses a cluster pays system. This means that winning combinations are formed by getting five or more matching symbols touching, either horizontally and/or vertically. It's an interesting departure from the typical payline format and adds an extra layer of excitement to each spin.
Whether you're an advanced player or new to the world of online pokies, Reactoonz offers a fun and rewarding gaming experience. With a range of Quantum features and the exciting Gargantoon bonus, you'll find plenty of opportunities to win big. Reactoonz is definitely worth a spin the next time you visit a casino like PariMatch. But if you are in an adventurous mood, then you might want to check out Book of Dead.
Frequently asked questions
How do I achieve a win in the Reactoonz pokie?
In Reactoonz, you achieve a win by landing 5 or more matching symbols touching either horizontally and/or vertically. Winning symbols are then removed, and new symbols fall down to fill the gaps, potentially creating more winning combinations.
How does the Fluctuation feature work in Reactoonz?
At the start of each spin, one random low-value symbol is marked as fluctuating. If any of the marked symbols become part of a winning combination, they leave behind two wild symbols, which can substitute for all other symbols. This feature adds an additional layer of excitement and potential wins to the gameplay.
How is the 'Alteration' Quantum feature different from the others?
The Alteration Quantum feature specifically targets one random one-eyed symbol and transforms all matching symbols into another symbol. This can result in a complete change in the configuration of the grid and potential new winning combinations.
How often does the Gargantoon feature trigger in Reactoonz?
The Gargantoon feature is added to the Quantum queue when you've won on 25 symbols in a single round. The frequency of this feature being triggered depends on the number of wins you achieve.
What is the maximum win on the Reactoonz pokie?
The maximum win you can achieve from a single spin in Reactoonz is 4,570x your stake. This can potentially result in substantial payouts, particularly if you're playing with a higher bet level.
What are the Quantum features in Reactoonz?
Reactoonz boasts four Quantum features – Implosion, Incision, Demolition, and Alteration. These features can add wild symbols, destroy symbols, or transform symbols to help create winning combinations.