Pros and Cons
Pros

Link&Win with dual grid system
Jackpot collection up to 5,000x with Link&Win
Prize recollect for each new coin in Link&Win
Combine any or all three Link&Win powers for enhanced gameplay
Potential to win up to a staggering 15,000x your stake
Cons

Adjustable RTP ranges can be a concern for some
Queens of Ra POWER COMBO Review
Queens of Ra POWER COMBO is a standout creation by All For One Studios, showcasing the splendour and mystery of ancient civilisations. This pokie transports players to an era painted in hues of brown and yellow, capturing the essence of the sun-drenched sands and time-honoured temples of Egypt. Drawing inspiration from tales of powerful gods, queens, and empresses, this game stands as a tribute to the timeless allure of Egypt's storied past.
The visual and auditory aspects of the pokie are worth highlighting. The finely crafted graphics perfectly channel the spirit of ancient Egyptian artistry. Meanwhile, the sounds create a rich ambience, reminiscent of lively Egyptian bazaars and the gentle rustling of desert winds. Online pokies often serve as portals to different realms, and Queens of Ra POWER COMBO offers players a mesmerising journey back in time.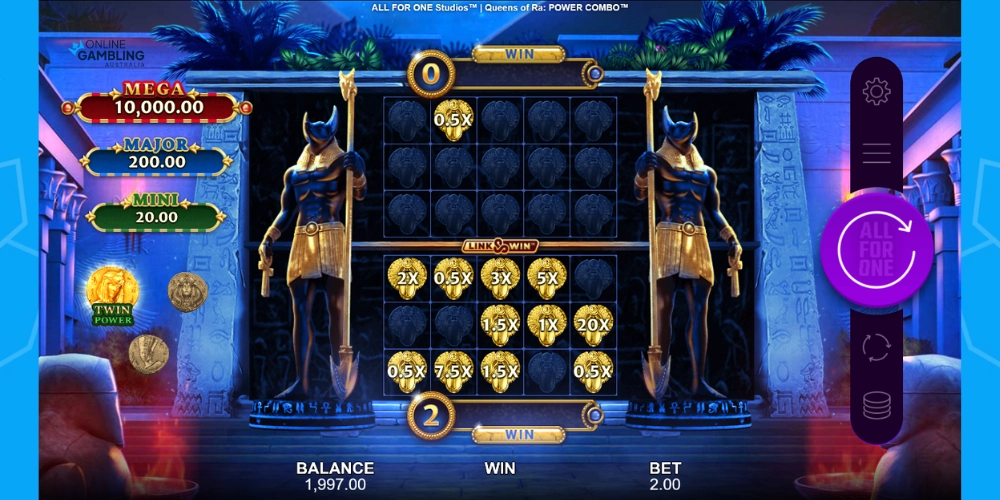 How to Play Queens of Ra POWER COMBO
Starting your Egyptian adventure with Queens of Ra POWER COMBO is simple. With its 5×3 layout and 40 betways, there are plenty of opportunities to form winning combinations. The game has a variable RTP, starting at a decent 96.2%. Players should be mindful of the RTP ranges to make informed decisions.
Boasting high variance, the pokie promises significant payouts, albeit at a hit frequency of 32.45%. Bets can range from a minimum of $0.2 to a maximum of $20, and there's the potential to secure a win up to 15,000 times your stake in one spin.
The pokie is enriched with a wonderful variety of features that promise to amplify the gambling experience. These features, each with its own unique advantage, add layers of excitement and opportunity to the gameplay. To understand how each of these contributes to the overall experience, keep reading the upcoming sections.
Basic Information
Pokie

Queens of Ra POWER COMBO

Software

All For One Studios

Release Date

July 2023

RTP

96.2%

Volatility

High

Maximum Win

15,000x

Minimum Bet

$0.20

Maximum Bet

$20

Payline

40

Reels

5

Jackpot

Yes

Free Spins

No
Queens of Ra POWER COMBO Pokie Symbols
In the intriguing realm of Queens of Ra: Power Combo, players are taken on a captivating journey through ancient Egypt. This casino game is set against the backdrop of sandstone pillars, animal statues, and distant pyramids, bringing a rich assortment of symbols to the reels. With symbols ranging from the traditional card numbers and letters to exquisite Egyptian artefacts, each spin holds the promise of tales as old as time. As you burrow deeper into this game, you'll encounter low-payout symbols, high-payout symbols, and special symbols, each offering unique opportunities for wins. Let's explore these symbols in detail.
Low-payout Symbols
The low-payout symbols in this pokie are inspired by the familiar card deck numbers and letters. Representing the essence of Egypt, these symbols include the 10, J, Q, K, and A. Every symbol in this category holds equal weightage, with the potential to award players when they secure a 5-of-a-kind win on the reels. These symbols, although more frequent on the reels, offer modest rewards, setting the stage for the more lucrative symbols to follow.
High-payout Symbols
Moving up the pay scale, the high-payout symbols are where the true treasures of ancient Egypt come to life. These symbols comprise five distinct Egyptian artefacts. The golden scarab stands out as the most valuable among them. When players manage to align five of these symbols on the reels, they can expect rewards ranging between 2x and 5x their bet. These symbols not only enhance the game's visual appeal but also bring forth opportunities for more significant wins.
Special Symbols
In Queens of Ra: Power Combo, the special symbols play a pivotal role in enhancing the gameplay experience. The Wild Symbol, which appears on reels 2, 3, and 4, has the ability to substitute for all regular symbols, aiding in the formation of winning combinations. However, it's crucial to note that this symbol doesn't replace the Scatter Symbols.
Additionally, there are three distinct coloured Scatter symbols: red, green, and blue. Unique to the base game, each of these Scatter symbols hold the potential to activate the Link&Win Feature, although their presence on the reels doesn't guarantee the feature's activation. As players progress through the game, they'll observe these Scatters being collected in circles to the left of the reels, highlighting their importance in the gameplay.
Symbols Paytable
| | | |
| --- | --- | --- |
| Symbol | Payline | Maximum Payout |
| Scarab | x5 | 5x |
| Ankh | x5 | 2.5x |
| Falme  | x5 | 2.5x |
| Eye of Horus | x5 | 2x |
| Anubis | x5 | 2x |
| A | x5 | 1x |
| K | x5 | 1x |
| Q | x5 | 1x |
| J | x5 | 1x |
| 10 | x5 | 1x |
Pokie Bonuses
The allure of any pokie game is often found in its bonuses, and Queens of Ra: Power Combo doesn't disappoint in this regard. As players journey through ancient Egypt, they are presented with a rich array of bonus features that not only elevate the gameplay but also offer promising rewards.
From the dynamic Link&Win Feature to the strategic use of Wild and Scatter symbols, each bonus has its own unique trigger mechanism and payout potential. These bonuses not only add layers of excitement to each spin but also serve as strategic elements for players to enhance their winnings. Let's find out all about each of these bonus features.
Link&Win Feature
The Link&Win feature in Queens of Ra: Power Combo offers a dynamic gameplay twist, activated exclusively in the base game by different coloured Scatter symbols. Here's a concise breakdown:
Players receive 3 free respins, with only Scarab Coin symbols and blank spaces on the reels.
These Scarab Coins carry random multiplier values from 0.5x up to 20x, applied to the total bet.
Landing a Scarab Coin resets the respin counter to 3, prolonging the feature.
Filling all symbol positions can award Mini, Major, and Mega jackpots, yielding up to 5,000x, 100x, and 10x the total bet, respectively.
Variations of Link&Win Feature
Blue Scatter (Collection Power): Each newly landed Scarab Coin immediately awards values from previous Scarab Coins.
Red Scatter (Jackpot Power): Collect coloured Scarab Coins to unlock jackpots, with three red Scarab Coins yielding the Mega Jackpot.
Green Scatter (Twin Power): Features two 5×3 grids, each operating independently, amplifying win potential.
Combined Features: Different Scatter combinations can activate a mix of the above features, with the red, blue, and green Scatters triggering the ultimate POWER COMBO, where all three features run simultaneously.
Buy Feature
In Queens of Ra: Power Combo, players are granted the unique opportunity to directly access the LINK&WIN feature through the Buy Feature. This option allows enthusiasts to handpick the combination of Powers they desire to activate, tailoring their gameplay experience. Depending on the chosen combination, the cost for this privilege varies, ranging between 23x and 117x the initial bet.
Scatter Symbols
Scatter Symbols play a dual role in Queens of Ra: Power Combo. Not only do they offer payouts on their own, but they also serve as triggers for the Link&Win Feature. The game boasts three different coloured Scatter symbols: red, green, and blue. Unique to the base game, each Scatter symbol has the potential to activate the Link&Win Feature.
Even though their appearance on the reels doesn't guarantee the activation of this bonus, the anticipation they bring adds an extra layer of excitement to the gameplay. As a visual cue, these Scatters are collected in circles to the left of the reels, reminding players of their significance in triggering the coveted Link&Win Feature.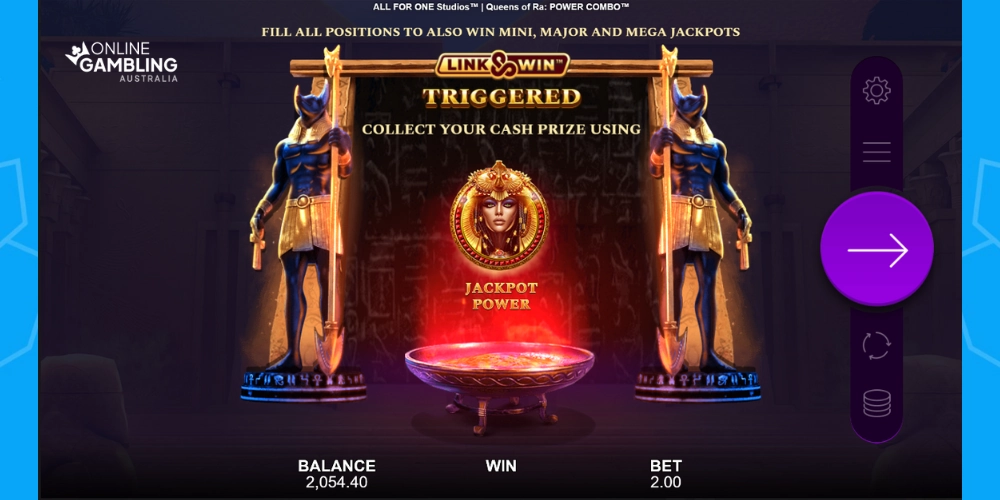 Pyramids, Pharaohs, and Payouts: Our Queens of Ra Experience
The realm of online pokies is teeming with Egyptian-themed adventures. Titles like Doom of Egypt, Legacy of Egypt, and Golden Glyph 2 have captivated players with their enchanting narratives and vibrant graphics. Yet, among this vast desert of options, Queens of Ra: Power Combo manages to carve its own unique niche. While many pokies transport players to the land of pyramids and pharaohs, Queens of Ra offers a distinct blend of traditional lore and innovative gameplay mechanics. It's not just about reliving an ancient tale; it's about experiencing it in a manner that feels fresh, engaging, and rewarding.
The pokie masterfully combines the mystique of ancient Egypt with modern gambling features, ensuring that each spin is as exciting as the last. With an array of symbols, from the familiar card deck numbers to exquisite Egyptian artefacts, and an array of bonuses like the Link&Win Feature, Wilds, and Scatters, the game promises countless hours of entertainment.
The high volatility, combined with a competitive RTP, means that while wins may not be frequent when they do come, they have the potential to be significant. Whether you're well-acquainted with pokies or just stepping into the world of online gambling, Queens of Ra: Power Combo beckons you to experience its treasures.
If after reading this comprehensive review of Queens of Ra: Power Combo you are interested in attempting to play this casino game, then we suggest that you take a look at Fortune Panda, which is a highly reputable online casino. So what are you waiting for, go ahead and play this interesting casino game!
Frequently asked questions
How does the volatility of Queens of Ra: Power Combo compare to other pokies?
Queens of Ra: Power Combo boasts very high volatility. This means that while wins might not occur as frequently when they do, they tend to be more substantial in value, making it a tantalising choice for players who love the anticipation of big wins.
Are there any unique symbols exclusive to Queens of Ra: Power Combo?
Yes, apart from the typical Egyptian-themed symbols, the game also features distinctive coloured Scatter symbols, each with its own potential to activate the Link&Win Feature, adding a unique twist to the gameplay.
Can I change the number of paylines I bet on in Queens of Ra: Power Combo?
Queens of Ra: Power Combo comes with a fixed set of 40 paylines, ensuring that players have maximum opportunities for wins with each spin.
How does the game's RTP compare to industry standards?
The RTP of Queens of Ra: Power Combo is 96.20%, which is competitive and aligns well with the industry average, indicating a fair return to players over an extended period.
Are there any special game modes in Queens of Ra: Power Combo?
While the primary focus is on the base game and its associated bonuses, the presence of features like the Link&Win adds depth to the gameplay, offering players varied experiences as they play.
Does Queens of Ra: Power Combo have a storyline or theme narrative?
The pokie draws inspiration from ancient Egyptian lore, presenting players with a rich tapestry of symbols and backdrops reminiscent of this era, though it doesn't follow a specific storyline.
How does the Link&Win Feature differ from standard bonus rounds?
The Link&Win Feature is centred around linking symbols together for combined payouts, offering a fresh take on bonus rounds. It's activated through specific Scatter symbols, ensuring a unique gameplay element distinct from typical free spins or pick-me bonuses.