Pros and Cons
Pros

Unique horror-themed graphics
Massive multipliers up to x9,999
Innovative features like Fire Frames and Enhancer Cells
Multiple free spin bonus rounds
Potential to win up to 66,666x your bet
High RTP of 96.06%
Cons

Complex features may be overwhelming for beginners
Requires a keen eye to unlock all features
Mental Pokie Detailed Review
Mental by NoLimit City is not your average online pokie. The casino game transports players to a dark and mysterious world, encapsulated by its horror-themed design setting in an insane Asylum. The chilling atmosphere is amplified by its spine-tingling sounds, ensuring that players are always on the edge of their seats.
As with many online casino games, graphics play a pivotal role in the player's experience, and Mental doesn't disappoint. The game boasts sharp, crisp graphics with a colour palette dominated by eerie shades of green, black, and red, setting the perfect tone for its horror theme.
Beyond its aesthetic appeal, the game mechanics of Mental are equally compelling. The main game grid follows a 3-2-3-2-3 pattern, offering a staggering 108 ways to line up symbols. This provides ample opportunities for players to secure wins, aided by the multitude of unique features that Mental brings to the table and get them hooked.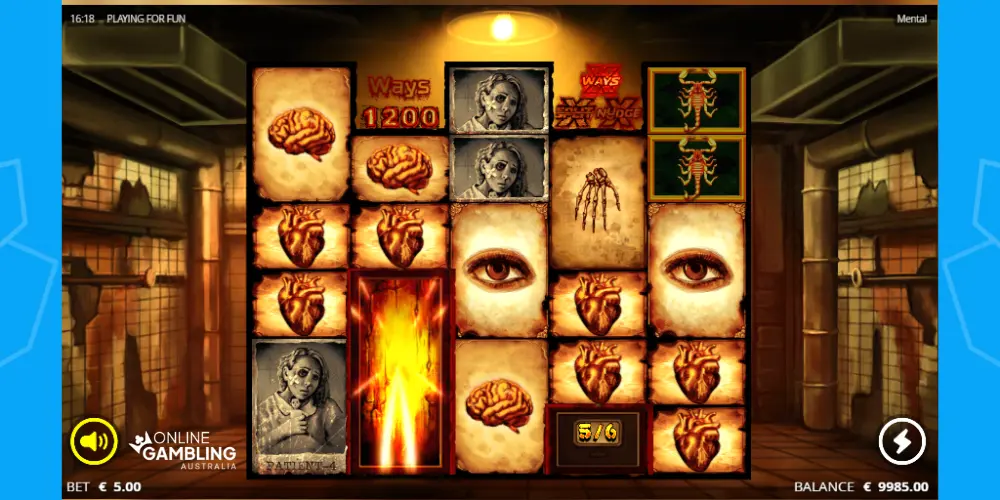 How to Play Mental Pokie
Mental by NoLimit City is a journey within itself, it offers players an unparalleled experience. The game operates on a distinct 3-2-3-2-3 grid, offering players a vast 108 ways to align symbols for potential wins. As players decide on their strategy, they can place bets that range from a modest $0.20 up to a more adventurous $70.00 per spin, making the game accessible for both those who prefer low stakes and the high rollers among us.
One of the standout attributes of Mental is its impressive RTP, standing at 96.06%, which suggests a decent return over prolonged gameplay. But it's essential to understand the nature of the game; its extreme volatility means wins might not appear frequently, but when they do, they promise to be substantial. In fact, lucky players stand a chance to secure a mind-boggling maximum win of up to 66,666x their bet in just a single spin.
What truly sets Mental apart from other online pokies is its array of unique features that we will tackle later on. For newcomers, the game might initially seem a tad intricate due to the myriad of features, but rest assured, a few rounds are all it takes to become familiar with its mechanics.
Basic Information
Pokie

Mental

Software

NoLimit City

Release Date

August 31

RTP

96.06%

Volatility

High

Maximum Win

66,666x

Min Bet

$0.20

Maximum Bet

$70

Payline

108+

Reels

5

Jackpot

No

Free Spin

Yes
Mental Pokie Symbols
In the world of online pokies, symbols play a crucial role in defining the game's theme and potential rewards. NoLimit City's Mental pokie is no exception, boasting a range of symbols that not only tie into its dark and gripping theme but also offer diverse payout opportunities.
From the ominous Patient symbols to the intriguing Dead Patient and Fire Frames, each symbol in the game carries its unique significance and mechanics, ensuring every spin is unpredictable and engaging.
Low-payout Symbols
Within the confines of the Mental pokie, players will encounter various symbols, each with its distinct characteristics. Symbols like the Eye, Brain, Heart, Kidneys, and the chilling Skeleton Hand fall under the low-payout category. These symbols, while not as lucrative as their high-payout counterparts, are integral to the game's atmosphere and can still lead to significant rewards.
High-payout Symbols
Venturing further, players will come across the enigmatic and eerily designed Patient symbols. The Patient-1, Patient-2, Patient-3, Patient-4, and Patient-5 symbols are the higher-paying symbols within the game, promising more substantial rewards when they make appearances on the reels within a payline.
Special Symbols
The special symbols in the Mental pokie add unique gameplay mechanics that heighten the player's experience. One such feature is the Fire Frames, which can randomly assign a firing frame to positions on the reels, causing any symbol within to split into two, enhancing winning possibilities.
Another intriguing symbol is the Dead Patient, which, when activated, unveils one of the patient symbols combined with a random multiplier. The multiplier ranges from x5, x10, x15, x30, x50, x100, x200, x500, x1,000 and x9,999. Lastly, the Enhancer Cells positioned at the base of specific reels can unveil a range of symbols. They boost the player's chances to win whenever 4 – 6 fire frames appear, xWays, xNudge, xSplit along with various other boosters, adding depth and excitement to the gameplay.
Symbols Paytable
| | | |
| --- | --- | --- |
| Symbol | Payline | Maximum Payout |
| Patient-1 | x5 | 5x |
| Patient-2 | x5 | 3.75x |
| Patient-3 | x5 | 2.50x |
| Patient-4 | x5 | 2x |
| Patient-5 | x5 | 1.50x |
| Eye | x5 | 1.25x |
| Brain | x5 | 1.15x |
| Heart | x5 | 1.10x |
| Kidneys | x5 | 1.05x |
| Skeleton Hand  | x5 | 1x |
Mental Pokie Bonuses
Bonuses form the crux of modern online pokies, offering players not just an opportunity to secure bigger wins but also to experience unique gameplay mechanics that set a game apart. In the Mental pokie by NoLimit City, players are treated to many bonus rounds, each systematically designed to enhance the gaming experience.
From the spine-chilling Autopsy Freespins to the intriguing Lobotomy Freespins and Mental Freespins, and not forgetting the special NoLimit Bonus where bonuses can be bought for a price ranging between 80x and 1,000x the base bet, each bonus round introduces its distinct set of rules and rewards.
Autopsy Freespins
Triggered by landing three Scorpion symbols, this bonus round awards players with 8 Autopsy Free Spins. What makes this round even more intriguing is that each Scorpion symbol with a Fire Frame grants an additional spin. During this feature, up to five positions on the reels can randomly acquire a Fire Frame, which sticks throughout the bonus round, enhancing the chances of securing wins.
Lobotomy Freespins
Initiating this bonus requires a combination of 3 Scorpion symbols and a single Spider symbol, rewarding players with 9 Lobotomy Free Spins. Beyond the rules of the Autopsy Spins, Spider symbols in this round become sticky, activating the Mental Transformations with every spin.
The bonus also incorporates the Dead Multiplier mechanism, where the highest multiplier value from Dead Symbols is collected, and then applied to new Patient symbols that appear on the reels.
Mental Free Spins
The most lucrative bonus round, the Mental Free Spins, is activated with a combination of 3 Scorpion symbols and 2 Spider symbols, bestowing players with 10 spins. Here, both Spider symbols turn sticky, triggering the Mental Transformations on each spin. What's even more enticing is that the Dead Multiplier count does not decrease after its multiplier is transferred to new Patient symbols, continually amplifying the potential rewards.
Mental Transform Feature
During the Mental Freespins and Lobotomy Freespins, the Mental Transform feature plays a pivotal role. Whenever a Spider Symbol lands on reels 2 or 4, it undergoes a transformation.
This Spider symbol can metamorphose into one of several other symbols, such as xWays, xSplit, Dead Patient, Wild, or a Patient symbol. This transformation not only enhances the visual appeal of the game but also introduces new winning opportunities, making the bonus rounds even more rewarding.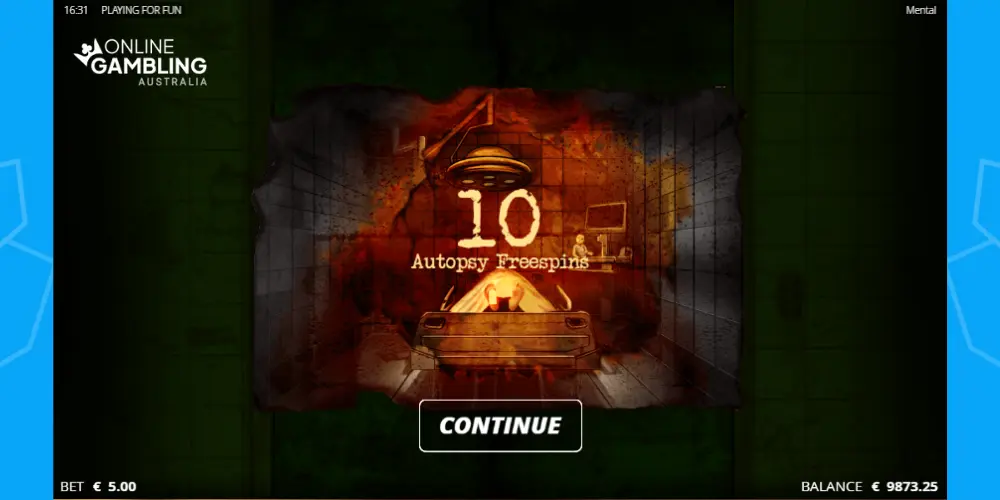 Echoes from the Asylum: Piecing Together the "Mental" Puzzle
The Mental pokie stands as a testament to NoLimit City's innovative gameplay and thematic brilliance. NoLimit City has crafted a game that's not just about spinning reels, but also about delving into a dark, mysterious world teeming with features. The 108 Ways to win system offers a fresh spin on conventional pokie mechanics, ensuring players that play this game at Wild.io, N1 Bet, or Metaspins are constantly on their toes.
What truly sets Mental apart, though, is its haunting theme, executed with chilling perfection. Such themes are few and far between, making this game a rare gem in the online gambling industry. With its plethora of features, captivating ambience, and the promise of substantial rewards, Mental beckons players to step into its world, offering an experience that's both unsettling and undeniably engaging.
Frequently asked questions
Who is the developer behind the Mental pokie?
Mental is a captivating pokie developed by Nolimit City, a renowned name in the online gaming industry known for its innovative designs and engaging gameplay mechanics.
How does the unique 3-2-3-2-3 grid layout impact the gameplay?
The 3-2-3-2-3 grid layout in Mental offers a refreshing deviation from traditional pokie designs. This structure provides players with 108 ways to secure wins, making every spin unpredictable and adding an extra layer of excitement.
Can I influence the game's outcome using the Nolimit Bonus tool?
The Nolimit Bonus tool allows players to buy specific game features, offering a more tailored gaming experience. However, it's important to note that while this tool provides different gameplay dynamics, the game's outcome remains dependent on chance.
How does the Fire Frames feature work?
The Fire Frames feature can randomly assign a fire frame to positions on the reels. Any symbol landing within this frame splits into two, potentially increasing the chances of forming winning combinations.
What's the significance of the Patient symbols?
The Patient symbols, ranging from Patient-1 to Patient-5, are among the higher-tier symbols in the game. Their appearance can lead to more substantial rewards, especially when combined with features like the Dead Patient multipliers.
How does the Dead Multiplier mechanism enhance the bonus rounds?
In specific bonus rounds, the highest multiplier value from Dead Symbols is collected. When a new Patient symbol appears on the reels, this collected multiplier is transferred to it, potentially amplifying the rewards.
How does Mental differentiate its gameplay with special symbols?
Mental introduces a set of symbols that go beyond the usual in pokies. Among these, the Enhancer Cells stand out. Located at the bottom of certain reels, these cells can reveal a range of symbols, from Patient symbols to xNudge Wilds, adding a layer of unpredictability and excitement to each spin.