Pros and Cons
Pros

Two games in one for double the fun
Progressive jackpot that could strike at any time
Super High RTP of up to 99%
Authentic, vintage-style graphics and sounds
Cons

Lack of interactive mini-games
High minimum bet
Mega Joker Review
Mega Joker is an intriguing blend of Las Vegas glitz and classic fruit machine, created by, game developer NetEnt. The authentic graphics capture the essence of vintage gaming machines, complete with retro fruit symbols and reel animations. The bright colours bring a splash of vivacity, balancing the classic appearance with a touch of modern aesthetic.
Sounds are kept simple with the nostalgic whirring and clicking of reels, punctuated by a basic melody to celebrate your wins. However, the game skips on continuous background music, preserving the retro feel. If you're a fan of the traditional pokie experience, Mega Joker won't disappoint.
The design of Mega Joker is a breath of fresh air for players tired of cluttered video pokies. It cuts to the chase, providing a simpler yet super enticing gaming experience.
How to Play Mega Joker Pokie
With five lines and four buttons, Mega Joker presents a rather tedious gameplay. To start, you place your bet and set the reels in motion. Wins can be pocketed or wagered in the supermeter mode, which opens up a second set of reels and bigger prizes.
In terms of stats, Mega Joker has high volatility and offers an RTP of up to 99% that's favourable in comparison to other pokies. The minimum bet starts from a mere $1 per spin, making it an attractive choice for low-stake players, while the maximum bet is $10. Whereas the maximum win from a single spin is a delightful $2,000 jackpot.
Mega Joker's additional special features are the supermeter and a randomly triggered progressive jackpot. These features give a significant boost to your potential earnings and add an extra layer of excitement to the gameplay, but we will go into the details further in this review.
Optimising your Strategy for Maximum Returns in Mega Joker
In Mega Joker, the RTP can fluctuate significantly from 85.28% to a whopping 99% depending on your game strategy. To maximise your odds, aim to play with the highest possible bet, which substantially increases your potential for hitting the jackpot.
The key to this game lies in the Supermeter mode—a feature that activates after a base game win, offering the opportunity to bet your winnings for larger rewards. Here's how to handle your Supermeter bets:
With less than 40 coins, wager 20 coins
Between 40 coins and 99 coins, place a 40 coin bet
Over 100 coins, round up to the nearest 100 coins, then bet 100 coins
Over 200 coins, round up and bet 200 coins
If your balance exceeds 1,600 coins, collect your winnings
Remember, the Supermeter mode offers higher winning odds, and higher bets improve your chances of landing joker symbols. However, there's a cap of $2,000 in Supermeter winnings—exceed this, and you'll only receive the difference. Therefore, consider cashing out before reaching this limit to secure your earnings. By combining calculated risks with strategic play, you can maximise your returns in Mega Joker.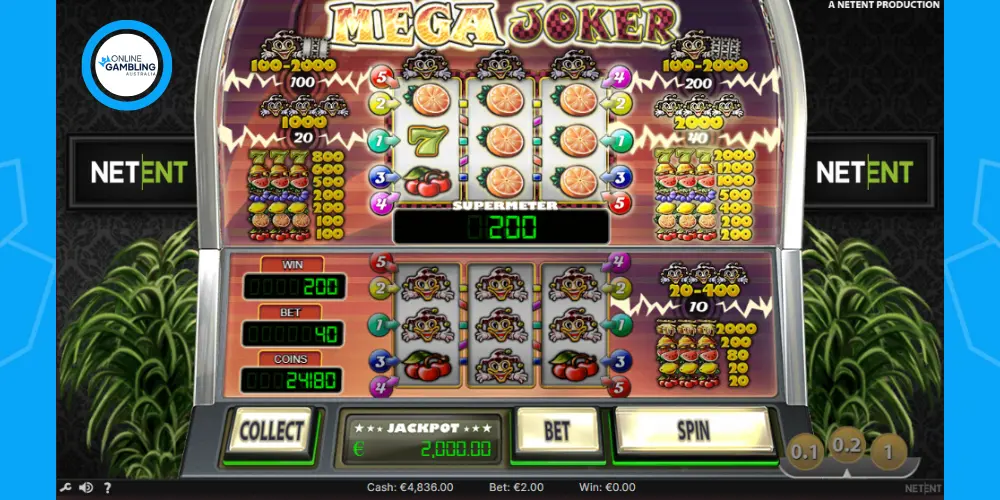 Supermeter Mode
The Supermeter Mode is arguably the most distinguishing feature of the Mega Joker pokie. Activated whenever a player lands a win of less than 2,000x on the bottom reels, the Supermeter Mode transfers gameplay to the top set of reels and gives you the opportunity to stake your winnings for higher rewards.
Bets in this mode can range from 20x up to 200x, with each level offering increased payouts. When playing at the maximum bet, two Jokers appearing anywhere on the reels will net you a mystery win between 100x and 2,000x. It's a gamble, but the potential rewards make it a tantalising prospect for those who enjoy the buzz of high stakes.
Maximise the RTP in Supermode by utilising the betting strategy in the table below:
| | |
| --- | --- |
| Supermeter Balance  | Optimal Bet |
| 20x | 20x |
| 40x | 10x |
| 60x | 20x |
| 80x | 40x |
| 100x | 100x |
| 120x | 20x |
| 140x | 100x |
| 160x | 20x |
| 180x | 20x |
| 200x | 200x |
| 220x – 280x | 20x |
| 300x | 100x |
| 320x – 380x | 20x |
| 400x | 100x |
| 420x – 1,580x | 20x |
| 1,600x – 2,000x | Collect |
Basic Information
Pokie

Mega Joker

Software

NetEnt

Release date

2011

RTP

99%

Volatility

Very High

Maximum Win

$2,000x

Minimum Bet

$1

Maximum Bet

$10

Paylines

5

Reels

3

Jackpot

Yes, Progressive

Free spins

No
Symbols
Within the vintage design of Mega Joker, players are greeted by an array of symbols, each evoking the nostalgic charm of classic fruit machines. From vibrant fruits to traditional lucky sevens, these symbols add both visual appeal and potential payouts to the gaming experience.
As is customary with online pokies, the symbols are divided into low-paying, high-paying, and special categories. Here's a closer look at what each category entails and how they contribute to the gameplay.
Low-Paying Symbols
The low-paying symbols in Mega Joker consist of vibrant, classic fruit icons – cherries, lemons, and oranges. Despite being on the lower end of the paytable, these symbols make up for it with their frequency on the reels. Landing three of these on any of the five paylines will result in a win. These frequent smaller wins can keep your balance topped up, allowing for more sustained gameplay.
High-Paying Symbols
Turning up the heat are the high-paying symbols, which are denoted by bells, treasure chests, and the Mega Joker symbol itself. These symbols don't appear as frequently as the fruit symbols, but when they do, they pack a punch. Getting a three-symbol combination of these on a payline can lead to substantially bigger payouts.
For instance, three Mega Joker symbols on a payline can net you the maximum payout, turning a potentially regular spin into a jackpot.
Special Symbols
The game's special symbol is the Joker, adding a wildcard element to the gameplay. The Joker can substitute for any other symbol on the reels to help create winning combinations, thereby increasing your chances of a win on any given spin.
Symbols Paytable
Symbol
Payline 
Payout
Bottom Layer

Cherries 

x3

10x – 20x

Lemons

x3

10x -20x

Watermelons

x3

40x – 80x

Bells

x3

100x – 200x

Treasure Troves

x3

200x – 2,000x

Three Jesters

x3

10x – 400x
Symbol
Payline 
Payout
Top Layer

Cherries

x3

100x – 200x

Oranges

x3

100x – 200x

Lemons

x3

200x – 400x

Grapes

x3

300x – 500x

Watermelons

x3

500x – 1,000x

Bells

x3

100x – 600x – 1,200x

Three 7's

x3

800x – 2,000x

Three or more Jetsters

x3

100x – 2,000x
Mega Joker Pokie Bonuses
Within the electrifying gameplay of Mega Joker, the standout feature is the rewarding Progressive Jackpot. This isn't just a feature that adds a thrill, it also significantly increases your chances of hitting a major win.
The Progressive Jackpot in Mega Joker isn't merely a side attraction but a central part of the excitement and potential windfall it offers. Let's delve deeper into the nuances of this jackpot to understand how it contributes to the pokie's allure.
Progressive Jackpot
The Mega Joker pokie also features a Progressive Jackpot, which is randomly awarded to players, making every spin potentially lucrative. The more you play and the higher your bets, the better your chances of bagging this jackpot. The size of the jackpot continues to grow as a portion (3%) of each bet placed by players worldwide is added to the total.
The Progressive Jackpot is not tied to any specific symbol combination, which means it could be awarded at any time, adding a constant layer of anticipation to each spin. Imagine hitting that jackpot – it's the kind of win that transforms a regular pokie session into a truly unforgettable experience.
These two bonuses, while seemingly straightforward, introduce an added level of value to Mega Joker, appealing to players who appreciate a mix of luck and decision-making in their pokie gameplay.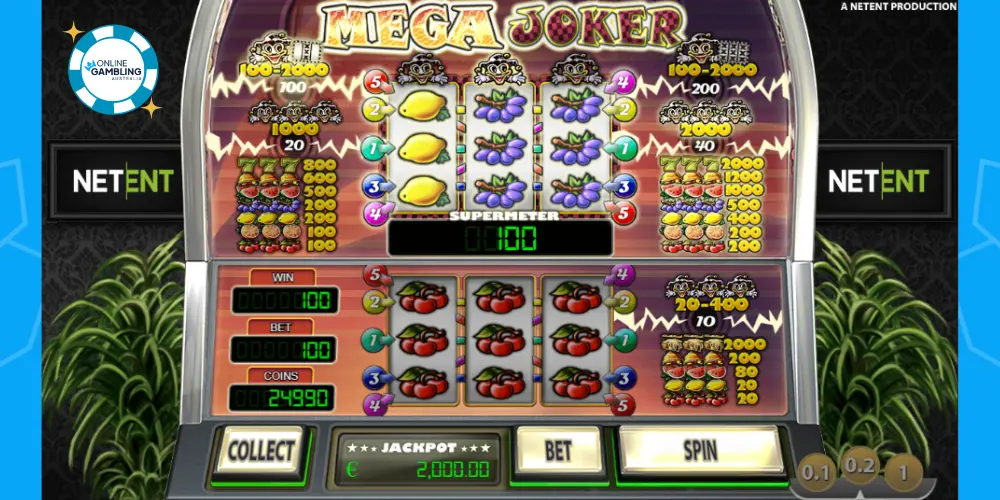 Mega Joker Pokie | A Reel Joyryde
In the vast world of online pokies, Mega Joker stands out with its mix of traditional charm and innovative elements. It channels the nostalgia of old-school fruit machines, with new-age features that significantly boost your potential winnings.
Unlike many games, like Fruit Shop or Wolf Gold, Mega Joker doesn't follow the common path of free spins and scatter symbols. Instead, it embraces the Supermeter mode, an exciting gamble feature that injects suspense into each spin and brings forth the opportunity for higher rewards.
The real kicker in Mega Joker, however, is its progressive jackpot, which is an unexpected twist that keeps you on the edge, since any spin can trigger a life-altering win. So, if you're after a pokie that respects the classics while daring to be distinct, Mega Joker is your game – a pokie that is sure to keep you coming back for more.
Frequently asked questions
What is the gaming software behind Mega Joker Pokie?
Mega Joker Pokie is designed and developed by NetEnt, a renowned name in the world of online casino gaming. Their games are widely appreciated for their reliability, smoothness, and engaging gameplay.
Is Mega Joker Pokie suitable for beginners?
No, Mega Joker isn't recommended for beginners due to its need for strategy, limited betting options with a high minimum bet, and high volatility, making it better suited for advanced gamblers.
How volatile is Mega Joker Pokie?
Mega Joker is considered a high volatility pokie, meaning that payouts may not happen frequently, but when they do, they can be quite substantial.
Are there any unique features in Mega Joker Pokie?
Yes, apart from its classic design, Mega Joker Pokie stands out for its Supermeter Mode where you can gamble your winnings for a chance at even bigger rewards.
What's the biggest win I can get from a single spin in Mega Joker Pokie?
The biggest win you can get from a single spin in Mega Joker Pokie is 2000x your bet in the regular game. However, if you're playing in Supermeter mode, you have a chance to win the progressive jackpot, which could be significantly higher.